A pair of researchers discovered 15 methane-filled bubbles in Siberia's Bely Island last July that wobbled like a waterbed when stepped on.
Well, we really hate to burst these bubbles, but further research into the wider Yamal and Gydan peninsulas has uncovered about 7,000 more of these mysterious mounds.
Scientists believe that these bumps are caused by thawing permafrost releasing methane.
The scariest part? Scientists say the gas bubbles are expected to explode and can create anything from small potholes to massive craters like the ones that have been appearing across the region in recent years.
"At first, such a bump is a bubble, or 'bulgunyakh' in the local Yakut language," said Alexey Titovsky, director of the Yamal Department for Science and Innovation, according to The Siberian Times.
"With time, the bubble explodes, releasing gas. This is how gigantic funnels form."
The sudden appearance of giant craters in the Siberian permafrost has been linked to climate change. The exact explanation behind the craters is unclear but the most prominent theory is that unseasonably high temperatures have released methane stored in the permafrost, causing a sort of explosion that forms the craters.
Huge New Methane Blowholes in Siberia Have Scientists Worried Climate Change Is to Blame http://t.co/Lx0h8DGkaf @ukycc @zerocarbonworld

— EcoWatch (@EcoWatch)1424912451.0
"We need to know which bumps are dangerous and which are not," Titovsky emphasized about the new discovery. "Scientists are working on detecting and structuring signs of potential threat, like the maximum height of a bump and pressure that the earth can withstand."
Researchers Alexander Sokolov and Dorothee Ehrich discovered the first 15 of these bulges last summer. When Sokolov and Ehrich punctured one of the spots, the air that escaped contained 200 times more methane and 20 times more carbon dioxide than the surrounding air.
Scientists accurately predicted back then that more bubbles would be found due to 2016's record-hot temperatures.
Mysterious Air Bubbles Make Siberian Land Act Like a Waterbed - EcoWatch https://t.co/sl1xRy768a @

[email protected]

— EcoWatch (@EcoWatch)1469914815.0
The Ural branch of the Russian Academy of Science confirmed with The Siberian Times that thawing permafrost is a suspected explanation for the gas bubbles.
"Their appearance at such high latitudes is most likely linked to thawing permafrost which in is in turn linked to overall rise of temperature on the north of Eurasia during last several decades," a spokesman said. "An abnormally warm summer in 2016 on the Yamal peninsula must have added to the process."
The Yamal peninsula experienced temperatures reaching 35 degrees Celsius (95 degrees Fahrenheit) last summer.
EcoWatch Daily Newsletter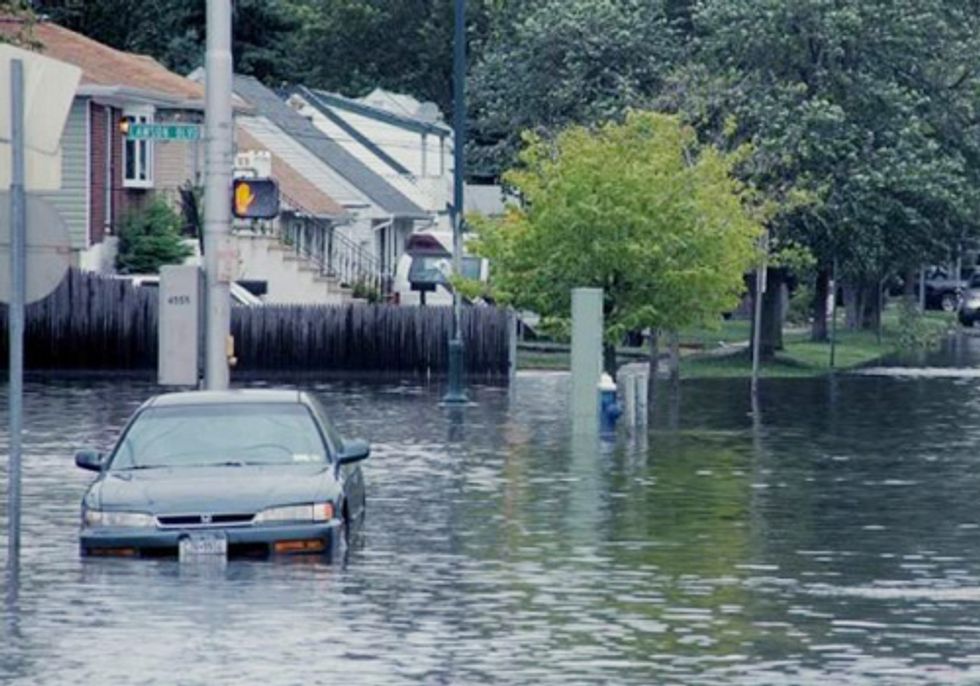 By Janet Larsen and Sara Rasmussen
The global average temperature in 2011 was 14.52 degrees Celsius (58.14 degrees Fahrenheit). According to National Aeronautics and Space Administration (NASA) scientists, this was the ninth warmest year in 132 years of recordkeeping, despite the cooling influence of the La Niña atmospheric and oceanic circulation pattern and relatively low solar irradiance. Since the 1970s, each subsequent decade has gotten hotter—and 9 of the 10 hottest years on record have occurred in the twenty-first century.
Each year's average temperature is determined by a number of factors, including solar activity and the status of the El Niño/La Niña phenomenon. But heat-trapping gases that have accumulated in the atmosphere, largely from the burning of fossil fuels, have become a dominant force, pushing the Earth's climate out of its normal range. The planet is now close to 0.8 degrees Celsius warmer than it was a century ago. Hidden within annual averages and expected variability are startling instances of new temperature and rainfall records in many parts of the world—weather extremes that would once be considered anomalies but that now risk becoming the new norm as the Earth heats up.
Worldwide, 2011 was the second wettest year on record over land. (The record was set in 2010, which also tied 2005 as the warmest overall.) Heavier deluges are expected on a warmer planet. Each temperature rise of 1 degree Celsius increases the amount of moisture the atmosphere can hold by about 7 percent. Higher temperatures also can fuel stronger storms.
Brazil started the year with the deadliest natural disaster in its history—in January, a month's worth of rain fell in a single day in Rio de Janeiro state, leading to floods and landslides that killed at least 900 people. That same month, flooding in eastern Australia covered an area nearly the size of France and Germany combined. Overall, it was the third wettest year in Australia since recordkeeping began in 1900.
The most expensive weather disaster of 2011 was the flooding in Thailand in the second half of the year, which ultimately submerged one third of the country's provinces. At $45 billion worth of damage—equal to 14 percent of Thailand's gross domestic product—it was also the costliest natural catastrophe the country ever experienced.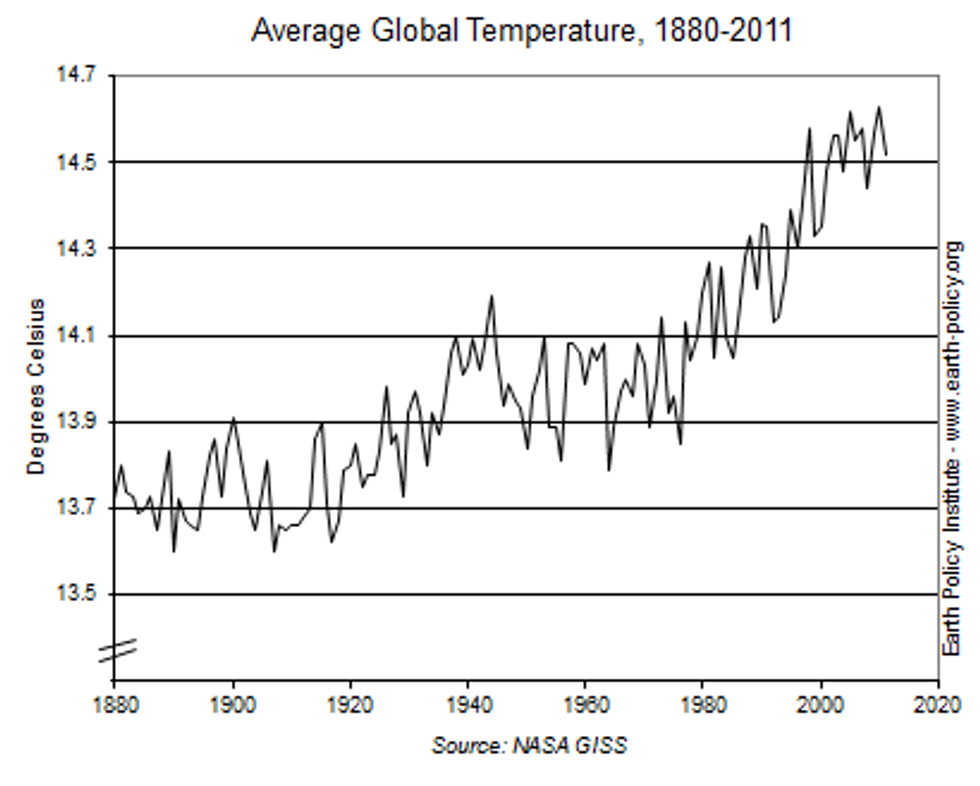 In October, more than 100 people died as two storms—one from the Pacific and the other from the Caribbean—pounded Central America with rain. In western El Salvador, nearly 1.5 meters of rain (almost 5 feet) fell over 10 days. And in December, Tropical Storm Washi hit the Philippines, creating flash floods that killed more than 1,200 people.
The 2011 Atlantic hurricane season had 19 named storms. Hurricane Irene brought extreme flooding to the northeastern U.S. in August, with total damages topping $7.3 billion. The year was the wettest on the books for seven states in the country, while it was among the driest for several others. Although the extremes appear to balance out, making for a near-average year, in fact a record 58 percent of the contiguous U.S. was either extremely wet or extremely dry in 2011.
Indeed, as is expected on a hotter planet, while some parts of the globe were overwhelmed by rain in 2011, others were distinguished by dryness. A severe drought in the Horn of Africa that began in 2010 devolved into a crisis situation in 2011, characterized by crop failure, exorbitant food prices, and widespread malnutrition. Exacerbated by chronic political instability and a belated humanitarian response, the death toll may have exceeded 50,000 people.
Back in North America, a drought that began in late 2010 and worsened over 2011 led hundreds of farmers from northern Mexico to march to that nation's capital in January 2012 to draw the government's attention to their suffering. Nearly 900,000 hectares of farmland (some 2.2 million acres) and 1.7 million head of livestock were lost due to the dryness—the worst in Mexico's 70+ years of data collecting.
Scorching heat, drought, and wildfires across the U.S. Southern Plains and Southwest caused farm, ranch, and forestry damages that exceeded $10 billion in 2011. Wichita Falls, Texas, experienced 100 days over 100 degrees Fahrenheit—far more than the previous record of 79 days set in 1980. Oklahoma and Texas had the hottest summers of any states in history, breaking by a wide margin the record set in 1934 during the Dust Bowl. James Hansen, director of NASA's Goddard Institute for Space Studies, writes that the likelihood of such extreme heat waves "was negligible prior to the recent rapid global warming." Texas also had its lowest rainfall on record. Invigorated by the heat and drought, wildfires burned across an estimated 1.5 million hectares (3.7 million acres) in the state.
For the continental U.S., summer 2011 was the second warmest in history. Nearly three times more weather stations hit record highs than lows in 2011, in line with a trend of increasing heat extremes. Whereas in the middle of the 20th century there were close to the same number of record highs and lows—as would be expected absent a strong warming trend—in the 1990s highs began outpacing lows. In the first decade of this century, there were twice as many record highs as record lows.
Worldwide, seven countries set all-time temperature highs in 2011—Armenia, China, Iran, Iraq, Kuwait, Republic of the Congo, and Zambia. Interestingly, Zambia also was the only country to experience an all-time low temperature when it dropped to -9 degrees Celsius (16 degrees Fahrenheit) in June. Kuwait experienced the year's highest temperature, with thermometers measuring a searing 53.3 degrees Celsius (127.9 degrees Fahrenheit), the highest temperature ever recorded on Earth during the month of August. Even more threatening to health than daytime highs are extra hot nighttime minimum temperatures, which do not allow any respite from the heat. The world's hottest 24-hour minimum ever—41.7 degrees Celsius (107 degrees Fahrenheit)—was recorded in Oman in June 2011.
Even the Arctic had a notably warm year, with the 2011 temperature a record 2.2 degrees Celsius (4 degrees Fahrenheit) above the mean for 1951–80. Barrow, Alaska, the northernmost U.S. city, spent a record-breaking 86 consecutive days at or above freezing, far more than the previous record of 68 days set in 2009.
In fact, over the last 50 years temperatures in the Arctic have risen more than twice as fast as the global average, melting ice and thawing permafrost. Arctic sea ice has been shrinking more rapidly, falling to its lowest volume and second lowest area on record during the 2011 summer melt season. With the summertime ice loss outpacing wintertime recovery, Arctic sea ice has thinned, making it increasingly vulnerable to further melting. Scientists expect a completely ice-free summertime Arctic by 2030 or even earlier.
As the reflective ice disappears, it exposes the dark ocean, which more readily absorbs solar energy, further warming the region. This sets forth a climate cascade, accelerating ice loss both in the ocean as well as on nearby Greenland, which contains enough ice to raise global sea level by 7 meters (23 feet) if it completely melted. The warming also thaws Arctic permafrost, releasing carbon dioxide and methane, further accelerating global warming.
Even without fully incorporating such climate feedback, models show that continued reliance on fossil fuels could raise the global temperature by up to 7 degrees Celsius (over 12 degrees Fahrenheit) by the end of this century. Such an elevated temperature would amplify temperature and precipitation extremes enough to make the weather events of recent years look tame in comparison. Only a rapid, dramatic reduction of greenhouse gas emissions can hold future temperatures in a range bearing any resemblance to what civilization has known.
For more information, click here.
waterlust.com / @tulasendlesssummer_sierra .
Each product featured here has been independently selected by the writer. If you make a purchase using the links included, we may earn commission.
The bright patterns and recognizable designs of Waterlust's activewear aren't just for show. In fact, they're meant to promote the conversation around sustainability and give back to the ocean science and conservation community.
Each design is paired with a research lab, nonprofit, or education organization that has high intellectual merit and the potential to move the needle in its respective field. For each product sold, Waterlust donates 10% of profits to these conservation partners.
Eye-Catching Designs Made from Recycled Plastic Bottles
waterlust.com / @abamabam
The company sells a range of eco-friendly items like leggings, rash guards, and board shorts that are made using recycled post-consumer plastic bottles. There are currently 16 causes represented by distinct marine-life patterns, from whale shark research and invasive lionfish removal to sockeye salmon monitoring and abalone restoration.

One such organization is Get Inspired, a nonprofit that specializes in ocean restoration and environmental education. Get Inspired founder, marine biologist Nancy Caruso, says supporting on-the-ground efforts is one thing that sets Waterlust apart, like their apparel line that supports Get Inspired abalone restoration programs.
"All of us [conservation partners] are doing something," Caruso said. "We're not putting up exhibits and talking about it — although that is important — we're in the field."
Waterlust not only helps its conservation partners financially so they can continue their important work. It also helps them get the word out about what they're doing, whether that's through social media spotlights, photo and video projects, or the informative note card that comes with each piece of apparel.
"They're doing their part for sure, pushing the information out across all of their channels, and I think that's what makes them so interesting," Caruso said.
And then there are the clothes, which speak for themselves.
Advocate Apparel to Start Conversations About Conservation
waterlust.com / @oceanraysphotography
Waterlust's concept of "advocate apparel" encourages people to see getting dressed every day as an opportunity to not only express their individuality and style, but also to advance the conversation around marine science. By infusing science into clothing, people can visually represent species and ecosystems in need of advocacy — something that, more often than not, leads to a teaching moment.

"When people wear Waterlust gear, it's just a matter of time before somebody asks them about the bright, funky designs," said Waterlust's CEO, Patrick Rynne. "That moment is incredibly special, because it creates an intimate opportunity for the wearer to share what they've learned with another."
The idea for the company came to Rynne when he was a Ph.D. student in marine science.
"I was surrounded by incredible people that were discovering fascinating things but noticed that often their work wasn't reaching the general public in creative and engaging ways," he said. "That seemed like a missed opportunity with big implications."
Waterlust initially focused on conventional media, like film and photography, to promote ocean science, but the team quickly realized engagement on social media didn't translate to action or even knowledge sharing offscreen.
Rynne also saw the "in one ear, out the other" issue in the classroom — if students didn't repeatedly engage with the topics they learned, they'd quickly forget them.
"We decided that if we truly wanted to achieve our goal of bringing science into people's lives and have it stick, it would need to be through a process that is frequently repeated, fun, and functional," Rynne said. "That's when we thought about clothing."
Support Marine Research and Sustainability in Style
To date, Waterlust has sold tens of thousands of pieces of apparel in over 100 countries, and the interactions its products have sparked have had clear implications for furthering science communication.
For Caruso alone, it's led to opportunities to share her abalone restoration methods with communities far and wide.
"It moves my small little world of what I'm doing here in Orange County, California, across the entire globe," she said. "That's one of the beautiful things about our partnership."
Check out all of the different eco-conscious apparel options available from Waterlust to help promote ocean conservation.
Melissa Smith is an avid writer, scuba diver, backpacker, and all-around outdoor enthusiast. She graduated from the University of Florida with degrees in journalism and sustainable studies. Before joining EcoWatch, Melissa worked as the managing editor of Scuba Diving magazine and the communications manager of The Ocean Agency, a non-profit that's featured in the Emmy award-winning documentary Chasing Coral.