The questions come after talks, on twitter, in the days' incoming tide of email—sometimes even in old-fashioned letters that arrive in envelopes. The most common one by far is also the simplest: What can I do? I bet I've been asked it 10,000 times by now and—like a climate scientist predicting the temperature—I'm pretty sure I'm erring on the low side.
"What can we do to make a difference?"The Thinker
It's the right question or almost: It implies an eagerness to act and action is what we need. But my answer to it has changed over the years, as the science of global warming has shifted. I find, in fact, that I'm now saying almost the opposite of what I said three decades ago.
Then—when I was 27 and writing the first book on climate change—I was fairly self-obsessed (perhaps age appropriately). And it looked like we had some time: No climate scientist in the late 1980s thought that by 2016 we'd already be seeing massive Arctic ice melt. So it made sense for everyone to think about the changes they could make in their own lives that, over time, would add up to significant change. In The End of Nature, I described how my wife and I had tried to "prune and snip our desires," how instead of taking long vacation trips by car we rode our bikes in the road, how we grew more of our own food, how we "tried not to think about how much we'd like a baby."

Some of these changes we've maintained—we still ride our bikes, and I haven't been on a vacation in a very long time. Some we modified—thank God we decided to have a child, who turned out to be the joy of our life. And some I've abandoned: I've spent much of the last decade in frenetic travel, much of it on airplanes. That's because, over time, it became clear to me that there's a problem with the question "What can I do."
Bill McKibben: It's Time to Declare War on Climate Change via @EcoWatch https://t.co/gHkaGU8riw

— Doug Marr (@Doug Marr)1471650007.0
The problem is the word "I." By ourselves, there's not much we can do. Yes, my roof is covered with solar panels and I drive a plug-in car that draws its power from those panels, and yes our hot water is heated by the sun, and yes we eat low on the food chain and close to home. I'm glad we do all those things, and I think everyone should do them, and I no longer try to fool myself that they will solve climate change.
Because the science has changed and with it our understanding of the necessary politics and economics of survival. Climate change is coming far faster than people anticipated even a couple of decades ago. 2016 is smashing the temperature records set in 2015 which smashed the records set in 2014; some of the world's largest physical features (giant coral reefs, vast river deltas) are starting to die off or disappear. Drought does damage daily; hundred-year floods come every other spring. In the last 18 months we've seen the highest wind speeds ever recorded in many of the world's ocean basins. In Basra Iraq—not far from the Garden of Eden—the temperature hit 129 Fahrenheit this summer, the highest reliably recorded temperature ever and right at the limit of human tolerance. July and August were not just the hottest months ever recorded, they were, according to most climatologists, the hottest months in the entire history of human civilization. The most common phrase I hear from scientists is "faster than anticipated." Sometime in the last few years we left behind the Holocene, the 10,000 year period of benign climatic stability that marked the rise of human civilization. We're in something new now—something new and frightening.
Bill McKibben Arrested + 56 Others in Ongoing Campaign Against Proposed Gas Storage at Seneca Lake https://t.co/VPteXtv15b via @ecowatch

— Ecokare (@Ecokare)1457900848.0
Against all that, one's Prius is a gesture. A lovely gesture and one that everyone should emulate, but a gesture. Ditto riding the bike or eating vegan or whatever one's particular point of pride. North Americans are very used to thinking of themselves as individuals, but as individuals we are powerless to alter the trajectory of climate change in a meaningful manner. The five or ten percent of us who will be moved to really act (and that's all who ever act on any subject) can't cut the carbon in the atmosphere by more than five or ten percent by those actions.
No, the right question is "What can we do to make a difference?"
Because if individual action can't alter the momentum of global warming, movements may still do the trick. Movements are how people organize themselves to gain power—enough power, in this case, to perhaps overcome the financial might of the fossil fuel industry. Movements are what can put a price on carbon, force politicians to keep fossil fuel in the ground, demand subsidies so that solar panels go up on almost every roof, not just yours. Movements are what take 5 or 10 percent of people and make them decisive—because in a world where apathy rules, five or ten percent is an enormous number. Ask the Tea Party. Ask the civil rights movement.
The other side knows this, which is why it ridicules our movements at all times. When, for instance, 400,000 people march on New York City, I know that I will get a stream of ugly tweets and emails about how—saints preserve us—it takes gasoline to get to New York City. Indeed it does. If you live in a society that has dismantled its train system, then lots of people will need to drive and take the bus, and it will be the most useful gallons they burn in the course of the year. Because that's what pushes systems to change.
When brave people go to jail, cynics email me to ask how much gas the paddywagon requires. When brave people head out in kayaks to block the biggest drilling rigs on earth, I always know I'll be reading dozens of tweets from clever and deadened souls asking "don't you know the plastic for those kayaks require oil?" Yes, we know—and we've decided it's well worth it. We're not trying to be saints; we're trying to be effective.
We're not going to be forced into a monkish retreat from society—we need to engage this fight with all the tools of the moment. We're trying to change the world we live in and if we succeed then those who come after will have plenty of time to figure out other ways to inhabit it. Along the way those who have shifted their lives can provide inspiration, which is crucial. But they don't by themselves provide a solution. Naomi Klein once described visiting an "amazing" community farm in Brooklyn's Red Hook that had been flooded by Hurricane Sandy. "They were doing everything right, when it comes to climate," she said. "Growing organic, localizing their food system, sequestering carbon, not using fossil-fuel inputs—all the good stuff." Then came the storm. "They lost their entire fall harvest and they're pretty sure their soil is now contaminated, because the water that flooded them was so polluted. It's important to build local alternatives, we have to do it, but unless we are really going after the source of the problem"—namely, the fossil-fuel industry and its lock on Washington—"we are going to get inundated."
Bill McKibben: The Real Work Begins Nov. 9 - EcoWatch https://t.co/NewwnBK5bn @tcktcktck @OneWorld_News

— EcoWatch (@EcoWatch)1470016506.0
Like Klein, I find that the people who have made some of those personal changes are usually also deeply involved in movement-building. Local farmers, even after a long day pulling weeds, find the energy to make it to the demonstration, often because they know their efforts out in the field aren't enough, even to guarantee a climate that will allow them to continue their efforts. No, the people calling environmentalists hypocrites for living in the real world are people who want no change at all. Their goal is simply to shame us and hence to quiet us. So we won't make them feel bad or disrupt the powers that be.
It won't work, unless we let it. Movements take care of their own: They provide bail money and they push each other's ideas around the web. They join forces across issues: BlackLivesMatter endorsing fossil fuel divestment, climate justice activists fighting deportations. They recognize that together we might just have enough strength to get it done. So when people ask me what can I do, I know say the same thing every time: "The most important thing an individual can do is not be an individual. Join together—that's why we have movements like 350.org or Green for All, like BlackLivesMatter or Occupy. If there's not a fight where you live, find people to support, from Standing Rock to the Pacific islands. Job one is to organize and jobs two and three."
And if you have some time left over after that, then by all means make sure your lightbulbs are all LEDs and your kale comes from close to home.
EcoWatch Daily Newsletter
Four modern day explorers from Vancouver, BC, began a world-first expedition on July 1, to row the 3,000 kilometer Northwest Passage in a specially commissioned human-powered boat—a feat only possible now due to the melting ice in the Arctic. Global wind and solar company Mainstream Renewable Power is sponsoring the expedition to bring awareness to the profound effects climate change is having on the environment.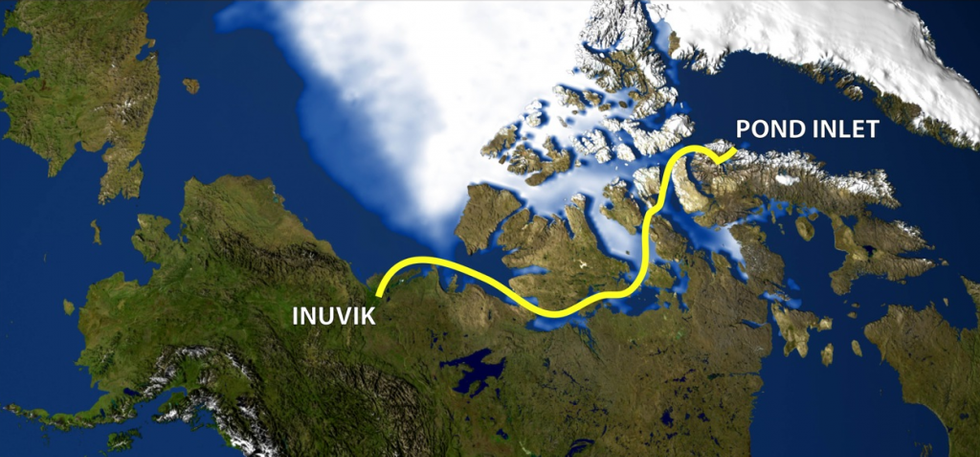 The team of Kevin Vallely, Paul Gleeson, Frank Wolf and Denis Barnett are seasoned adventurers who, between them, have rowed the Atlantic Ocean, canoed across Canada and skied to the South Pole in world record time. They departed from Inuvik in the Northwest Territories in their 25-foot long, specially built rowing boat, The Arctic Joule.
The four men are rowing in continuous shifts, 24 hours a day, seven days a week as the route will be in constant daylight for the majority of the journey. They hope to arrive at their destination in Pond Inlet, Nunavut on the east coast of Baffin Island in early fall, some 75 to 90 days after their start.
This area once represented a closed door for mariners who attempted to navigate the sea route, due to impassable sea ice. This passage has only become semi-navigable for about three months a year in the summer months when the ice of the Arctic Ocean breaks up and melts before refreezing for the winter. The four men have taken advantage of that short window to row the ice-strewn passage.
"It wasn't long ago that the Northwest Passage was the sole domain of steel-hulled ice-breakers but things have changed," said Kevin Vallely, lead rower.
"Climate change is transforming the Arctic and the world. By traversing the Northwest Passage completely under human power in a rowboat, without sail or motor, the Mainstream Last First team will be able to demonstrate first-hand the dramatic effects climate change is having on our planet. Something like this has never been done before. It is only now possible due to the increase in seasonal sea ice melt and deterioration due to climate changes."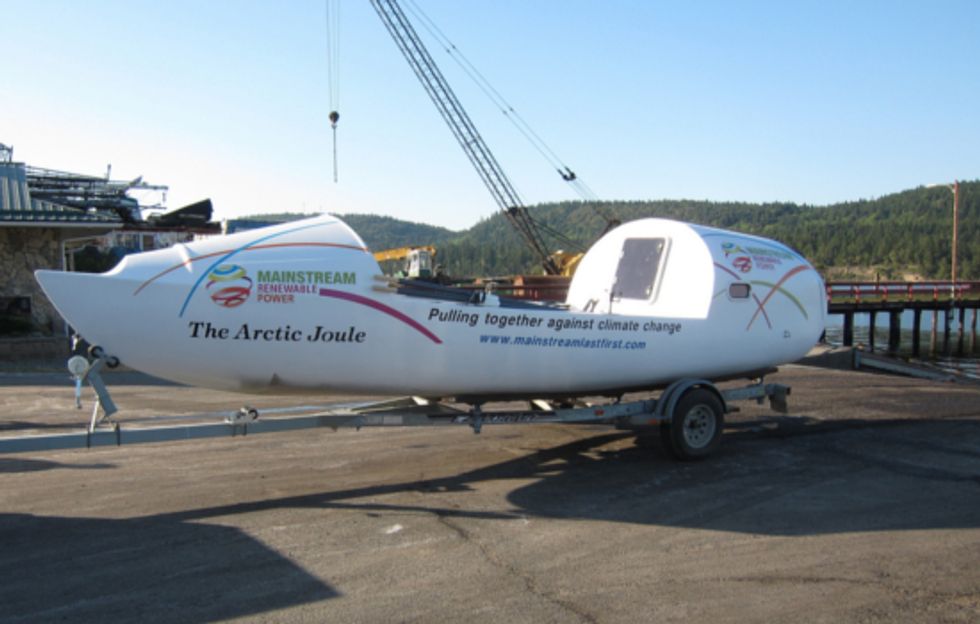 The rowers' challenge is of global significance as both a pioneering maritime adventure and an environmental expedition. The team is working with scientific research partners at Vancouver Aquarium, Fisheries and Oceans Canada and the Canadian Rangers on a unique and promising collaboration known as the Canadian Rangers Ocean Watch program (CROW) to collect and deliver environmental data about the Arctic Ocean.
In addition, the team is documenting their journey on their blog and through social media, and have an award-winning documentary videographer to film the trip as well as. They are also engaging with the broader public while away, using their adventure to publicize the melting Arctic and climate change's detrimental impact.
"With atmospheric [carbon dioxide] CO2 concentrations hitting 400 ppm last month for the first time in 2-4 million years, Mainstream is sponsoring this expedition to highlight the immediate disasters of climate change," said Sherra Zulerons, country manager for Canada at Mainstream Renewable Power. "This expedition will show people around the world a real-life example of what climate change is doing today. It's real."
The melting ice is only the start of the problem, she explained. As the ice melts, it causes massive amounts of harmful gases to be released into the atmosphere. Enormous amounts of methane hydrate have been trapped in the ice for many thousands of years and now that the ice is melting, the gas is being released, causing a huge knock-on effect."That is why we are sponsoring this expedition," said Zulerons.
"In the latest International Energy Agency report it states that if we wait to act until 2020, we will be headed down a path to temperature rises of between 3.6 and 5.3 degrees Celsius before 2100," continued Zulerons. "Switching from fossil fuels to renewable energy will make a big difference in terms of keeping climate change below two degrees."
"There seems to be a disconnect between what's actually happening with climate change and what's being done about it. We hope that our expedition will show the world through a real-life example of what climate change is doing today," added Vallely.
"We believe, as Barry Lopez echoed in his book Arctic Dreams, that mankind has '...the intelligence to grasp what is happening, the composure to not be intimidated by its complexity, and the courage to take steps that may bear no fruit in our lifetimes'," concluded Vallely.
The sea ice of the arctic has decreased by 50 percent in the last three years alone and in about 15 years this region will be ice-free. According to scientists, this permafrost to perm-melt scenario will trigger numerous feedback loops that will put climate change beyond human control.
Visit EcoWatch's CLIMATE CHANGE page for more related news on this topic.
——–

DOES THE FACT THAT REVERSING CLIMATE CHANGE WILL HAVE NO PRONOUNCED BENEFITS IN OUR LIFETIME HINDER US FROM ACTING TO ALLEVIATE IT?
Xsandra / Getty Images
Looking for ways to cut down on single-use plastic while grocery shopping? You may already have eco-friendly shopping bags, but bringing your own reusable produce bags is another easy swap.

According to the UN Environment Program, up to 5 trillion single-use plastic bags are used globally each year, and because of the material they're made from, most municipal recycling centers don't accept them (more on this below).
The most sustainable option is to skip the bag altogether. You can also make your own reusable produce bags out of old T-shirts. But if you'd rather purchase them new, here are our recommendations for the best reusable produce bags on the market today.
<p><em>Each product featured here has been independently selected by the writer. If you make a purchase using the links included, we may earn commission.</em></p>