Arctic sea ice shrank to just 1.60 million square miles this week, hitting its summer low point and reaching a statistical tie with 2007 for the second lowest extent on record.
Arctic sea ice melted to 2nd smallest level in nearly 40 years, reaching low point Sept 10: https://t.co/ko8MlRh92c https://t.co/YeQIp2jay5

— NASA (@NASA)1473962993.0
This year's minimum is approximately one million square miles less than the 1979 to 2000 average.
"What this year shows us is that we're primed for much greater ice losses in the near future," Ted Scambos, lead scientist with National Snow and Ice Data Center, said.

National Snow and Ice Data Center Director Mark Serreze said he wouldn't be surprised if the Arctic were "essentially ice free" by 2030.

For a deeper dive:

News: Washington Post, AP, Climate Central, USA Today, TIME, Alaska Dispatch News, BBC, Carbon Brief, Climate Home
For more climate change and clean energy news, you can follow Climate Nexus on Twitter and Facebook, and sign up for daily Hot News.

EcoWatch Daily Newsletter
By Alex Kirby
The countries that ring the Arctic Ocean will soon face a dilemma: can they risk commercial fishing fleets shooting their nets in those soon-to-be-ice-free seas?
Before long—quite possibly before mid-century—the Arctic Ocean will be free of ice during part of each summer, scientists are now saying confidently. For better or worse that will open up huge opportunities for shipping and hydrocarbon exploitation. And for the first time in recorded history it will allow the fishing boats access to whatever has lived undisturbed until now beneath the ice.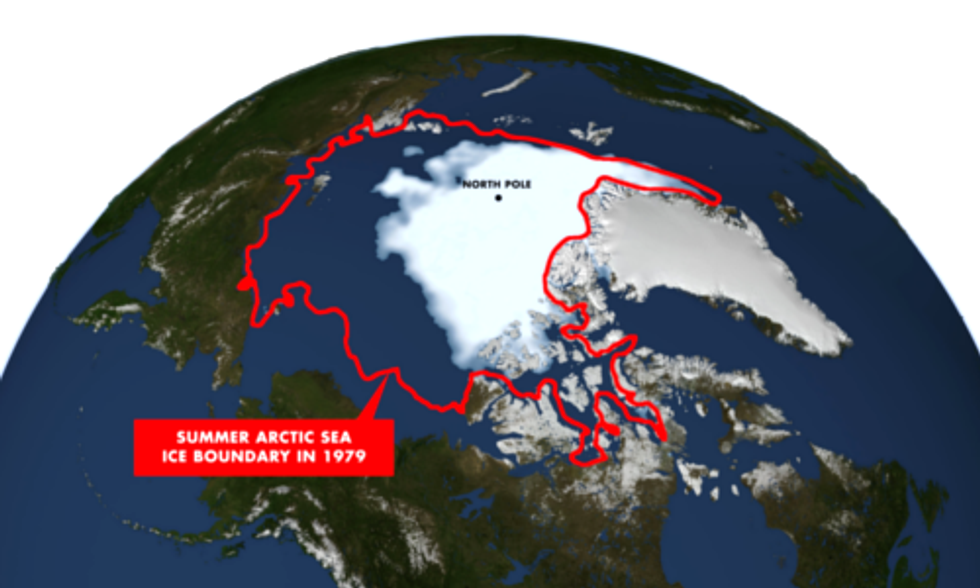 A three-day meeting began yesterday in Nuuk, the capital of Greenland, where U.S. officials are hoping to persuade the other nations which border the Arctic Ocean to introduce a moratorium on high seas fishing there (the other members of the group are Canada, Russia and Norway).
David Benton, of the U.S. Arctic Research Commission (USARC), said the Americans were proposing an agreement "that would close the international waters of the Arctic Ocean to commercial fishing until there is a good scientific foundation on which to base management of any potential fishing."
All coastal countries control fisheries within 200 miles of their own coastlines. The high seas beyond that limit belong to no country and can be protected only by international agreement.
Once the five Arctic nations have agreed a fishing moratorium, Benton said, they would then approach other countries with major commercial fishing fleets, such as China, Japan and Korea, to negotiate full protection for the central Arctic Ocean.
The Arctic was experiencing a fairly rapid rate of change, said Benton, as the permanent ice melted. "That's potentially causing large changes in the ecosystem, but we don't understand what's going on up there. If we want to do things right, this is the approach we should be taking."
In 2009, the U.S. adopted its own Arctic Fishery Management Plan, closing American waters north of Alaska to commercial fishing until scientific research proves that the fishery is sustainable. Scott Highleyman, director of the international Arctic program for the Pew Charitable Trusts, said that had been a precaution that took account of the way global warming was changing the Arctic ecosystem faster than science could keep up with it.
He told the Los Angeles Times: "There are no stock surveys or scientific assessments for fish there. You don't want to fish a place where you don't know the fish population dynamics. Any time we've done that, it led to catastrophic overfishing." One example, Highleyman said, is the New England Atlantic cod fishery, which was shut down in the 1980s due to overfishing, costing 50,000 jobs.
An open letter to the Arctic governments, signed by 2,000 scientists from around the world, says that if the Arctic Ocean is overfished it will damage species that live there, including seals, whales and polar bears, and the people who use them for food.
"Until recently, the region has been covered with sea ice throughout the year, creating a physical barrier to the fisheries," the scientists wrote. "A commercial fishery in the central Arctic Ocean is now possible and feasible."
Visit EcoWatch's CLIMATE CHANGE and FOOD pages for more related news on this topic.

boonchai wedmakawand / Moment / Getty Images
Delta-8 THC is a cannabis product that has become a bestseller over the past few months, as many consumers find they can legally purchase it from CBD retailers. Its proponents say that Delta-8 THC will give you a nice little buzz, minus some of the more intense feelings (including paranoia) that are sometimes associated with marijuana.

Delta-8 THC is being marketed as a legal option for consumers who either don't live in a state with legal cannabis, or are a little apprehensive about how traditional psychoactive THC products will affect them. But is it all it's cracked up to be? Let's take a closer look, exploring what Delta-8 THC is, how it differs from other THC products, and whether it's actually legal for use.
<h2>What is Delta-8 THC?</h2><p>To better understand <a href="https://www.nytimes.com/2021/02/27/health/marijuana-hemp-delta-8-thc.html" target="_blank">Delta-8 THC</a>, it helps to cover some basics about THC and cannabis.</p><p>Cannabis plants come chock full of different <a href="https://www.nccih.nih.gov/health/cannabis-marijuana-and-cannabinoids-what-you-need-to-know" rel="noopener noreferrer" target="_blank"><em>cannabinoids</em></a>. These are naturally-occuring chemical compounds that bind with receptors throughout your body. They can offer a wide range of mental, emotional, and physical effects; indeed, the healing and therapeutic properties marijuana or <a data-linked-post="2648563694" href="https://www.ecowatch.com/strongest-cbd-oil-2648563694.html" target="_blank">CBD products</a> offer can be attributed to cannabinoids.</p><p>One of the most common cannabinoids is what's known as Delta-9 THC. Simply put, this is the part of marijuana that gets you "high." It's worth noting that Delta-9 THC remains illegal in many states, except for in the most minute doses, and is still illegal at the federal level. CBD products are made with trace amounts of THC, ensuring that consumers can enjoy positive health effects in a perfectly legal way, without the risk of getting high.</p><p>On a chemical level, <a href="https://www.nytimes.com/2021/02/27/health/marijuana-hemp-delta-8-thc.html" rel="noopener noreferrer" target="_blank">Delta-8 THC</a> is not too different from Delta-9 THC; the distinction comes down to just a few molecules. But those molecules make a big practical impact: Delta-8 THC will give you a buzz, but the psychoactive effects are considerably milder than with Delta-9 THC.</p><p>More specifically, many cannabis enthusiasts report that Delta-8 THC helps them feel good but also leaves them relatively clear-headed; and, it doesn't produce the anxiety or jitteriness that often characterize a Delta-9 THC high.</p><p>Additionally, because of the way the law is written regarding Delta-9 THC, some CBD companies now sell Delta-8 THC products in places where traditional cannabis is still illegal.</p><h2>What's the Difference Between Delta-9 THC and Delta-8 THC?</h2><p>Here are the primary differences to note between Delta-9 and Delta-8 THC:</p><ul class="ee-ul"><li>Delta-9 THC is the primary psychoactive ingredient found in marijuana. In other words, it's the part that gets you high.</li><li>Though some states have found workarounds, Delta-9 THC is still illegal under federal law.</li><li>Delta-8 THC is also found in the cannabis plant, though it's not quite as powerful or as well-known. </li><li>Delta-8 THC is milder in its psychoactive effects. And, it's not <em>technically </em>illegal under current law.</li></ul><p>These are just a few of the key distinctions to keep in mind. Delta-8 THC is popular among consumers who want a smoother high, and don't want to violate federal law.</p><h2>Is Delta-8 THC Legal?</h2><p>We noted that Delta-8 THC is not <em>technically </em>illegal. Here, we need to get into some of the nuanced legal considerations that surround this substance.</p><p>First of all, there are plenty of cannabis companies that actively promote Delta-8 THC as a legal way to get high. Again, that's technically true, but is still a point of debate for some.</p><p>For one thing, it's not explicitly listed as an illegal substance. While federal laws, and some state laws, specifically ban Delta-9 THC, Delta-8 THC is never mentioned. More to the point, though, many proponents will cite the<a href="https://www.usda.gov/farmbill" rel="noopener noreferrer" target="_blank"> 2018 Farm Bill</a>. This law legalized several industrial hemp products on a national level, including CBD.</p><p>The Farm Bill also includes some fairly nuanced positions regarding THC. In summary, the law says that hemp and cannabis-derived products are legal so long as they contain less than 0.3 percent Delta-9 THC.</p><p>With that said, some lawyers contend that Delta-8's heyday may soon come to an end. That's because the Farm Bill clears it only so long as it's derived directly from hemp; most of the Delta-8 THC products sold today aren't made from hemp, but rather from synthetically-altered CBD.</p><p>Some of these issues are a little fuzzy, and <a href="https://www.rollingstone.com/culture/culture-features/delta-8-thc-legal-weed-explained-1113859/" rel="noopener noreferrer" target="_blank">the legal future of Delta-8 THC</a> remains a little uncertain. For now, though, many experts would argue that it is legal to purchase.</p><h2>What Kinds of Delta-8 THC Products Are Available?</h2><p><em>Each product featured here has been independently selected by the writer. If you make a purchase using the links included, we may earn commission.</em></p><p>If you're looking to try Delta-8 THC products, you'll certainly find plenty of different products. Dispensaries and legal cannabis stores currently have a trove of products that use this cannabinoid. Some examples include:</p><ul class="ee-ul"><li>Vape cartridges, tinctures, and capsules.</li><li>Beverages made with Delta-8 THC, including some seltzers.</li><li>Edibles, including Delta-8 THC gummy bears, chocolate bars, and more.</li></ul><p>The cannabis industry has really been running with Delta-8 THC, finding creative ways to bring it to market. And chances are, even more products will be springing up in the weeks and months to come. </p><p>It's very important to note that you should only purchase Delta-8 THC products from reputable brands and established cannabis retailers. We do not recommend purchasing any products that contain Delta-8 THC from gas stations or vape shops. If you are looking for a reputable place to explore these products, here are a few brands that we trust and recommend:</p>
<img class="rm-lazyloadable-image rm-shortcode" type="lazy-image" data-runner-src="https://assets.rebelmouse.io/eyJhbGciOiJIUzI1NiIsInR5cCI6IkpXVCJ9.eyJpbWFnZSI6Imh0dHBzOi8vYXNzZXRzLnJibC5tcy8yNjAzNjAyMy9vcmlnaW4uanBnIiwiZXhwaXJlc19hdCI6MTYzMTMxMjAyNX0.wRpb_E9ZFZFNgkYsYh6cleNbTezo16rUeTmifcP_yCk/img.jpg?width=980" id="60683" width="400" height="400" data-rm-shortcode-id="32630bf41fd6909a232194b540c570eb" data-rm-shortcode-name="rebelmouse-image" />
nuleafnaturals.com
<p><a href="https://nuleafnaturals.com/product/full-spectrum-delta-8-thc-oil-30mg-ml/" target="_blank" rel="noopener noreferrer">NuLeaf Naturals Full Spectrum Delta 8 THC Oil</a> is made from organic hemp and organic virgin hemp seed extract. It's available in a 150 mg bottle and a 450 mg bottle, which both provide 15 mg of Delta 8 THC per serving. This formula is also available in a soft gel.</p>
<img class="rm-lazyloadable-image rm-shortcode" type="lazy-image" data-runner-src="https://assets.rebelmouse.io/eyJhbGciOiJIUzI1NiIsInR5cCI6IkpXVCJ9.eyJpbWFnZSI6Imh0dHBzOi8vYXNzZXRzLnJibC5tcy8yNjAzNjE2Ni9vcmlnaW4uanBnIiwiZXhwaXJlc19hdCI6MTY2OTcwNTgzM30.opm4l5-rSqV1HfvrbVE16EEVZvqxI42xgqnsQfL9p2M/img.jpg?width=980" id="2c749" width="400" height="400" data-rm-shortcode-id="a678e76d8cd5e13bae95d9c3ae664b85" data-rm-shortcode-name="rebelmouse-image" />
botanyfarms.com
<p>The <a href="https://www.botanyfarms.com/product/delta-10-thc-vape-cartridge/?aff=14" target="_blank">Botany Farms Delta-10 THC Vape Cartridge</a> actually contains both Delta-10 and Delta-8 THC.This is designed to provide the desired effects of Delta-8 THC but without the drowsiness. They also offer a vape cartridge with a 1:1 concentration of <a href="https://www.botanyfarms.com/product/delta-10-delta-8-thc-vape-cartridge/?aff=14" target="_blank">Delta-8 THC</a> and Delta-10 THC. Note that while vape products can be used to aid in smoking cessation, we do not recommend vaping or smoking because of the negative health effects they can cause.</p>
<h2>What are the Pros and Cons of Delta-8 THC?</h2><p>As you consider whether Delta-8 THC is worth your time, it may be helpful to weigh the pros against the cons.</p><p><strong>Pros</strong></p><p>Let's start with some of the positives:</p><ul class="ee-ul"><li>Delta-8 THC does have psychoactive effects, but it's a milder effect than with traditional Delta-9 THC.</li><li>Delta-8 THC is currently legal and widely accessible in multiple states.</li><li>There are a wide number of products that use Delta-8 THC.</li></ul><p><strong>Cons</strong></p><p>Now, a few of the downsides.</p><ul class="ee-ul"><li>Delta-8 THC isn't quite as commonplace as other cannabis products, including CBD, and some of the options on the market are expensive.</li><li>While this substance is technically legal, there are plenty of uncertainties over its legal future. It's something you want to keep in mind.</li><li>As a relatively new product, Delta-8 THC products are not regulated by the FDA and there is not independent testing in place to verify that it is safe or pure.</li></ul><p>As with any cannabis product, Delta-8 THC has its pros and cons. As you seek the cannabis product that's best for you, it's largely a matter of personal preference.</p><p>Also note that smoking, vaping, or otherwise imbibing any kind of cannabis-related product can carry some medical risks and negative health consequences. If you have any specific concerns, we recommend consulting with your doctor before you try any Delta-8 THC product.</p><p><em><strong>Josh Hurst </strong></em><em>is a journalist, critic, and essayist. He lives in Knoxville, TN, with his wife and three sons. He covers natural health, nutrition, supplements, and clean energy. His writing has appeared in Health, Shape, and Remedy Review.</em></p>