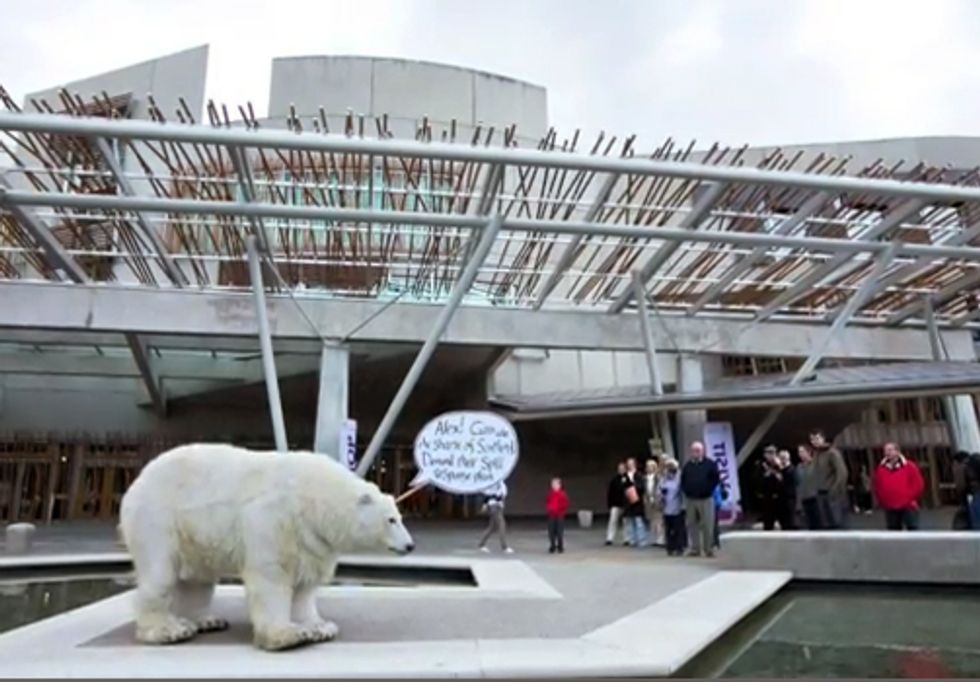 It's official. On Feb. 17, Shell got a step closer to drilling for oil in our planet's last wild ocean—the Arctic.
The company's oil spill response plan for the Chukchi Sea off Alaska was given the all clear by U.S. authorities, even though it's a work of almost complete fantasy.
While Shell prepares to start trashing this stunning wilderness, putting it at risk of catastrophic oil spills and more melting ice caps as a result of climate change, its PR people are getting busy. This evening—Feb. 21—they've invited influential guests to an event at the National Gallery in London, in the hope that those guests will lend the Shell brand a veneer of respectability.
We've decided to tell their guests the truth—this year Shell is planning to drill for oil in the pristine waters of the Arctic, and its plans will change this fragile wilderness forever.
So our climbers have made sure that guests at the National Gallery are met with an unexpected picture when they arrive. A short while ago, they evaded security and are preparing to unfurl a huge banner with the words "It's no oil painting." Our climber Hannah is tweeting from the rooftop using the hashtag #SaveTheArctic. 
Meanwhile, Paula Bear has emerged from her wintry den to mingle with the crowds in Trafalgar Square, where dozens of Greenpeace volunteers are talking to curious passers-by.
Polar bears—like other Arctic species including beluga whales, narwhals and walruses—are already under severe pressure in the Arctic from climate change. In just 30 years, the Arctic has lost 75 percent of its sea ice, and temperatures in the Arctic are rising faster than anywhere else on Earth.
While more and more people recognize the changing face of the Arctic as a stark warning about climate change (earlier today, several scientists gave evidence to this effect to the parliamentary inquiry, Protecting the Arctic), Shell sees the melting ice as a business opportunity—a chance to drill in newly accessible areas to find more of the oil that caused the melt in the first place.
And now Shell plans to create a new threat to the Arctic's stunning—and ecologically fragile—coastlines and oceans: the threat of a catastrophic oil spill, which would be impossible to clean up.
Shell is just first of the so-called 'supermajors'—the big oil companies—to make exploitation of the Arctic a key part of their strategy. But if it strikes oil this summer, other global oil giants may follow.
Shell sees the Arctic as a resource to be exploited for profit. We think it should be protected. What do you think? Join the discussion on our blog and on Twitter: #SaveTheArctic.
For more information, click here.
EcoWatch Daily Newsletter
Two years ago this month, the Deepwater Horizon drilling rig began drilling on the Macondo Prospect, an operation that would result in one of the worst environmental disasters in U.S. history. Now, as we contemplate exploratory drilling in the Arctic, the Center for American Progress released Putting a Freeze on Arctic Ocean Drilling: America's Inability to Respond to an Oil Spill in the Arctic, detailing the lack of resources and existing infrastructure to respond to an environmental disaster off Alaska's North Slope.
Even the well-developed infrastructure and abundance of trained personnel in the Gulf of Mexico didn't prevent the Deepwater Horizon tragedy. Our Arctic response capabilities pale by comparison. Some in the U.S. are eager to keep pace with other Arctic nations by tapping into the "great opportunity" for economic gain they believe lies beneath the pristine Arctic waters, despite the dangerous dearth of response resources illustrated in the map below.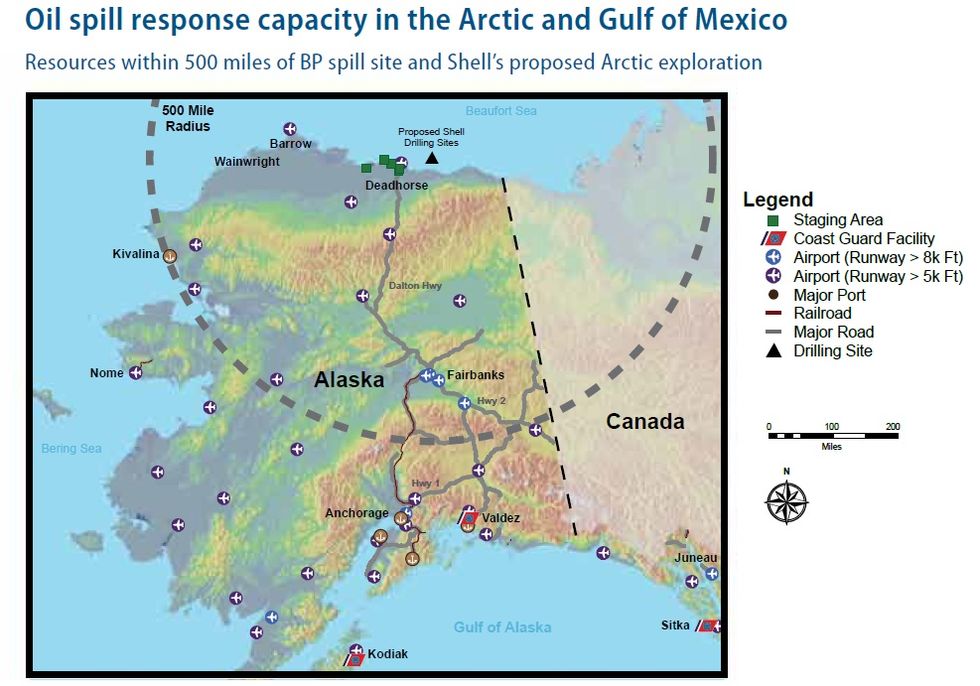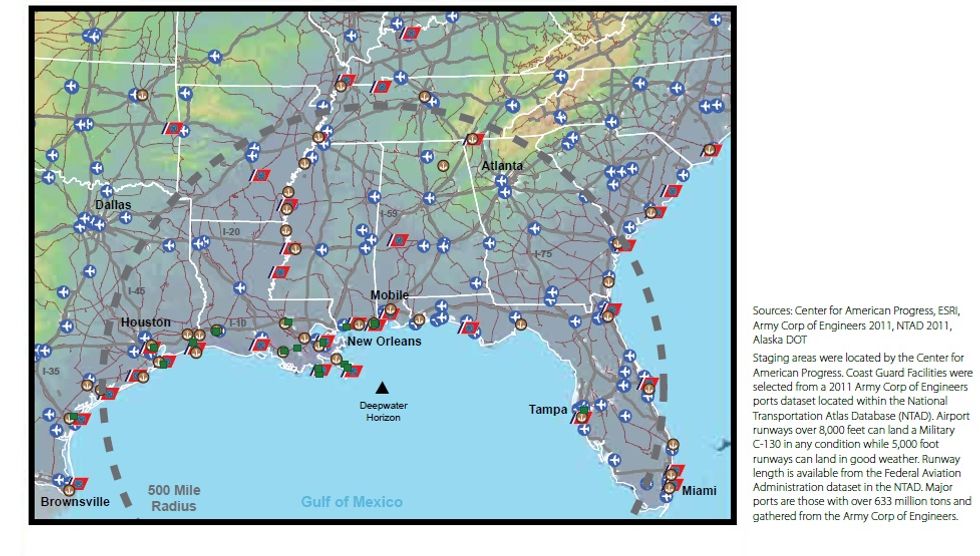 Drilling for oil in this fragile region, however, should not be pursued without adequate safeguards in place. If we've learned anything from the Deepwater Horizon tragedy, it's that the importance of preparedness cannot be overstated. That is why we strongly recommend specific actions be taken by the federal government, by Congress, and by Shell and other companies before beginning exploratory drilling in the Arctic. Recommendations include:
Ensure adequate response capabilities are in place before drilling operations commence
Require and oversee oil spill response drills in the Arctic that prove the assertions made in company drilling plans prior to plan approval
Engage other Arctic nations in developing an international oil spill response agreement that includes an Arctic Ocean drilling management plan
Appropriate adequate funds for the Coast Guard to carry out its mission in the Arctic, including increasing our icebreaking capability
Significantly increase the liability cap (currently $75 million) for oil companies in violation of drilling safety rules
Certainly, meeting our nation's energy needs in the near term means maintaining access to domestic offshore oil and gas resources, but it is imperative that we do so in the most prudent, responsible, and environmentally safe manner. And while we applaud the critical reforms implemented by the Obama administration in the aftermath of the Deepwater Horizon tragedy, more must be done. Until the oil and gas industry and its federal partners meet the recommendations we lay out in this report and demonstrate the ability to identify and immediately respond to a blowout or oil spill, the Arctic region of the U.S. should remain off-limits to exploration and drilling.
For more information, click here.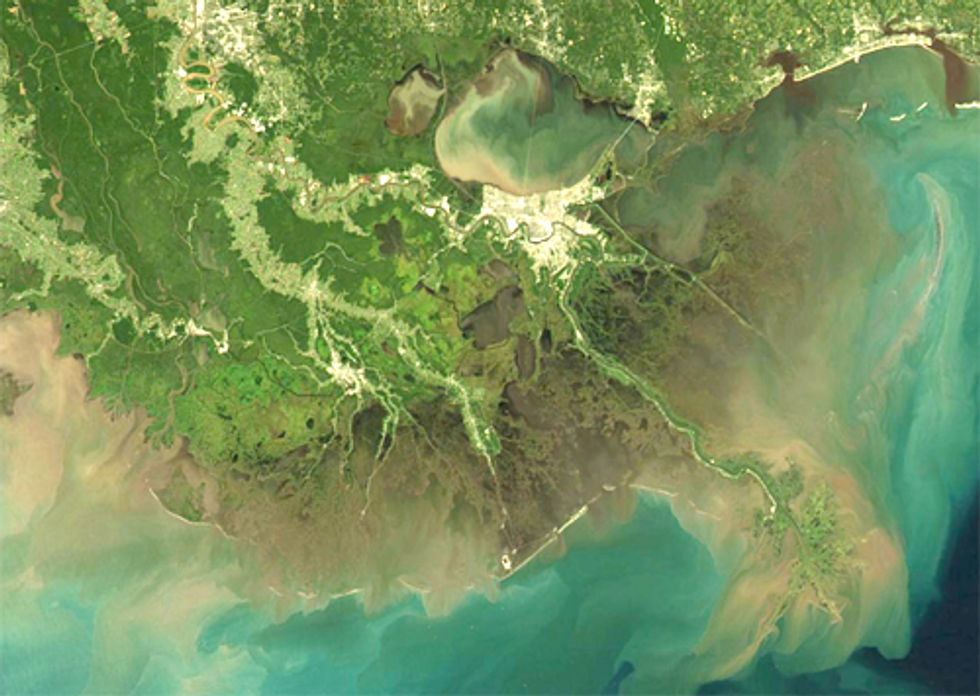 Waterkeeper Alliance and several Gulf Coast Waterkeeper organizations filed suit in Federal Court Feb. 2 against Taylor Energy Company LLC under the citizen suit provisions of the Clean Water Act and Resource Conservation Recovery Act, for ongoing violations stemming from an oil spill in the Gulf of Mexico that has continued to flow for more than seven years.
Aided by satellite imagery and research conducted by SkyTruth and aerial observation by SouthWings, the Waterkeeper Alliance and its local Waterkeeper organizations learned that the spill, located approximately 11 miles off the coast of Louisiana, started after an undersea landslide in the aftermath of Hurricane Ivan in 2004. An offshore platform and 28 wells were damaged, and since then, Taylor has yet to stop the daily flow of oil from the site. Waterkeeper estimates that hundreds of gallons of oil have leaked from the site each day for the last 7 years.
"The plaintiffs filed suit to stop the spill and lift the veil of secrecy surrounding Taylor Oil's seven-year long response and recovery operation," explained Marc Yaggi, executive director of Waterkeeper Alliance. "Neither the government nor Taylor will answer basic questions related to the spill response, citing privacy concerns." The public deserves to know how this spill happened and why it continues. Coastal communities should understand the risks involved in developing off-shore oil resources and what protections are in place to prevent damage from future spills.
"The Taylor Oil spill is emblematic of a broken system, where oil production is prioritized over concerns for human health and the environment," said Justin Bloom, eastern regional director of Waterkeeper Alliance. "Nearly two years after the BP Deepwater Horizon Spill, none of the comprehensive reforms recommended by the National Oil Spill Commission have been enacted and Congress has yet to pass a single law to better protect workers, the environment or coastal communities."
Meanwhile, President Obama, in his State of the Union, has called for a massive push to open up 38 million acres in the Gulf of Mexico to oil exploration and extraction. He also seeks to open up pristine Arctic waters to drilling. The Taylor spill is in relatively shallow and accessible waters compared to the deepwater, challenging environment where Big Oil has set its sights. Oil exploration and extraction technology has dramatically outpaced the development of safety and recovery technology and it appears that the current regulatory regime is incapable of protecting us from a runaway industry.
A report released this week by the Gulf Monitoring Consortium, a partnership between Waterkeeper Alliance, SkyTruth and SouthWings, investigates several spills in the Gulf (including the Taylor Spill) and highlights numerous deficiencies in the reporting and response process.
A copy of the report can be found by clicking here.
"Imagine an incident like the Taylor Spill in a deepwater, high-pressure environment, that could not be contained in 7 years," said Paul Orr, the Lower Mississippi Riverkeeper. "Do we really want to race to the bottom without a lifeline when it looks like Big Oil is still at the helm?"
A copy of the complaint can be found by clicking here.
Joining Waterkeeper Alliance in the lawsuit are—Atchfalaya Basinkeeper, Baton Rouge, La.; Galveston Baykeeper, Galveston, Texas; Lower Mississippi Riverkeeper, Baton Rouge, La.; Louisiana Bayoukeeper, Barataria, La.; and Louisiana Environmental Action Network, Baton Rouge, La. Plaintiffs are represented by the Tulane Environmental Law Clinic.
For more information, click here.
—————
Waterkeeper Alliance is a global environmental movement uniting more than 190 Waterkeeper organizations around the world and focusing citizen advocacy on the issues that affect our waterways, from pollution to climate change. Waterkeepers patrol more than 1.5 million square miles of rivers, streams and coastlines in the Americas, Europe, Australia, Asia and Africa.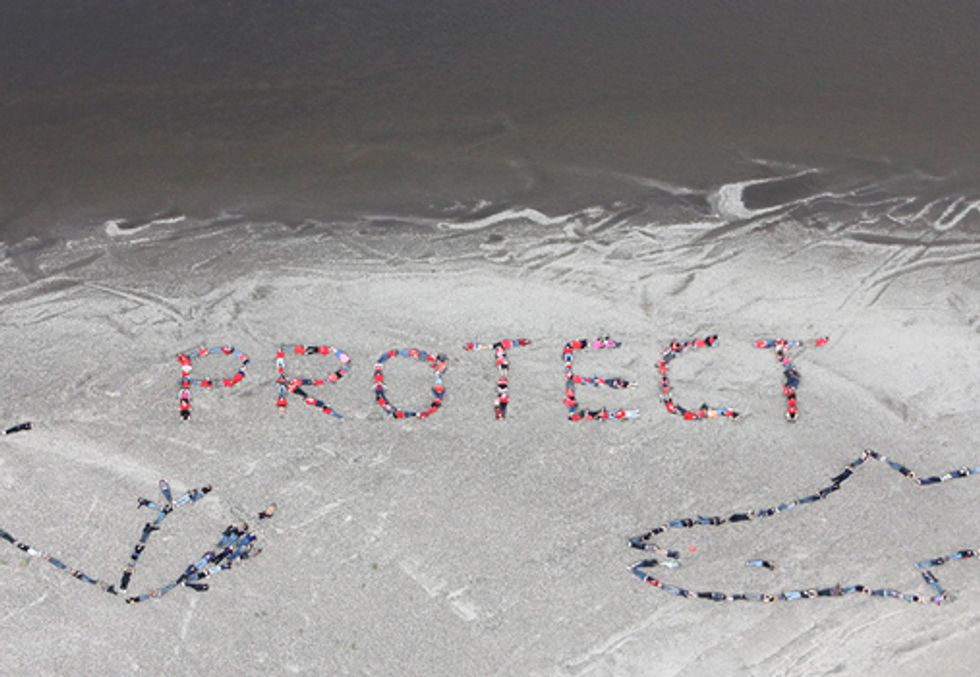 Congress passed an omnibus spending bill Dec. 16 for fiscal year 2012 that includes a poison pill buried deep within the bill's 1,200 page conference agreement—that literally poisons the air in our nation's Arctic Ocean. This poison pill, or Dirty Arctic Air rider, would compromise the health of the Inupiat people who have thrived there for thousands of years as well as the Arctic's myriad wildlife species, from polar bears and beluga whales to walrus and millions of birds.
Specifically, the poison pill transfers authority over Arctic offshore drilling air pollution permits from the U.S. Environmental Protection Agency (EPA) to the U.S. Department of Interior (DOI). As a result, Arctic drilling will become almost completely exempt from the Clean Air Act's health-based national ambient air quality standards and the act's program to prevent significant deterioration of air quality.
Statement from Cindy Shogan, executive director, Alaska Wilderness League:
"Today's action by Congress tells the people of America's Arctic—proud Inupiats and Americans—that they are less important than a few foreign-owned oil companies such as Royal Dutch Shell.
"There is no question that this Dirty Arctic Air rider—snuck into a vital spending bill at the 11th hour—is a clear giveaway to Shell and Big Oil. Currently, Shell's proposed drilling program in the Arctic's Chukchi and Beaufort Seas would release, each year, tens of thousands of tons of climate-warming greenhouse gases; hundreds of tons of nitrogen dioxide, which causes and exacerbates respiratory disease; and tens of tons of other harmful pollutants including carbon monoxide and volatile organic compounds. If subject to DOI's regulations, Shell could be authorized to emit pollution in excess of even these massive amounts.
"The people of America's Arctic already suffer from the impacts of drilling in their pristine, wild home. When Rosemary Ahtuangaruak started her career as health aide in 1986 in Nuiqsut, a small village that sits adjacent to the Alpine Oil Field and near Prudhoe Bay, North America's largest oil field, she treated one patient with asthma. When she quit in 1997, there were 60 people who had to use respiratory medications. This is an increase of more than tenfold, and
corresponded with an increase of oil industry activity near her town. As the National Academy of Sciences noted in its extensive study of cumulative environmental effects of oil and gas development on Alaska's North Slope, "petroleum development has resulted in major, significant, and probably irreversible changes to the way of life on the North Slope."
"President Barack Obama owes it to the people of the Arctic to demand that DOI immediately tighten its air rules to match those of EPA."
Arctic air pollution oversight—EPA vs. DOI:
The EPA has a long history of protecting public health through the Clean Air Act, which has saved more than 200,000 lives and prevented millions of asthma attacks, heart problems and other serious illnesses. Such expertise is essential for protecting a region as fragile as the Arctic, which is already under significant threat from the effects of climate change and onshore development.
Beyond the fact that DOI has no history or expertise in Arctic air quality, DOI regulations are not nearly as protective. They do not require compliance with Clean Air Act requirements over the ocean but only onshore and the regulations include wholesale exemptions from air quality analysis for many facilities based on their distance from the shore. This is especially alarming in the Arctic where there are vast lease tracks offshore, thereby exempting 80 million acres of potential leases from regulation at the source.
Shifting the point of compliance from the source on the ocean to the shoreline ignores that some members of Arctic coastal communities spend significant time on the ocean. DOI regulations would allow the oil companies to pollute at unhealthy levels within traditional Alaska Native subsistence hunting areas.
For more information, click here.