This website uses cookies to ensure you get the best experience while browsing it. By clicking 'Got It' you're accepting these terms.


The best of EcoWatch, right in your inbox. Sign up for our email newsletter!
Farming pangasius catfish for export in Vietnam.
Ben Belton,
CC BY-ND
By Ben Belton, Dave Little and Simon Bush
Over the past three decades, the global aquaculture industry has risen from obscurity to become a critical source of food for millions of people. In 1990, only 13 percent of world seafood consumption was farmed; by 2014, aquaculture was providing more than half of the fish consumed directly by human beings.
Farmed Atlantic salmon inside pens at Sir Edmund fish farm. Sea Shepard
Thousands of Atlantic salmon escaped from a damaged net pen at a Cooke Aquaculture fish farm off Cypress Island in Washington's Puget Sound on Saturday, sparking fears from some that the farm-raised fish could threaten wild Pacific salmon.
Washington Department of Fish and Wildlife (WDFW) said that 305,000 salmon were in the net pen at the time, but the company estimates that 4,000-5,000 fish escaped.
EcoWatch Daily Newsletter
A tiny bug is behind a major problem in the global farmed salmon industry.
The sea louse, or salmon louse, is eating into farmed Atlantic salmon supplies in Scotland, Norway, Iceland and Canada, driving salmon prices higher and creating a "chemical arms race in the seas," the Guardian reports.
Fish—which is loaded with protein, vitamin D and omega-3 fatty acids—is among the healthiest foods on the planet, and that's not to mention that dining on fish has a smaller carbon footprint than red meat, pork and chicken.
But here's the catch: the world's increasing appetite for finned food has led to a devastating problem with nearly 90 percent of global fish stocks either fully fished or overfished, according a 2016 analysis from the United Nations Food and Agriculture Organization. Meanwhile, the Organization for Economic Co-operation and Development forecasts a 17 percent rise in fish production by 2025.
In addition to depleting fish stocks, the long term sustainability of the ocean's resources is also threatened by acidification, warming waters, hypoxia, sea level rise, pollution and the overuse of marine resources.
That's why Oscar-winning actor and environmental activist Leonardo DiCaprio has gotten behind Boulder, Colorado-based seafood brand LoveTheWild that sells frozen seafood kits made with 100 percent farm-raised fish.
"Estimates show the earth's population approaching nine billion by 2050, putting tremendous pressure on our natural food resources," DiCaprio said in a statement. "Seafood is a primary source of protein for nearly a billion people—but climate change, acidification and over fishing are putting increased pressure on our oceans' natural stability."
"LoveTheWild's approach to sustainable, responsible aquaculture is promoting the development of a secure and environmentally-conscious solution to feeding our planet's growing population," he added.
The Before the Flood filmmaker has made an investment in the brand and will also serve as an advisor. According to BizWest, DiCaprio and sustainable aquaculture investment fund Aqua-Spark round out a $3 million Series A funding announced in February, in which Aqua-Spark invested $2.5 million.
"The exploitation of our oceans has left many marine ecosystems on the brink of total collapse, which is hurting our ability to harvest our seas as a reliable food source as we have for thousands of years," DiCaprio continued. "LoveTheWild is empowering people to take action on this crisis in a very meaningful way."
Farmed seafood, or aquaculture, currently provides roughly half of all fish consumed globally. Experts tout it as a way to supply protein, nutrition and food security to a rapidly growing global population.
However, aquaculture operators in some countries, such as Chile's salmon industry, have been criticized for crowding fish into tight enclosures that breed disease and raising them on unnatural diets and antibiotics.
But as Tim Fitzgerald, a scientist and sustainable seafood expert at the Environmental Defense Fund, told the New York Times, farming practices are improving and some merchants set high standards for the fish they sell.
LoveTheWild, founded by Jacqueline Claudia and Christy Brouker in 2014, sells sustainable fish that's good for you and the oceans at the same time. The company said it selects its seafood from the "most well-managed farms in the world."
The line includes striped bass with roasted pepper almond sauce, barramundi with mango Sriracha chutney, catfish with Cajun creme and red trout with salsa verde. The kits are in retailers such as Whole Foods Market, Wegmans, Sprouts and Mom's.
"Our vision for LoveTheWild was inspired by our dedication to aquaculture, and we're very humbled that the quality of our products and integrity of our vision has attracted such a powerful group of supporters and investors," said Claudia, LoveTheWild CEO, in a statement.
"We are excited that Mr. DiCaprio, someone so dedicated to environmental activism, has partnered with LoveTheWild to help make it easy for consumers make an impact on the environment through something as simple as choosing the right thing for dinner. We have no doubt that the involvement of all of our investors will further bring to life our mission of making high-quality seafood exciting, easy, and accessible, while also helping to bring awareness to the potential for responsible aquaculture to play an important role in our food future."
DiCaprio, and his Leonardo DiCaprio Foundation, has long put his philanthropic dollars towards environmental organizations and businesses that protect oceans, land and wildlife, as well as operations that work to fight against climate change.
Last year, the foundation awarded a total of $15.6 million in grants, including $7,631,508 for wildlife and habitat conservation; $2,525,000 for ocean conservation; $2,100,000 to protect indigenous rights; $2,085,000 to support innovative solutions to the world's problems; and $1,300,000 to combat climate change. With these grants, the Leonardo DiCaprio Foundation has provided more than $59 million in support of many projects since 1998.
By Hannah Norman
An otter backstrokes past the damp walkway as sea lions bark, resting on adjacent planks. Sunlight filters into the shaded labyrinth of mesh-lined cages that hang in the water column beneath Monterey's Municipal Wharf No. 2. Inside the suspended cylinders, thousands of California red abalone are munching on freshly harvested kelp.
"Welcome to our world under the wharf," said Art Seavey, co-owner of Monterey Abalone Company.
The historic pier is more than 90 years old; its wooden troughs were severely rotted out before the farm refurbished them and took up residence in the unused space. A built-in ladder eases the descent through a trapdoor from the bustling office and touristy marketplace above, where the company sells fully grown abalone for roughly $21 to $23 per pound. Local, high-end restaurants, as well as individuals, purchase the delicacy straight off the wharf.

Aquaculture provides more than half of all fish consumed globally, as wild fish catches are slowly diminishing. Experts say that seafood is an integral part of supplying food security, as well as sufficient protein and nutrition, to a global population that is expected to reach 9.7 billion by 2050. A major battle for environmentalists and many aquaculture proponents alike is ensuring the industry moves away from environmentally harmful techniques, which have painted the growing sector with a negative brush.

Monterey Abalone Company hopes to help catalyze this shift. Founded in 1992, the company is one of six abalone farms in California, and it takes pride in its sustainable aquaculture practices. Monterey Bay Aquarium's Seafood Watch, a program that helps consumers and businesses choose sustainable seafood options, gives abalone—when farmed in enclosed systems such as that of Monterey Abalone Company—a green, "best choice" ranking.

Trevor Fay, Seavey's partner, points out that the sea snails are indigenous to the Pacific coastline, as is their regular meal of hand-harvested kelp. One of the fastest growing plants on the planet, giant kelp expands 10 to 12 inches per day, providing a renewable, fresh resource to feed the abalone. "It all comes back to us relying on a healthy kelp bed," said Fay. "We need a healthy planet to continue our farming."
Still, kelp harvesting has been the most controversial aspect of their operation, even though the company is one of only two hand harvesters in the entire U.S., according to Fay. During the 1990s, the Monterey abalone outfit came under fire after an out-of-town kelp harvester unrelated to the company mechanically clear-cut a giant kelp bed just offshore. It wasn't until after a 2000 Monterey Bay National Marine Sanctuary study, which concluded that Fay and Seavey's business only harvested about one-tenth of one percent of the bay's kelp, that tensions subsided.

Corey Peet, a sustainable seafood consultant, said that across the U.S. and Canada, the pendulum has swung too far toward the anti-aquaculture side, propelled in part by the notoriously bad byproducts of salmon farming, such as waste excretion from net pens, the overuse of antibiotics and the spread of disease to wild populations. Another problem with finfish farming is the feed conversion ratio. Salmon and other finfish, which are predators by nature, feed on harvested smaller fish that are ground into fishmeal. It can take up to five pounds of wild fish to produce one pound of salmon.
"There are shades of gray in which the sustainability of our species will be determined," Peet said. "Clearly, aquaculture has a role to play, but it's not going to be salmon or tuna feeding the masses."
That's where shellfish, and species like abalone that are lower on the food chain, come in. Bivalves, such as mussels and clams, are filter feeders, which means that they don't require any additional feeding, according to Judith Weis, a member of the Sierra Club's Marine Action Team and a professor of biological sciences at Rutgers University. They also absorb excess nutrients from the ocean, which can actually be beneficial to water quality and local ecosystems.
Just like with finfish farming, however, not all shellfish aquaculture embraces best practices, notes Weis. Bivalve culture can be an avenue for introducing invasive species—and their diseases—to a new area, along with smaller hitchhiking critters such as oyster drills, limpets and algae. Cultivating species in a native habitat prevents these negative impacts on local ecosystems. "Aquaculture is a necessary thing because we are depleting wild stocks, but let's learn to do it right," she said.
Aquaculture can also be integral in restoring local species decimated by overfishing and coastal degradation.

California's once plentiful abalone population succumbed to a combination of overharvesting and a disease called withering foot syndrome. In 1997, the U.S. Department of Fish and Wildlife closed both sport and commercial abalone fishing for all seven species of the sea snail. Today, only freediving for red abalone, the most abundant variety, is permitted on a short stretch of coast above San Francisco.
Though the Monterey Abalone Company raises their abalone for eating, Fay said they contribute to restoration and environmental efforts through their educational partnerships. In 2008, the company started a hatchery in a joint project with Moss Landing Marine Laboratories, a consortium campus for seven California state universities, where students can study the species' early life cycle. It has also hosted groups from the restaurant industry, such as the Culinary Institute of America, to raise awareness about the environmental benefits of sustainable seafood. The farm regularly invites elementary and high school classrooms from around Monterey County in for discussions about California's depleted abalone population, as well as aquaculture best practices.
"It's very important to educate the public about how and why we're doing it," Fay said. "Most people aren't aware of where the food comes from."
The company is doing a few experiments of their own, too, in order to minimize their environmental impact even more. The marine farmers have begun growing purple hinged rock scallops, which hang underneath the abalone in the water column and feed off of extra nutrients excreted from the abalone above.
"The idea of cultivating species with different ecological roles together, multiaquaculture, is a really clever idea," Weis said. "That's really good."
Reposted with permission from our media associate SIERRA Magazine.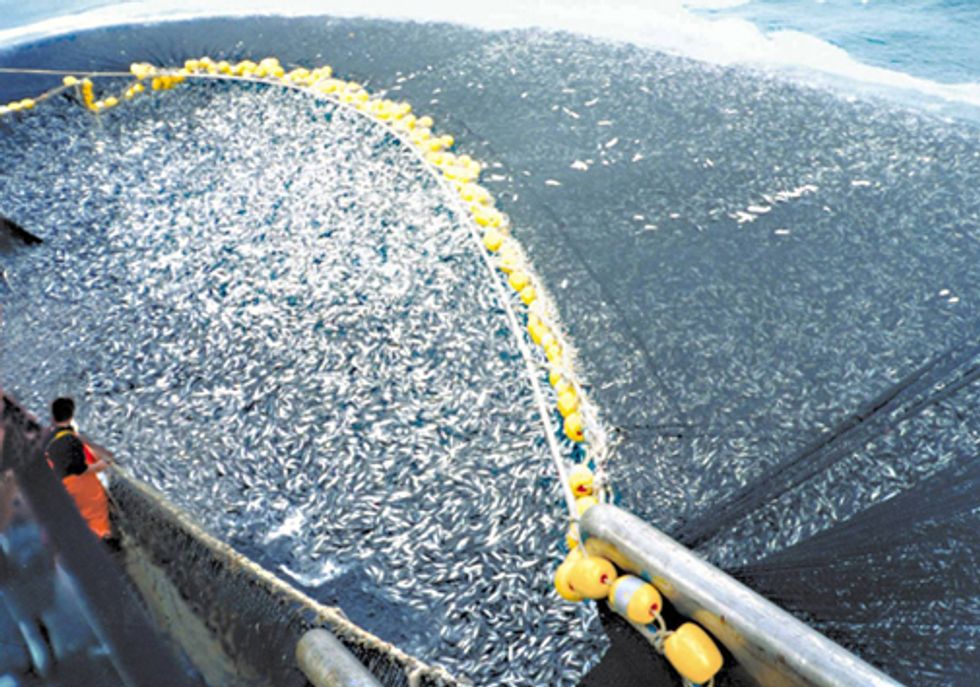 Asian, European and Latin American fleets have devastated fish stocks in the southern Pacific, once among the world's richest waters, a new investigation by the International Consortium of Investigative Journalists (ICIJ) has found.
Governments with the power to stop the plunder have stalled for years, and no binding rules are in place. The result—Stocks of jack mackerel are down 90 percent to less than 3 million metric tons in just two decades. The oily fish is a staple in Africa, but people elsewhere are unaware that it is in their forkfuls of farmed salmon. Jack mackerel is a vital component of fishmeal for aquaculture.
Today, industrial fleets bound only by voluntary restraints compete in what amounts to a free-for-all in open waters from the west coast of South America across much of the southern Pacific.
Daniel Pauly, oceanographer of University of British Columbia, sees the jack mackerel crisis as an alarming indicator of progressive collapse in all oceans. "This is the last of the buffaloes," he told ICIJ. "When they're gone, everything will be gone ... This is the closing of the frontier."
Delegates from at least 20 countries will gather Jan. 30 in Chile's capital of Santiago to seek more progress toward the elusive goal of curbing this plunder.
Among the investigation's findings:
As other fisheries are pushed to their limits, giant trawlers have moved southward toward the edge of Antarctica to catch the fish that are left. Many are aided by government subsidies.
National interests and geopolitical rivalry have blocked efforts, since 2006, to create and ratify a regional fisheries management organization that can impose binding legal measures to rescue jack mackerel from further collapse.
In Chile, a handful of companies controlled largely by wealthy families own rights to 87 percent of the jack mackerel catch. With government backing they have secured unrealistically high quotas—beyond what scientists recommend to save the stock.
In Peru, the world's second largest fishing nation, widespread cheating at fishmeal plants allows companies to overfish and evade taxes. An ICIJ analysis reveals that at least 630,000 tons of anchoveta—worth nearly $200 million when reduced to fishmeal for aquaculture—"vanished" over two and a half years.
The Last Fish: Plunder in the South Pacific is the latest installment of Looting the Seas, a multi-year investigation looking at forces that are rapidly emptying oceans of fish. The stories are published in partnership with media around the world, including the International Herald Tribune, Le Monde (France), South China Morning Post (Hong Kong), El Mundo (Spain), Trouw (The Netherlands), and the investigative journalism centers IDL-Reporteros (Peru) and CIPER (Chile). A documentary co-produced with London-based tve is planned to air on BBC World TV News in the spring.
Read the full investigation by clicking here
For more information, click here.
—————
The International Consortium of Investigative Journalists is a global network of reporters who collaborate on in-depth investigative stories. Founded in 1997, ICIJ was launched as a project of the Center for Public Integrity to extend the Center's style of watchdog journalism, focusing on issues that do not stop at national frontiers. With 160 members in 61 countries, ICIJ is dedicated to investigating cross-border crime, corruption, and the accountability of power. Backed by the Center and its computer-assisted reporting specialists, public records experts, fact-checkers and lawyers, ICIJ reporters and editors provide real-time resources and state-of-the-art tools and techniques to journalists around the world.
The Center for Public Integrity is a nonprofit, nonpartisan, and independent digital news organization specializing in original investigative journalism on significant public policy issues. Since 1990, the Washington, D.C.-based Center has released more than 500 investigative reports and 17 books to provide greater transparency and accountability of government and other institutions. It has received the George Polk Award and more than 50 other major journalism awards, including honors from Investigative Reporters and Editors, Online News Association, Overseas Press Club, Society of Environmental Journalists, and Society of Professional Journalists.