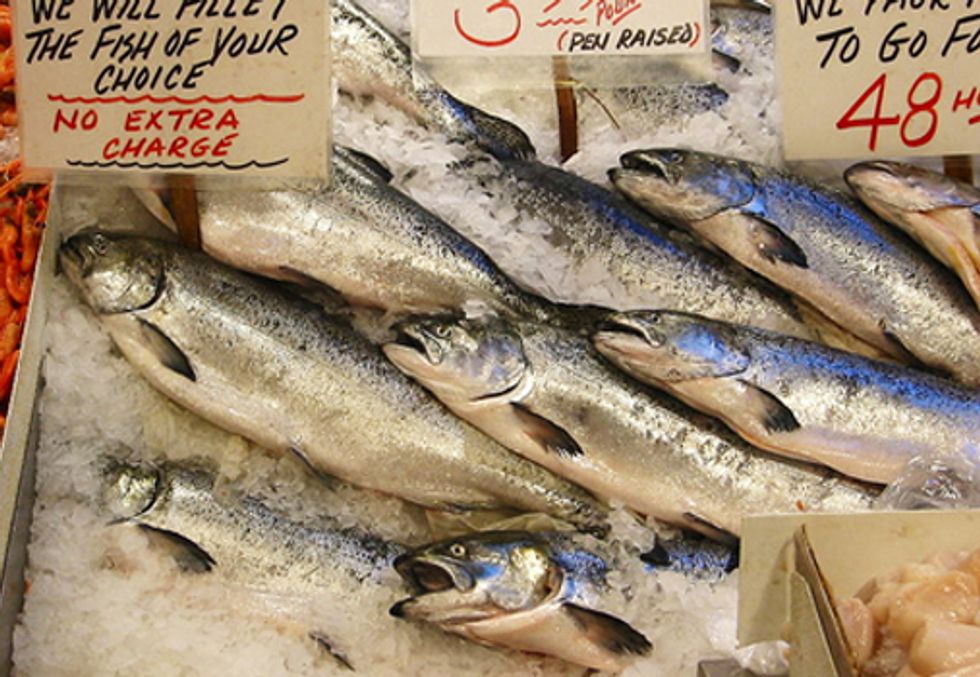 A 2009 memo from Fisheries and Oceans Canada (DFO) entered into evidence at Canada's federal Cohen Inquiry into the collapse of Fraser River sockeye Dec. 15 reveals that salmon at the AquaBounty facility in Prince Edward Island have tested positive for the Infectious Salmon Anaemia (ISA) virus.
The genetically-engineered (GE) salmon, currently under review by the U.S. Food and Drug Administration for potential sale to American consumers, tested positive for the ISA virus in November 2009. An email from a senior DFO fish health official was sent to the Canadian Food Inspection Agency, notifying the agency of the positive test results.
"AquaBounty's genetically modified fish are in a closed, land-locked facility," said Catherine Stewart of Living Oceans Society, the group whose research uncovered the evidence. "This suggests the virus could only have entered such a facility through eggs or smolts, proving once again that Canada must take action to both ban egg imports and implement more rigorous testing for ISA."
In the notification to the food health authority, DFO notes that based on molecular strain testing at two separate laboratories, the virus appears to be a new strain of ISA. The email also states,"With respect to international exports of live fish or eggs from this facility, DFO would identify that the facility has tested positive for ISAv should we be asked to sign a fish health certificate for export."
Download a .pdf of the DFO email by clicking here. The DFO email will be posted to the Cohen Commission website as Exhibit 2083.
Ms. Stewart will be attending Cohen Inquiry hearings into ISAv Friday, Dec. 16 and Monday, Dec. 19.
For more information, click here.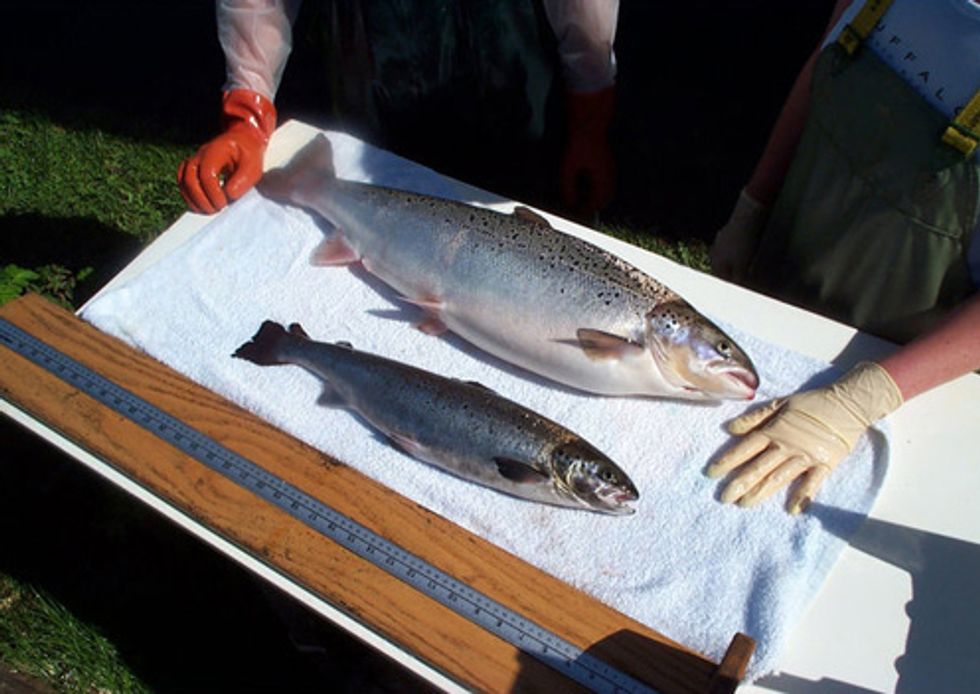 Statement by Wenonah Hauter, executive director, Food & Water Watch:
"The Senate hearing Dec. 15 called by Sen. Mark Begich (D-AK) to discuss the environmental impact of genetically engineered (GE) salmon is a welcome development. Congress also needs to examine what we know about the human health impacts of consuming such laboratory creations. If they did, they'd figure out the answer—not much. No long-term studies have been conducted regarding the human health impacts of consuming genetically modified foods.
"Congress needs to step in because the Food & Drug Administration seems set on approving this first transgenic animal to enter the food chain, even though nearly all of the safety studies they are scrutinizing have been conducted by AquaBounty, the company that has sunk tens of millions of dollars into the research and development of the product. That hasn't kept the federal government from also dispensing tax payer money—to the tune of $2.4 million since 2003—to help this private company commercialize a product there is no demand for. In fact, over 78 percent of Americans say they don't want it approved without further study.
"Approving GE salmon now, given the information we lack about its potential effects, could be devastating for consumers, the environment, and fishermen alike."
For more information, click here.
—————
Food & Water Watch works to ensure the food, water and fish we consume is safe, accessible and sustainable. So we can all enjoy and trust in what we eat and drink, we help people take charge of where their food comes from, keep clean, affordable, public tap water flowing freely to our homes, protect the environmental quality of oceans, force government to do its job protecting citizens, and educate about the importance of keeping shared resources under public control.
EcoWatch Daily Newsletter