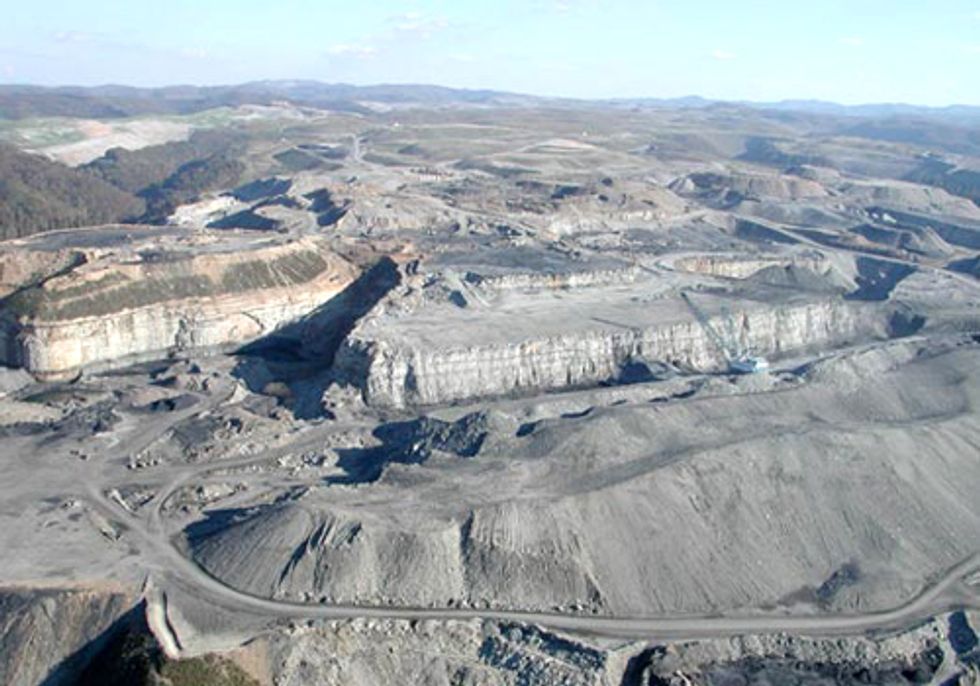 The Tennessee Scenic Vistas Protection Act, introduced by State Sen. Eric Stewart (D-14), was designed to stop surface coal mining that alters or disturbs a ridgeline over 2,000 feet of elevation, effectively banning mountaintop removal coal mining in the state.
On Wed., Feb. 29 the State Senate Energy and Environment committee voted 8-1 to approve an amendment that gutted the bill. The amendment changed the definition of mountaintop removal coal mining to exclude all except the most extreme cases from falling under the "prohibited" category as defined by the original bill.
The Tennessee Director of Appalachian Voices, J.W. Randolph, commented:
"In a disappointing move for the Tennessee mountains, special interests in the Tennessee Senate voted today to allow the continued devastation of the state's scenic peaks and cultural heritage. The amendments to the Scenic Vistas Protection Act removed the original language of the bill and replaced it with a definition that will essentially do nothing to protect the citizens of Tennessee. But, as state Sen. Eric Stewart said, this bill will be back every year until Tennessee mountains are protected.
"Tennesseans won't be fooled by smokescreens and are not concerned by technical definitions of mountaintop removal coal mining. They want to see the destruction of their mountains stopped. The political power of the coal industry in Tennessee has long outlived its ability to create jobs or prosperity in the region. Coal mining actually costs Tennessee taxpayers a net loss of $3 million a year, while the state's mountain-based tourism industry employs 175,000 people and brings in more than $13 billion to Tennessee annually.
"The Tennessee legislature has passed on a historic opportunity to stop the destruction of its mountains and cultural heritage. Citizen advocates and folks in the grassroots who want to protect the mountains will take this fight to the Senate floor to ensure that this bill that Tennesseans have been clamoring to pass is meaningful in protecting Appalachian mountains and communities."
For more information, click here.
EcoWatch Daily Newsletter
The Tennessee Scenic Vistas Protection Act, which could make Tennessee the first state to put a ban on high-elevation surface mining techniques such as mountaintop removal, faces an important hurdle this Wednesday, Feb. 29, in the Senate Environment Committee. We expect the vote to be very close, so it's all hands on deck in moving these legislators to do the right thing.
Below is a list of the senators who sit on the Environment Committee. Call them and let them know you support the Scenic Vistas Protection Act, and want to vote "YES." Learn more about our work to pass the Scenic Vistas bill by clicking here.
Senate Environment Committee
Committee Officers:
Sen. Steve Southerland, chair: Phone (615) 741-3851
Sen. Jack Johnson, vice-chair: Phone (615) 741-2495
Sen. Jim Summerville, secretary: Phone (615) 741-4499
Members:
Sen. Mike Bell: Phone (615) 741-1946
Sen. Mike Faulk: Phone (615) 741-2061
Sen. Kerry Roberts: Phone (615) 741-1999
Sen. Roy Herron: Phone (615) 741-4576
Sen. Beverly Marrero: Phone (615) 741-9128
Sen. Eric Stewart: Phone (615) 741-6694
In addition, call Gov. Bill Haslam at 615-741-2001. He spoke out against mountaintop removal during the campaign. Ask him to put action to those words by showing the leadership to guide the Scenic Vistas bill through the legislature.
The following television ad is running on Fox News in many of their districts.
For more information, click here.
Like many other plant-based foods and products, CBD oil is one dietary supplement where "organic" labels are very important to consumers. However, there are little to no regulations within the hemp industry when it comes to deeming a product as organic, which makes it increasingly difficult for shoppers to find the best CBD oil products available on the market.
<p>Here you can learn about the importance of organic hemp oil, why it's better for the environment, and which CBD companies actually make trustworthy products with sustainable farming processes. origins which weigh heavily on many consumers who want to buy a product that's produced in the best way possible for not only themselves to ingest, but for the environment as well through sustainable farming methods. </p><h2>What Is CBD Oil?</h2><p>First things first, CBD stands for cannabidiol, and it's a cannabinoid found within cannabis sativa plants. This plant compound is believed to have many potential benefits, and it is primarily derived from hemp plants via a CO2 extraction process. </p><p>Since CBD is extracted from industrial hemp, which contains only trace amounts of THC (the psychoactive component in cannabis plants), this means that CBD won't make you feel high like marijuana, which has much higher levels of THC that causes psychoactive effects. Instead, the effects of CBD are much more subtle and promote a general sense of calm and relaxation in most users.</p><h2>What Makes a CBD Oil Organic?</h2><p>In terms of organic labels, perhaps the most important (and prominent) certification comes from the United States Department of Agriculture (USDA). This government organization has been labeling foods as "organic" for many years, but what exactly does this certification entail? Essentially, a label indicating that a product is "USDA Organic" or "Certified Organic" means that at least 95% of the ingredients are obtained from organic sources.</p><p>For a crop to be considered organic by the USDA, it must be grown without the use of industrial solvents, irradiation, genetic engineering (GMOs), synthetic pesticides, or chemical fertilizer. Instead, farmers rely on natural substances and <a href="https://www.usda.gov/media/blog/2012/03/22/organic-101-what-usda-organic-label-means" rel="noopener noreferrer" target="_blank">mechanical, physical, or biologically based farming</a> techniques to cultivate healthy and organic crops.</p><p>Before the passage of the 2018 Farm Bill, no hemp-derived products could be dubbed as "certified organic" since the hemp plant and its extracts were still categorized as a Schedule I Controlled Substance. However, it's still difficult for CBD companies to obtain a USDA certified organic label for their products due to the legal grey area that still surrounds CBD extracts. </p><p>Because of these challenges, and due to the fact that industrial hemp has only recently become an agricultural crop, very few CBD oils are USDA certified organic. Rather, many CBD products contain hemp extracts from plants that were grown in organic conditions but may not be federally certified.</p><h2>What are the Best Organic CBD Oil Brands?</h2><p><em>Each product featured here has been independently selected. If you make a purchase using the links included, we may earn commission.</em></p>