By Diane Vukovic
We've all heard it before: you need to wash your hands with soap and water to prevent the spread of germs. So, it would seem logical that washing your hands with antibacterial—germ-killing—soap would do a better job. It turns out that this is not only false, but those antibacterial soaps (and hand sanitizers, sponges and other antibacterial products) could be downright dangerous. Here is why.
It would seem logical that washing your hands with antibacterial—germ-killing—soap would do a better job. It turns out that this is not only false, but those antibacterial soaps (and hand sanitizers, sponges and other antibacterial products) could be downright dangerous.
1. Antibacterial Soap Contributes to the Rise of Antibiotic-Resistant Bacteria

Maybe you've heard now about how the overuse of antibiotics is causing the rise of antibiotic-resistant "superbugs." Well, the same can be said of antibacterial products like soap.
As epidemiologist Allison Aiello explains to Scientific American, most antibacterial soaps contain the ingredient triclosan. When the bacteria are exposed to triclosan, they can undergo genetic mutations. These same mutations not only protect them from triclosan (or whatever other antibacterial product you are using), but can make them more difficult to kill with antibiotics.
2. Antibacterial Soap May Disrupt Hormones
In animal studies like this one at the Journal of Toxicological Sciences it was found that triclosan altered the hormones in rats, causing an estrogenic effect. The Food and Drug Administration says that animal studies aren't always indicative of what will happen to humans, but even they recommend reviewing the risks further and say that concerned consumers should use regular soap instead.
3. Antibacterial Soap May Impair Muscle Function
The list of risks associated with triclosan go on! A study, reported in Smithsonian Magazine, found that triclosan "hinders human muscle contractions at the cellular level and inhibits normal muscle functioning in both fish and mice." The researchers weren't even exposing cells to super-high dosages during the study. They used levels of triclosan similar to what we experience every day.
4. Antibacterial Soap Increases Risk of Allergies
There are a lot of theories about why allergies are on the rise and one is that the overly-sanitized environment that we live in is harming the development of our immune system. A study published in the Journal of Allergy and Clinical Immunology furthers this theory. It found that the triclosan commonly found in antibacterial products causes mutations, which may lead to food allergies.
5. Antibacterial Soap is Bad for the Environment
When you rinse your hands of antibacterial soap, it doesn't just disappear down the drain. It gets into our environment and could have disastrous consequences. As Eco Watch reported, the antibacterial chemicals in soap aren't completely removed by wastewater treatment facilities. The chemicals get transferred into sludge, which is then put on agricultural land and could contaminate surface water.
Why is this so worrisome? Because both triclosan and triclocarban (another common ingredient in antibacterial products) degrade into carcinogens! If these get into the food and water systems, then we could have a massive health problem on our hands. And it seems like they already have gotten into our systems since studies found traces of triclosan in breast milk and also the urine of 75 percent of Americans over the age of five!
6. Antibacterial Soap Isn't Any More Effective Than Regular Soap
The icing on the cake is that antibacterial soap doesn't do any better of a job at preventing disease than regular soap.
Several studies, like this one at the Journal of Antimicrobial Chemotherapy and this one at the Oxford Journal of Infectious Disease, have looked into the effectiveness of antibacterial soaps. They've found that there was "no significant difference" and antimicrobial soap was "no more effective than plain soap" at preventing infectious illness. This shouldn't be too surprising considering that most diseases are caused by viruses and not bacteria, so antibacterial soap isn't effective!
YOU MIGHT ALSO LIKE
San Francisco Bans Styrofoam, Passes Nation's Toughest Anti-Styrofoam Law
Mother-of-Three Sues Monsanto Claiming Roundup Caused Her Cancer
4 Ways to Get Rid of Seasonal Allergies
Lawsuit Filed Against 3M for Dumping Toxic Chemicals Into the Tennessee River
EcoWatch Daily Newsletter
Half of newborns in a Brooklyn-based study were exposed in the womb to triclosan, a germ-killing chemical widely used in consumer products, researchers reported Sunday at an annual meeting of chemists.
"Our study suggests that expectant mothers may be highly exposed to these compounds, which have endocrine-disrupting capabilities," said study coauthor Laura Geer, an environmental health scientist at SUNY-Downstate Medical Center in New York.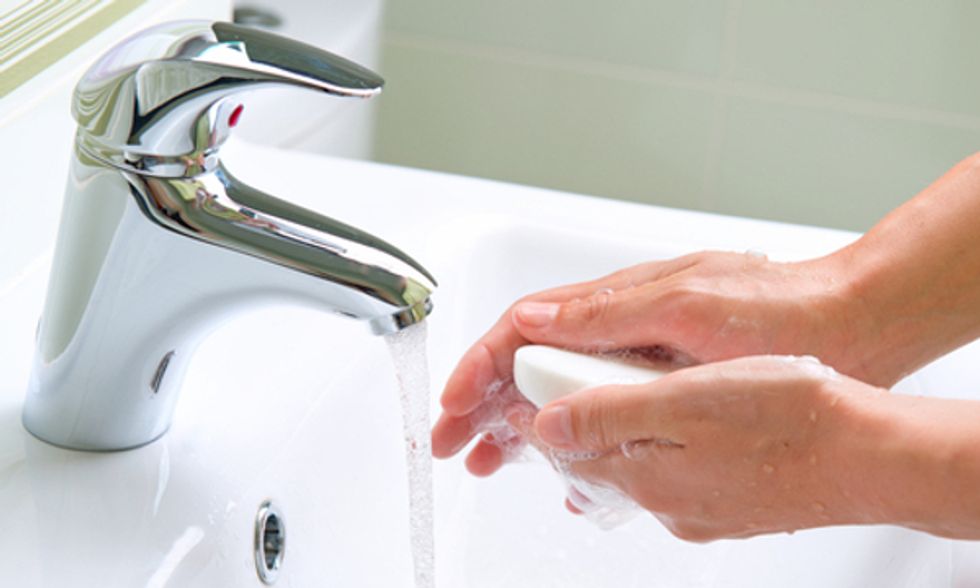 Triclocarban is found in some bar soaps. Photo courtesy of Shutterstock
In addition to triclosan, about one-quarter of the newborns were exposed to traces of triclocarban, another germ-killing chemical in some bar soaps.
The researchers also reported that pregnant women with higher levels of butylparaben, a cosmetics germ-killing preservative, gave birth to shorter babies than women with lower levels. It's not clear what health effects, if any, the shorter lengths would have on a child, Geer said. Those findings are preliminary and have not yet been published, so Geer declined to reveal details on the length differences.
"Shifts in birth size may be an indication of endocrine disruption," she said. "We hope to address the question of adverse health outcomes associated with these chemicals in future research."
The findings are being presented at the American Chemical Society's annual meeting in San Francisco. They add to growing debate about the safety of antimicrobial chemicals in consumer products. Triclosan and triclocarban are used in more than 2,000 items, including some toothpastes, liquid soaps, detergents, clothing and toys.
Last year, the U.S. Food and Drug Administration (FDA) announced that antibiotic hand soaps and body washes containing the two chemicals were no more effective than regular soap and water. The FDA is reviewing their safety and possible health effects, with a ruling expected in 2016. Earlier this year, Minnesota became the first state to ban triclosan in some household products.
Studies have reported that triclosan and triclocarban may add to the spread of antibiotic-resistant bacteria, disrupt development of the brain and reproductive system and accumulate in plants and animals. Parabens, identified as estrogen mimics, have been linked to reproductive problems in lab animals, as well as allergies and skin irritation.
In the Brooklyn study, all of the 184 pregnant women tested had traces of triclosan in their urine, while 86 percent had triclocarban, according to the study by Geer and Arizona State University researchers. Umbilical cord blood from 33 of the women was tested. It was the first time triclocarban had been studied in pregnant women and fetuses.
The women had higher levels of the chemicals, on average, than the general U.S. population. Most of the women tested were black.
"If you cut off the source of exposure, eventually triclosan and triclocarban would quickly be diluted out, but the truth is that we have universal use of these chemicals, and therefore also universal exposure," Rolf Halden, the study's lead investigator and director of Arizona State's Center for Environmental Security, said in a statement.
Paul DeLeo, an associate vice president of the American Cleaning Institute, which represents the U.S. cleaning products industry, said the traces found are too small to have any effect.
"Everything around us gets into us. But the levels they are finding are extremely small. There's a wide margin of safety between these levels and the levels deemed unsafe based on standard toxicology testing," he said.
However, experts say that standard toxicological tests do not detect many effects, especially ones related to hormone disruption.
Geer said pregnant women who want to reduce their exposures should scan the active ingredients listed on the back of products. "Avoid products labeled 'antimicrobial,' since these products likely contain triclosan or triclocarban as active ingredients," she said.
Big-name manufacturers Proctor & Gamble and Johnson & Johnson have announced they are phasing out triclosan from their products. Many cosmetics companies market paraben-free products.
You Might Also Like
Antibacterial Agent Triclosan Linked to Growth of Breast Cancer Cells
Dateline TV Producer Tested for Chemicals—What She Finds Will Shock You!
waterlust.com / @tulasendlesssummer_sierra .
Each product featured here has been independently selected by the writer. If you make a purchase using the links included, we may earn commission.
The bright patterns and recognizable designs of Waterlust's activewear aren't just for show. In fact, they're meant to promote the conversation around sustainability and give back to the ocean science and conservation community.
Each design is paired with a research lab, nonprofit, or education organization that has high intellectual merit and the potential to move the needle in its respective field. For each product sold, Waterlust donates 10% of profits to these conservation partners.
Eye-Catching Designs Made from Recycled Plastic Bottles
waterlust.com / @abamabam
The company sells a range of eco-friendly items like leggings, rash guards, and board shorts that are made using recycled post-consumer plastic bottles. There are currently 16 causes represented by distinct marine-life patterns, from whale shark research and invasive lionfish removal to sockeye salmon monitoring and abalone restoration.

One such organization is Get Inspired, a nonprofit that specializes in ocean restoration and environmental education. Get Inspired founder, marine biologist Nancy Caruso, says supporting on-the-ground efforts is one thing that sets Waterlust apart, like their apparel line that supports Get Inspired abalone restoration programs.
"All of us [conservation partners] are doing something," Caruso said. "We're not putting up exhibits and talking about it — although that is important — we're in the field."
Waterlust not only helps its conservation partners financially so they can continue their important work. It also helps them get the word out about what they're doing, whether that's through social media spotlights, photo and video projects, or the informative note card that comes with each piece of apparel.
"They're doing their part for sure, pushing the information out across all of their channels, and I think that's what makes them so interesting," Caruso said.
And then there are the clothes, which speak for themselves.
Advocate Apparel to Start Conversations About Conservation
waterlust.com / @oceanraysphotography
Waterlust's concept of "advocate apparel" encourages people to see getting dressed every day as an opportunity to not only express their individuality and style, but also to advance the conversation around marine science. By infusing science into clothing, people can visually represent species and ecosystems in need of advocacy — something that, more often than not, leads to a teaching moment.

"When people wear Waterlust gear, it's just a matter of time before somebody asks them about the bright, funky designs," said Waterlust's CEO, Patrick Rynne. "That moment is incredibly special, because it creates an intimate opportunity for the wearer to share what they've learned with another."
The idea for the company came to Rynne when he was a Ph.D. student in marine science.
"I was surrounded by incredible people that were discovering fascinating things but noticed that often their work wasn't reaching the general public in creative and engaging ways," he said. "That seemed like a missed opportunity with big implications."
Waterlust initially focused on conventional media, like film and photography, to promote ocean science, but the team quickly realized engagement on social media didn't translate to action or even knowledge sharing offscreen.
Rynne also saw the "in one ear, out the other" issue in the classroom — if students didn't repeatedly engage with the topics they learned, they'd quickly forget them.
"We decided that if we truly wanted to achieve our goal of bringing science into people's lives and have it stick, it would need to be through a process that is frequently repeated, fun, and functional," Rynne said. "That's when we thought about clothing."
Support Marine Research and Sustainability in Style
To date, Waterlust has sold tens of thousands of pieces of apparel in over 100 countries, and the interactions its products have sparked have had clear implications for furthering science communication.
For Caruso alone, it's led to opportunities to share her abalone restoration methods with communities far and wide.
"It moves my small little world of what I'm doing here in Orange County, California, across the entire globe," she said. "That's one of the beautiful things about our partnership."
Check out all of the different eco-conscious apparel options available from Waterlust to help promote ocean conservation.
Melissa Smith is an avid writer, scuba diver, backpacker, and all-around outdoor enthusiast. She graduated from the University of Florida with degrees in journalism and sustainable studies. Before joining EcoWatch, Melissa worked as the managing editor of Scuba Diving magazine and the communications manager of The Ocean Agency, a non-profit that's featured in the Emmy award-winning documentary Chasing Coral.
The U.S Food and Drug Administration (FDA) today proposed a federal rule that, if finalized, would remove the potentially hazardous chemical triclosan from antibacterial body washes and hand soaps.
Under the proposed rule, the FDA will require manufacturers to prove their antibacterial soaps and body washes are safe and more effective than plain soap and water. If companies cannot demonstrate the safety and effectiveness of their products, they would have to be reformulated, relabeled or possibly removed from the market.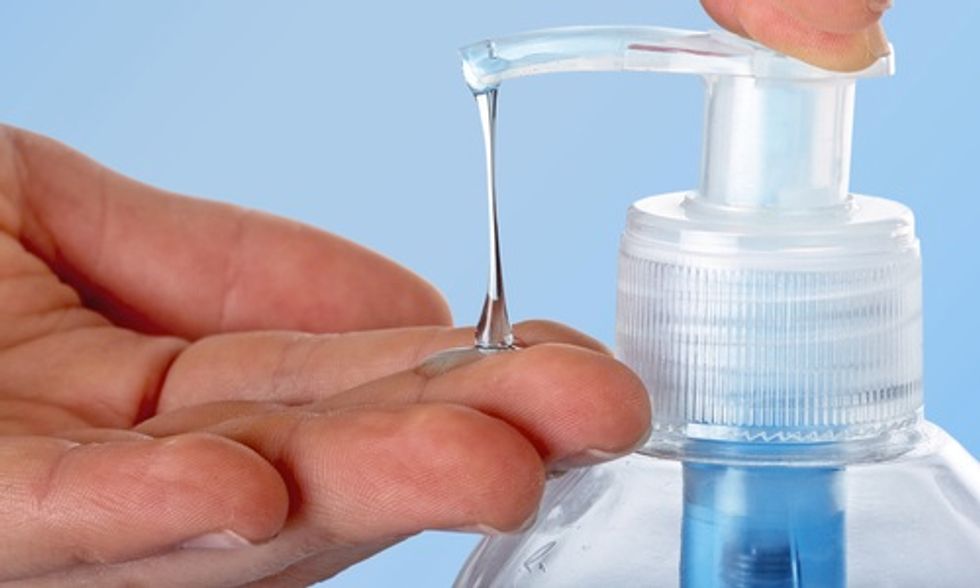 Shutterstock
FDA first proposed to remove triclosan from certain consumer products in 1978. The chemical, a suspected endocrine disruptor, has been linked to reproductive and developmental harm in laboratory studies.
The agency took no final action, however, and triclosan has been widely used in antimicrobial soaps sold in the U.S. In April 2010, the FDA acknowledged soaps containing triclosan offer no additional benefit over regular soap and water. 
In 2010, the Natural Resources Defense Council (NRDC) sued the FDA to force the agency to issue a final rule. As part of a settlement signed last month, the agency proposed a new final rule today and committed to taking final action by 2016.
"This is a good first step toward getting unsafe triclosan off the market," Mae Wu, an attorney in the NRDC health program, said in a media release. "The FDA is finally taking concerns about triclosan seriously. Washing your hands with soap containing triclosan doesn't make them cleaner than using regular soap and water and can carry potential health risks."
The growing use of triclosan in products during the past few decades has led to widespread residues in the environment and in people. Bio-monitoring results found residues of triclosan in 75 percent of Americans older than age of six. The chemical is absorbed through contact with the skin and tests have found it in human blood, urine and even breast milk.
Laboratory studies have shown that triclosan is an endocrine disruptor capable of interfering with hormones critical for normal development and reproduction. Such hormonal interference has the potential to cause long-term health problems including poor sperm quality and infertility and damage to the developing brain leading to poor learning and memory.
Several studies suggest that triclosan also may contribute to the development of antibiotic-resistant bacteria, may exacerbate allergies and may weaken muscle function.
Visit EcoWatch's HEALTH page for more related news on this topic.