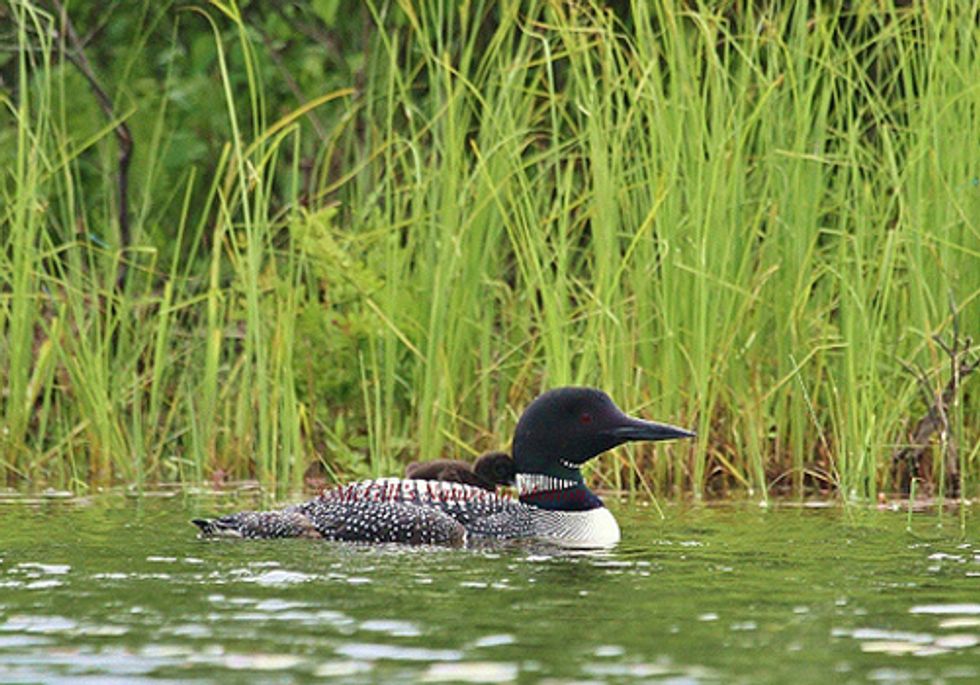 Scientist Dave Evers has been studying loons in Michigan's Seney National Wildlife Refuge impacted by mercury pollution since the late 1980s. He found mercury contamination in the very first loons he tested and since then has studied more than 5,000 of the majestic birds. His findings are troubling for loons and wildlife in the clear lakes of northern Michigan.
Mercury is a particularly harmful toxic air pollutant because it settles from the air onto our lakes, rivers and forests, polluting the environment and accumulating up the food chain as fish and wildlife consume the contamination.
Despite the source of mercury pollution being to the south of the loons' habitat, wildlife scientist Dr. Evers explains in this audio clip from the town hall that mercury from smokestacks can travel long distances in the air, and is transformed into a more toxic form–methylmercury–in the wetlands and forests of Northern Michigan.
Mercury Town Hall Draws Michigan Conservationists
On Dec. 3, more than 14,000 Michiganders joined a tele-town forum on mercury with Dr. Evers and sportsman Bob Garner, former host of Michigan Out-of-Doors television show. Michigan anglers and conservationists participated in a discussion on the importance of the U.S. Environmental Protection Agency's (EPA) new mercury and air toxics pollution limits to Michigan's lakes and wildlife.
Coal-fired power plants are releasing unlimited mercury pollution into the air, but as Dr. Evers explains, there is new technology to scrub much of the pollution from smokestacks.
Now, efforts by the U.S. EPA to finalize mercury and air toxics pollution limits will finally put a stop to unlimited mercury air pollution from coal-fired power plants.
Support for New Mercury Limits
Anglers and conservationists on the tele-town forum spoke up in support for strong air toxics protections wildlife impacted by mercury and other air toxics. Anglers who eat what they catch are at the frontline of mercury exposure.
Listen as Bob Garner explains that it was Michigan outdoorsmen and outdoorswomen who fought for the protections to air and water that we enjoy today. Once again, Michigan's conservationists are showing their support for protections to our air, lakes and wildlife.
Michiganders Call on Senators Levin and Stabenow
Some members in Congress want to weaken clean air and water protections, representing polluters' profits rather than protecting American's health.
It is up to Michigan anglers and conservationists to tell Michigan Senators Carl Levin and Senator Debbie Stabenow that it is time to ensure the limits on mercury and air toxics are not blocked by polluter-funded efforts to undermine the Clean Air Act.
For more information, click here.
EcoWatch Daily Newsletter
Bringing your own reusable grocery bags when you go shopping is one of the easiest ways to cut down on your plastic consumption — according to the UN Environment Program, up to 5 trillion single-use plastic bags are used globally each year.
The most sustainable option is to use a bag you already have, whether it's an old tote or a laundry basket (
thank TikTok for that idea
). You can also
make your own
reusable grocery bags out of T-shirts. But if you'd rather purchase designated reusable grocery bags, here are our recommendations.
<div class="redactor-editor" dir="ltr" placeholder="Start writing..." spellcheck="false"><p><em>Each product featured here has been independently selected by the writer. If you make a purchase using the links included, we may earn commission.</em></p></div>