I did something on vacation this spring that I normally never do: I sent my clothes to the laundry. Usually I pride myself on packing so wisely that I can last a week out of a carry-on bag, and I'm typically not staying in a place swanky enough to actually "do" laundry. But on this family vacation at an "adventure" resort, we had hiked through hot, muggy jungle on some surprisingly rigorous outings. I couldn't resist the convenient lure of popping the sweaty stuff in the canvas bag hanging in the closet and dropping it off at the front desk.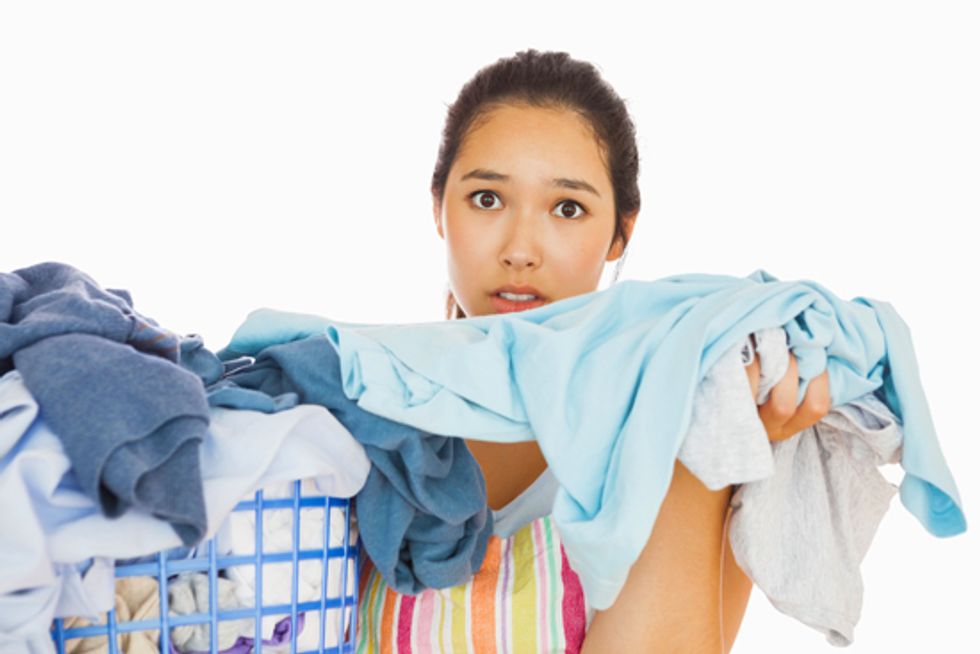 Photo courtesy of Shutterstock
The next day I regretted my moment of weakness. Actually, two months later, I still regret my moment of weakness. Why? Fragrance.
My clothes appeared neatly folded on my bed the next day, looking fresh as a daisy but smelling as harsh as a chemical plant. I've used perfume and dye-free laundry detergent for years, not because of any particular sensitivity but because it seemed smart to avoid unnecessary chemicals. And so I wasn't prepared for the faux floral tsunami of smell from my freshly laundered tank tops, and the burning sensation that formed in the back of my throat. I tossed the tops back into my suitcase for the remainder of the trip, to be cleansed of harsh chemicals at home.
Except they weren't. I couldn't get rid of the stuff. The smell clung to my clothes after several post-vacation washings. Eventually, I tucked the tops in a dresser drawer, finally retrieving them last week as summer approached. They still smelled. So I began wondering: what is this stuff?
According to studies by University of Washington professor Dr. Anne Steinemann, fragrant laundry detergents (and other cleaning products) contain large numbers of volatile organic chemicals (VOCs). In a 2010 study published in the journal Environmental Impact Assessment Review, Steinemann and colleagues analyzed 25 popular cleaning products that contained fragrance, including laundry products, personal care products, cleaning agents and air fresheners. They identified 133 VOCs—an average of 17 per product—including 24 classified as toxic or hazardous under U.S. federal law. Each product contained between one and eight toxic or hazardous substances and 11 of them contained at least one carcinogenic Hazardous Air Pollutant (HAP) identified under the Clean Air Act. Steinemann and her colleagues didn't measure levels of these chemicals in each product, or evaluate their health risk at typical exposure levels. But they did note that, according to the U.S. Environmental Protection Agency, carcinogenic HAPs have no safe threshold for exposure. 
In 2011, Steinemann and colleagues examined VOCs emitted from the air coming out of dryer vents. They found a total of 21 VOCs from two dryer vents, after washing towels with the most popular fragranced laundry detergent in the U.S. (they didn't say which brand that was) and 25 different VOCs when they added a fragranced dryer sheet to the mix. Seven of these VOCs are classified as HAPs, including two—acetaldehyde and benzene—that are classified as carcinogenic with no safe exposure level.
But short of hooking up Steinemann's fancy equipment to your dryer vent, how would you know what's getting into your clothes? Manufacturers aren't required to list specific ingredients on product containers, and a single "fragrance" listed on a bottle may include several hundred substances. You can't simply sidestep the problem by avoiding scented detergents or searching out "green" products: Even detergents without scent often contain unlisted chemicals to mask smells caused by the other ingredients. And Steinemann found no statistical difference in the number of toxic, hazardous or carcinogenic chemicals in cleaning products that made some sort of "green" claim, than in those that didn't.
So I decided to look up my supposedly healthy home detergent in the Environmental Working Group's (EWG) consumer guide. EWG sorts through the misleading maze of consumer product-land with an easy online guide to help people find the least toxic products. To do so, they compiled ingredient lists from product labels, company websites and worker safety documents, and compared the lists with databases from government agencies, academic studies and other sources that examine the health and environmental effects of chemicals. Then they graded the products on a report card scale—A through F.
Like Steinemann, EWG found that some so-called green products don't score so well (you can see some of their more surprising discoveries here). When I looked up the fragrance-free laundry detergent I had used for years, I found that it scored a D. I might not have been better off washing my clothes at home after all. But there are plenty of other brands to choose from: EWG awarded 37 brands of detergent an A and another 33 a B.
Maybe if I buy one of those brands, I'll finally get my tank tops back.
Visit EcoWatch's HEALTH page for more related news on this topic.
——–

EcoWatch Daily Newsletter
waterlust.com / @tulasendlesssummer_sierra .
Each product featured here has been independently selected by the writer. If you make a purchase using the links included, we may earn commission.
The bright patterns and recognizable designs of Waterlust's activewear aren't just for show. In fact, they're meant to promote the conversation around sustainability and give back to the ocean science and conservation community.
Each design is paired with a research lab, nonprofit, or education organization that has high intellectual merit and the potential to move the needle in its respective field. For each product sold, Waterlust donates 10% of profits to these conservation partners.
Eye-Catching Designs Made from Recycled Plastic Bottles
waterlust.com / @abamabam
The company sells a range of eco-friendly items like leggings, rash guards, and board shorts that are made using recycled post-consumer plastic bottles. There are currently 16 causes represented by distinct marine-life patterns, from whale shark research and invasive lionfish removal to sockeye salmon monitoring and abalone restoration.

One such organization is Get Inspired, a nonprofit that specializes in ocean restoration and environmental education. Get Inspired founder, marine biologist Nancy Caruso, says supporting on-the-ground efforts is one thing that sets Waterlust apart, like their apparel line that supports Get Inspired abalone restoration programs.
"All of us [conservation partners] are doing something," Caruso said. "We're not putting up exhibits and talking about it — although that is important — we're in the field."
Waterlust not only helps its conservation partners financially so they can continue their important work. It also helps them get the word out about what they're doing, whether that's through social media spotlights, photo and video projects, or the informative note card that comes with each piece of apparel.
"They're doing their part for sure, pushing the information out across all of their channels, and I think that's what makes them so interesting," Caruso said.
And then there are the clothes, which speak for themselves.
Advocate Apparel to Start Conversations About Conservation
waterlust.com / @oceanraysphotography
Waterlust's concept of "advocate apparel" encourages people to see getting dressed every day as an opportunity to not only express their individuality and style, but also to advance the conversation around marine science. By infusing science into clothing, people can visually represent species and ecosystems in need of advocacy — something that, more often than not, leads to a teaching moment.

"When people wear Waterlust gear, it's just a matter of time before somebody asks them about the bright, funky designs," said Waterlust's CEO, Patrick Rynne. "That moment is incredibly special, because it creates an intimate opportunity for the wearer to share what they've learned with another."
The idea for the company came to Rynne when he was a Ph.D. student in marine science.
"I was surrounded by incredible people that were discovering fascinating things but noticed that often their work wasn't reaching the general public in creative and engaging ways," he said. "That seemed like a missed opportunity with big implications."
Waterlust initially focused on conventional media, like film and photography, to promote ocean science, but the team quickly realized engagement on social media didn't translate to action or even knowledge sharing offscreen.
Rynne also saw the "in one ear, out the other" issue in the classroom — if students didn't repeatedly engage with the topics they learned, they'd quickly forget them.
"We decided that if we truly wanted to achieve our goal of bringing science into people's lives and have it stick, it would need to be through a process that is frequently repeated, fun, and functional," Rynne said. "That's when we thought about clothing."
Support Marine Research and Sustainability in Style
To date, Waterlust has sold tens of thousands of pieces of apparel in over 100 countries, and the interactions its products have sparked have had clear implications for furthering science communication.
For Caruso alone, it's led to opportunities to share her abalone restoration methods with communities far and wide.
"It moves my small little world of what I'm doing here in Orange County, California, across the entire globe," she said. "That's one of the beautiful things about our partnership."
Check out all of the different eco-conscious apparel options available from Waterlust to help promote ocean conservation.
Melissa Smith is an avid writer, scuba diver, backpacker, and all-around outdoor enthusiast. She graduated from the University of Florida with degrees in journalism and sustainable studies. Before joining EcoWatch, Melissa worked as the managing editor of Scuba Diving magazine and the communications manager of The Ocean Agency, a non-profit that's featured in the Emmy award-winning documentary Chasing Coral.