This website uses cookies to ensure you get the best experience while browsing it. By clicking 'Got It' you're accepting these terms.
A fungal disease which humans have helped to spread among amphibians has led to the decline of 500 species over the past 50 years. Centophobia / Flickr / CC BY-SA 2.0
By Julia Conley
A terrifying new study details the havoc being wrought by what scientists call "the most destructive pathogen ever" recorded on Earth, finding that with help from unwitting humans a "silent killer" has caused major declines of frogs, salamanders and hundreds of other amphibian species.
The last known member of a rare tree frog species died last week at the Atlanta Botanical Garden causing many to fear his species is now extinct.
The male Rabbs' fringe-limbed tree frog, staff nicknamed "Toughie," was found dead in his enclosure during a routine daily inspection Sept. 26. They believe he was about 12 years old.
Toughie was the last known surviving member of its species until its death in September 2016.Brian Gratwicke / Flickr
Toughie was found during a 2005 frog rescue mission by the Atlanta Botanical Garden and Zoo Atlanta. He was one of many frogs scientists raced to collect as the deadly chytrid fungus closed in on central Panama.

"It was likened to just rescuing things from a burning house," Mark Mandica, who is head of the Amphibian Foundation and worked with Toughie for seven years, told National Geographic.
Toughie's species, unknown to scientists at the time, was formally described three years later by Zoo Atlanta herpetology curator Joseph Mendelson III as Ecnomiohyla rabborum. He named the frog, the Rabbs' fringe-limbed tree frog, for conservationists George and Mary Rabb.
The species was found in a very small area at an elevation where the fungus proved especially deadly. National Geographic reports field studies suggest up to 85 percent of all the amphibians in that area were wiped out, and it's unlikely that any of his kind survived in the wild.
"Science had a very short window to learn about the species in the wild before this disease struck the only known locality for the frog and the species vanished," Mary Pat Matheson, president and CEO of Atlanta Botanical Garden, told The Atlantic Journal-Constitution.

The only other Rabbs' frog known in captivity died at Zoo Atlanta in 2012, and that one was also a male.
The staff at the Atlanta Botanical Garden tried to save the species and successfully bred Toughie with a female, Matheson said, but the tadpoles did not survive.
Toughie had quite a following, according to garden staff, and he definitely left his mark on the world.
"A lot of attention had been paid to him in captivity, so he even has his own Wikipedia page," Mandica said.
Last year, his image was even projected onto St. Peter's Basilica, and his call—captured by Mandica in 2014—played so that the world could see and hear him, National Geographic reported. He also met race car drivers and movie directors.
Toughie's death highlights the ongoing battle frogs face around the world to survive. According to a 2015 study, "About 200 frog extinctions have occurred and hundreds more [frog species] will be lost over the next century, so we are on pace to create a mass extinction."
The study's author, John Alroy at Macquarie University in Australia, looked at salamanders, snakes and lizards, but "he found that frogs seemed to be the most vulnerable to extinction—the results suggested that more than 3 percent of all frog species have disappeared, largely since the 1970s," according to The Washington Post.
So what's causing these mass extinctions? While Alroy said there is a tendency to "focus very strongly on the potential future impacts of climate change, specifically," he said we shouldn't point the finger solely at climate change.
"I'm not saying we should stop looking at climate change," he said. "I'm saying there should be additional focus on other causal factors like habitat destruction and invasive species in particular."
EcoWatch Daily Newsletter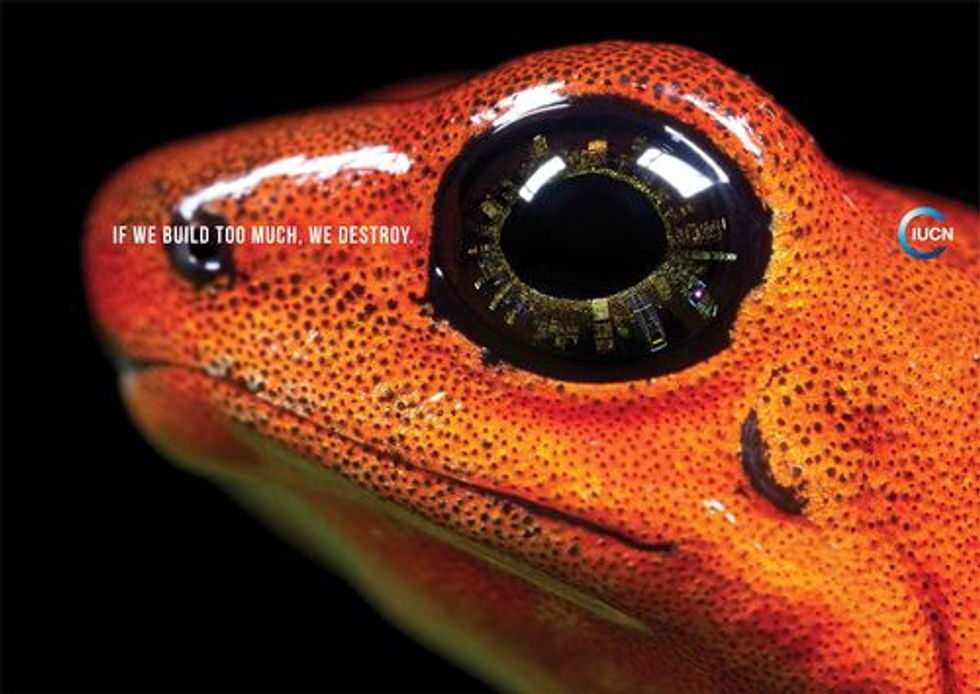 The first ever International Union for Conservation of Nature (IUCN) mobile application developed together with Nokia is now available for consumer use and ready to be downloaded from the Nokia Store. The free-for-download app is the result of a partnership between Nokia and SOS (Save Our Species), a global species conservation fund to protect threatened species and their habitats.
The app, Fantastic World of Frogs, is an image gallery of frogs for the Nokia N9 Smartphone and allows users to view spectacular photos of frogs, discover their habitat in the Colombian rainforest, and learn more about these incredible creatures. Additionally, users can learn about conservation breakthroughs that the corresponding SOS-sponsored project—protecting and restoring key sites for globally threatened amphibians—in partnership with Conservation International (CI), delivered. The app highlights Conservation International's (CI) work with their local non-governmental organization partner, Fundación ProAves, in the biodiversity hotspot Chocó of Colombia.
Users of the IUCN Smartphone app can also enjoy the adventures of conservation hero Robin Moore, project leader and Programme Manager of IUCN's Amphibian Specialist Group and amphibian conservation officer at CI. Amphibians are the most threatened group of vertebrates in the world, with more than 41 percent threatened with extinction, according to the IUCN Red List of Threatened Species. The goal of the new app is to drive awareness of the plight of frogs and introduce users to the diversity of Colombian frog species.
Nokia is lead sponsor of SOS and, in addition to supporting conservation projects, helps raise awareness of the importance of species protection by the use of innovative mobile technology. SOS aims to build a global coalition in order to halt the loss of biodiversity, and they invite other innovative businesses across all industries to join in the initiative.
Key Issues
"Frogs are sensitive barometers of environmental health," says Robin Moore, project leader and programme manager of IUCN's Amphibian Specialist Group. "As a group they are heavily threatened by habitat loss, and combining photography with technology is a fun way of highlighting our approach to protecting critical habitats with a behind-the-scenes look at conservation in action."
"Amphibians provide many important services to humans such as controlling insects that spread disease and damage crops—they also form a beautiful group of animals harboring an amazing diversity of colors, making them outstanding ambassadors for wildlife conservation, says Jean-Christophe Vié, deputy director of IUCN's Global Species Programme and SOS Director. "We need targeted conservation to protect these species. Fantastic World of Frogs is an amazing tool that helps us promote amphibian preservation."
"We were the first company to join the SOS initiative. We believe that mobile applications offer a fantastic opportunity to raise awareness on environmental issues. This new app is a great way to teach people about the importance that frogs have in the ecosystem," says Outi Mikkonen, director, Stakeholder Engagement at Nokia.
For more information, click here.