Large storage tank of Ammonia at a fertilizer plant in Cubatão, Sao Paulo State, Brazil. Luis Veiga / The Image Bank / Getty Images
The shipping industry is coming to grips with its egregious carbon footprint, as it has an outsized contribution to greenhouse gas emissions and to the dumping of chemicals into open seas. Already, the global shipping industry contributes about 2 percent of global carbon emissions, about the same as Germany, as the BBC reported.
In its efforts to clean up its act, the industry is looking to stop burning diesel and is exploring using ammonia as its fuel source. When ammonia burns, it does not create carbon dioxide emissions, as the BBC reported.
EcoWatch Daily Newsletter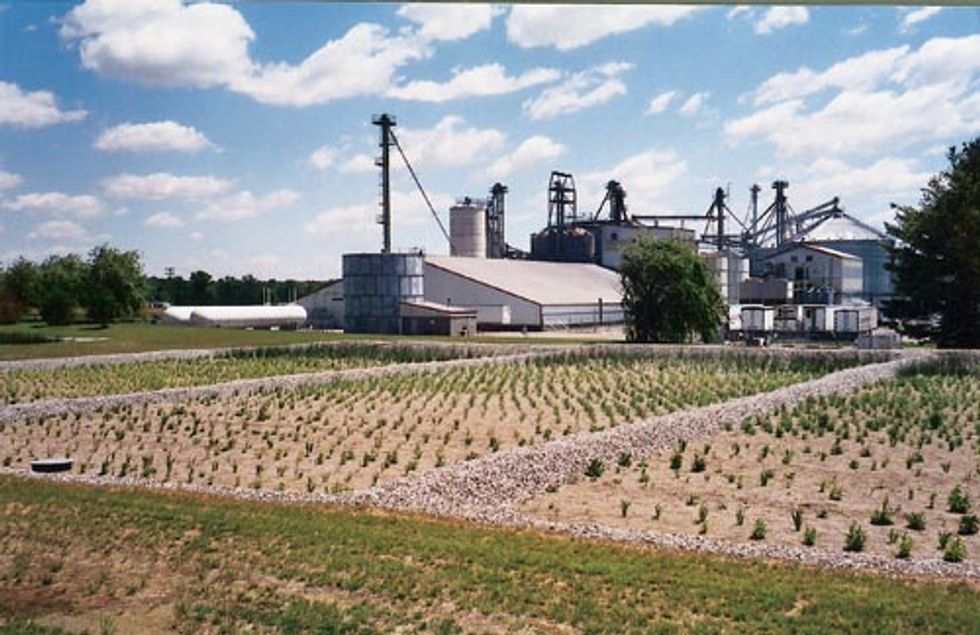 Several North Carolina conservation groups filed legal papers aimed at cleaning up ammonia pollution from a massive industrial chicken operation. The groups filed a motion to intervene with the North Carolina Environmental Management Commission Nov. 23, defending the State of North Carolina's issuance of a Clean Water Act permit for concentrated animal feeding operator Rose Acre Farms. The permit would allow Rose Acre to continue operating, but would help protect the surrounding waterways and nearby Pocosin Lakes National Wildlife Refuge from the ammonia emissions of more than 3 million hens housed at the Rose Acre facility.
The Pocosin Lakes National Wildlife Refuge is a 115,000-acre wetlands area, previously described by one court as "home to some of the most unspoiled habitat along the East Coast." The refuge is located on the Atlantic Flyway, a major route for migratory waterfowl, including tundra swans and snow geese migrating from arctic regions to the wildlife refuge. The refuge is also home to the federally protected red wolf and red cockaded woodpecker.
North Carolina's Division of Water Quality had earlier found that Rose Acre's ammonia emissions were polluting the waters bordering the wildlife refuge. Rose Acre's experts also found that up to 73 tons of ammonia were being deposited each year into the surrounding areas and wildlife refuge. Rose Acre Farms has operated for years under similar permits designed to safeguard the nearby waterways. But rather than continue operating with these protections in place, Rose Acre and the North Carolina Poultry Federation are now challenging North Carolina's issuance of the permit. Rose Acre is one of the largest concentrated poultry-egg operators in the country. Its North Carolina facility, which houses more than three million hens, is the largest such facility in the state.
"Each year the Pocosin Lakes National Wildlife Refuge receives thousands of visitors who enjoy the more than 300 wildlife species living in this magnificent and protected habitat," said Jennifer Alligood, president of Friends of Pocosin Lakes National Wildlife Refuge. "The pollution from Rose Acre Farms degrades the water quality for wildlife, diminishing this very special habitat that is enjoyed by local residents and thousands of visitors each year."
"The water pollution caused by more than 3 million chickens at Rose Acre Farms is unhealthy and damaging to the Pocosin Lakes National Wildlife Refuge," said Christopher Leung, lead attorney for Earthjustice, the public interest law firm representing the groups. "As the state has already found, this egg factory needs to control its ammonia emissions."
North Carolina issued a Clean Water Act permit to Rose Acre that would have required it to take steps to monitor its ammonia emissions from the hen houses' ventilation system. This system uses large fans to blow ammonia and other pollutants out of the chicken houses, thereby polluting the surrounding areas and wildlife refuge with excessive amounts of ammonia.
"Large amounts of ammonia in lakes and rivers leads to an unbalanced ecosystem," said Heather Deck, Riverkeeper for the Tar-Pamlico River. "The excessive nutrients create algae blooms that eventually drain the oxygen from the water, suffocating fish and other aquatic life."
"This has serious public health implications for both the local area and the State of North Carolina," said local counsel Jerry Eatman, an attorney at Raleigh-based Lynch & Eatman. "Not only has the state's Division of Water Quality found a large increase of ammonia deposits in nearby waters, but studies commissioned by Rose Acre have calculated that huge amounts of ammonia are being emitted and deposited into the wildlife refuge."
In 2004, Rose Acre applied for a federal Clean Water Act permit from North Carolina's Division of Water Quality. The agency granted Rose Acre's request, but due to concerns about its close proximity to the wildlife refuge, also began collecting water samples from the surrounding canals. In 2006, Rose Acre finished construction and began moving birds into the facility. The agency continued its water sampling through December 2008.
In 2009, North Carolina's Division of Water Quality prepared a report finding that ammonia concentrations in the surrounding waterways had increased significantly, as well as nitrogen, total inorganic nitrogen, total phosphorus and fecal coliform. The U.S. Fish and Wildlife Service also produced a report showing that Rose Acre was releasing large amounts of ammonia into the wildlife refuge and surrounding areas. As a result, when the state renewed Rose Acre's permit, it included specific provisions to improve monitoring of the facility's ammonia emissions.
Rather than submit to monitoring of its emissions, Rose Acre then petitioned for review of the agency's action and the North Carolina Poultry Federation intervened, attacking the state's authority to permit the facility. In October 2011, an administrative law judge granted Rose Acre's motion for summary judgment and held that the state lacked authority under the Clean Water Act to limit Rose Acres' ammonia emissions. The same judge declined to rule on the conservation groups' earlier motion to intervene. The case now moves to the Environmental Management Commission, which will review the administrative law judge's decision.
"This case is clearly pivotal," said Mr. Leung of Earthjustice, "because it will establish whether a state may use a Clean Water Act permit to regulate the airborne emissions of ammonia being released from a concentrated animal feeding operation." Mr. Leung added, "This case also raises important issues of environmental justice. The poultry industry is challenging the state's authority to protect the health and environment of the community in Hyde County, where the population is more than 40 percent African American."
The motion, which was prepared by Earthjustice and Lynch & Eatman, is filed on behalf of the Pamlico-Tar River Foundation, Waterkeeper Alliance, Inc., and Friends of Pocosin Lakes National Wildlife Refuge.
For more information, click here.
waterlust.com / @tulasendlesssummer_sierra .
Each product featured here has been independently selected by the writer. If you make a purchase using the links included, we may earn commission.
The bright patterns and recognizable designs of Waterlust's activewear aren't just for show. In fact, they're meant to promote the conversation around sustainability and give back to the ocean science and conservation community.
Each design is paired with a research lab, nonprofit, or education organization that has high intellectual merit and the potential to move the needle in its respective field. For each product sold, Waterlust donates 10% of profits to these conservation partners.
Eye-Catching Designs Made from Recycled Plastic Bottles
waterlust.com / @abamabam
The company sells a range of eco-friendly items like leggings, rash guards, and board shorts that are made using recycled post-consumer plastic bottles. There are currently 16 causes represented by distinct marine-life patterns, from whale shark research and invasive lionfish removal to sockeye salmon monitoring and abalone restoration.

One such organization is Get Inspired, a nonprofit that specializes in ocean restoration and environmental education. Get Inspired founder, marine biologist Nancy Caruso, says supporting on-the-ground efforts is one thing that sets Waterlust apart, like their apparel line that supports Get Inspired abalone restoration programs.
"All of us [conservation partners] are doing something," Caruso said. "We're not putting up exhibits and talking about it — although that is important — we're in the field."
Waterlust not only helps its conservation partners financially so they can continue their important work. It also helps them get the word out about what they're doing, whether that's through social media spotlights, photo and video projects, or the informative note card that comes with each piece of apparel.
"They're doing their part for sure, pushing the information out across all of their channels, and I think that's what makes them so interesting," Caruso said.
And then there are the clothes, which speak for themselves.
Advocate Apparel to Start Conversations About Conservation
waterlust.com / @oceanraysphotography
Waterlust's concept of "advocate apparel" encourages people to see getting dressed every day as an opportunity to not only express their individuality and style, but also to advance the conversation around marine science. By infusing science into clothing, people can visually represent species and ecosystems in need of advocacy — something that, more often than not, leads to a teaching moment.

"When people wear Waterlust gear, it's just a matter of time before somebody asks them about the bright, funky designs," said Waterlust's CEO, Patrick Rynne. "That moment is incredibly special, because it creates an intimate opportunity for the wearer to share what they've learned with another."
The idea for the company came to Rynne when he was a Ph.D. student in marine science.
"I was surrounded by incredible people that were discovering fascinating things but noticed that often their work wasn't reaching the general public in creative and engaging ways," he said. "That seemed like a missed opportunity with big implications."
Waterlust initially focused on conventional media, like film and photography, to promote ocean science, but the team quickly realized engagement on social media didn't translate to action or even knowledge sharing offscreen.
Rynne also saw the "in one ear, out the other" issue in the classroom — if students didn't repeatedly engage with the topics they learned, they'd quickly forget them.
"We decided that if we truly wanted to achieve our goal of bringing science into people's lives and have it stick, it would need to be through a process that is frequently repeated, fun, and functional," Rynne said. "That's when we thought about clothing."
Support Marine Research and Sustainability in Style
To date, Waterlust has sold tens of thousands of pieces of apparel in over 100 countries, and the interactions its products have sparked have had clear implications for furthering science communication.
For Caruso alone, it's led to opportunities to share her abalone restoration methods with communities far and wide.
"It moves my small little world of what I'm doing here in Orange County, California, across the entire globe," she said. "That's one of the beautiful things about our partnership."
Check out all of the different eco-conscious apparel options available from Waterlust to help promote ocean conservation.
Melissa Smith is an avid writer, scuba diver, backpacker, and all-around outdoor enthusiast. She graduated from the University of Florida with degrees in journalism and sustainable studies. Before joining EcoWatch, Melissa worked as the managing editor of Scuba Diving magazine and the communications manager of The Ocean Agency, a non-profit that's featured in the Emmy award-winning documentary Chasing Coral.