This website uses cookies to ensure you get the best experience while browsing it. By clicking 'Got It' you're accepting these terms.
By Alex Formuzis
Federal regulators' rejection Monday of the White House's scheme to prop up the coal and nuclear power industries is a big win for electricity customers and renewable energy, said Environmental Working Group (EWG) President Ken Cook. The Federal Energy Regulatory Commission (FERC) denied a petition by Energy Sec. Rick Perry to require the use of electricity from coal and nuclear plants, even when cheaper sources are available—a move analysts said would drive up Americans' utility bills by billions of dollars a year.
EPA Administrator Scott Pruitt visited the USS Lead Superfund in East Chicago, Indiana. U.S. Environmental Protection Agency / YouTube
By Rachel Leven
U.S. Environmental Protection Agency ( EPA) Administrator Scott Pruitt doesn't hide his contempt for how the agency has been run, but does profess to care about one of its key programs: Superfund, which oversees the cleanup of the nation's worst toxic-waste sites. In April, he toured a site in East Chicago, Indiana, contaminated with lead and arsenic, and told residents, "We are going to get this right."
The following month, Pruitt—Oklahoma's attorney general before he joined the EPA—tapped one of his former donors, banker Albert "Kell" Kelly, to find ways to accelerate and improve Superfund cleanups. Kelly started by consulting career staff members —often-knowledgeable officials who work at the agency regardless of who holds the White House. But then Kelly closed off the process, conferring with Pruitt to produce a final plan that altered or excluded many of the staffers' suggestions. Gone, for example, was the idea that EPA officials be identified early on to lead discussions with communities on how contaminated land should be used after cleanup.
EcoWatch Daily Newsletter
Gage Skidmore / Flickr
The Trump administration has withdrawn from the Extractive Industries Transparency Initiative (EITI), an international anti-corruption initiative that requires member nations to report their oil, gas and mineral revenues, and for such extractive companies to report payments made to obtain these publicly owned natural resources.
The EITI Standard is implemented in about 50 countries around the world and provides the public information about how much government leaders receive in taxes, royalties and lease payments from such natural resource companies, as Bloomberg explained. For instance, this information would help ensure that revenue goes towards building or fixing roads and schools, rather than hiding away in foreign bank accounts.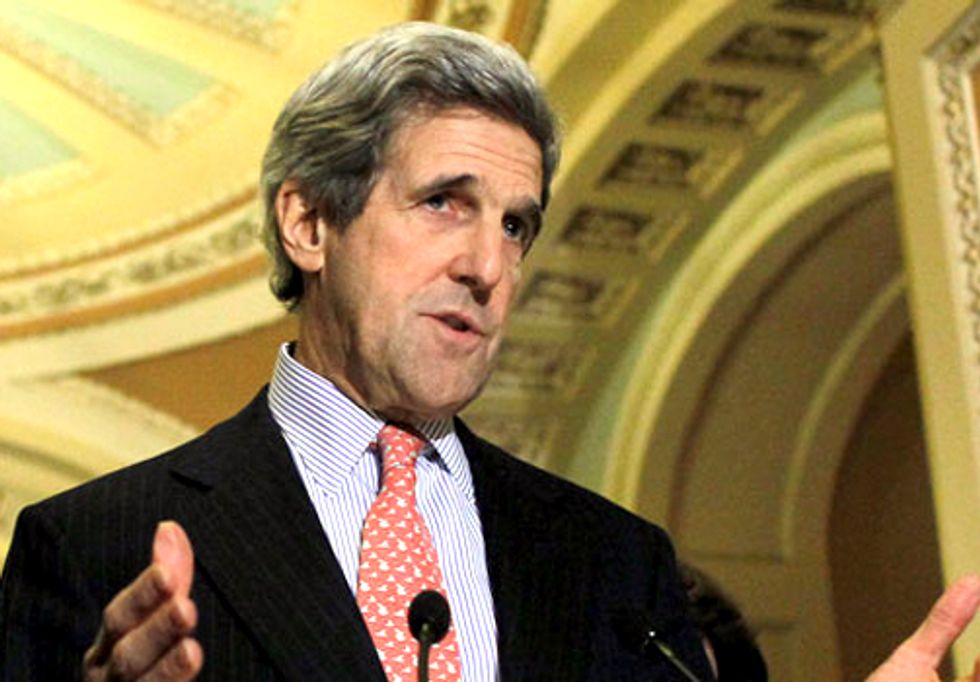 Environmental leaders hosted a press call today to call for a State Department Investigator General investigation of the State Department's flawed Keystone XL review process and to call on Secretary Kerry to halt the review process until that investigation is complete.
The Sierra Club also announced that it had filed a lawsuit in federal court yesterday under the Freedom of Information Act asserting that the State Department is withholding key documents related to the latest Keystone XL Environmental Impact Statement (EIS) and potential conflicts of interest with Environmental Resources Management.
When Secretary Kerry was confirmed as Secretary of State, he inherited a flawed Keystone XL review process. To move forward with the flawed process would contradict Secretary Kerry's long history as a proponent of good government and transparency.
"For decades John Kerry has been a strong defender of good governance," said 350.org Executive Director May Boeve. "We know that as he learns more about how the Keystone environmental analysis was written, he will step in and put a stop to this corrupted process."
Nearly 73,000 people signed petitions asking Secretary Kerry to postpone the final EIS until the Investigator General completes a thorough review of conflict of interest in the State Department's environmental review process of the proposed pipeline. Sierra Club, Friends of the Earth, Oil Change International and Bold Nebraska all contributed signatures to the petition total.
"For the State Department to let Big Oil consultants tell us Keystone XL is safe is like the Surgeon General letting Big Tobacco tell us cigarettes are safe," said Robin Mann, past president of the Sierra Club. "Secretary Kerry can continue to live up to his legacy as a climate champion by demanding a fair report on Keystone XL and urging the President to reject this dirty and dangerous project."
"The State Department should be an honest broker on Keystone XL, not a cheerleader for TransCanada," said Friends of the Earth President Erich Pica. "Secretary Kerry needs to halt the review process and find out how a paid member of the American Petroleum Institute was allowed to write such a critical report and why State Department employees have tried to cover up this company's ties with the oil industry."
"The only way the State Department could produce even a remotely favorable review of this dirty and flawed pipeline is by getting Big Oil's friends to write it for them," said Steve Kretzmann, Oil Change International executive director and founder. "The tens of thousands of people who have joined this campaign are making it clear that we won't stand for this. Secretary Kerry has a key opportunity to reject bad process, to reject Big Oil influence and to reject this dirty pipeline."
ERM, the company contracted by Department of State and paid by TransCanada to draft the EIS, is a member of the American Petroleum Institute and has worked for the oil industry which should have precluded it from getting hired.
"The United States must help lead the world in combating global warming and reducing greenhouse gas emissions," said Sen. Bernie Sanders (I-VT). "It would be incomprehensible to give approval to a tar sands oil project when producing tar sands oil creates more carbon emissions than conventional oil, and when it poses the risk of extremely damaging oil spills."
Visit EcoWatch's KEYSTONE XL page for more related news on this topic.
——-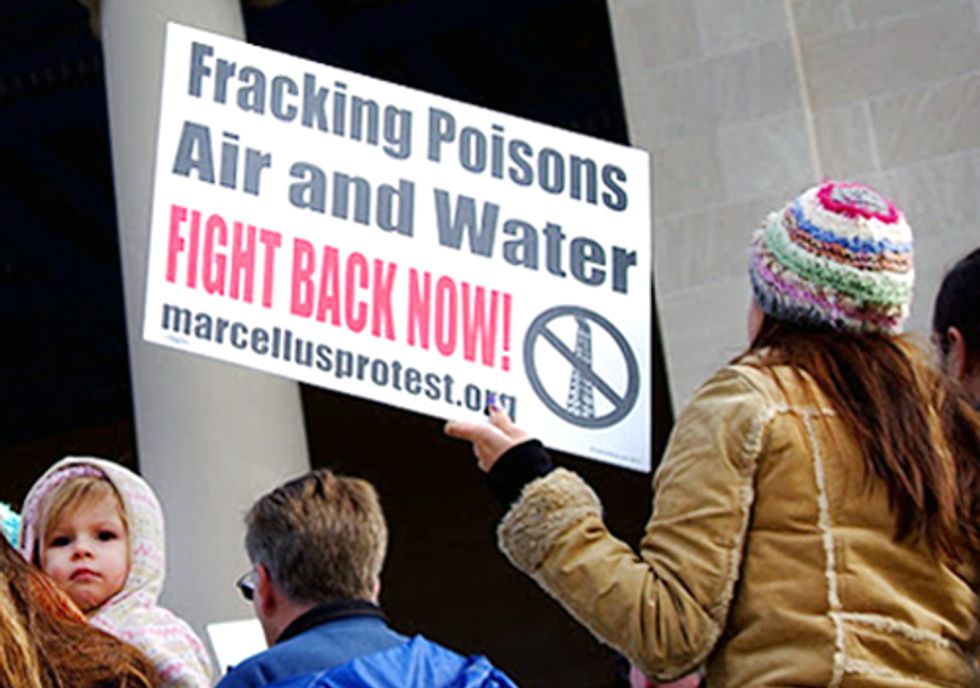 Yesterday, Pennsylvania legislators passed a hydraulic fracturing (fracking) bill that will further limit environmental protections, lower drilling fees, handcuff local governments' zoning power for gas development and undermine public health.
Today, SB 246—a bill to ban hydraulic fracturing in New Jersey—goes before the New Jersey Senate Environment and Energy Committee.
Estimates peg the value of natural gas reserves buried within the Marcellus Shale underneath Pennsylvania and some of the state's immediate neighbors as high as one trillion dollars. With that kind of money at stake, the mostly unregulated extraction process called fracking that's necessary to unleash the gas has become the nation's most polarizing environmental and energy issue.
Look no further than the neighboring states of Pennsylvania and New Jersey.
Fracking was brought to national attention back in 2008 through a sequence of mishaps involving gas wells set up by Cabot Oil and Gas in the small town of Dimock, Pa. In the winter of 2008, metals and methane linked to Cabot's wells were found in many area homes' drinking water. In 2009, the Pennsylvania Department of Environmental Protection (DEP) released a document citing dozens of infractions, including well-construction problems, diesel spills and fracking fluid spills. In September 2009, an estimated 8,000 gallons of fracturing fluid—manufactured by Halliburton—discharged into Stevens Creek and nearby wetlands.
Three years later, residents of Dimock are still fighting for their right to clean water and still reliant upon organizations such as the EPA to deliver fresh drinking water—a responsibility Cabot Oil and Gas is now absolved from. By now, most people are familiar with the infamous images of flammable water pouring from their taps. To see a video, click here.
And that is only the beginning.
Even so, in a move that blatantly disregards the health and welfare of Pennsylvania citizens, Feb. 8 was a landmark day in Pennsylvania as the Pennsylvania Legislature—led by Republican Gov. Tom Corbett—passed a bill to institute an impact fee on Marcellus gas wells and limit the ability of municipalities to restrict gas drilling. In a mostly party-line split, the Republican-led House pushed the bill through on a vote of 101-90.
Next door, New Jersey citizens stand on the brink of banning fracking within state lines entirely as consideration of Senate Bill 246 goes before the New Jersey Senate Environment and Energy Committee on Feb. 9. New Jersey currently has placed a moratorium on fracking until January 2013.
Despite opposition from Republican Gov. Chris Christie and the American Petroleum Institute, SB 246 has garnered overwhelming public support with the help of Sens. Robert Gordon (D-38th District), Linda Greenstein (D-14th District)  and Christopher Bateman (R-16th District).
While citizens of New Jersey are poised to celebrate, residents of Pennsylvania are witnessing just how powerful the oil and gas industry's lobbying arm really is.
According to MarcellusMoney.org, the drilling industry has contributed more than $3 million in political contributions to Pennsylvania lawmakers since 2001 and spent an additional $5 million in the capitol of Harrisburg in the past three years. Unfortunately, the money spent was vindicated yesterday.
The fight isn't over in New Jersey. Click here for more information on how you can reach out to New Jersey lawmakers today.
To learn more about fracking, visit EcoWatch's Fracking page for all the latest information—nationally and internationally.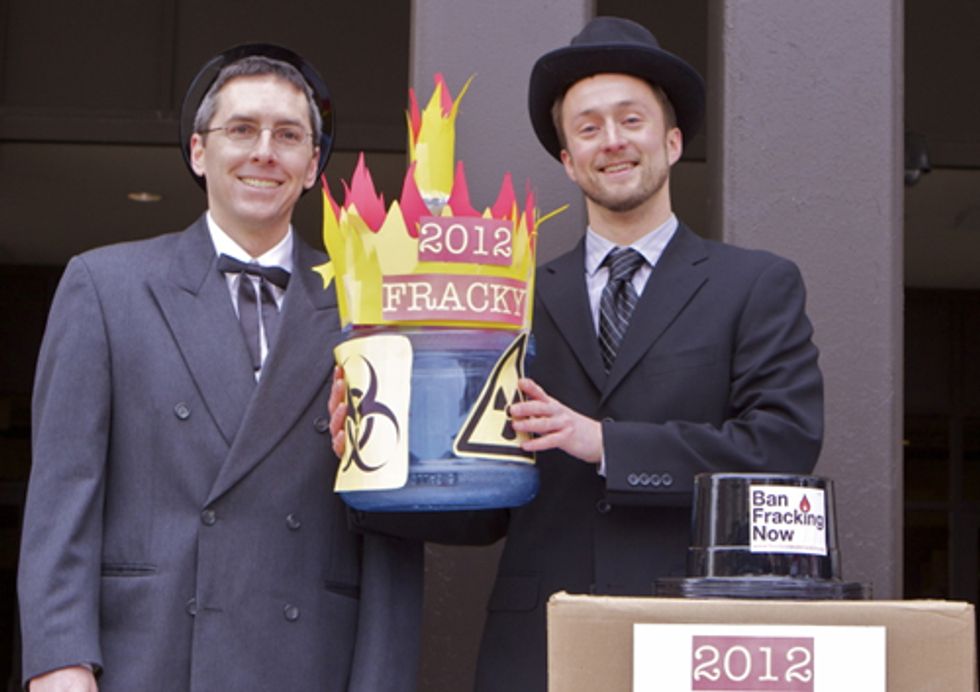 Activists protested one of several planned regional workshops by the American Petroleum Institute in Trenton, N.J., on Feb. 8 countering the oil and gas industry association's event discussing the development of hydraulic fracturing (fracking) with a recommendation of their own—ban fracking entirely. Protestors handed media and passersby "swag bags" filled with information on the risks associated with fracking and staged an award ceremony for the Frackies.
 
"It's awards season, and what better way to protest this elite gathering than with a riff off of another elite event—the Oscars," said Jim Walsh, eastern region director of Food & Water Watch. "If there were an award for destroying rural communities and endangering drinking water supplies, it would certainly go to the American Petroleum Institute, which uses its clout to spread disinformation about the dirty, polluting practice."
 
The event took place near the New Jersey Statehouse, where on Feb. 9 the Senate Environment Committee is expected to vote on a bill to permanently ban fracking in New Jersey before the temporary moratorium is lifted in January 2013.
"These petroleum industry representatives should know that New Jersey has prevented fracking because of grave concerns about the pollution to our drinking water and communities, so they may as well go home. We regret that we cannot give out awards for clean and sustainable energy today and that we must recognize the American Petroleum Institute for its disgraceful failure in making drillers publicly accountable and law-abiding. In Pennsylvania alone, the state reports that as fracking races ahead, drillers commit 12 violations per day of environmental permits, adding up to thousands of pollution incidents each year," said Tracy Carluccio, deputy director, Delaware Riverkeeper Network.
The nominees for the Fracky were New Jersey Gov. Chris Christie, El Paso Pipeline Company, Cabot Oil & Gas, Representative Andy Harris (R-MD), and the American Petroleum Institute. Each nominee was chosen because of some practice that protesters found seriously objectionable.
 
"We are here especially to announce the Fracky nomination for El Paso, the parent company of Tenneco Natural Gas and surviving part of Enron. Their proposed pipeline will be supporting and encouraging fracking that will threaten our water supply. They will be running a pipeline through the most environmentally sensitive area of New Jersey. The pipeline will go through the Delaware Water Gap, Wallkill, Newark and Pequannock water shed and drilling right through the Monksville Reservoir. Along the way it will be cutting an ugly scar through the Highlands and dozens of parks and open space areas. They are attacking our water supply through both fracking and this pipeline," said Jeff Tittel, director of the New Jersey Sierra Club.
The eventual winner of the Fracky was the American Petroleum Institute for what activists referred to as "spinning the benefits of fracking so hard that some people actually believe that gas is a bridge fuel to renewables." Gov. Christie was nominated for a Fracky for saving the fracking industry from the first statewide attempt to ban fracking when he issued a conditional veto last August.
Organizations participating in the 2012 Fracky Awards include Food & Water Watch, Delaware Riverkeeper Network, New Jersey Sierra Club, New Jersey Environmental Federation and 350.org.
For more information, click here.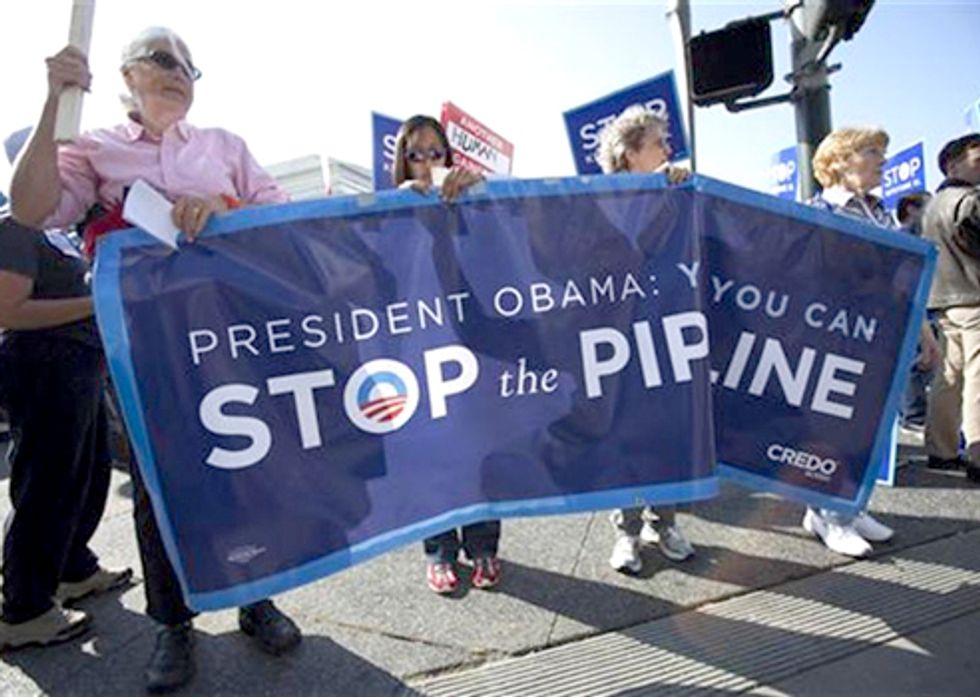 Just in case you thought there was anything subtle about the Keystone battle, you need to hear what Jack Gerard, president of the American Petroleum Institute—the oil industry's #1 front group—said Jan. 5. If the president doesn't approve the project there will be "huge political consequences."
That's as direct a threat as you're ever going to hear in Washington D.C., and it shows just how mad you made the oil industry last year by exposing Keystone for the climate-killing danger it is. And the oil industry can obviously make good on their threats—they've got all the money on Earth, and thanks to Citizens United they can use it without restriction in our elections. They're not used to ever losing.
So far the Obama administration is standing firm in the face of Big Oil's bullying—the White House made it completely clear last month that if the oil industry and its harem in Congress forced a speeded-up review, it would lead to an outright rejection of the permit for the pipeline. We expect they'll keep their word.
Here's what I think we need to do.
1. Let the president know you've got his back when he rejects the pipeline. Tell him that addressing climate change is the key to our future, and that you're glad he's not bending.
2. Take the offensive against the oil industry. If they're going to try and ram Keystone down our throats, we're going to try and take away something they hold dear, the handouts that Congress gives them each and every year. They're the richest industry on earth, they're doing great damage to the planet—and they expect us to pay for it with our tax dollars.
Can you send a quick note to President Obama covering those two key points?
To send a message to President Obama, click here.
Here's the note I'm sending:
President Obama,
Thank you for opposing the rushed Keystone XL pipeline permit. Responding to climate change is critical to preserving our collective future, and I hope this is a first step towards the dramatic changes we need to avoid catastrophe. P.S.—Please take handouts for the fossil fuel industry out of next year's budget. There are people in America who need that money more.
There's lots more to be done, of course. In the slightly longer run, we've got to take on the greatest subsidy of all—the special privilege that Congress gives the fossil fuel industry to use the atmosphere as an open sewer into which to dump its carbon for free.
But today—right now, in the face of this kind of straight-up bullying—it's time to punch back. We're nonviolent, but we're not wimps.
For more information, click here.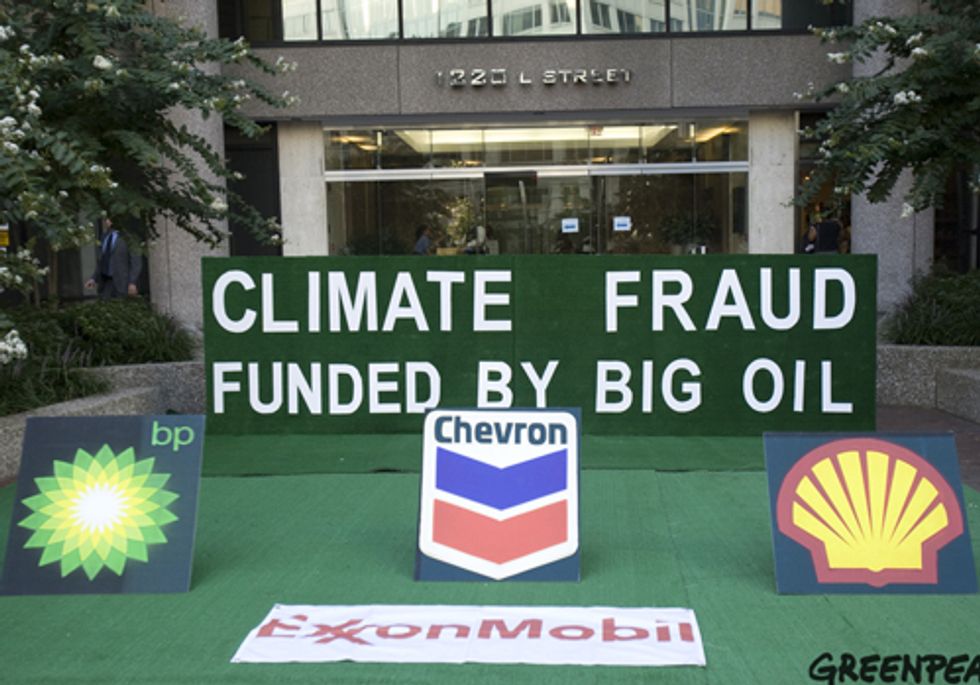 By Kert Davies
Recently, Greenpeace got a rare look behind the curtain at how Big Oil stages citizen support for huge oil companies, when activists got inside a television commercial shoot in Washington, D.C. The American Petroleum Institute (API), and their public relations firm Edelman, were filming a new series of television commercials that we learned API plans to air nationally on CNN starting in January. The ads, aimed at the 2012 elections, will aim to demonstrate authentic citizen support for the oil industry's agenda.
Greenpeace disrupted API's astroturf commercial plans by not following instructions and going off script, declaring support for a clean energy future and demanding an end to political interference by the oil industry's lobbyists and PR firms.
Inside API's Secretive Commercial Shoot
Details of the CNN January ad campaign as described by API and other clips are posted below.
Activists (or citizens) were led through the wardrobe and makeup process, approved for looks by representatives from API and Edelman Blue Advertising, before waiting their turns to go on set. Participants were required to be registered voters, explained an API representative, to protect API from opponents who may inquire if actors stating "I vote" are actually eligible to do so. Other recruited actors were being watched by the industry representatives during their takes, repeating lines like "That (energy independence) will come from our own energy resources—like oil and natural gas."
Late in the morning, the API Edelman team filmed three unexpectedly honest 'citizens' who made clear the script did not represent their real opinions on energy. Greenpeace researcher Connor Gibson of the PolluterWatch project repeated their scripted line, "I vote," then declared, "But I am a clean energy citizen. I will not believe the lies and influence peddling of the American Petroleum Institute, which would leave you to believe that I am a citizen that is okay with giving my tax payer dollars to billionaires and millionaires that run oil companies, the most profitable industry on the planet." Gibson stressed movement away from a "perpetual petroleum future" and finished his speech by telling Edelman Blue President Robert McKernan "we need clean sources of energy, like wind and solar." Listen to Gibson's full declaration and read the transcript, below.
In addition to Gibson, two other participants refused to recite API's script. Peter Roquemore of the Sierra Student Coalition and Gabe Elsner, deputy director of the Checks and Balances Project showed up to the shoot with the expectation that they would provide their own assessments of American energy. Both decided not to participate once they were fed oil industry talking points on camera.
API's New Vote 4 Energy Ad Campaign Exposed
In a taped conversation with the activists, an API communications advisor described the upcoming Vote 4 Energy advertising package in great detail. "This is scheduled to launch in January in a commercial on CNN, so it'll be a national spot. API—American Petroleum Institute—bought into an election package, so anytime CNN does anything like covering the presidential debates, cover a caucus, anything like that, those will be the kinds of programs where the commercial is seen," the advisor said. The commercial debuts Jan. 1. How much the deal with CNN cost remains an open question.
The API rep also said, "we are shooting a ton of people so, you know, you may make the cut, you may not, it all depends on the demographic." Earlier in the morning, API agents were overheard expressing a need for more people of color in the commercials, noting that black and Asian demographics tend to disagree with Big Oil's warped political positions. API has been caught in the past photo-shopping print ads to include racial minorities in purchased iStock Photo to make their already fabricated supporters appear more diverse.
API Busted—Staging Grassroots Support for Dirty Energy
More than two years ago, Greenpeace obtained a confidential memo from American Petroleum Institute CEO Jack Gerard, asking API member oil companies to support a campaign to fake a grassroots movement called "Energy Citizens." Under the guise of this astroturf group, Big Oil would pay for public events similar to Tea Party rallies in support of their absurd wishlist—killing global warming legislation, unrestricted offshore oil drilling, increased tar sands development through the Keystone XL pipeline, expanded hydraulic fracturing, and no form of accountability for their immense contributions to climate change.
Luckily, the leaked memo was revealed on the front page of the Financial Times and covered in the Washington Post, Guardian and on Huffington Post. The New York Times called it "Another Astroturf Campaign," revealing what a fluke Energy Citizens was before Chevron had the chance to bus its employees to API's first round of staged rallies, the majority of which were organized by oil lobbyists. Greenpeace called attention to API's tactic by installing astroturf on the front entrance of API's Washington, D.C. headquarters, featuring the logos of its largest members—ExxonMobil, Chevron, Shell and British Petroleum and the banner CLIMATE FRAUD: FUNDED BY BIG OIL.
Given the nature of API's newest commercial shoot, its Energy Citizens rallies where participants had to be instructed to clap (see Turf Wars), and its repeated use of iStock Photos to boost the perception of public support for Big Oil, it is reasonable to question the authenticity of similar PR moves like the "1'm One" or "One in a Million" advertising campaigns, also run by PR company Edelman, which purport to show real people who work for the oil industry.
The American Petroleum Institute, the top lobbying firm for the oil and gas industry, has spent at least $30 million peddling its dirty influence to our federal government in the last five years, and recently announced it would start funneling oil money to politicians. With its $200 million Big Oil budget, API has played a key role in the industry's climate denial movement by funding junk scientists like Willie Soon and coordinating a public relations strategy to create doubt over climate change.
Recordings from Inside the American Petroleum Institute Vote 4 Energy Commercial Shoot
API explains the commercial deal with CNN (click to listen)
API: "Just so you know, I don't know how much they told you, but this is scheduled to launch in January in a commercial on CNN, so it'll be a national spot...API--American Petroleum Institute, uh, bought into an election package so anytime CNN does anything like covering the presidential debates, cover a caucus, anything like that, those will be the kinds of programs where the commercial is seen."
API reveals commercial debut date (click to listen)
Greenpeace Activist: "So what date is this going to launch?"
API: "Um, January first."
API says chance of being in commercial "depends on the demographic" (click to listen)
API: "And so to your point though, we are shooting a ton of people so, you know, you may make the cut, you may not, it all depends on the demographic."
API explains concern over "opponents" (click to listen)
API: "And I'm sure they checked with you but you're a registered voter and all that stuff?" 
Gibson: "Yeah, they asked me. I don't know how you check that, but I am."
API: "We, um...the only reason is really a lot of the, you know, the script is saying "I vote," "I vote for energy," "I vote for..." so, we at least want to be genuine in the sense that you are a registered voter. As you can imagine, there are some opponents of the oil and natural gas industry and so we always have to be very careful of, you know, what our opponents could use against us. And that is, you know, if they found out that we were using people who aren't actually registered voters, or not even eighteen, or whatever, so..."
Production staffer explains how lines are fed to participants (click to listen)
"No they put them in costumes and then the makeup lady takes care of them and then they walk them out, and all they do is the director feeds them the lines and he talks them through it. It's…he'll [Gibson] be fine."
Transcript of Greenpeace activist going off API script (click to listen)
Director, prompting the first scripted line: "Smile, deep breath... 'I vote.'"
Gibson: "I vote. But I am a clean energy citizen. I do not believe in the lies and influence peddling of the American Petroleum Institute, which would lead you to believe that I am a citizen that is okay with giving my taxpayer dollars to the billionaires and millionaires that run oil companies, the most profitable industry on the planet. The American Petroleum Institute is peddling its influence to make you think people like me are fully in support of [a] perpetual petroleum future. 'Energy Citizens' is an astroturf front group created by the American Petroleum Institute to make it sound like there is citizen support for petroleum in our energy future, and we need clean energy – like wind and solar."
For more information, click here.