By Elliott Negin
ExxonMobil officials may hem and haw when reporters ask them if the company still funds climate science denier organizations, but the numbers don't lie.
The company says it acknowledges the reality of global warming and claims it supports a carbon tax, but its recently disclosed list of 2015 "public information and policy research" grantees shows it spent nearly $2 million last year on more than a dozen think tanks, advocacy groups and associations that dispute climate science and disparage renewable energy.
350.org
That's significant from both a legal and political perspective.

There are legal implications because ExxonMobil is currently under investigation for allegedly misleading investors and the general public about climate risks. Its scientists, who were conducting cutting-edge climate research as far back as the 1970s, cautioned top management that continuing to burn vast quantities of fossil fuels could be catastrophic. Instead of heeding those warnings, the company stressed scientific uncertainty to protect its long-term profitability and bankrolled denier groups to spread disinformation.
Likewise, it is politically significant because, by sowing doubt about climate science and the potential of carbon-free energy sources, denier groups provide cover for elected officials to stand in the way of progress.
Two Decades of Duplicity
Shortly after the adoption of the Kyoto Protocol international climate treaty, Exxon went on a spending spree to block federal efforts to address global warming. The company, which was outed by a 2007 report by the Union of Concerned Scientists (UCS), spent $18.62 million from 1998—a year before it merged with Mobil—through 2005 on a network of more than 40 groups. From 2006 through last year, it spent another $14.35 million, for a total of $33 million.
That's just what can be gleaned from the company's tax filings and statements, however. Corporations are not required to disclose all of their political spending and there is reason to suspect ExxonMobil has spent quite a bit more on its climate disinformation campaign. A former ExxonMobil executive who wishes to remain anonymous told UCS that the company secretly allocated as much as $10 million annually for what insiders called climate "black ops" from 1998 through 2005.
In any case, according to its own figures posted last week, ExxonMobil spent $1.96 million on 16 denier and obstructionist groups last year. Ten of them, including the American Enterprise Institute, American Legislative Exchange Council, Federalist Society and Hoover Institution, were among those listed in the 2007 UCS report.
So what is ExxonMobil getting for its money? Let's take a look at a handful of last year's grantees to find out.
U.S. Chamber of Commerce:
Half of ExxonMobil's 2015 denier donations—$1 million—went to the U.S. Chamber of Commerce, the same amount it gave the Chamber in 2014.
The chamber acknowledges that climate change is happening, but discounts the prevailing scientific consensus that it is largely due to human activity, mainly burning fossil fuels. When pressed about the Chamber's position during a March 2014 Senate hearing, Karen Harbert, head of the Chamber's Institute for 21st Century Energy, replied that there is a "robust debate" over what is causing climate change. "It is caused by a lot of things," she insisted.
Harbert's scientifically indefensible comment was not surprising. The Chamber has a long history of disputing climate science and that has alienated some of its members. In 2009, Apple, Exelon, Nike, PNM Resources and PG&E, for example, cancelled their memberships after Chamber Vice President William Kovacs demanded that the Environmental Protection Agency (EPA) convene a "Scopes monkey trial of the 21st century" on climate science with witnesses, cross-examinations and a judge ruling on the reality of global warming. "It would be evolution versus creationism," Kovacs explained. "It will be climate change science on trial."
Those high-profile defections apparently had little impact on the Chamber's position. In May 2014, just days before the EPA announced its draft Clean Power Plan to reduce power plant carbon pollution, the Chamber released a grossly misleading report attacking the proposed rule. The report, which was also sponsored by the American Petroleum Institute, was denounced not only by the EPA, but also by PolitiFact.com and the Washington Post. Among its many faults, the report wildly inflated the cost of the rule and failed to consider the benefits of cutting carbon emissions.
Last October, the Chamber and 14 other business associations filed a lawsuit against the EPA, arguing that the Clean Power Plan exceeds the agency's authority to regulate the energy sector and the Chamber's priorities for 2016 include opposing EPA efforts to curb carbon emissions as well as the agency's science-based finding that global warming endangers public health and the environment.
Manhattan Institute:
ExxonMobil gave the Manhattan Institute $200,000 in 2015, boosting the company's total donations to the self-described free-market think tank to $1 million since 1998. In turn, the institute has been cranking out papers and articles denouncing efforts to cut carbon and maligning renewable energy technologies.
Last summer, for example, Manhattan Institute Senior Fellow Oren Cass dismissed the idea of a carbon tax—ExxonMobil's supposed preferred policy—as a "shell game" in an article he wrote for National Affairs. He followed up that essay in October with a white paper calling the impending UN climate negotiations in Paris a "farce." What did Cass propose as a better solution? He urged policymakers to "abandon fruitless negotiations and focus instead on the realistic option of promoting innovation and preparing for any future adaptation that may be necessary."
The institute's longtime point man on energy, Robert Bryce—who previously worked for the ExxonMobil-funded Institute for Energy Research—says he's "agnostic" about climate change. Over the years he has written numerous columns for the Los Angeles Times, New York Times, Wall Street Journal and other publications praising oil, natural gas and coal and disparaging wind and solar. A recent Bryce column in the National Review, for instance, denounced tax breaks and subsidies for the wind industry but ignored the fact that, since 1918, federal oil and gas industry subsidies have averaged $4.85 billion a year in today's dollars.
American Legislative Exchange Council (ALEC):
ALEC, a secretive lobby group that drafts sample corporate-friendly legislation for state lawmakers, has received $1.79 million from ExxonMobil since 1998 and that investment is still paying dividends. At ALEC's annual meeting last July, for example, corporate and legislator members collaborated on bills and resolutions that would inhibit state implementation of the Clean Power Plan, hamper the solar industry from selling electricity directly to homes and businesses and undermine state renewable energy standards by restricting investment in wind and solar.
One of the keynote speakers at that meeting, Stephen Moore—founder of the Club for Growth and a visiting fellow at the Heritage Foundation—declared at a plenary session that the "biggest scam of the last 100 years is global warming." ALEC's official position on climate change is only slightly more nuanced, leaving open the question of the role human activity plays. "Climate change is a historical phenomenon," its website states "and the debate will continue on the significance of natural and anthropogenic contributions."
With that scientifically challenged position, it's no wonder ALEC invites speakers for its conferences from such notorious climate science denier groups as the Committee for a Constructive Tomorrow, the Heartland Institute and, of course, the Heritage Foundation—all former ExxonMobil grantees.
While ExxonMobil and other major carbon producers Chevron and Peabody Energy remain steadfast ALEC members, more than 100 corporations have severed ties with the organization for a variety of reasons, including its stance on climate change. Those companies include a number of heavy hitters in the energy sector, including American Electric Power, BP, ConocoPhillips and Shell.
National Black Chamber of Commerce:
From 2002 through last year, the National Black Chamber of Commerce (NBCC) received $1.1 million from ExxonMobil and the organization's president, Harry C. Alford, is unapologetic about taking fossil fuel industry money. "Of course we do and it is only natural," Alford states on the NBCC website. "The legacy of Blacks in this nation has been tied to the miraculous history of fossil fuel ... [F]ossil fuels have been our economic friend."
Last summer, NBCC published a report that falsely claimed the Clean Power Plan would pose "economic hardship" on poor and minority Americans. A UCS analysis found that the report was based on fraudulent claims from previously published studies, including the U.S. Chamber of Commerce's anti-Clean Power Plan report from 2014. In fact, unchecked climate change would likely hurt poor and minority communities most.
More recently, Alford wrote an opinion piece attacking the Clean Power Plan for The Hill, a Washington political trade publication. Like the U.S. Chamber of Commerce's bogus 2014 report, Alford's June 29 column vastly exaggerated the cost of the proposed rule and did not factor in the billions of dollars in health and economic benefits that would result from cutting carbon pollution.
ExxonMobil's Pretzel Logic
Last fall, UCS and reporters at InsideClimate News and the Los Angeles Times revealed that Exxon's own scientists had warned the company decades ago about the potential for climate catastrophe. The new revelations also showed that the company responded to that bad news by downplaying climate risks and helping establish the climate science denial network.
A number of journalists did follow-up stories, pressing ExxonMobil officials about the company's longtime support for denier groups. They didn't always get the same answer.
During an interview last September with Richard Keil, ExxonMobil's senior media relations advisor, WNYC's On the Media host Bob Garfield pushed Keil for an explanation. "Please clarify this for me: Are not funding or did not fund them?" Garfield asked. Keil's response was unequivocal. "We are not funding," he said.
When asked the same question by the New York Times in early November, then-Vice President of Public and Government Affairs Kenneth Cohen likewise said no. "We stopped funding them in the middle part of the last decade because a handful of them were making the uncertainty of the science their focal point," he said. "Frankly, we made the call that we needed to back away from supporting the groups that were undercutting the actual risk" of global warming.
Cohen's response wasn't a surprise. He made the same disingenuous claim back in February 2007, a few weeks after UCS disclosed that ExxonMobil had been spending millions of dollars on climate science denier groups. Greenwire, a trade news organization, reported that Cohen said the company "has stopped funding them."
The surprise came on November 9, three days after the New York Times story ran, when PBS NewsHour host Judy Woodruff asked Cohen if ExxonMobil has been funding denier groups. This time he took a different tack.
"Well, the answer is yes," replied Cohen, who retired from the company in January. "And I will let those organizations respond for themselves."
But before anyone declares a victory for corporate transparency, it turns out that Cohen's moment of candor was, well, momentary.
On December 1, a Washington Post story quoted yet another ExxonMobil spokesperson who qualified Cohen's remark. Alan Jeffers, a media relations manager, said the company "rejects the premise" that it has been funding climate science denial.
"We were engaged with funding public policy groups on policy issues, not on science," Jeffers explained. "We made our position known on some climate policies that made us unpopular with environmental activists and they tried to position that as us funding climate denial. And that's just not accurate."
Not accurate? As Jeffers, Keil and their former boss, Cohen, surely know, the think tanks, advocacy groups and associations ExxonMobil has been sponsoring all these years lie about the science to strengthen the argument against doing anything to address climate change. After all, if people believe climate science is a fraud—or at least "far from settled"—they will see no reason to support a carbon tax, cap-and-trade system or any other climate policy. And that line of reasoning, which protects the status quo, seems to suit ExxonMobil just fine.
Elliott Negin is a senior writer at the Union of Concerned Scientists. UCS staff members Dave Anderson and Jayne Piepenburg provided research for this article. Follow Elliott Negin on Twitter at @ElliottNegin.
EcoWatch Daily Newsletter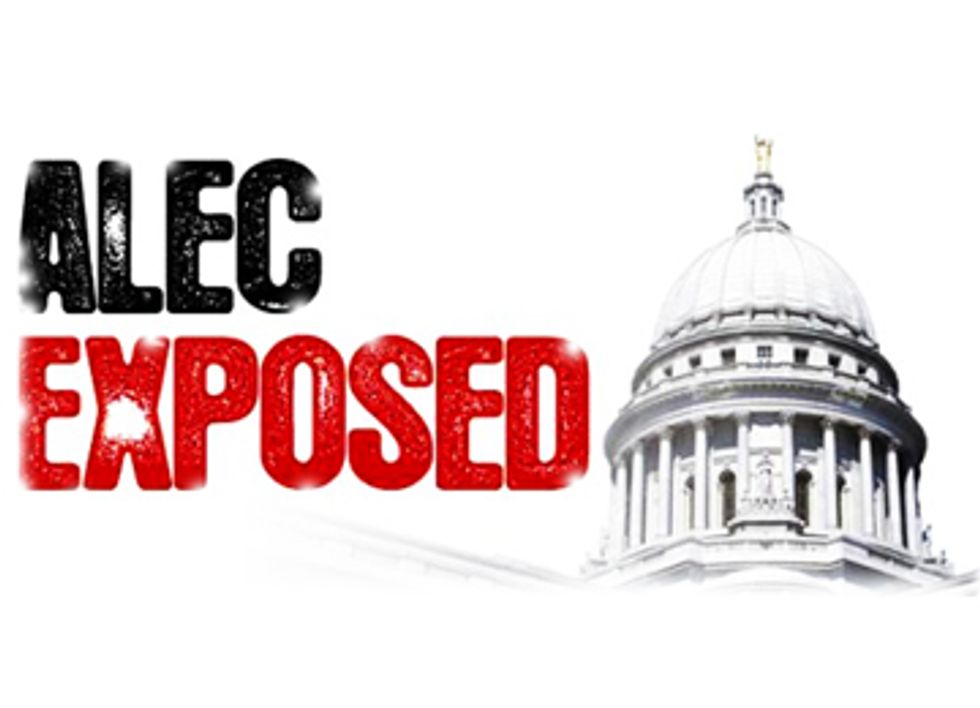 The same law that contributed to George Zimmerman walking free out of a Florida courtroom last weekend after taking the life of 17-year-old Trayvon Martin was primarily written by the same super lobbying group behind legislation protecting natural gas companies from disclosing chemicals used in fracking.
The American Legislative Exchange Council, or ALEC, is a unique kind of lobbying front group responsible for pushing legislation designed to enhance the bottom line of their corporate funders. Corporations like Koch Industries, ExxonMobil and Duke Energy, along with industry trade associations and large corporate foundations provide more than 98 percent of ALEC's funding, whose members, which includes elected officials and corporations, write and pass laws that will benefit those corporations.
Via the laws ALEC pushes through state legislatures, the lobbying group impacts Americans nationwide from voting right laws to environmental regulations (or lack thereof) to guns like Stand Your Ground. We've collected the most significant ALEC laws that could be coming to a state legislature near you, if they aren't there already.
This act prevents states from requiring their energy companies to increase electricity production from renewable energy sources, killing a key government incentives for clean energy projects. ALEC falsely claims that any renewable energy mandate sacrifices economic growth and American competitiveness, a dead horse they have continued to beat for decades.
Because of the economic benefits of renewable energy standards in states like North Carolina and Kansas and in spite of support from ALEC's other Koch-funded friends in the State Policy Network, ALEC's most heated attacks on Renewable Portfolio Standards (RPS) were shot down by Democrats and Republicans alike. Quieter ALEC-supported attempts to repeal or weaken RPS laws also failed in Ohio, Minnesota, West Virginia, Wisconsin, Missouri, Pennsylvania, Connecticut, Maine and Oregon—not a good start for ALEC's top energy-related priority this year.
Greenpeace has initiated an action to demand that the nation's largest utility company, Duke Energy, cut ties between ALEC, a relationship that is polluting Americans and democracy.
6. Resolution in Support of the Keystone XL Pipeline
ALEC is trying to use state resolutions to add pressure to the federal government to approve TransCanada's Keystone XL tar sands pipeline. In fact, ALEC took its member legislators on a Big Oil-funded trip to Alberta, Canada, to promote tar sands, courtesy of lobbyists from TransCanada, Shell, Devon Energy and other oil and gas interests. ALEC's conferences have featured seminars on the controversial pipeline, featuring speakers from oil companies and the Canadian government alike. The Center for Media and Democracy, which runs ALECexposed.org, has filed an ethics complaint in Nebraska for a legislator's failure to disclose the trip and its sponsors. Keep in mind that ALEC is a tax-exempt organization, and their lobbying doesn't count as lobbying to the IRS.
While ALEC has its own model resolution, its state legislator members introduced resolutions straight out of a TransCanada press release, coordinating across state borders to get an apparent jump in support for Keystone XL in Missouri, Michigan, Minnesota and Mississippi all at once.
5. Voter ID Act
These laws prohibit about 11 percent of citizens from voting by requiring a government-issued ID to vote at the polls.
This 11 percent overwhelmingly consists of elderly people, low-income and minority voters and students. Thirty-three states now have voter id laws and four states now have strict photo id requirements in effect. With the Supreme Court's recent gutting of the Voting Rights Act, we can expect this number to increase with ALEC's full support.
4. Arizona's SB 1070 Immigration Law: "No Sanctuary for Illegal Immigrants Act" 
In short, this bill was ALEC's way of making private prison companies rich by rounding up brown people without documentation and tossing them in jail. Although most of this law was struck down in Arizona, the "papers please" provision survives requiring law enforcement to check a person's status if they are stopped, detained or arrested. State legislators and prison and bail industry lobbyists met at an ALEC meeting to write the law which originally stated that law enforcement had to check a person's status only after "contact." The Arizona legislature changed narrowed the law to the current language.
3. Disclosure of Hydraulic Fracturing Fluid Composition Act
The title of this bill is a lie–ALEC's flagship fracking bill prevents oil and gas companies from having to disclose the chemicals in frack fluids that qualify as "trade secrets." Who took the idea to ALEC? ExxonMobil. Bloomberg reports that the ALEC bill has been introduced in at least eight states, although there appear to be more. Exxon's bill became Ohio law with ALEC's help, and a particularly controversial fracking law sponsorship by ALEC legislators passed in North Carolina last year without anyone reporting ALEC's fingerprints. DeSmogBlog has documented attempts in Florida, Illinois and several other states.
ALEC previously drafted a state resolution that puts the regulating authority into the hands of state agencies, which are woefully understaffed, underfunded and ineffective at regulating the powerful gas and oil industry, creating a one-two punch that leaves fracked communities in the dark on chemical disclosure and at the mercy of insufficient and often captured regulatory agencies for protection from fracking pollution.
2. Intrastate Coal and Use Act
This act serves to prevent the U.S. Environmental Protection Agency (EPA) from regulating the coal industry. Specifically, the act prevents the EPA from overruling state permits for coal mining and producing dirty coal products (like liquid coal for fuel) if all the coal operations are conducted within the borders of a single state. This act relies on the "Commerce Clause" claiming that the federal government can only regulate commerce that goes beyond state lines, flying in the face of settled Supreme Court interpretation of the "dormant" Commerce Clause. The first version of this bill was passed in West Virginia in 2011, a state with 273 operating coal mines as of 2011.
Considering the recent national tragedy of the Trayvon Martin ruling and the violence "Stand Your Ground" releases, this law should be repealed immediately in the states it's active. In strong conjunction with the National Rifle Association (NRA), ALEC has managed to push versions of this law in over two dozen states. It allows any killer to claim immunity if they felt a reasonable fear of bodily harm. The Florida version of this law passed in 2005 and was written by a NRA lobbyist.
ALEC is behind loads of more dangerous laws or proposed resolutions that must be exposed, blocked or repealed if active. Please let us know other significant ones we missed in the comments below. 
Visit EcoWatch's ENERGY page for more related news on this topic.
——–

By Mitch Jones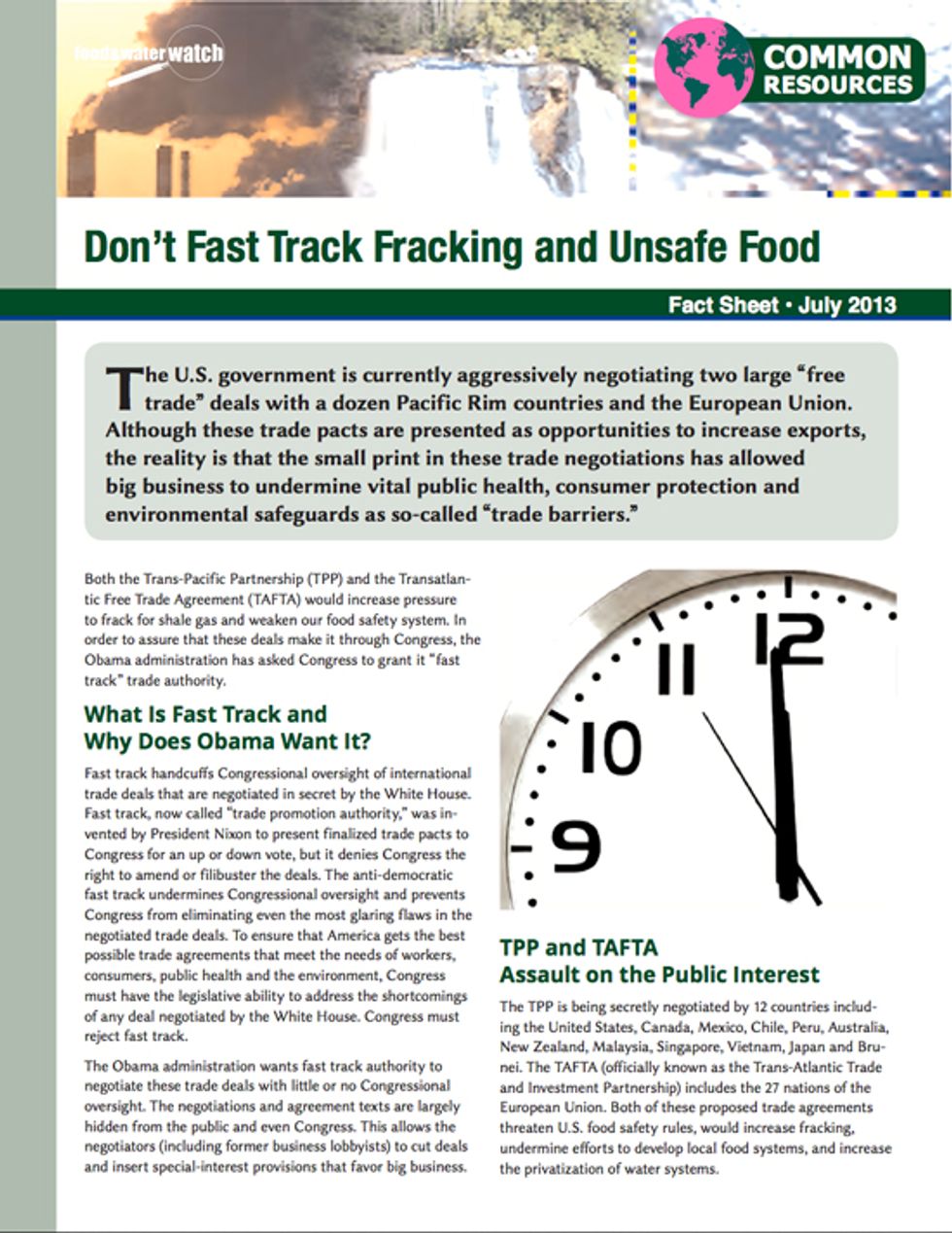 We've all seen the results in states across the country of the influence that the American Legislative Exchange Council and the Koch Brothers have amassed. And if you think the results of their agenda to hand more and more power to corporations at your expense are bad, you should really hate the new "trade" deals being negotiated to hand even more power to corporations at our expense.
The Transpacific Partnership (TPP) is being secretly negotiated by 12 countries, including the U.S., Canada, Mexico, Chile, Peru, Australia, New Zealand, Malaysia, Singapore, Vietnam, Japan and Brunei. The Trans Atlantic Free Trade Agreement (TAFTA) includes the 27 nations of the European Union. Both of these proposed trade agreements threaten U.S. food safety rules, infringe upon public and private land with an increased push for fracking, undermine efforts to develop local food systems and increase the privatization of water systems.
While its supporters talk about them as "trade" deals, in reality the TPP and TAFTA would be a permanent power grab by corporations and their financiers that would make it impossible for future generations to choose what laws and rules they want to live under. They would permanently enshrine the very economic system that has lead to greater imbalances in income and wealth and increasing economic crises. These deals would also allow foreign corporations to sue the federal, state and local governments over laws and policies that violate the "trade" deal, but protect us from unsafe food, dirty water and dangerous fracking. It's outrageous!
How do we know that these deals will give more power to corporations and leave our children, our air and water, and our food safety at greater risk? Because while the American people aren't being told what's in the deal, and while members of Congress are being shut out of the negotiations, representatives from more than 600 corporations and corporate interests are able not only to see the text of the agreement, but also are able to help influence what goes into it.
We need to stop these trade deals before they give even more power to corporations. Food & Water Watch just published a new fact sheet, Don't Fast Track Fracking and Unsafe Food, with extensive details on these trade agreements and provides information on how to contact your representatives to oppose these corporate giveaways.
Visit EcoWatch's FOOD and FRACKING pages for more related news on this topic.
——–
SHARE YOUR THOUGHTS BELOW: What do you think would be the result of these trade deals in the U.S.?

——–

North Carolina senators are taking an American Legislative Exchange Council (ALEC) style approach in their efforts to push through legislation that allows oil companies a loophole in regulations requiring disclosure of the chemicals used in hydraulic fracturing, or fracking, operations.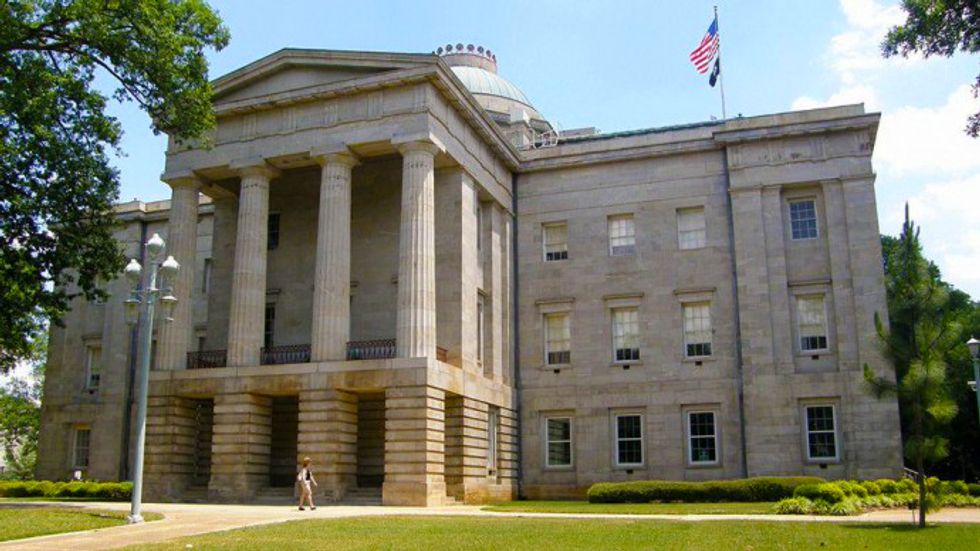 This week, a state Senate committee approved a version of what is normally an annual environmental "housecleaning bill," according to the Associated Press. While the House version of the bill was a mere four pages, the Senate version contained 44 pages and language relating to the regulation of the fracking industry.
The Senate's version allows companies to withhold "trade secret" chemicals used in the drilling process. Similar provisions are seen in model ALEC legislation that has been adopted by states throughout the nation—including Florida and, most recently, Illinois.
The regulations came as a surprise to North Carolinians, as the legislature voted earlier this year to create an Energy and Mining Commission, a body whose purpose is to create regulations for the industry. The commission's most recent attempts were axed after Halliburton, a leader in the industry, claimed the regulations were too intense.
With fracking poised to begin in the state by 2015, environmental advocates are calling out the most recent Senate move as an attempt by pro-fracking forces to steamroll the process of creating fracking regulations.
Oil companies have already purchased more than 9,000 acres of land for drilling in Chatham, Lee and Moore Counties, according to Environment North Carolina.
North Carolina's Tug-of-War Over Fracking
Republican state Sen. Bob Rucho is the likely suspect behind the somewhat secretive moves made by the Senate this week. Sen. Rucho is a staunch advocate of the would-be fracking industry in the state.
In June 2012, when debating the issue in the Senate, Rucho was quoted by McClatchy News Service in a debate over the safety of the fracking industry, saying, "The only way you'll ever know is by actually punching down some wells."
In February, Rucho co-sponsored SB 76, which set March 2015 as the goal for the issuance of fracking permits, undoing a previously issued moratorium. The bill also set Oct. 1, 2014, as the deadline for the state to come up with a "modern regulatory program for the management of oil and gas exploration and development activities."
On June 7, the House voted in favor of a version of SB 76 that would also allow permits to be issued by March 1, 2015.
"Nothing will get done if you don't have a timeline," Rucho told Stateline, the news service of the Pew Charitable Trusts. "We believe we have a significant resource here … the upside potential is tremendous."
In July 2012, Republicans, with the help of one accidental Democratic vote, overrode Gov. Bev Perdue's veto of a fracking bill, ushering in the Clean Energy and Economic Security Act. The legislation called for the creation of the Energy and Mining Commission, which would be responsible for coming up with regulations by October 2014.
Those in the state concerned with fracking saw it not as a step in the direction of caution, but one that paves the way for the oil and gas industry to move in without adequate environmental review.
As environmentalists saw it, regulations were not an appropriate substitute for an environmental review.
"Without allocating funding to this effort, the bill directs to develop a massive new oil and gas regulatory infrastructure, but ignores the DENR's [Department of Energy and Natural Resources] recommendation that more studies are needed to determine if fracking can be done safely in NC [North Carolina], given the state's unique geology," Sierra Club's North Carolina branch said in a statement following the move.
That new regulatory department, the Energy and Mining Commission, has already come under scrutiny by environmental groups for caving to industry pressure.
Minutes from the commission's March meeting indicate it had already been looking into a chemical disclosure system that allowed for "trade secrets" to be left out. However, it would have required chemicals to be released for each well.
Like other states, the commission was looking at the industry-created FracFocus website, an online platform that allows companies to disclose chemicals used at each well, aside from those deemed trade secrets.
"Committee Chairman (George) Howard stated that the trade secret disclosure rule would require all companies to submit a master chemical family name list of fracturing fluid additives before being permitted for operations," minutes for the March 2013 meeting state. "Emergency responders and health professionals would be notified within two hours of a request for trade secret information via telephone."
The commission's move to potentially institute chemical disclosure rules of any kind were halted when Halliburton, a leader in the fracking industry, flexed its muscles. According to the News Observer, Halliburton told the Commission that the regulations were too strict.
Halliburton runs its own chemical disclosure operation on its website. In 2010, in the midst of a debate with the U.S. Environmental Protection Agency about disclosure regulations, the company launched its own "honesty policy" website, showcasing chemicals used in the states in which it operates.
"While it's nice to see Halliburton acknowledging that desire, it's not meaningful or sufficient unless the information is fully disclosed on a site-by-site basis," Natural Resources Defense Council's Amy Mall told The New York Times in 2010.
This isn't the first time Halliburton has influenced fracking politics. The entire oil and gas industry in the U.S. is exempt from the Clean Air Act and Clean Water Act, thanks to exemptions issued in the 2005 energy bill that were supported by then-Vice President Dick Cheney, former CEO of Halliburton.
What's the Big Deal?
According to a 2009 North Carolina Geological Survey report, the state has two potential areas for commercial oil extraction, and one of them—the Atlantic Outer Continental Shelf formation—extends nearly 50 miles into coastal waters.
"The offshore Atlantic Outer Continental Shelf remains prospective and may be tested in the future," the 2009 report states.
According to McClatchy News Service, the federal government estimates there are 1.7 cubic feet of natural gas in a 150-mile stretch of the Deep River Basin. The estimated extraction potential would provide 5.6 years of use, based on the state's 2010 consumption rates.
Fracking, which injects water, silica sand and chemicals into the Earth to break up rock formation, allowing oil to be extracted, is a concern for those living near fracking wells. At the top of the list of concerns is groundwater contamination, which can result when the flow of chemicals used makes its way into the groundwater table.
According to Environment North Carolina, the drinking water of more than 2.4 million people who live on the coast and the piedmont—areas where oil has been identified—would be at risk.
There's debate over how frequently this occurs. A study published this week by North Carolina's Duke University profiles water contamination in Pennsylvania, a frack-heavy state. The study sampled water from 141 drinking water wells throughout the area.
The report indicates that methane was detected in 82 percent of drinking water samples, with "average concentrations six times higher for homes" less than 1 kilometer from fracking wells. Ethane levels were 23 times higher in homes less than 1 kilometer from fracking wells. Propane was detected in 10 water wells, all within a kilometer of fracking operations.
The North Carolina Senate bill regulations, like those in other ALEC bills, aim to provide a form of transparency, allowing residents access to the chemicals being used in the drilling process.
Yet without full knowledge of chemicals, anti-fracking advocates are claiming the so-called regulations don't do much good.
Visit EcoWatch's FRACKING page for more related news on this topic.
——
Sign the petition today, telling President Obama to enact an immediate fracking moratorium: