Wil Molenkamp / Flickr
Congressman Earl Blumenauer (D.-Ore.), alongside Representative Jim McGovern (D.-Mass.) and conservation, farmworker, farmer and consumer groups, on Wednesday reintroduced the Saving America's Pollinators Act, which aims to suspend the registration of certain neonicotinoid insecticides until the U.S. Environmental Protection Agency (EPA) conducts a full scientific review.
In addition, 16 environmental and conservation groups have collected more than 100,000 public comments urging the agency to rein in the rampant overuse of neonicotinoid pesticides—a leading cause of pollinator population declines.
Thousands of scientific studies implicate neonicotinoid pesticides, or "neonics," as key contributors to declining pollinator populations. EPA's own scientists have found that neonics pose far-reaching risks to birds and aquatic invertebrates.
Last week, at the request of industry, the EPA extended its comment period on preliminary ecological and human health risk assessments for the neonicotinoids clothianidin, thiamethoxam and dinotefuran, and a preliminary ecological risk assessment for the neonicotinoid imidacloprid. The EPA's risk assessments found deadly impacts to birds from neonic-treated seeds, poisoned insect prey and contaminated grasses.
"EPA's recent assessment confirms what the science has already shown: that neonicotinoids are highly toxic not just to bees, but to aquatic species and birds," said Nichelle Harriott, science and regulatory director at Beyond Pesticides. "To protect our waterways and pollinators it is imperative that action be taken on these chemicals."
"Our nation's beekeepers continue to suffer unacceptable mortality of 40 percent annually and higher," said Andrew Kimbrell, executive director of Center for Food Safety. "Water contamination by these insecticides is virtually out of control. Wild pollinators and wetland-dependent birds are in danger. EPA must recognize the vast scientific literature showing the hazards of these chemicals and act to protect bees and the environment."
University researchers have found that tiny amounts of neonics are enough to cause migrating songbirds to lose their sense of direction and become emaciated. A recent study by USGS researchers found neonics widespread in the Great Lakes at levels that may potentially harm aquatic insects—the foundation of healthy aquatic ecosystems.
"By harming pollinators like bees and butterflies, and natural pest control agents like birds and beneficial insects, neonicotinoids are sabotaging the very organisms on which farmers depend," said Cynthia Palmer, director of pesticides science and regulation at American Bird Conservancy.
These chemicals have become ubiquitous in our food supply. Testing carried out by American Bird Conservancy and the Harvard T.H. Chan School of Public Health found neonicotinoids in 9 out of 10 bites of food from House and Senate dining halls, with some foods containing as many as five types of neonics.
Europe has instituted a temporary ban on neonicotinoids based on their harms to pollinators. Canada's pesticide regulatory agency has recommended banning the most widely used neonicotinoid based on harms to aquatic ecosystems.
"When presented with the science about neonics and bees, the question becomes 'In what imaginary world could this astoundingly efficient bee-killing, persistent insecticide, used countrywide in extreme overkill quantities, not be harming our pollinators?' said Dr. Luke Goembel, chemist and legislative vice chair with the Central Maryland Beekeepers Association. "The only thing that is keeping the U.S. from joining other nations in banning the use of these devastating poisons is the immense profit that fuels PR campaigns, intense lobbying efforts, and questionable studies designed to mislead us on the harm these poisons do."

Given the ongoing obstruction by EPA leadership, however, Representatives Blumenauer and McGovern are offering a legislative remedy to address the national pollinator crisis.

"Scientists at EPA are treated as irrelevant now because they are no longer part of the decision-making process," said Betsy Southerland, former director of EPA's office of Science and Technology. "All environmental decisions come out of Administrator Pruitt's private meetings with industry and agribusiness."
"The EPA has an important mission—protecting people and the environment from harm," said Genna Reed, science and policy analyst for Union of Concerned Scientists. "The EPA's leadership can't do their job unless they listen to their own scientists and make decisions that reflect the facts. At a time when EPA staff is shrinking and science advisors at the agency are underutilized, it is critical that the agency act to enforce safeguards that really protect people, informed by the evidence."
EPA: Neonicotinoid Pesticides Pose Serious Risks to Birds, Aquatic Life https://t.co/3p06Sc5VDD #neonics… https://t.co/MPr2EZL7cF

— EcoWatch (@EcoWatch)1513613767.0
EcoWatch Daily Newsletter
Cleveland skyline. Photo credit: Stefanie Spear
By Susan Cosier
The winds whipping across Lake Erie can average up to 16 miles per hour. And about 7 to 10 miles northwest of Cleveland, there's a pilot project in the works to capture them. The offshore wind farm would be the second in the nation and the first ever in a Great Lake.
Cleveland, Ohio will be home to America's first-ever offshore wind farm in fresh water: https://t.co/bN3uoMXqoM via @EcoWatch

— NRDC (@NRDC)1465342683.0
The offshore wind industry is already expanding on the northeastern seaboard, but a freshwater wind farm would face different conditions than those in the salty seas of the Atlantic—the biggest one being ice. Lake Erie, the most shallow of the Great Lakes, usually freezes during winter, so a turbine would have to withstand huge chunks of ice crashing into its pole. That hasn't stopped LEEDCo, the renewable energy company proposing the project, from pushing ahead. Earlier this month, it submitted its permit application for the project, dubbed Icebreaker Wind.
If the regulatory agencies—including the Ohio Power Siting Board, the state department of natural resources, the U.S. Fish and Wildlife Service and the U.S. Coast Guard—give the thumbs up, the towers could go up as early as next year.

Swedish company ReWind Offshore already has 10 turbines twirling in its country's Lake Vänern. After consulting with ReWind and Eranti Engineering Oy, a Finnish company known for its icebreaking technologies, LEEDCo created its own turbine that can smash through ice. At the water's surface, a sloped section of the pole will act like the bow of a boat, cutting through any frozen slabs and preventing them from crashing into the turbine.
Icebreaker Wind would generate 20.7 megawatts of electricity, enough to power about 6,000 homes. That's a relatively small amount, but the farm will also supply lots of valuable info, said Lorry Wagner, LEEdCo's president. The company plans to study the project closely, ask independent scientists and consultants to collect data on everything from the turbines' power output to their effect on fish populations, then make the findings publicly available. If successful, the project could attract more wind developers to the Great Lakes. But first, Icebreaker Wind will have to face certain challenges on land.
Representatives from the Ohio-based Black Swamp Bird Observatory and the national American Bird Conservancy have spoken out against wind farms in the Great Lakes, saying the turbines pose a threat to bats and migrating birds. And in a letter to the Ohio Power Siting Board, officials from a number of groups expressed concern about pollution from lubricants and oils used at the turbines, ecological disturbance to birds, bats and fish and restricted access for boaters.

"It comes down to the people, ultimately and if we can't convince them that this is good for the environment and everything else, then it's going to be a tough slog," Wagner said. "We're making a statement that we are going to clean up the environment and we're going to do it in a responsible way."
LEEDCo sent its first proposal to the Ohio Power Siting Board three years ago, but the company pulled its application due to a lack of details on how the farm would be built and how it would work with existing power companies. That was before the U.S. Department of Energy gave the company up to $40 million in Offshore Wind Advanced Technology grants to conduct more research and development.
A computer model of LEEDco's proposed wind turbine.LEEDco
So far, LeedCo has changed the farm's location roughly a dozen times to make sure its turbines to have the smallest possible effect on nearby communities and natural resources. WEST, an environmental consulting group hired by the company, also recently assessed the farm's potential impact on wildlife and found that the six turbines would have minimal impact on local wildlife.

These efforts may help the proposal move through the permitting process, which is the same for land-based projects in Ohio, said Matt Butler, a spokesperson from the Ohio Power Siting Board.
The Ohio legislature mandated in 2014 that wind turbines can't be within 1,125 feet—measuring from the tip of the turbine's blade—to the nearest property line, the largest such buffer in the country. Since then, very few wind farms have even gone up in the state. Samantha Williams, a Chicago-based Natural Resources Defense Council attorney, said, in a way, the law is almost forcing wind farms into the lakes.
Ohio created a map that shows the swaths of Lake Erie that might be appropriate for wind farm development in 2008, said Wagner. (Rhode Island has something similar). When wind energy companies start planning, they can request to develop in the most advantageous areas. Still, Butler said the siting board considers each project on a case-by-case basis.
ONDR
Lake Erie isn't the only Great Lake wind developers have their eyes on. Two companies previously proposed wind farms off the Canadian shores of Lake Ontario, but the Ontario government has since issued a moratorium on offshore wind development. Lake Michigan could also prove to be a good place for wind energy, said Wagner.

John Scofield, a physicist who researches energy and energy policy at Oberlin College, asks what's the worst that could happen if the wind farms turn into a mistake? LEEDco just has to take the turbines down.
"The risk is just nothing like some of the risks we have with other energy choices," said Scofield. For example, coal-fired power plants, like the Bay Shore plant east of Toledo, emit mercury and carbon into the atmosphere and transporting oil can lead to spills almost anywhere, including under the Great Lakes themselves. If an aging pipeline is still allowed to shuttle oil under their waves, certainly offshore wind deserves a fair shot in the lakes, too.
waterlust.com / @tulasendlesssummer_sierra .
Each product featured here has been independently selected by the writer. If you make a purchase using the links included, we may earn commission.
The bright patterns and recognizable designs of Waterlust's activewear aren't just for show. In fact, they're meant to promote the conversation around sustainability and give back to the ocean science and conservation community.
Each design is paired with a research lab, nonprofit, or education organization that has high intellectual merit and the potential to move the needle in its respective field. For each product sold, Waterlust donates 10% of profits to these conservation partners.
Eye-Catching Designs Made from Recycled Plastic Bottles
waterlust.com / @abamabam
The company sells a range of eco-friendly items like leggings, rash guards, and board shorts that are made using recycled post-consumer plastic bottles. There are currently 16 causes represented by distinct marine-life patterns, from whale shark research and invasive lionfish removal to sockeye salmon monitoring and abalone restoration.

One such organization is Get Inspired, a nonprofit that specializes in ocean restoration and environmental education. Get Inspired founder, marine biologist Nancy Caruso, says supporting on-the-ground efforts is one thing that sets Waterlust apart, like their apparel line that supports Get Inspired abalone restoration programs.
"All of us [conservation partners] are doing something," Caruso said. "We're not putting up exhibits and talking about it — although that is important — we're in the field."
Waterlust not only helps its conservation partners financially so they can continue their important work. It also helps them get the word out about what they're doing, whether that's through social media spotlights, photo and video projects, or the informative note card that comes with each piece of apparel.
"They're doing their part for sure, pushing the information out across all of their channels, and I think that's what makes them so interesting," Caruso said.
And then there are the clothes, which speak for themselves.
Advocate Apparel to Start Conversations About Conservation
waterlust.com / @oceanraysphotography
Waterlust's concept of "advocate apparel" encourages people to see getting dressed every day as an opportunity to not only express their individuality and style, but also to advance the conversation around marine science. By infusing science into clothing, people can visually represent species and ecosystems in need of advocacy — something that, more often than not, leads to a teaching moment.

"When people wear Waterlust gear, it's just a matter of time before somebody asks them about the bright, funky designs," said Waterlust's CEO, Patrick Rynne. "That moment is incredibly special, because it creates an intimate opportunity for the wearer to share what they've learned with another."
The idea for the company came to Rynne when he was a Ph.D. student in marine science.
"I was surrounded by incredible people that were discovering fascinating things but noticed that often their work wasn't reaching the general public in creative and engaging ways," he said. "That seemed like a missed opportunity with big implications."
Waterlust initially focused on conventional media, like film and photography, to promote ocean science, but the team quickly realized engagement on social media didn't translate to action or even knowledge sharing offscreen.
Rynne also saw the "in one ear, out the other" issue in the classroom — if students didn't repeatedly engage with the topics they learned, they'd quickly forget them.
"We decided that if we truly wanted to achieve our goal of bringing science into people's lives and have it stick, it would need to be through a process that is frequently repeated, fun, and functional," Rynne said. "That's when we thought about clothing."
Support Marine Research and Sustainability in Style
To date, Waterlust has sold tens of thousands of pieces of apparel in over 100 countries, and the interactions its products have sparked have had clear implications for furthering science communication.
For Caruso alone, it's led to opportunities to share her abalone restoration methods with communities far and wide.
"It moves my small little world of what I'm doing here in Orange County, California, across the entire globe," she said. "That's one of the beautiful things about our partnership."
Check out all of the different eco-conscious apparel options available from Waterlust to help promote ocean conservation.
Melissa Smith is an avid writer, scuba diver, backpacker, and all-around outdoor enthusiast. She graduated from the University of Florida with degrees in journalism and sustainable studies. Before joining EcoWatch, Melissa worked as the managing editor of Scuba Diving magazine and the communications manager of The Ocean Agency, a non-profit that's featured in the Emmy award-winning documentary Chasing Coral.
In light of recent action in Europe to suspend the use of certain neonicotinoid pesticides, Beyond Pesticides joined 12 other environmental and advocacy organizations in urging the Obama Administration to direct the U.S. Environmental Protection Agency (EPA) to follow the European Union's lead in recognizing that risks posed by these pesticides are unacceptably high, and to suspend the use of these chemicals in the U.S. to protect pollinators and the nation's agricultural economy.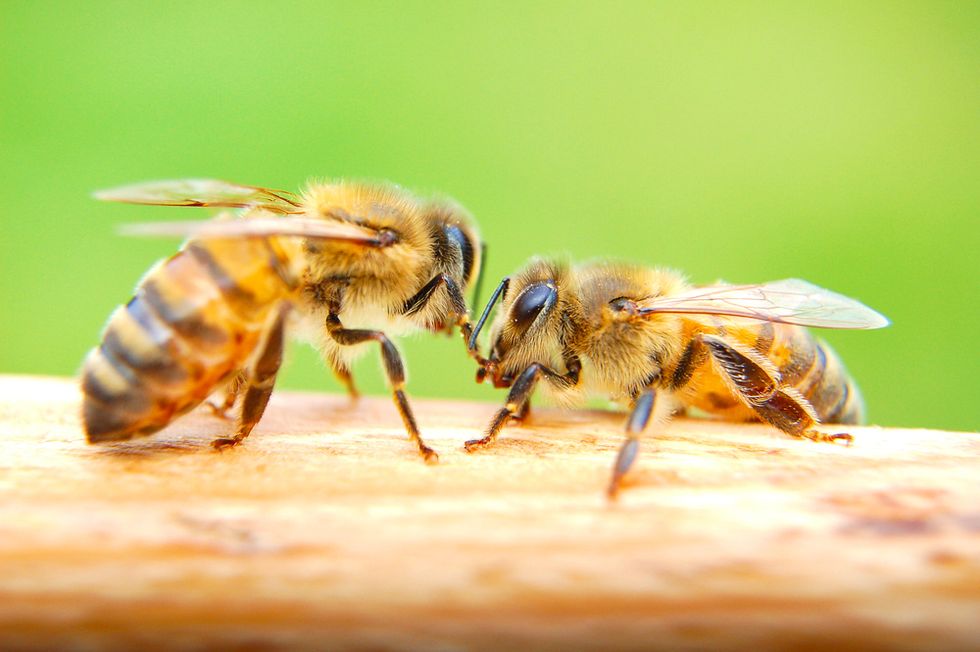 Photo courtesy of Shutterstock
The letter urges the Obama Administration to not only direct EPA to follow Europe's lead in suspending certain neonicotinoid pesticides uses, but requests even more protective measures, including a minimum two-year suspension for all outdoor uses of neonicotinoid insecticides pending resolution of their hazards to bees and beneficial organisms. Highlighting the negative environmental and economic impacts of outdoor uses of the EPA-approved neonicotinoid insecticides—imidacloprid, clothianidin, thiamethoxam, dinetofuran and acetamiprid—as well as a recognition that the initial risk assessments for these chemicals fail to adequately consider key risks to bee health, the letter to President Obama notes that it, "would not be responsible to continue to allow these threatening compounds to be used so broadly."
On average, U.S. beekeepers lost 45.1 percent of the colonies in their operation during the winter of 2012-2013, with many reporting over 70 percent losses of their bee colonies. Recently, over 50,000 bumble bees, representing approximately 300 colonies, were killed after the application of a neonicotinoid pesticide to trees in Oregon. Given that bee pollination is a $20-$30 billion per year contributor to U.S. agriculture and vital to the majority of fruit and vegetable produce, current impacts on bees are rapidly evolving into devastating—perhaps irreversible—losses to farmers, consumers and the economy as a whole, which relies on domestically-produced bee-pollinated food and fiber crops.
The neonicotinoid class of insecticides has been identified as a leading factor in bee declines. Neonicotinoids are systemic insecticides used primarily as seed treatment for corn and soybeans, as well as in home and garden products. The Center for Food Safety has a comprehensive list of neonicotinoid products to avoid. These chemicals contaminate nectar and pollen, as well as soil and surface water. Foraging and navigational disruptions, immune suppression as well as learning and memory disorders have been documented in bees exposed to even low levels of these chemicals. An extensive overview of the major studies showing the effects of neonicotinoids on pollinator health can be found on Beyond Pesticides' What the Science Shows webpage.
In March 2013, commercial beekeepers and environmental organizations filed an emergency legal petition with EPA to suspend use of the pesticides linked to honey bee deaths, urging the agency to adopt safeguards. Meanwhile in Europe, the European Commission passed a continent-wide suspension on the neonicotinoids imidacloprid, clothianidin and thiamethoxam, citing unacceptable hazards to bees, which is supported by a European Food Safety Authority (EFSA) report that finds the neonicotinoid class of insecticides of "critical concern" to bee health. Unfortunately, in the U.S., response from federal regulatory agencies is stymied. Despite the groundbreaking decision in Europe, EPA released a report which failed to address the overwhelming scientific evidence of neonicotinoid-related bee deaths or present any sustainable solution to address the bee crisis.
The letter also brings several key acknowledgments by federal officials made in public statements at recent meetings, in media statements, in EPA documents and other venues to the Administration, including:
EPA's enforcement guidance for neonicotinoid use is inadequate.
EPA's bee kill incident reporting system is inadequate.
Labels on neonicotinoid products are inadequate to mitigate adverse environmental effects, specifically to avoid seed dust-mediated mortality to honey bees and other beneficial insects in or near corn fields.
Current corn planting machinery poses significant dust-off risks and needs changing, while also recognizing that such changes will likely take many years and stating that EPA lacks authority to mandate machinery changes.
Bee health and populations, and crop pollination, are in a near-crisis state based on several synergistic factors including insecticide use.
EPA has not consulted with the U.S. Fish and Wildlife Service on potential effects on threatened or endangered species under Sec. 7 of the Endangered Species Act for the neonicotinoid insecticides.
According to the concerned groups, EPA has refused to exercise its regulatory power to address the major contribution of these insecticides to bee declines. Instead, the agency has pointed to land use decisions, crop planting choices by farmers, pathogens, bee nutrition and other factors outside the agency's authority, while failing to adopt measures that could offer long-term sustainable protection of bee populations. The letter also cites emerging science which documents extensive surface water contamination and impacts on non-target organisms such as aquatic invertebrates, birds and other pollinators.
"We could face a second Silent Spring above and beyond the threats to managed and wild pollinators," the letter states. Additionally, it states that EPA's planned 2018 deadline to complete its registration reviews for the major neonicotinoids "is far too slow in view of their potentially calamitous risks."
The signatories to this letter include: Beyond Pesticides, The Center for Food Safety, Pesticides Action Network North America, Friends of the Earth, The Xerces Society, Sierra Club, Defenders of Wildlife, Californians for Alternatives to Toxics, Food & Water Watch, Center for Environmental Health, American Bird Conservancy and the Northwest Coalition for Alternatives to Pesticides.
Beyond Pesticides' BEE Protective campaign also has educational tools to help the pollinators in your yard, park or garden and information to help transform your community and raise awareness about pollinator health.
Visit EcoWatch's BIODIVERSITY page for more related news on this topic.
——–

WHAT STEPS COULD BE TAKEN TO PRESERVE BIODIVERSITY IN URBAN AREAS?