Roy Morsch / The Image Bank / Getty Images
By Sean Fleming
In the US alone, more than 50 million people have an allergy.
Climate change is lengthening the duration of natural pollen seasons.
In the US, pollen seasons are starting 20 days sooner than they did in the 1990s.
It can start with a barely noticeable change to your breathing. Perhaps a little lightheadedness, too. Your eyes start to moisten and your skin tingles. Soon, your synapses will trigger behaviors you cannot control. And there it is – you've sneezed.
More Pollen for Longer
A team of researchers from institutions across the US has reviewed data relating to pollen trends from 1990 to 2018. The conclusions they came to were that pollen is present in the air 20 days sooner than it used to be and at significantly higher concentrations – as much as 21% up.
Published in the Proceedings of the National Academy of the Sciences (PNAS), the report's authors write: "Airborne pollen has major respiratory health impacts and anthropogenic climate change may increase pollen concentrations and extend pollen seasons."
​Tracking pollen across the US: Warm colors indicate increasing annual pollen integrals. PNAS / William R. L. Anderegg et al
Furthermore, their results strongly suggest that "human-caused climate change has already worsened North American pollen seasons." The situation is only likely to get worse, they believe, which could have serious consequences for some people's respiratory health.
How clean is the air in your country? Visual Capitalist
Historically, burning fossil fuels has been one of the main contributors to the problem of poor air quality. More than 8 million people around the world die each year as a result of breathing poor-quality air, according to research from Harvard University, University College London, the University of Birmingham and the University of Leicester. Mostly, that means air containing dangerous particles from coal, petrol and diesel. Among the causes of death are heart disease, lung cancer, and strokes.
"Allergies and asthma are responsible for substantial morbidity burdens and associated medical costs in the US," the report in PNAS goes on to say.
By connecting the challenges of poor air quality, respiratory health and climate change, the study indicates the potential for serious, ongoing public health crises and warns the situation could worsen as average global temperatures continue to climb.
Doing Something About It
Climate change and the efforts to prevent it remains a major global challenge and as the World Economic Forum's latest Global Risks Report highlights, failure to do so presents a serious threat.
But, from global action, like the Paris Agreement or the Misson Possible Partnership, to more targeted initiatives, like the 1t.org (trillion trees) United States Chapter, businesses, governments and civil society are working together to bring about rapid change.
Reposted with permission from World Economic Forum.
From Your Site Articles
Related Articles Around the Web
EcoWatch Daily Newsletter
3sbworld / iStock / Getty Images Plus
Cosby Stone is an instructor in allergy/immunology at Vanderbilt University Medical Center, Vanderbilt University.
Disclosure statement: Cosby Stone, Jr. MD, MPH currently receives funding from K12HS026395-0 via the Agency for Healthcare Research and Quality and has previously received funding from the National Heart, Lung, and Blood Institute and the National Institute of General Medical Sciences for his research in allergy.
Reposted with permission from our media associate The Conversation.
waterlust.com / @tulasendlesssummer_sierra .
Each product featured here has been independently selected by the writer. If you make a purchase using the links included, we may earn commission.
The bright patterns and recognizable designs of Waterlust's activewear aren't just for show. In fact, they're meant to promote the conversation around sustainability and give back to the ocean science and conservation community.
Each design is paired with a research lab, nonprofit, or education organization that has high intellectual merit and the potential to move the needle in its respective field. For each product sold, Waterlust donates 10% of profits to these conservation partners.
Eye-Catching Designs Made from Recycled Plastic Bottles
waterlust.com / @abamabam
The company sells a range of eco-friendly items like leggings, rash guards, and board shorts that are made using recycled post-consumer plastic bottles. There are currently 16 causes represented by distinct marine-life patterns, from whale shark research and invasive lionfish removal to sockeye salmon monitoring and abalone restoration.

One such organization is Get Inspired, a nonprofit that specializes in ocean restoration and environmental education. Get Inspired founder, marine biologist Nancy Caruso, says supporting on-the-ground efforts is one thing that sets Waterlust apart, like their apparel line that supports Get Inspired abalone restoration programs.
"All of us [conservation partners] are doing something," Caruso said. "We're not putting up exhibits and talking about it — although that is important — we're in the field."
Waterlust not only helps its conservation partners financially so they can continue their important work. It also helps them get the word out about what they're doing, whether that's through social media spotlights, photo and video projects, or the informative note card that comes with each piece of apparel.
"They're doing their part for sure, pushing the information out across all of their channels, and I think that's what makes them so interesting," Caruso said.
And then there are the clothes, which speak for themselves.
Advocate Apparel to Start Conversations About Conservation
waterlust.com / @oceanraysphotography
Waterlust's concept of "advocate apparel" encourages people to see getting dressed every day as an opportunity to not only express their individuality and style, but also to advance the conversation around marine science. By infusing science into clothing, people can visually represent species and ecosystems in need of advocacy — something that, more often than not, leads to a teaching moment.

"When people wear Waterlust gear, it's just a matter of time before somebody asks them about the bright, funky designs," said Waterlust's CEO, Patrick Rynne. "That moment is incredibly special, because it creates an intimate opportunity for the wearer to share what they've learned with another."
The idea for the company came to Rynne when he was a Ph.D. student in marine science.
"I was surrounded by incredible people that were discovering fascinating things but noticed that often their work wasn't reaching the general public in creative and engaging ways," he said. "That seemed like a missed opportunity with big implications."
Waterlust initially focused on conventional media, like film and photography, to promote ocean science, but the team quickly realized engagement on social media didn't translate to action or even knowledge sharing offscreen.
Rynne also saw the "in one ear, out the other" issue in the classroom — if students didn't repeatedly engage with the topics they learned, they'd quickly forget them.
"We decided that if we truly wanted to achieve our goal of bringing science into people's lives and have it stick, it would need to be through a process that is frequently repeated, fun, and functional," Rynne said. "That's when we thought about clothing."
Support Marine Research and Sustainability in Style
To date, Waterlust has sold tens of thousands of pieces of apparel in over 100 countries, and the interactions its products have sparked have had clear implications for furthering science communication.
For Caruso alone, it's led to opportunities to share her abalone restoration methods with communities far and wide.
"It moves my small little world of what I'm doing here in Orange County, California, across the entire globe," she said. "That's one of the beautiful things about our partnership."
Check out all of the different eco-conscious apparel options available from Waterlust to help promote ocean conservation.
Melissa Smith is an avid writer, scuba diver, backpacker, and all-around outdoor enthusiast. She graduated from the University of Florida with degrees in journalism and sustainable studies. Before joining EcoWatch, Melissa worked as the managing editor of Scuba Diving magazine and the communications manager of The Ocean Agency, a non-profit that's featured in the Emmy award-winning documentary Chasing Coral.
Pixabay
By Kara Wada
Blooming spring flowers signal the beginning of spring, but for millions of people, they also signal the onset of the misery: allergy and asthma season. Itchy, watery eyes; sneezing, runny nose; cough and wheezing are triggered by an overreaction of the body to pollen.
Every spring, trees and grasses release billions of buoyant pollen granules into the air, using the wind to disburse across the countryside in an effort to reproduce. It's all about survival; plants that release more pollen have the survival advantage.
As an adult and pediatric allergist-immunologist in the Midwest, the onset of spring signals my busy season treating hundreds of patients for their seasonal allergy and asthma symptoms. If you suffer through the season, know that you are not alone. Throughout history, pollen has taken the fun out of spring for many. In modern times, however, medical science has identified practices and treatments that help.
Reposted with permission from our media associate The Conversation.
Ambrosia artemisiifolia, common ragweed. PLOS ONE
By Marlene Cimons
Cristina Stinson never had an allergic reaction to ragweed until after she started working with it. "I think the repeated exposure to the pollen is what did it," she said. It also didn't help that her community is chock-full of it. "There is plenty of ragweed in my neighborhood," she said. "In fact, it grows right outside my door."
Stinson, assistant professor of plant ecology at the University of Massachusetts Amherst and a ragweed expert, knows that ragweed allergies, as bad as they are now, are going to get worse because of climate change. New research she conducted with Michael Case, a postdoctoral researcher in landscape ecology and conservation at the University of Washington, suggests that the plant will migrate north in the next three and a half decades. It will sprout where it hasn't been before, and proliferate where it already is.
Upstate New York, Vermont, New Hampshire and Maine, where ragweed has not been documented, will be especially vulnerable, according to their study. The study appears in the journal PLOS ONE, and is believed to be the first to examine ragweed distribution in the U.S.
Nexus Media
Moreover, the effects of climate change also could result in a longer ragweed season, which currently begins in August and lasts through November.

"Ragweed is already flowering earlier and longer than it has in the past, so if the climate conditions become conducive, it is possible that the pollen season could start sooner and end later," Stinson said. "Historical pollen records tell us that ragweed thrives in hot, dry environments. When we grow ragweed at high CO2 it luxuriates and produces more pollen."
Increasing amounts of fine-powder ragweed pollen, the primary allergen for hay fever symptoms, will mean increased misery in the form of sneezing, runny noses, irritated eyes, itchy throats and headaches. "One reason we chose to study ragweed is because of its human health implications," Stinson said. "It affects a lot of people."
The warming climate has brought early springs, late-ending falls, warmer and shorter winters and large amounts of rain and snow. All of that, combined with historically high levels of carbon dioxide in the air, nourishes all of the trees and plants that make pollen, not just ragweed, as well as promoting fungal growth, such as mold, and the release of spores, other sources of allergies.
"Many plants increase reproduction with warmer conditions, so it's possible that plants other than ragweed also will produce more pollen under future climate scenarios," Stinson said. "If that pollen is also allergenic, there could be a compounding effect of climate change on allergies."
Allergies occur when the body's immune system overreacts to a substance that generally doesn't bother other people. Allergies are the sixth leading cause of chronic disease in the U.S., with an annual cost of more than $18 billion, according to the Centers for Disease Control and Prevention. More than 50 million Americans suffer from allergies annually. Some are merely annoying—symptoms from ragweed exposure, for example—but others can be life-threatening, such as a bee sting, or a reaction that provokes an asthma attack.
Most experts believe the impact of climate change on allergic diseases will vary by region, depending on latitude, altitude, rainfall and storms, land-use patterns, urbanization, transportation and energy production. Drought, for example, will contribute to increased air pollution—exacerbating asthma and other disorders—while heavy rain will wash the pollution away, but encourage the growth of mold.
The study also found that locations where ragweed now is widespread may see less of it in the coming years because of changing conditions and climate variability. These include places like the southern Appalachian Mountains, central Florida and northeastern Virginia. "Ragweed is projected to decline in some areas because it may not be climatically suitable in the future, meaning that the climate will be too wet or dry or hot or cold for it," Case said. "Maybe that is the silver lining, that there are some opportunities for those communities to actually get some headway on mitigating or even eradicating this species."
Ragweed expansion projection by the 2050s, under a high-emissions scenario. PLOS ONE
To get their projections, the scientists built a machine learning model using Maxent software that draws upon some 726 observations of common ragweed in the eastern U.S. taken from an international biodiversity database. They then combined them with climate information in order to pinpoint specific conditions that encourage ragweed to flourish. The authors ran their models into the future, using temperature and precipitation data from 13 global climate models under two different potential scenarios for greenhouse gas emissions.

In addition to ragweed's northward expansion, the models also showed that—while ragweed would surge overall in the eastern United States by the 2050s—it would then be followed by a slight contraction between the 2050s and the 2070s, as temperature and precipitation become more variable. "We don't know for sure if the climate will become more variable by the end of the century but the climate models that we used for this study indicate that," Case said. "It is kind of an interesting case study of climate change effects: It's not all bad, it's not all good," Case said.
Although the results generally don't bode well for hay fever sufferers, the researchers said communities could use the information to prepare for what was ahead. "Weed control boards, for example, might include ragweed on their list to keep an eye out and monitor for," Case said. "Historically they might not have been looking for ragweed, but our study suggests maybe they should start looking for it." (Weed control boards are committees set up by state or local governments to monitor weeds in communities, and decide what to do about them.)
The study covers only the area east of the Mississippi River, largely because those regions provide more than enough ragweed for observation, and to run the models, the scientists said. The plant is commonly found in Illinois, Florida and the eastern seaboard from Washington, DC to Rhode Island. It is possible that ragweed also could expand westward or north into Canada, Case said, but those areas were not included in the research.
"We don't have a lot of models like this that tell us where individual species may go under different scenarios," Stinson said. "Ecologists are working on doing this type of study for more species, but there are not always enough data points from around the world. Individual species data are rare."
But this study was possible because, as anyone with hay fever knows, "ragweed happens to be quite abundant," she said.
Reposted with permission from our media associate Nexus Media.
A video posted to Facebook on Monday, in which a tree tapped by a frontloader releases a massive cloud of pollen, has gone viral, resonating with viewers in what experts say is an especially bad allergy season, partly because of climate change.
The video was taken by Eric Henderson of Millville, New Jersey, who drove the frontloader that released the pollen cloud, ABC News reported Wednesday. His wife, Jennifer, posted it on Facebook, where it has gotten more than five million views.
"When my husband said the pollen's bad, I probably should've taken his word for it. Crazy!" Henderson wrote.
The video's popularity comes as the American Academy of Allergy, Asthma and Immunology (AAAAI) says that more and more Americans who didn't used to be impacted are suffering from seasonal allergies, NBC reported Thursday.
The allergy surge is especially bad in the country's North and Southwest, and spring and fall allergy seasons are lasting up to 27 days longer than they did in the past.
An AAAAI report found that climate change might both increase the amount of pollen plants produce and the amount of time it spends in the air.
"Some research has suggested that the warming trend that we have in our environment is causing the pollen seasons to start a little bit earlier, and extend a little bit longer," Dr. Stanley Fineman, former president of the American College of Allergy, Asthma and Immunology, told NBC. "Consequently, patients are suffering because they're exposed to pollen for longer periods of time," he said.
Medical Director of Allergy and Asthma Care of New York Dr. Clifford Bassett told NBC that climate change was one of several factors igniting an "allergy explosion" in the U.S.
"Climate change, globalization, air pollution, and over-sanitization of the environment in the early years of life are just a few of the causes that, taken together, have introduced new allergens into our environment causing needless suffering," Basset said.
According to the AAAAI, seasonal allergies, also known as hay fever or allergic rhinitis, are characterized by itching in the nose, mouth, throat and eyes, sneezing, congestion and tearing eyes.
Climate change can also trigger other allergies, the AAAAI found. For example, more frequent floods and more extreme storms can leave buildings damp and at risk for mold buildup, which can trigger both allergies and lung disease.
Climate Change Harms Human Health https://t.co/ChUuuQVVOD @NRDC @YEARSofLIVING @greenpeaceusa @billmckibben @CleanAirMoms

— EcoWatch (@EcoWatch)1521049045.0
From Your Site Articles
Related Articles Around the Web
By Bill Gottlieb
More than 24 million American children and adults suffer from asthma, which is when the respiratory "pipes" (bronchi) that carry air in and out of the lungs are inflamed and spasm. And every year, the disease sends more than 1.8 million people to the hospital, killing nearly 4,000 with severe, choking asthma attacks.
Fifty percent of people with asthma have attacks triggered by allergens, such as molds, dust mites and animal dander. Of course, you can have allergies without asthma. You can have hay fever (seasonal allergic rhinitis), which is when your immune system mistakes pollen from grass, trees or weeds for a foreign invader and revs up its defenses, triggering sneezing, red and itchy eyes, a stuffed and runny nose, and fatigue.
But whether you have asthma or asthma and allergies or just allergies, you may have noticed your condition is getting worse. The rates of asthma have increased over the past 25 years—the number of people with asthma has increased fourfold and the number of deaths from asthma attacks has doubled. And people with hay fever are noticing that every allergy season seems like the worst ever.
What's happening? Many studies show the increase in allergies could be due to changes in the environment. This slideshow shows six reasons why more people might be feeling the affects of allergies:
Climate Change
Hay fever season and the ragweed allergies it brings may be getting more intense and lasting longer, according to a 2011 study from the U.S. Department of Agriculture (USDA) published in the Proceedings of the National Academy of Sciences of the United States of America. "The main takeaway from the study is that we are seeing a significant increase in the season length of ragweed and this increase is associated with a greater warming at northern latitudes, consistent with projections regarding climate change," said Lewis Ziska, PhD, the lead author of the study and plant physiologist with USDA's Crop Systems and Global Change Lab. (The study found that the length of the ragweed season increased by as much as 27 days between 1995 and 2009 in various areas of the U.S.).
Climate change threatens human health in a number of ways, but allergies may be the most immediate, easy-to-recognize ailment, said Linda Marsa, investigative journalist and author of the book Fevered: Why a Hotter Planet Will Hurt Our Health—And How We Can Save Ourselves. And the problem isn't only longer allergy seasons.
Under normal circumstances, a single ragweed plant creates one million pollen grains. But in an environment with more carbon dioxide (CO2)—the main driver of climate change—plants produce three to four million pollen grains, explained Clifford Bassett, MD, medical director of Allergy & Asthma Care of New York and a member of the public-education committee at the American College of Allergy, Asthma & Immunology. But the problem doesn't stop there. CO2 in the atmosphere is like plant food for weeds, causing them to produce pollen that contains more allergenic proteins than normal, said Marsa.
Antibacterial Chemicals
A study in the journal Environmental Health Perspectives found that triclosan (an antibacterial chemical used in toothpastes and other personal care products) may play a role in worsening allergies. The study researchers looked at 3 years of health data from about 5,000 people and found that urinary levels of triclosan were linked to allergies and hay fever. This finding supports the "hygiene hypothesis"—sanitizing our homes and environments creates a weaker immune system that is less able to respond to bacterial and viral threats.
"Hygiene can protect us from infections," said Erin Rees-Clayton, PhD, a study author and a research investigator at the University of Michigan School of Public Health. "But some of the chemicals in hygiene and cleaning products may have more risks than benefits."
BPA
Researchers at the Columbia Center for Children's Environmental Health linked childhood exposure to BPA (bisphenol A, used in plastics, the lining of food cans and thermal receipts) to asthma.
"Asthma prevalence has increased dramatically over the past 30 years, which suggests that some as-yet-undiscovered environmental exposures may be implicated," said study leader Kathleen Donohue, MD, assistant professor of Medicine at Columbia University Medical Center. "Our study indicates that one such exposure may be BPA."
Donohue and her colleagues analyzed health data from 570 pregnant women and their children at ages 3, 5 and 7. They found that exposure to BPA in early childhood—even very low levels of it—increased the risk of asthma in the children.
Cleaning Products
What are the jobs most likely to give you asthma? That's the question posed by researchers at the Imperial College London, who studied nearly 10,000 people to see which careers were most likely to trigger asthma. Of the 18 asthma-producing occupations, seven of them involved regular use of cleaning products.
That's not too surprising when you consider that 53 percent of cleaning products damage the lungs, according to an analysis by the Environmental Working Group. (And "green" cleaning products are not necessarily free of lung-damaging compounds).
Vinyl Flooring
A 10-year study of 3,000 children found that those with vinyl flooring in their bedrooms were one and a half times more likely to have asthma than children with wood, linoleum or other flooring materials. (The vinyl is polyvinyl chloride or PVC, a type of plastic widely used in construction). If mothers had vinyl flooring in their bedrooms while pregnant, the children were twice as likely to have asthma. "Our results suggest that PVC flooring exposure during pregnancy could be a critical period in the development of asthma in children at a later time," concluded the Swedish researchers in the International Journal of Environment and Health.
The researchers speculate that it's the phthalates—chemicals used to soften plastic—that are doing the dirty work. Phthalates leach into household dust, creating constant exposure.
The Preservative in Pre-Moistened Wipes
You've probably never heard of it, but in 2013 the dermatologists of the American Contact Dermatitis Society dubbed it the "Allergen of the Year." The compound? (Take a deep breath). Methylisothiazolinone (MI)—the preservative in most premoistened toilet, feminine and baby wipes (and in various liquid soaps, hair products, sunscreens, cosmetics, laundry products and cleaners). MI replaced other toxic, irritating preservatives, such as formaldehyde and parabens. The only problem: MI is irritating, too!
"In the last 2 or 3 years, we've seen a big increase in people with allergy to MI," said Matthew Zirwas, MD, director of the Contact Dermatitis Center at the Wexner Medical Center of the Ohio State University. The allergy produces red, raised, itchy bumps similar to poison ivy. The three areas most affected by the rash include the fingers and hands (from handling wipes), the buttocks and genitals (from applying the wipes) and the face (from soaps and shampoos). Needless to say, most people (and their primary care doctors) never figure out the cause of the rash.

Adapted from Health-Defense.
This article was reposted with permission from our media associate Rodale Wellness.
Two days ago, I put my son Conor on an airplane to Europe. Conor has anaphylactic peanut allergies so, before he left, we purchased a new EpiPen for the trip. We both got sticker shock.
Ten years ago, I was paying a $12 co-pay for each EpiPen I purchased. In 2007, the wholesale price for an EpiPen in the U.S. was around $57 and our insurance company paid everything but the co-pay. This week, I learned that the wholesale price was now $600 for a two pack, which is the smallest quantity available for purchase. We paid the $600. EpiPens have saved Conor's life more than once.
A Senate committee has asked the pharmaceutical company Mylan to appear before Congress to explain the company's 400 percent price hike for this life-saving device. The company's CEO, Heather Bresch, the daughter of West Virginia Sen. Joe Manchin, will be on the hot seat. She is a greedy, malicious scoundrel and it's my hope that the senators who question her will not give her kid glove comity just because she is kin to a colleague.
Mylan raised its prices because it could get away with the scam. Its only U.S. competitor, Sanofi, abandoned the American market in 2015. In Canada, EpiPen's still cost around US$100. In Europe there are four manufacturers and the prices are still lower.
Children in anaphylactic shock often need two doses of epinephrine. Following the U.S. Food and Drug Administration's recommendations, my doctor suggested that we always keep two EpiPen's at home, two at school and two in our automobile. Each EpiPen expires after one year, so Mylan's price hike represents an $1,800 annual recurring cost for the families of the 15 million Americans with allergies.
According to the U.S. Centers for Disease Control, food allergies are responsible for more than 300,000 ambulatory-care visits a year in children under 18. About 200 children die. Bresch's greed is likely to cost the lives of many more.
"I regularly write notes to the families of children who have died from anaphylaxis after inadvertently eating peanuts," said Dr. James R. Baker, CEO of FARE: Food Allergy Research & Education. "One death is too many."
Reposted with permission from Rodale News.
They may be little, but those tiny, blood-sucking ticks can cause big problems with your health, including Lyme disease, babesiosis, bartonella, anaplasmosis, Rocky Mountain spotted fever and ehrlichiosis. And the list of tick-related ills just keeps growing. Doctors are now confirming a link between lone star tick bites and cases of severe red meat allergies plaguing patients in Southeastern states. Victims of the odd tick bite side effect have been reported in places like Tennessee, North Carolina and Virginia, but doctors say the problem is spreading up the Eastern Seaboard fast.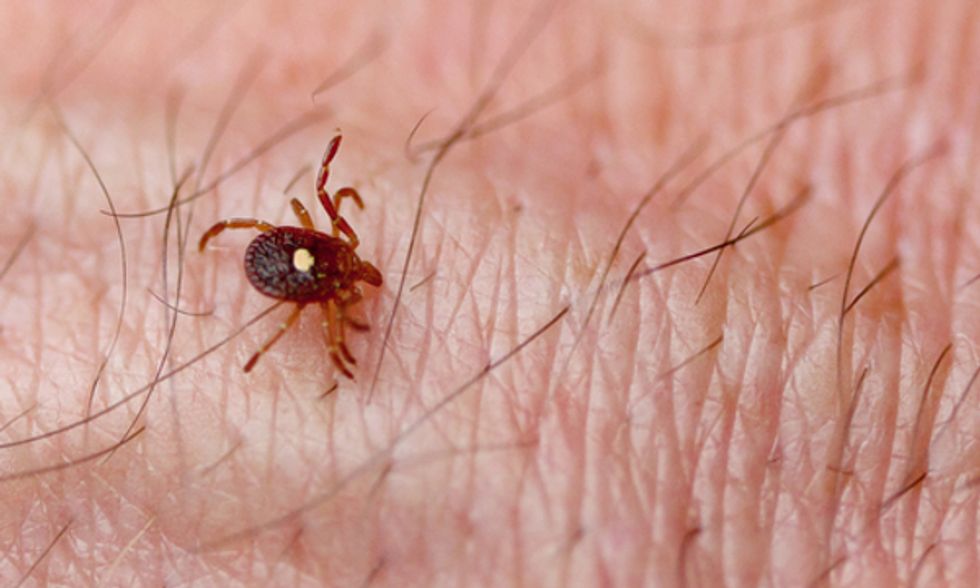 Doctors are now confirming a link between lone star tick bites and cases of severe red meat allergies. Photo courtesy of Shutterstock
According to Robert Valet, MD, assistant professor of medicine at Vanderbilt's Asthma, Sinus and Allergy Program (A.S.A.P.), some patients are developing post-tick-bite allergies to the alpha-gal sugar present in red meat, causing symptoms ranging from diarrhea, difficulty breathing and a drop in blood pressure, to hives and swelling. Some patients are reacting to milk.
"It is not completely understood exactly how the allergy starts," explains Dr. Valet. "The thought is that the tick has the alpha-gal sugar in its gut and introduces it as part of the allergic bite, and that causes the production of the allergy antibody that then cross-reacts to the meat."
Since the alpha-gal is stored in the animal fat, which takes several hours to digest, people with the allergy can go into delayed anaphylactic shock anywhere from four to six hours after eating red meat, making it difficult to diagnose. "It certainly is a big disruption for a lot of people's lives," explains Dr. Valet. "Things like your classic barbecue really become off limits."
Repeated tick bites can raise the level of allergy antibody, so Valet warns people with this allergy to avoid even small quantities of red meat and milk. He also suggests carrying an EpiPen in case a person suffers from an exposure and needs to self-treat.
Whether you're affected by the allergy or not, it's important to practice good tick-avoidance procedures:
Strip down as soon as you step inside.
Remove your clothing, toss it in the washing machine and jump in the shower as soon as you walk inside the house after spending time outdoors. Be sure to then throw your freshly washed clothing into the dryer to kill any lurking ticks.
Get to know your private parts well.
Your groin maintains the perfect humidity for ticks looking to hide in moist, dark areas. The bugs also attach to the back of men's scrotums or women's bikini lines, so be sure to perform a thorough check of your groin and buttocks area at least once a day using a magnifying glass and/or mirror to see more hidden areas.
Treat your shoes.
Although we don't normally recommend chemical treatment, we understand how debilitating tick-borne diseases can be. So rather than applying toxic DEET directly on your skin, try getting a pair of outdoor gardening or workout shoes treated with Insect Shield instead.
Plant some beautyberry bushes.
The leaves of the American beautyberry bush possess tick-repelling qualities, so try working a few into your landscape.
Clean up your woodpile.
Moist, wooded areas are most inviting for ticks. Sunny, dry conditions are not. So keep any woodpiles outside in a spot that gets lots of sun to dry them out faster.
You Might Also Like
8 Summertime Woes That Will Only Get Worse With Climate Change
You Might Be Allergic to Climate Change
Cancer-Causing Chemical in Shampoos Subject of Ground-Breaking Legal Agreement
By Minda Berbeco
Have your eyes been running more in the spring? Are you sneezing more in the fall?
After this frigid and snowy winter, it may be hard to remember what the allergy season feels like. But if you're one of the more than 80 million Americans who suffer from seasonal allergies, you might recall that last year's allergy season was a doozy in many parts of the U.S.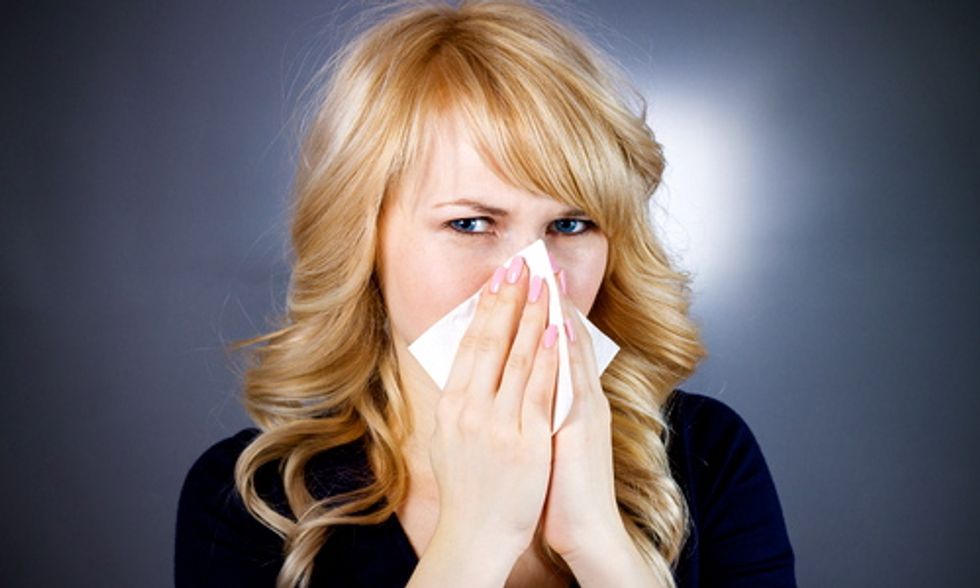 Photo courtesy of Shutterstock
And it turns out that people might at least be partially responsible for a more allergenic environment. As we change the climate, many of the plants that terrorize us through the allergy season are becoming more pernicious. While a warming climate lengthens the pollen season, increased carbon dioxide is making some allergens more noxious.
This change is most obvious with the troublesome ragweed plants, which are the curse of many allergy sufferers. A group of flowering plants found all over the U.S., the hardy ragweed loves a disturbed environment. It pops up along roadways and at the edges of agricultural fields, colonizing abandoned lots. Ragweed is common enough that you most certainly have seen it before, and it is highly likely that a ragweed plant's pollen has made you or a loved one sneeze at least once. 
Ragweed pollen is one of the largest causes of allergic rhinitis—also known as hay fever—the sneezy, runny nose reaction many people are familiar with.
Unlike many other plants, ragweed doesn't ring in the spring with large flowering blooms. Rather, it flowers in the late summer, releasing pollen just in time for a congested fall. Normally this plant is trouble enough, having a pollen season that can last between two and three months. Now, with a longer-frost free season (the amount of time between the spring thaw and fall freeze) due to a warming climate, the ragweed plant has a longer time period to get larger and hardier to produce more pollen. 
A longer growing season is only one part of the problem. Ragweed also responds positively to increases in carbon dioxide in the atmosphere. Carbon dioxide levels before the Industrial Revolution were about 280 parts per million. With the increase in emissions through the burning or fossil fuels and other human activities, those levels have recently reached 400 parts per million.
Research has demonstrated that plants grown in pre-industrial CO2 concentrations produced less pollen than those grown in current levels. Worse yet, when these plants were grown in concentrations predicted for the future, pollen levels continued to go up. For those of us with ragweed allergies, this is not good news.
Those who are familiar with allergens, though, know that it's not just how large the plant is, or even how much pollen it's producing that can increase the risk of an allergic reaction. There's also the potency of the pollen itself—the amount of allergen in the pollen. It turns out that ragweed plants grown in higher CO2 environments carry more allergens in the pollen.
Larger plants, creating more pollen, means more allergies. Sounds like a terrific future. But of course, it's not the future, it's occurring right now. How do your sinuses feel at the thought of that?
These findings are not unique to ragweed plants. Poison ivy, the bane of hikers everywhere, is looking like it might also prosper in a higher CO2 environment. Researchers have found that when grown under high CO2 conditions, poison ivy became larger and produced a more allergenic form of urushiol, the active compound that leads to the red itchy rash everyone is familiar with.
Given how important environmental factors like temperature, rainfall and CO2 levels are to all ecosystems, the question remains how other allergenic plants will be impacted by a changing climate. As flowers bloom earlier, with a longer growing season, should we start expecting spring allergies to arrive weeks sooner? Could a longer frost-free season lead to extended allergy seasons for people throughout the year? How will these types of climatic changes affect other allergenic organisms such as molds? 
To those who suffer from seasonal allergies, these questions only bring more concerns. Rather than worry, though, perhaps we could start to plan ahead. We could work to reduce our carbon emissions to help future generations suffer less. We could create management plans to reduce the spread of allergenic plants.
Or, we could take a financial approach and start investing in Benadryl futures. Unfortunately, with the way carbon pollution regulations are going so far, the latter might be the most prudent approach.
Visit EcoWatch's CLIMATE CHANGE and HEALTH page for more related news on this topic.

Ever wonder about chemicals in your day-to-day life?
"What's in the air I breathe? The water I drink? The food I eat? Even the things I put on my skin?"
Ed Brown wondered these same things after his wife suffered two miscarriages (they now have two beautiful children). But instead of just wondering, he traveled around the country with his video camera to interview top minds in the fields of science, advocacy and law and learned there are unacceptable levels of chemicals in so many things. Including our bodies.
Brown's documentary, Unacceptable Levels, dissects the ways chemicals saturate our homes and environment amid the backdrop of a glaring lack of regulation. It chronicles the results of the post-World War II chemical boom and details common avenues of exposure, from food to fluoride to toxic sludge.
Some "unacceptable facts" from the film:
Autism now affects one in 50 children.
Cancer is the leading cause of death (after accidents) in children younger than 15 years in the U.S.
In the last 20 years, the rates of asthma, allergies and Attention Deficit Hyperactivity Disorder (ADHD) are on the rise: 400 percent increase in allergies, 300 percent increase in asthma, 400 percent increase in ADHD.
$2.6 trillion of the Gross Domestic Product is spent on treating disease every year.
Approximately 200 synthetic industrial chemicals interact with our cells every single day.
Brown is touring the country this summer, which started with a premiere June 12 in Hollywood, CA, where he was joined by Mariel Hemingway, Gary Hirschberg, Christopher Gavigan and other passionate environmentalists to inspire others to take action.
Actress Jessica Capshaw Gavigan, who is also part of the Moms Clean Air Force Leadership Circle, has this to say about the film:
This film is a huge eye-opener! Once a parent sees this, they thankfully won't ever approach their child's health and future the same way ever again!
Visit the Unacceptable Levels website for a growing list of screenings.
Visit EcoWatch's HEALTH and FOOD pages for more related news on this topic.