One of the easiest and most sustainable ways to improve overall health is to eat more whole foods. ThitareeSarmkasat / iStock/ Getty Images Plus
By Jillian Kubala
A new year often signifies a fresh start for many people. For some, this means setting health goals, such as losing weight, following a healthier diet, and starting an exercise routine.
EcoWatch Daily Newsletter
An increasing number of Americans are taking the wheel under the influence of marijuana. JasonDoiy / iStock / Getty Images Plus
The Center for Disease Control's (CDC) latest survey found that an increasing number of Americans are taking the wheel under the influence of marijuana, according to a new report released on Thursday.
As the narcotic becomes more acceptable for recreational use and more widely available, there has been a substantial rise in the number of motorists who apparently feel disposed to drive after consuming it, as USA Today reported. In fact, the number of motorists who admitted to driving after inhaling or ingesting marijuana rose 47 percent over a 4-year span.
The data from the Substance Abuse and Mental Health Services Administration found that 12 million people admitted to driving under the influence in 2018, which was 4.7 percent of all motorists, as USA Today reported.
In fact, the researchers found that in the 16-25 age group, the percentage of those driving after consuming weed more than tripled, from 3.2 percent to 10.8 percent, according to USA Today.
While that trend alarms public health officials, it is also small compared to the nearly 20.5 million people, or 8 percent of motorists, who admitted to driving after drinking, as CNN reported. The good news is, that number actually represents a decline in drunk driving. In 2014, 27.7 million motorists drove while impaired by alcohol.
Additionally, 2.3 million said they had driven under the influence of illicit drugs such as cocaine or methamphetamine, which totaled 0.9 percent of motorists.
As a caveat, this is also self-reported data, which means the numbers may reflect a growing acceptance of marijuana so people are more willing to admit to consuming it as it becomes less taboo.
"Impaired driving is a serious public health concern that needs to be addressed to safeguard the health and safety of all who use the road," CDC researchers said, according to U.S. News and World Report.
The report found that the most likely group to drive under the influence of marijuana were non-Hispanic males, aged 21 to 25, followed by males aged 16-20. Narcotic use amongst younger drivers is of "special concern" according to the report since that demographic is the most inexperienced set of drivers and most prone to accidents, according to U.S. News and World Report.
The authors of the report found that the increased availability and accessibility to marijuana as more states legalize it for recreational use means public health officials need to develop methods to quickly identify if a driver is affected by pot or another narcotic, as CNN reported.
The researchers also believe there is a need for a nationwide standard for toxicology tests and a need for law enforcement and public health officials to improve their detection and prevention of impaired driving. Unlike the nationwide tests for detecting drunk-drivers through blood alcohol content, there is no nationwide standard for detecting drivers under the influence of drugs, as CNN reported.
"[E]ffective measures that deter driving under the influence of drugs are limited," researchers said, according to U.S. News and World Report.
"Any person who uses cannabis should not be operating a motor vehicle. Period,'' said Robert Glatter, an emergency room physician at Lenox Hill Hospital in New York City, as USA Today reported. "It places themselves, other drivers and all pedestrians at risk for death and injury.''
However, Glatter added that he sees many more patients involved in crashes under the influence of alcohol rather than marijuana, which is commensurate with national statistics. Every year more than 100,000 Americans die in alcohol-related traffic accidents, according to USA Today. The CDC does not have a tally of marijuana-related traffic fatalities.
waterlust.com / @tulasendlesssummer_sierra .
Each product featured here has been independently selected by the writer. If you make a purchase using the links included, we may earn commission.
The bright patterns and recognizable designs of Waterlust's activewear aren't just for show. In fact, they're meant to promote the conversation around sustainability and give back to the ocean science and conservation community.
Each design is paired with a research lab, nonprofit, or education organization that has high intellectual merit and the potential to move the needle in its respective field. For each product sold, Waterlust donates 10% of profits to these conservation partners.
Eye-Catching Designs Made from Recycled Plastic Bottles
waterlust.com / @abamabam
The company sells a range of eco-friendly items like leggings, rash guards, and board shorts that are made using recycled post-consumer plastic bottles. There are currently 16 causes represented by distinct marine-life patterns, from whale shark research and invasive lionfish removal to sockeye salmon monitoring and abalone restoration.

One such organization is Get Inspired, a nonprofit that specializes in ocean restoration and environmental education. Get Inspired founder, marine biologist Nancy Caruso, says supporting on-the-ground efforts is one thing that sets Waterlust apart, like their apparel line that supports Get Inspired abalone restoration programs.
"All of us [conservation partners] are doing something," Caruso said. "We're not putting up exhibits and talking about it — although that is important — we're in the field."
Waterlust not only helps its conservation partners financially so they can continue their important work. It also helps them get the word out about what they're doing, whether that's through social media spotlights, photo and video projects, or the informative note card that comes with each piece of apparel.
"They're doing their part for sure, pushing the information out across all of their channels, and I think that's what makes them so interesting," Caruso said.
And then there are the clothes, which speak for themselves.
Advocate Apparel to Start Conversations About Conservation
waterlust.com / @oceanraysphotography
Waterlust's concept of "advocate apparel" encourages people to see getting dressed every day as an opportunity to not only express their individuality and style, but also to advance the conversation around marine science. By infusing science into clothing, people can visually represent species and ecosystems in need of advocacy — something that, more often than not, leads to a teaching moment.

"When people wear Waterlust gear, it's just a matter of time before somebody asks them about the bright, funky designs," said Waterlust's CEO, Patrick Rynne. "That moment is incredibly special, because it creates an intimate opportunity for the wearer to share what they've learned with another."
The idea for the company came to Rynne when he was a Ph.D. student in marine science.
"I was surrounded by incredible people that were discovering fascinating things but noticed that often their work wasn't reaching the general public in creative and engaging ways," he said. "That seemed like a missed opportunity with big implications."
Waterlust initially focused on conventional media, like film and photography, to promote ocean science, but the team quickly realized engagement on social media didn't translate to action or even knowledge sharing offscreen.
Rynne also saw the "in one ear, out the other" issue in the classroom — if students didn't repeatedly engage with the topics they learned, they'd quickly forget them.
"We decided that if we truly wanted to achieve our goal of bringing science into people's lives and have it stick, it would need to be through a process that is frequently repeated, fun, and functional," Rynne said. "That's when we thought about clothing."
Support Marine Research and Sustainability in Style
To date, Waterlust has sold tens of thousands of pieces of apparel in over 100 countries, and the interactions its products have sparked have had clear implications for furthering science communication.
For Caruso alone, it's led to opportunities to share her abalone restoration methods with communities far and wide.
"It moves my small little world of what I'm doing here in Orange County, California, across the entire globe," she said. "That's one of the beautiful things about our partnership."
Check out all of the different eco-conscious apparel options available from Waterlust to help promote ocean conservation.
Melissa Smith is an avid writer, scuba diver, backpacker, and all-around outdoor enthusiast. She graduated from the University of Florida with degrees in journalism and sustainable studies. Before joining EcoWatch, Melissa worked as the managing editor of Scuba Diving magazine and the communications manager of The Ocean Agency, a non-profit that's featured in the Emmy award-winning documentary Chasing Coral.
Extracted from the sap of the coconut, the "lambanog" was once considered a lowly peasant's drink whose potency they claim puts those of well-known liquors and spirits around the world in the shade. JAY DIRECTO / AFP / Getty Images
Christmas celebrations turned sour when 11 people died and over 300 were hospitalized in the Philippines after drinking a batch of poisonous coconut wine, local police said on Monday.
Holiday revelers in the provinces of Laguna and Quezon, south of Manila, fell ill after drinking a wine called lambanog, a traditional Filipino alcoholic drink that is made from coconut sap. It generally has a high alcohol content of around 40 percent, and is often distilled in informal and unsanitary environments.
Those who consumed the drink were rushed to hospitals with symptoms including stomach aches, vomiting and numbness, while some collapsed and lost consciousness, according to the police report. Two were reportedly comatose before arriving at the hospital for treatment.
The deaths occurred in Rizal, a small municipality of Laguna province, between Thursday and Sunday. Rizal's mayor, Vener Munoz, told local media that two people who were in critical condition were on the mend, and that the wine had been produced there.
"All had a sad history of lambanog ingestion," Reuters quoted the local police department as saying. "Some bought for leisure drinking and birthday party, while others were donated by local officials during their Christmas party."
Last year, more than 10 people died after consuming the same drink. Jose Jonas Del Rosario, a doctor and spokesman for Manila's Philippine General Hospital, told AFP that methanol, a chemical that can cause blindness and death, is one of the byproducts of coconut wine fermentation.
Some lambanog producers choose to keep the high levels of methanol because it allows for a larger production volume and is thus more profitable, he added.
Reposted with permission from Deutsche Welle.
From Your Site Articles
Related Articles Around the Web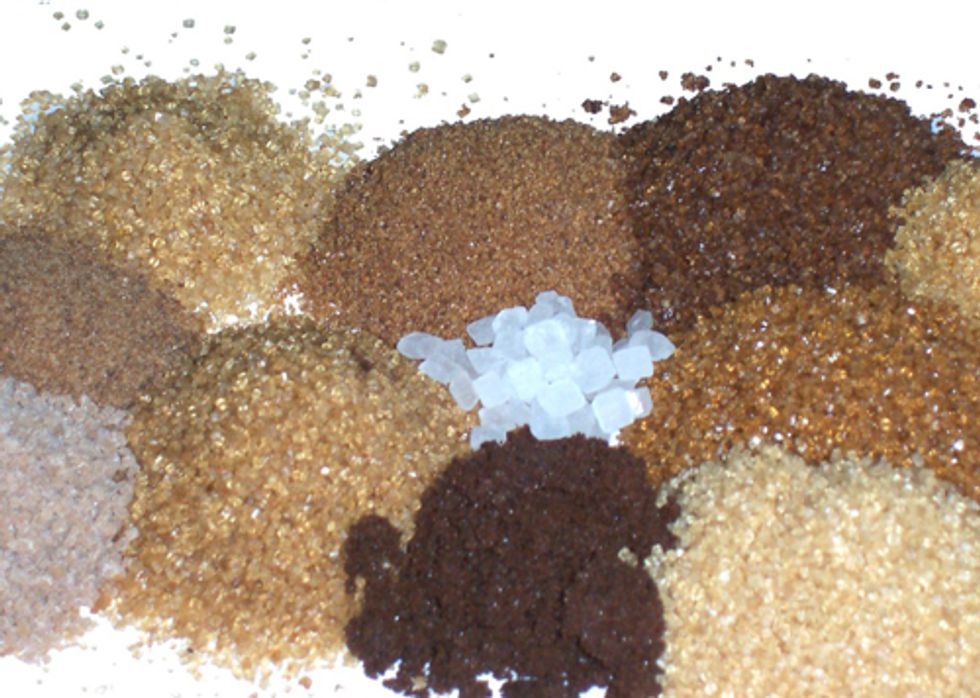 By Marion Nestle
Nature, the prestigious science magazine from Great Britain, has just published a commentary with a provocative title–The toxic truth about sugar—and an even more provocative subtitle—Added sweeteners pose dangers to health that justify controlling them like alcohol.
The authors, Robert Lustig, Laura Schmidt and Claire Brindis, are researchers at the University of California medical center in San Francisco (UCSF).
They argue that although tobacco, alcohol and diet are critically important behavioral risk factors in chronic disease, only two of them—tobacco and alcohol—are regulated by governments to protect public health.
Now, they say, it's time to regulate sugar. By sugar, they mean sugars plural—sucrose as well as high fructose corn syrup (HFCS). Both are about half fructose.
Their rationale?
Consumption of sugars has tripled over the last 50 years.
Many people consume as much as 500 calories a day from sugars (average per capita availability in the U.S. is about 400 calories a day)
High intake of fructose-containing sugars induce metabolic syndrome (high blood pressure, insulin resistance), diabetes, and liver damage.
Sugars have the potential for abuse.
Sugars have negative effects on society (mediated via obesity).
Too much of a good thing can be toxic.
Therefore, they argue, societies should intervene and consider the kinds of policies that have proven effective for control of tobacco and alcohol:
Taxes
Distribution controls
Age limits
Bans from schools
Licensing requirements
Zoning ordinances
Bans on TV commercials
Labeling added sugars
Removal of fructose from GRAS status
In a statement that greatly underestimates the situation, they say:
We recognize that societal interven­tion to reduce the supply and demand for sugar faces an uphill political battle against a powerful sugar lobby, and will require active engagement from all stakeholders.
But, they conclude:
These simple measures—which have all been on the battleground of American politics—are now taken for granted as essential tools for our public health and well-being. It's time to turn our attention to sugar.
What is one to make of this? Sugar is a delight, nobody is worried about the fructose in fruit or carrots, and diets can be plenty healthy with a little sugar sprinkled here and there.
The issue is quantity. Sugars are not a problem, or not nearly as much of a problem, for people who balance calorie intake with expenditure.
Scientists can argue endlessly about whether obesity is a cause or an effect of metabolic dysfunction, but most people would be healthier if they ate less sugar.
The bottom line? As Corinna Hawkes, the author of numerous reports on worldwide food marketing, wrote me this morning, "there are plenty of reasons for people to consume less sugar without having to worry about whether it's toxic or not!"
For more information, click here.