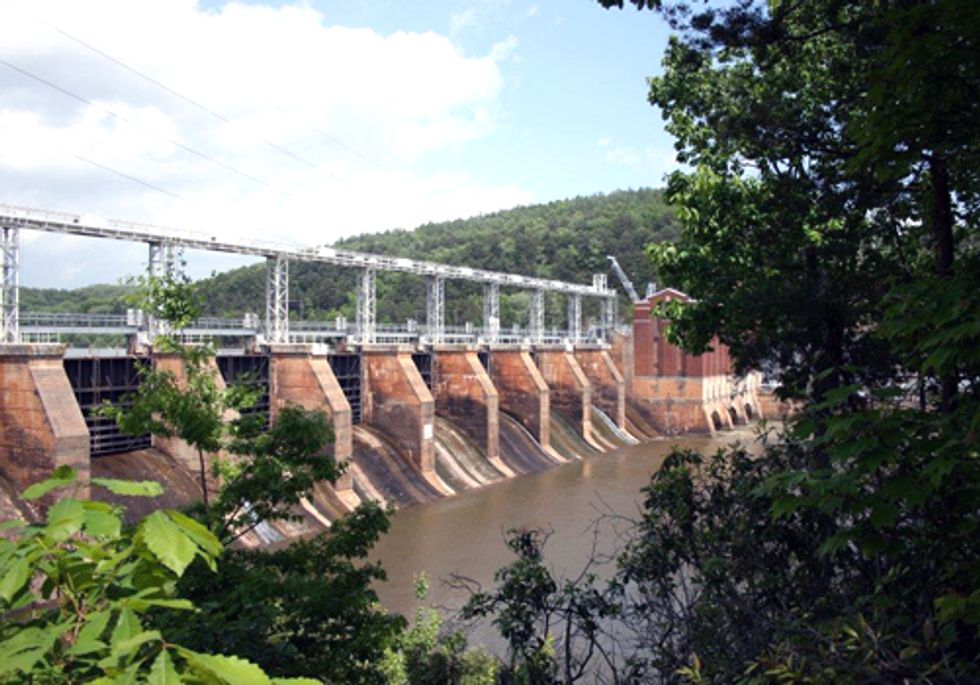 Yadkin Riverkeeper announced Nov. 8 that the group has issued a letter of intent to bring a lawsuit under the Resource Conservation Recovery Act (RCRA) to sue the Aluminum Company of America (Alcoa) for the company's unlawful discharge of lethal contaminants at the Badin Works facility in Badin, N.C.
A new study conducted by Pace Analytical Services, Inc. on mussels in Badin Lake, N.C. and fish tested downstream in Falls Reservoir indicates the presence of polychlorinated biphenyls (PCBs) specifically discharged by Alcoa Badin Works, an aluminum smelter adjacent to the lake which Alcoa operated for 90 years.
Mussels were collected in September 2011. In Pace's report, dated Oct. 7, 2011, PCB readings were documented in multiple samples taken from mussels directly below Alcoa's discharge pipes entering Badin Lake, and fish sampled further downstream in Falls Reservoir.
"We sampled mussels where we know Alcoa discharged PCBs into Badin Lake. The mussels not only tested positive for PCBs, but also proved to be an exact match to same types of PCBs Alcoa produced," said Dean Naujoks, the Yadkin Riverkeeper. "Alcoa has been claiming that their PCBs have been cleaned up and that their PCBs are not migrating downstream. The fish we tested downstream in Falls Reservoir prove PCBs are in fact migrating downstream. This data scientifically refutes their claims and proves that PCBs are still contaminating the fish, and ultimately people who are eating the fish, which is putting lives in danger. Our lawsuit specifically targets this serious human health risk Alcoa created but has ignored for decades."
Robert F. Kennedy Jr., president of Waterkeeper Alliance, toured Badin Lake Nov. 3. "Alcoa is a criminal enterprise," Kennedy said while touring Badin Lake. "These people are breaking the law every day and getting away with it."
PCB Congeners/Aroclors in Badin Lake Are Specific to Alcoa
PCBs contain data that, like genetic data in humans, is a single, unique, well-defined chemical compound specific to each PCB. PCBs were typically synthesized by chlorinating biphenyl with chlorine gas, substituting chlorine atoms for hydrogen atoms on the biphenyl molecule.
Individual chlorinated biphenyl molecules are called congeners. Individual congeners are identified by the number and position of the chlorine atoms around the biphenyl rings. There are 209 possible PCB congeners. Varying the conditions of this chlorination process produces different mixtures of congeners with different physical properties. These mixtures were sold as products called Aroclors, and each Aroclor can be specifically identified by the manufacturer who produces it.
Interestingly, the most recent samples from Badin Lake have produced congeners/Aroclors that match the PCBs documented to have been used by the Alcoa plant. The samples were analyzed for the presence or absence of PCB congeners using the accepted U.S. Environmental Protection Agency (EPA) Method 1668A.
According to a Feb. 24, 2010 EPA report—EPA Comments for Badin Lake Documents—"Alcoa released PCBs into the southwest Arm of Badin Lake at concentrations greater than Industrial Standards (0.057 mg/kg)…Therefore, any additional investigations determining the extent of Alcoa's contamination should, at a minimum, include Aroclors—1260, 1254, 1248, 1242, 1232, 1221 and 1016."
PCB test results positively linked PCB contaminated mussels and fish to the same type of PCBs the EPA says Alcoa produced—PCB Aroclors 1260, 1254, 1248, 1242, 1232, 1221 and 1016. Out of the 209 PCB congeners known to exist, the seven types of PCB's Alcoa produced positively matched the PCB congeners and PCB Aroclors found in contaminated mussels below Alcoa's outfall pipes entering Badin Lake and fish in Falls Reservoir.
"For three years, we have been vigilant in our demands to have Alcoa clean up the contamination in the lake to secure their water quality certification and retain the license to operate the dams," added Naujoks. "After denying responsibility for years, Alcoa's new response to construct a three-acre armored cap to mitigate PCBs is too little, too late. Their plan does not satisfactorily address the public health issues linked to Alcoa's PCBs nor address the migration of Alcoa's PCBs downstream through the Yadkin River dams. It also fails to address the ecological risks we are seeing in terms of bioaccumulation. We see no other alternative than to file a lawsuit to address this serious ecological and public health risk. We also do not see any basis that the State of North Carolina can lawfully reissue a water quality certificate to Alcoa. The people of North Carolina have a legal right to clean water and Alcoa has stolen that right."
For more information, click here.
EcoWatch Daily Newsletter
Like many other plant-based foods and products, CBD oil is one dietary supplement where "organic" labels are very important to consumers. However, there are little to no regulations within the hemp industry when it comes to deeming a product as organic, which makes it increasingly difficult for shoppers to find the best CBD oil products available on the market.
<p>Here you can learn about the importance of organic hemp oil, why it's better for the environment, and which CBD companies actually make trustworthy products with sustainable farming processes. origins which weigh heavily on many consumers who want to buy a product that's produced in the best way possible for not only themselves to ingest, but for the environment as well through sustainable farming methods. </p><h2>What Is CBD Oil?</h2><p>First things first, CBD stands for cannabidiol, and it's a cannabinoid found within cannabis sativa plants. This plant compound is believed to have many potential benefits, and it is primarily derived from hemp plants via a CO2 extraction process. </p><p>Since CBD is extracted from industrial hemp, which contains only trace amounts of THC (the psychoactive component in cannabis plants), this means that CBD won't make you feel high like marijuana, which has much higher levels of THC that causes psychoactive effects. Instead, the effects of CBD are much more subtle and promote a general sense of calm and relaxation in most users.</p><h2>What Makes a CBD Oil Organic?</h2><p>In terms of organic labels, perhaps the most important (and prominent) certification comes from the United States Department of Agriculture (USDA). This government organization has been labeling foods as "organic" for many years, but what exactly does this certification entail? Essentially, a label indicating that a product is "USDA Organic" or "Certified Organic" means that at least 95% of the ingredients are obtained from organic sources.</p><p>For a crop to be considered organic by the USDA, it must be grown without the use of industrial solvents, irradiation, genetic engineering (GMOs), synthetic pesticides, or chemical fertilizer. Instead, farmers rely on natural substances and <a href="https://www.usda.gov/media/blog/2012/03/22/organic-101-what-usda-organic-label-means" rel="noopener noreferrer" target="_blank">mechanical, physical, or biologically based farming</a> techniques to cultivate healthy and organic crops.</p><p>Before the passage of the 2018 Farm Bill, no hemp-derived products could be dubbed as "certified organic" since the hemp plant and its extracts were still categorized as a Schedule I Controlled Substance. However, it's still difficult for CBD companies to obtain a USDA certified organic label for their products due to the legal grey area that still surrounds CBD extracts. </p><p>Because of these challenges, and due to the fact that industrial hemp has only recently become an agricultural crop, very few CBD oils are USDA certified organic. Rather, many CBD products contain hemp extracts from plants that were grown in organic conditions but may not be federally certified.</p><h2>What are the Best Organic CBD Oil Brands?</h2><p><em>Each product featured here has been independently selected by the writer. If you make a purchase using the links included, we may earn commission.</em></p><em><br></em>