A total of $1.1 trillion USD earmarked for risky carbon-intensive oil sector investments need to be challenged by investors, according to a new report released today by the Carbon Tracker Initiative.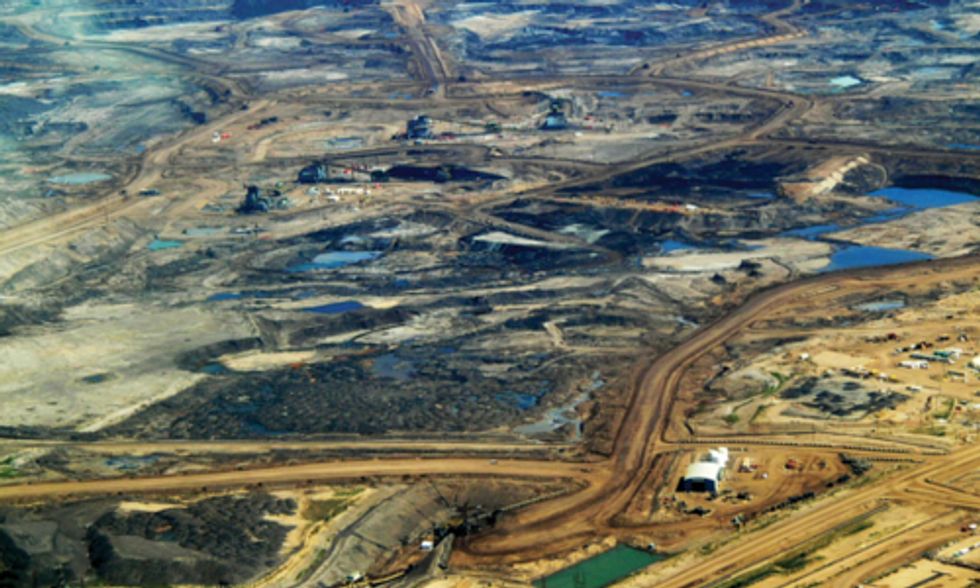 Howl Arts Collective/ Flickr
The research identifies oil reserves in the Arctic, tar sands and in deepwater deposits at the high end of the carbon/capital cost curve. Projects in this category "make neither economic nor climate sense" and won't fit into a carbon-constrained world looking to limit oil-related emissions, Carbon Tracker states in a press release.
The report highlights the high risk of Alberta oil sands investment, noting the reserves "remain the prime candidate for avoiding high cost projects" due to the region's landlocked position and limited access to market. "The isolated nature of the [tar sands] market with uncertainty over export routes and cost inflation brings risk."
Oil sands major Canadian Natural Resources Limited (CNRL), the company responsible for the mysterious series of leaks at the Cold Lake oil sands deposit, has the largest total exposure to high-cost and high-risk oil investments, valued at a potential of more than $38 billion between now and 2025.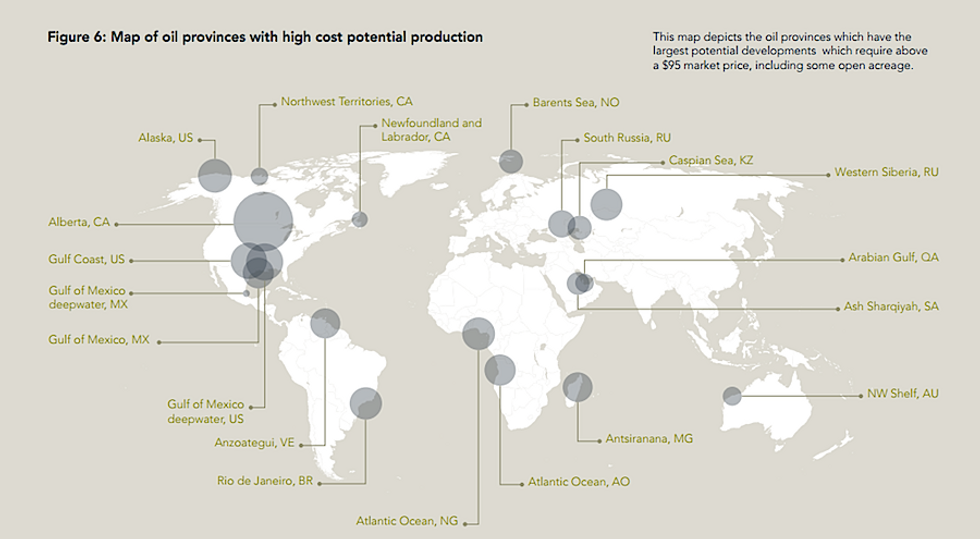 Production forecasts, the basis of capital investment decisions, often rely on business-as-usual assumptions of economic growth and energy demand. But given potential changes in cost, fossil fuel consumption and emission constraints, industry demand projections may need to be reconsidered.
The report's authors recommend such projections be "stress-tested" for a variety of future scenarios.
Recent efforts by socially responsible investment firms, such as Trillium Asset Management, to limit environmentally egregious investments, as well as the growing divestment movement throw the future of especially expensive and carbon-intensive oil reserves like the Alberta tar sands into question. They face the very likely potential of becoming "stranded assets."
Previous Carbon Tracker research suggests about two-thirds of the world's proven fossil fuel reserves need to remain in the ground if international targets to remain under a two degree Celsius temperature rise are to be met.
"For the first time, this report bridges the worlds of oil project economics—in terms of both the marginal cost of supply—and carbon, allowing investors to gauge where risk lies, given a range of demand scenarios," said Mark Fulton, adviser to Carbon Tracker Initiative and a former head of research at Deutsche Bank Climate Advisors.
"It makes it clear that investors have reason to engage companies on many high-cost and high-carbon-content projects."
The report recommends investors identify companies investing the majority of their capital in high-cost projects, set thresholds for investor exposure and demand greater transparency and disclosure from industry.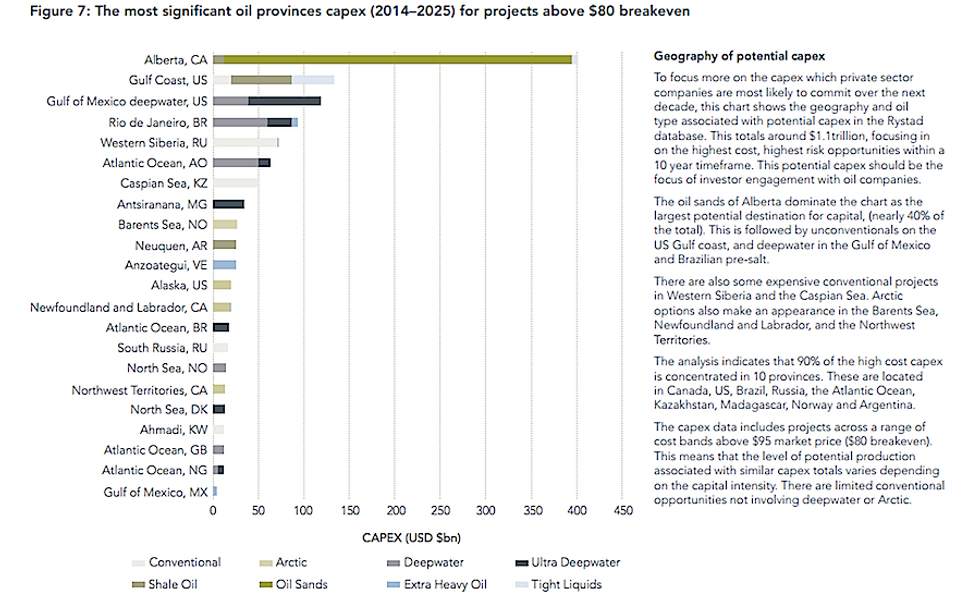 The seven global "majors," which include BP, Chevron, Shell, Exxon Mobil, Total, ConocoPhillips and Eni, represent the bulk of potential oil production and have high exposure to deposits in expensive locations with expensive-to-produce oil types, such as bitumen from the Alberta oilsands.
Several oil companies have taken steps to address their carbon investment risk. Most notably, Exxon Mobil recently announced they will begin reporting more fully on risky carbon assets in response to investor pressure.
Around $21 trillion of potential capital expenditure would need to be invested by the oil sector in high-risk projects by 2050 to keep the industry afloat, according to the report. But this investment "would not pay for itself in a world where demand is lower and that continues to take climate change and air quality seriously."
"Many investors are concerned about the growing amount of capital that the oil companies have thrown at low-return, carbon-heavy projects," Paul Spedding, a former-HSBC Oil &Gas Sector Analyst, said.
Major oil companies need to change their strategy, he added.
"As this report shows, returns are falling and costs are rising. To reverse this, a greater focus is needed on higher return, lower cost assets. If this means lower capital investment and higher dividends or buybacks, so much the better. This analysis is important as it provides the data investors need to challenge proposed investments on the basis of returns as well as carbon content."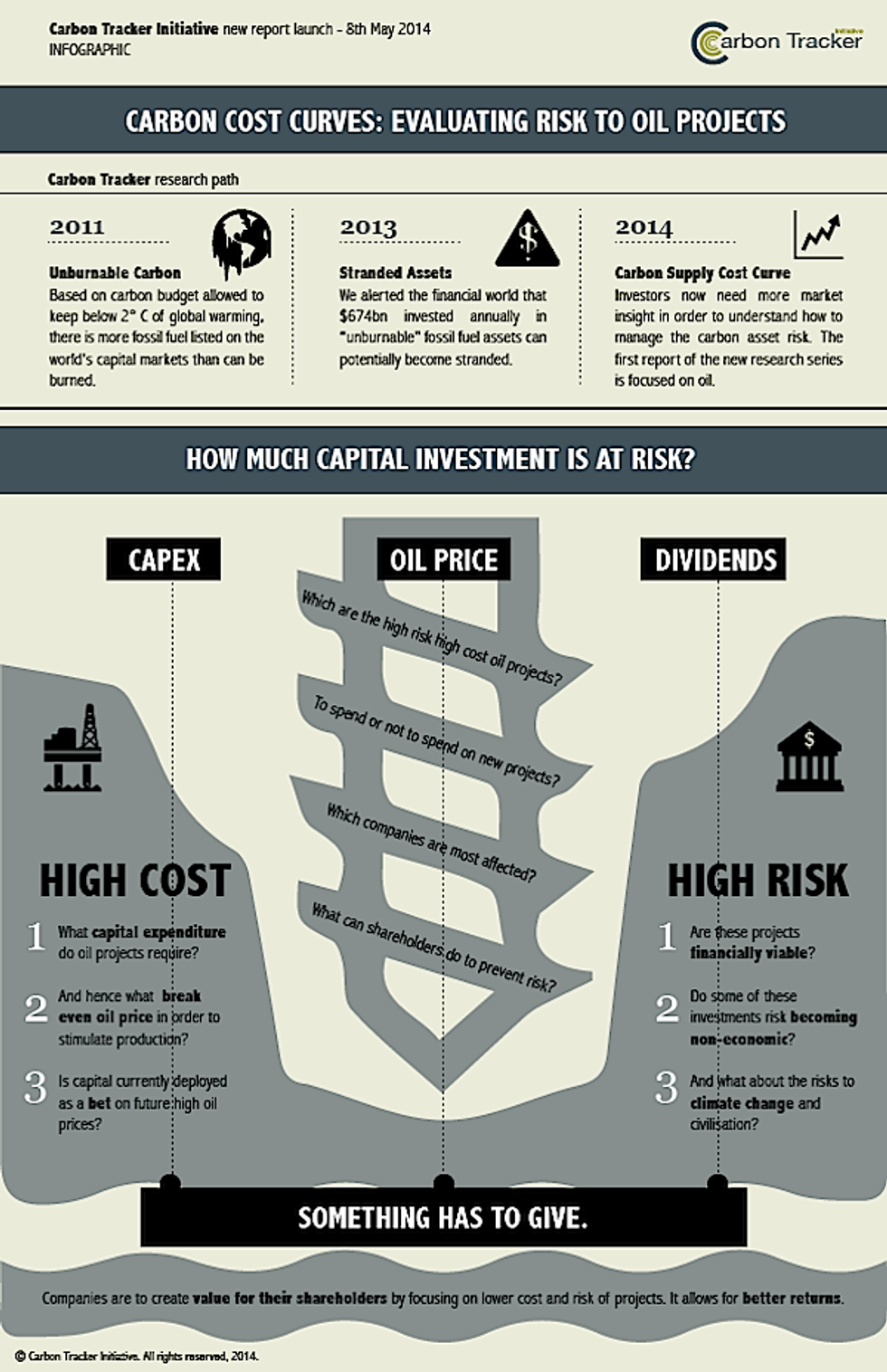 --------
YOU MIGHT ALSO LIKE
Koch Brothers Are Largest Lease-Holders in Alberta Tar Sands
Report Confirms TransCanada's Proposed Energy East Pipeline Will Export Tar Sand Unrefined
Alberta Doctors Reluctant to Treat Patients Who Draw Connection Between Tar Sands and Health
--------
EcoWatch Daily Newsletter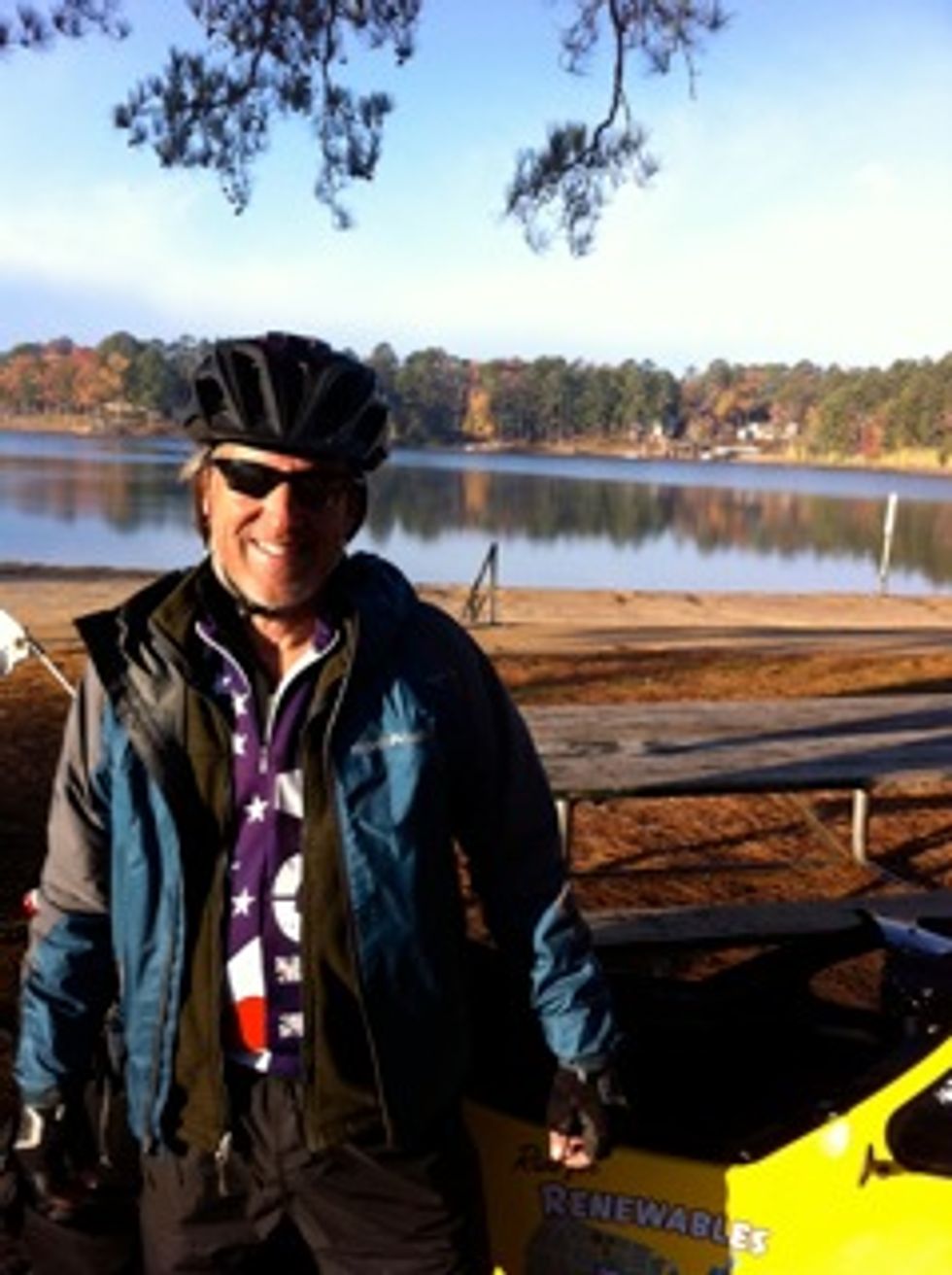 By Erik Hoffner
Reprinted with permission from Grist.org
Tom Weis, the "renewable rider," biked the 2,150 miles of the U.S. portion of the proposed Keystone XL pipeline route over two months late this fall, from the U.S./Canada border to Port Arthur, Texas. He steered his "rocket trike" through many small towns along the way, raising awareness, talking to reporters, and recording scores of interviews with a wide variety of people. He's just returned to his home in Colorado with a good sense of the prevailing opinions of the project in America's rural West.
Q. Why didn't you celebrate Obama's delay of the Keystone XL pipeline back in the fall?
A. I saw nothing to celebrate. Delay doesn't equal victory. It was disturbing to see environmental leaders, many of whom I consider friends, praising President Obama for his "leadership" and "courage" for what was in fact an act of political cowardice on his part. Kicking the Keystone XL can down the road until after the election was a transparent political ploy to appease his environmental base by throwing them a bone. Since when do we start giving presidents a pass on making tough decisions until after election day? I share Paul Hawken's view that it is "dangerous" to allow a decision with such huge planetary ramifications to be delayed until political pressure no longer has any sway.
The pipeline fighters I met on the front lines of the Keystone XL Tour of Resistance certainly weren't celebrating. It was like having the rug pulled out from under you. Just as the pressure was starting to build on the Obama campaign, all the air was let out of the room. This prompted me to write an op-ed for the Huffington Post, Now is the Time to Fight the Keystone Pipeline. Those with the most to lose—the farmers, ranchers, rural families, tribal communities, and fence-line communities living along the proposed pipeline route—will celebrate when this project is actually stopped.
Q. But isn't TransCanada losing a ton of money from the delay? Doesn't that doom the project?
A. Sure, they're losing money, but that won't stop them. When you have pockets as deep as TransCanada's, you hire teams of people to create contingency plans for every possible scenario. But don't just take it from me. Even as President Obama announced the delay, CNNMoney reported TransCanada's CEO remained confident Keystone XL would ultimately be approved.
Q. What about this new directive from Congress for a 60-day consideration of the pipeline?
A. Aside from the crass political motivations behind it, I actually view the 60-day Keystone XL provision [requiring a presidential decision by Feb. 21] as an opportunity. The Republicans accomplished what the rest of us could not—They forced President Obama to take a stand. We'll soon see if the president's original rationale for a 12- to 18-month delay was truthful.
Subsequent statements by the White House and U.S. State Department certainly seem to point to Obama rejecting the pipeline and pinning the blame on Republicans for rushing the review process. But it would be foolish to underestimate the political influence of the oil lobby. Shortly after New Year's, American Petroleum Institute President Jack Gerard threatened political retribution if Obama does not deliver them Keystone XL.
Those are fightin' words. But they also give the president a chance to begin driving the narrative of the 2012 election by differentiating himself from Big Oil and their old-world economic views. Little would do more to reinvigorate his presidency than saying "no" to Keystone XL and "yes" to a U.S.-led green industrial revolution and the millions of good-paying jobs it will create. Did you know the green economy has already generated 2.7 million jobs in the U.S., more than everyone employed in the entire fossil-fuel sector?
I'm not a Democrat, or a Republican, but it doesn't take much imagination to see Obama turning the tables on the oil lobby and his Republican opponent for backing this un-American pipeline scheme. He can start by using his upcoming State of the Union address to spell out to the American people why this foreign energy project violates our national interest, and our values. The preponderance of hard evidence shows this export pipeline may destroy more jobs than it creates, will raise fuel prices, and won't make America more secure. Keystone XL is a dangerous threat to Americans, and our economy, and is the exact wrong direction for our country.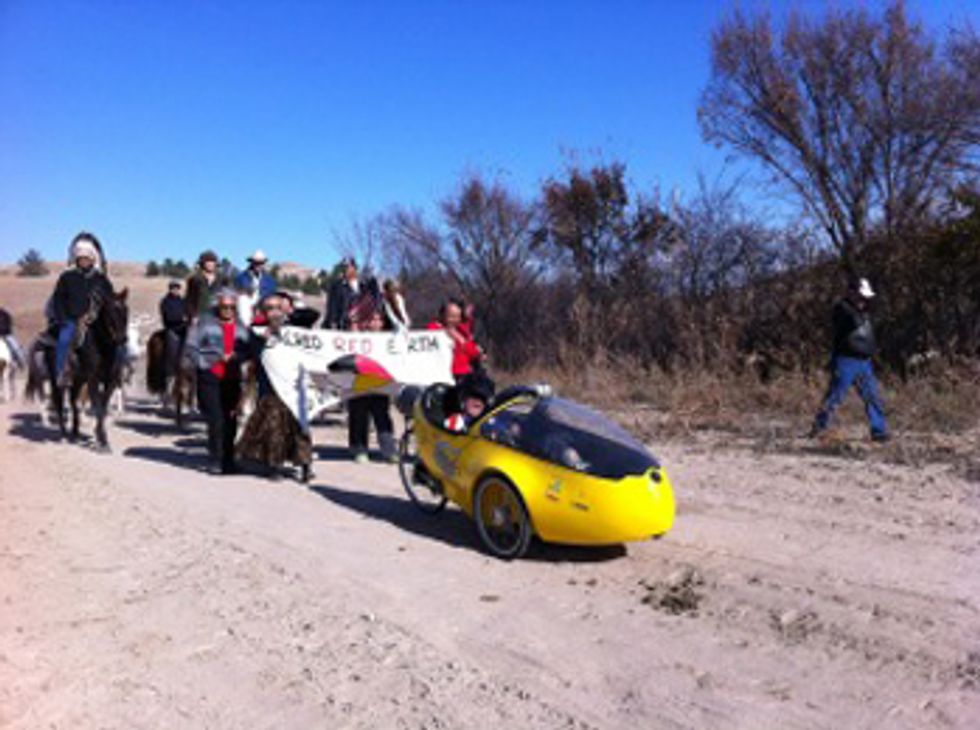 Q. Can you share one peak experience from your trek?
A. I was totally blown away by the solidarity march and rally we had courtesy of the Lakota Nation. I have never felt so warmly embraced by a community in my life. Rolling into downtown Pine Ridge, S.D., on my rocket trike, I was greeted by dozens of Oglala Sioux tribal members who had taken over the streets. It was a beautiful sight to behold … grandmothers holding banners, a youth drum group singing honor songs, men waving flags, and camo-clad youth providing security. It was an incredibly powerful experience. The horseback solidarity rides with indigenous leaders in Montana and South Dakota were also unforgettable. The Native wisdom of these people fills me with hope.
Q. You taped a lot of interviews on the road. Have a favorite one to share? 
A. There were so many profound interviews, it's hard to pick a favorite, but I was deeply touched by the words of Goldman Environmental Prize winner Hilton Kelley, who spilled his heart out into a poem called "My Toxic Reality."
Q. Can you generalize about the views on the pipeline of people you've met?
A. The more people hear about Keystone XL, the less they like it. Most people I met during the six-state ride knew very little about it, other than the jobs and energy security propaganda they had heard from TransCanada. What struck me the most was how quickly people would turn against it after hearing just a few facts.
Of course, the landowners I met who would be most directly impacted had an almost uniformly negative opinion of the pipeline. Many had been on the receiving end of TransCanada's bullying tactics and were very angry at how they had been mistreated by this foreign corporation. "Disrespect" is a word I heard a lot.
I discerned no party-line affiliation whatsoever. Keystone XL is bad for America on so many levels, it transcends political party. There's something in it for everyone to oppose. I met Tea Party activists working side-by-side with environmentalists. I saw powerful alliances of "cowboys and Indians" being formed. By assaulting so many core American values, TransCanada has succeeded in uniting people against the project. What started out as a fight against a pipeline has morphed into a struggle for the future direction of our country, and world.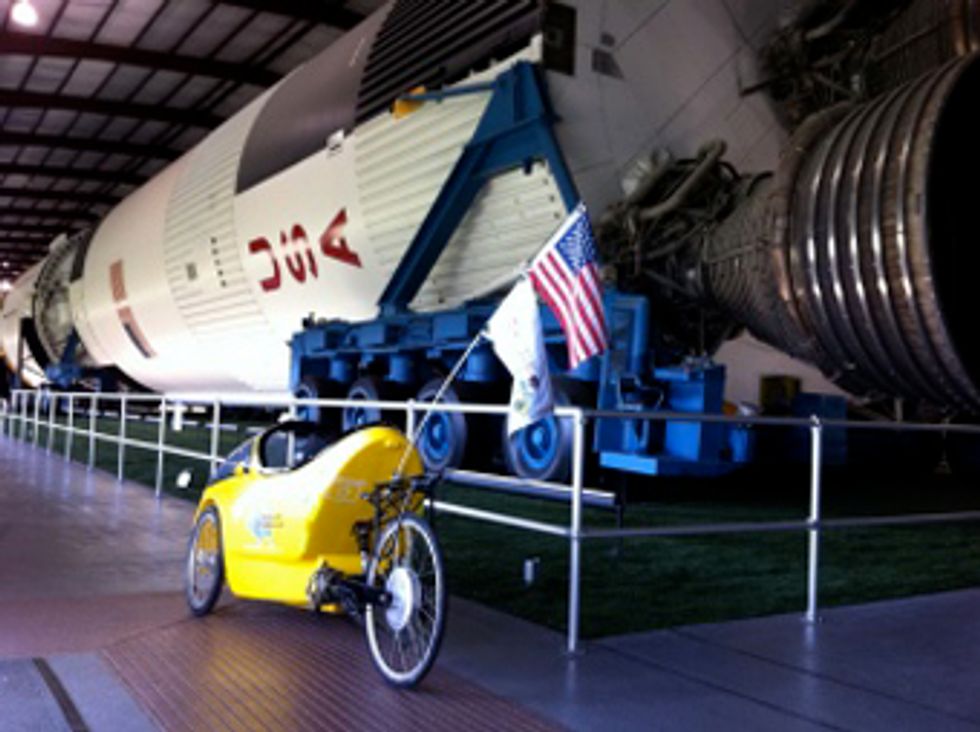 Q. What happened when you reached your destination in Texas?
A. After 2,150 miles of pedaling, the ride ended with a press conference in the shadow of polluting smokestacks at a playground in Port Arthur, Texas. I was joined by local resident Hilton Kelley. I chose the West Side of Port Arthur because the air of the people living in this fence-line community would be further poisoned by emissions from refining toxic tar-sands oil. I wanted to draw attention to the plight of the babies and elderly living in this community who are already suffering enough.
Going forward, the clock is ticking on a 60-day window for President Obama to make a "national interest" determination on this foreign pipeline scheme. Every day between now and Feb. 21 is critical. The president needs to hear from voters that if he rejects Keystone XL, and rolls out a green energy plan to put America back to work leading a worldwide green industrial revolution, the American people will have his back. We can turn the Rust Belt into the "Green Belt" by building the solar panels, wind turbines, and electric cars needed to power the 21st century. It's time for a green energy moon shot for America.
—————
Learn more about Tom's trek at www.rideforrenewables.com, and see his interview-packed YouTube channel here.
Erik Hoffner works for Orion magazine and is also a freelance photographer and writer whose recent investigative report for Yale Environment 360 on unsustainable logging in Sweden was picked up by National Geographic News Watch. See images from Sweden and links to those stories here.
waterlust.com / @tulasendlesssummer_sierra .
Each product featured here has been independently selected by the writer. If you make a purchase using the links included, we may earn commission.
The bright patterns and recognizable designs of Waterlust's activewear aren't just for show. In fact, they're meant to promote the conversation around sustainability and give back to the ocean science and conservation community.
Each design is paired with a research lab, nonprofit, or education organization that has high intellectual merit and the potential to move the needle in its respective field. For each product sold, Waterlust donates 10% of profits to these conservation partners.
Eye-Catching Designs Made from Recycled Plastic Bottles
waterlust.com / @abamabam
The company sells a range of eco-friendly items like leggings, rash guards, and board shorts that are made using recycled post-consumer plastic bottles. There are currently 16 causes represented by distinct marine-life patterns, from whale shark research and invasive lionfish removal to sockeye salmon monitoring and abalone restoration.

One such organization is Get Inspired, a nonprofit that specializes in ocean restoration and environmental education. Get Inspired founder, marine biologist Nancy Caruso, says supporting on-the-ground efforts is one thing that sets Waterlust apart, like their apparel line that supports Get Inspired abalone restoration programs.
"All of us [conservation partners] are doing something," Caruso said. "We're not putting up exhibits and talking about it — although that is important — we're in the field."
Waterlust not only helps its conservation partners financially so they can continue their important work. It also helps them get the word out about what they're doing, whether that's through social media spotlights, photo and video projects, or the informative note card that comes with each piece of apparel.
"They're doing their part for sure, pushing the information out across all of their channels, and I think that's what makes them so interesting," Caruso said.
And then there are the clothes, which speak for themselves.
Advocate Apparel to Start Conversations About Conservation
waterlust.com / @oceanraysphotography
Waterlust's concept of "advocate apparel" encourages people to see getting dressed every day as an opportunity to not only express their individuality and style, but also to advance the conversation around marine science. By infusing science into clothing, people can visually represent species and ecosystems in need of advocacy — something that, more often than not, leads to a teaching moment.

"When people wear Waterlust gear, it's just a matter of time before somebody asks them about the bright, funky designs," said Waterlust's CEO, Patrick Rynne. "That moment is incredibly special, because it creates an intimate opportunity for the wearer to share what they've learned with another."
The idea for the company came to Rynne when he was a Ph.D. student in marine science.
"I was surrounded by incredible people that were discovering fascinating things but noticed that often their work wasn't reaching the general public in creative and engaging ways," he said. "That seemed like a missed opportunity with big implications."
Waterlust initially focused on conventional media, like film and photography, to promote ocean science, but the team quickly realized engagement on social media didn't translate to action or even knowledge sharing offscreen.
Rynne also saw the "in one ear, out the other" issue in the classroom — if students didn't repeatedly engage with the topics they learned, they'd quickly forget them.
"We decided that if we truly wanted to achieve our goal of bringing science into people's lives and have it stick, it would need to be through a process that is frequently repeated, fun, and functional," Rynne said. "That's when we thought about clothing."
Support Marine Research and Sustainability in Style
To date, Waterlust has sold tens of thousands of pieces of apparel in over 100 countries, and the interactions its products have sparked have had clear implications for furthering science communication.
For Caruso alone, it's led to opportunities to share her abalone restoration methods with communities far and wide.
"It moves my small little world of what I'm doing here in Orange County, California, across the entire globe," she said. "That's one of the beautiful things about our partnership."
Check out all of the different eco-conscious apparel options available from Waterlust to help promote ocean conservation.
Melissa Smith is an avid writer, scuba diver, backpacker, and all-around outdoor enthusiast. She graduated from the University of Florida with degrees in journalism and sustainable studies. Before joining EcoWatch, Melissa worked as the managing editor of Scuba Diving magazine and the communications manager of The Ocean Agency, a non-profit that's featured in the Emmy award-winning documentary Chasing Coral.