Despite the Trump administration's unrelenting quest to drill the Arctic, Wednesday's oil and gas lease sale in the National Petroleum Reserve-Alaska (NPR-A) yielded a "disappointing" return of $1.5 million, E&E News reported.
Oil and gas giants ConocoPhillips, Emerald House and Nordaq Energy were the three companies that made uncontested bids on 16 tracts of land out of 254 tracts made available by the Bureau of Land Management's (BLM) annual sale in the western Arctic.
Less than 10 min away from the 2018 National Petroleum Reserve in Alaska Oil and Gas Lease Sale. Tune in at 10am (A… https://t.co/XUPJsdCrOW

— BLM Alaska (@BLM Alaska)1544640923.0
In all, the companies swooped up roughly 174,000 acres of the 2.85 million acres offered, working out to an average of just $6.50 an acre.
"Federal officials [cited] a lack of access to the most promising areas as a reason for the modest bidding," the Anchorage Daily News reported.
But the Center for American Progress said the result was a "major flop that shortchanged taxpayers" and also puts the nearby Arctic National Wildlife Refuge (ANWR) environment at risk.
"These results show that the fiscal arguments—including promises of more than $1 billion, or bids of $1,000 per acre—made for drilling in the neighboring Arctic National Wildlife Refuge were a complete scam," the organization tweeted. "Taxpayers are being sold a false bill of goods in the Arctic Refuge, and stand to lose America's last best wilderness in the process."
The Trump administration is moving forward on its controversial oil and gas drilling plans in the pristine Arctic reserve, a habitat for polar bears, caribou, migratory birds and other species.
U.S. Energy Information Administration
Kristen Miller, the conservation director at the Alaska Wilderness League, similarly criticized Wednesday's "bargain sale," noting that "our public lands are worth more than that."
The sale is "just the next chapter in the current administration's all-out push to sell off the Arctic for oil and gas development," she added. "The Trump administration is aggressively pursuing development in the Arctic Refuge, the Arctic Ocean and the Western Arctic simultaneously, often on a rushed timeline with little to no new information gathering to inform decisions."
Trump: 'I Never Appreciated ANWR' Until Oil Industry Friend Called https://t.co/Dzq5wG8gUy #ANWR @IENearth @350… https://t.co/NsjxuY6m62

— EcoWatch (@EcoWatch)1517582357.0
In October 2017, the Trump administration announced it will begin selling oil and gas leases on 900 tracts of land—totaling 10.3 million acres—within the NPR-A.

"This large and unprecedented sale in Alaska will help achieve our goal of American Energy Dominance," Interior Secretary Ryan Zinke touted then.
But when auction day came around later that year, oil companies submitted bids on only seven tracts, totaling $1.16 million.
"Once again Secretary Zinke has tried to throw open the Alaskan Arctic to drilling, and once again the oil and gas industry said they weren't interested," Jesse Prentice-Dunn, the Center for Western Priorities' policy director, said in the statement Wednesday, as quoted by KTVA. "Today's underwhelming lease sale shows just how desperate the Trump administration is to mine and drill our public lands, regardless of how pristine those places may be."
EcoWatch Daily Newsletter
Alaska Wilderness League
By Rebekah Ashley
Even though our day-to-day existence may be far removed from Arctic Alaska, we must stand for the protection of the Arctic Refuge and ask our representatives to do the same.
Most Americans oppose drilling in the Arctic National Wildlife Refuge. In fact, a majority of us "strongly oppose it." This broad public concern echoed through the halls of Congress during Alaska Wilderness League's Wilderness Week, when more than 25 people from around the country (as far as Alaska and as young as six months) convened in Washington, DC, in late May to advocate for the protection of the Arctic Refuge. Collectively, our group met with more than 60 offices in just three days.
The experience reaffirmed our role in the lower 48, where even though our day-to-day existence is far removed from Arctic Alaska, we must stand for the protection of the Arctic Refuge and ask our representatives to do the same.
"An assault on one community is an assault on all of us," said Adrienne Titus, an Inupiat and a community organizer at Native Movement. "An assault on one tribe is an assault on all of them."
Grassroots Support
Wilderness Week participants were given an overview of the past year in activism—that is, the grassroots support that has ramped up across the country since the Arctic Refuge was opened for drilling including rallies, district office meetings, community events, letters to the editor and the collection of hundreds of thousands of public comments on the issue.
We also learned about recently introduced legislation to undo the GOP mandate to lease the Arctic Refuge for drilling. This bill is a reminder that there are people in Congress who have and will continue to listen to public concerns for indigenous rights and environmental protection. It is crucial that our congressional representatives hear from us if they have not already signed onto this important bill.
Rebekah Ashley (right) with her sister Elisabeth (center-right), Noa Banayan (Alaska Wilderness League, center-left) and Adrienne Titus (Native Movement, center-front)Alaska Wilderness League
Meeting Our Reps

To make sure that offices in both the House and Senate were hearing from constituents in the states they represent, Wilderness Week participants were divided up by geographic region. I was lucky to stand alongside my sister Elisabeth to represent New York, and we were joined by others from across the northeast. Lis and I built off our shared experiences in meetings with Senator Kirsten Gillibrand's office and our representative Elise Stefanik (who we were able to flag in the hall and speak to directly). We also met with neighboring districts in upstate New York including offices for Reps. Claudia Tenney and Tom Reed, and other nearby states including Maine, Delaware, New Jersey and Maryland.
"I cannot comprehend why something that would be looked at as inexcusable in one community could be put on another," Lis said as we wrapped up our meetings. And it's true, states in the lower 48 have opposed offshore drilling because of the irreversible effects drilling poses on communities, ecosystems and the already changing climate.
Public Forums and the Canadian Embassy
During our second day of meetings, Wilderness Week participants attended a forum by the Democrats on the House Natural Resources Committee, led by Representatives Raúl Grijalva (D-NM) and Jared Huffman (D-CA) focusing on the dangers of opening Alaska's Arctic Refuge to oil and gas drilling. Later on, we attended an event hosted by the Canadian Embassy highlighting Canada's ongoing support for the Arctic Refuge and protecting its coastal plain. Gwich'in villages stand throughout Alaska and Canada, and at the embassy Gwich'in representative Donetta Tritt spoke to the importance of the Porcupine Caribou Herd to the survival of the Gwich'in people, and Canadian leaders reaffirmed their commitment to stand in solidarity with the Gwich'in to protect the herd.
Representatives Ruben Gallego (D-AZ), Jared Huffman (D-CA), Raúl Grijalva (D-NM) and Niki Tsongas (D-MA) discuss the Arctic Refuge across from Donetta Tritt, Rebecca Goodstein, David Hayes and Jamie Rappaport Clark.Alaska Wilderness League
At the Canadian Embassy, Donetta Tritt of the Gwich'in explains the relationship the Gwich'in people have with the Arctic Refuge and the porcupine caribou.Alaska Wilderness League
Wrapping Up

Whether you're calling your members of Congress or speaking to them in their congressional offices, these steps can seem small compared to the challenges we're up against. That's why Wilderness Week was an amazing chance to connect with people from the broader community who are also committed to protecting the Arctic Refuge. It was also an opportunity to learn about the issue from those who have experienced it firsthand. While we still have a long way to go, people like those I met at Wilderness Week make the journey worthwhile.
The BLM Public Hearing
Several weeks later, I traveled back to DC with folks from my local community, including more of my family, to attend the Bureau of Land Management's (BLM) only public hearing on Arctic Refuge leasing not being held in Alaska. This event allowed the broader public to share testimony and express their concerns about the leasing process for the Arctic Refuge directly to a panel representing BLM.
Bernadette Demientieff, executive director of the Gwich'in Steering Committee, makes the case for protecting the coastal plain.Alaska Wilderness League
A packed house was on hand in DC, the only public hearing on Arctic Refuge leasing being held outside of Alaska. Alaska Wilderness League
Outside of the hearing, a rally took place where hundreds of people lined the streets in opposition to BLM. Many of those who weren't fortunate enough to secure a spot testifying at the hearing shared their story at the rally instead. Wendy Hall from the Adirondack Wildlife Refuge shared her opposition for oil development in the Arctic Refuge because of the impacts it will have on global ecosystems and contribution to climate change.

My mother, Sandra Ashley, a teacher's aide at Lake Placid Middle School, gave testimony about the destructive message that drilling in the Arctic Refuge will send to her students and shared essays on their behalf that underscored the concerns that children feel for protecting wildlife.
Another friend of ours, Craig Stevens, a sixth generation land owner from Montrose, PA, held up a bottle of contaminated water from a sink in Pennsylvania during his testimony to remind the BLM how extractive industries can have an impact on our communities.
And Garett Reppenhagen of Vet Voice Foundation, a veteran of deployments in Kosovo and Iraq, shared his story about using outdoor therapy to help in the recovery process for Post Traumatic Stress Disorder.
Garett Reppenhagen of Vet Voice Foundation describes his experiences in the Arctic National Wildlife Refuge.Alaska Wilderness League
By the time the hearing came to a close it was after dark. BLM had heard countless concerns for protecting wildlife and fragile ecosystems, mitigating climate change impacts, standing up for indigenous cultures, and more. It was a reminder that Americans overwhelmingly oppose oil development in the Arctic Refuge, and instead believe this area must be protected once and for all.
Investors Controlling $2.5 Trillion Stand With Indigenous People Against Trump Plan to Drill 'Sacred' Arctic Refuge… https://t.co/ggRjhskZaM

— Sierra Club (@Sierra Club)1526421606.0
waterlust.com / @tulasendlesssummer_sierra .
Each product featured here has been independently selected by the writer. If you make a purchase using the links included, we may earn commission.
The bright patterns and recognizable designs of Waterlust's activewear aren't just for show. In fact, they're meant to promote the conversation around sustainability and give back to the ocean science and conservation community.
Each design is paired with a research lab, nonprofit, or education organization that has high intellectual merit and the potential to move the needle in its respective field. For each product sold, Waterlust donates 10% of profits to these conservation partners.
Eye-Catching Designs Made from Recycled Plastic Bottles
waterlust.com / @abamabam
The company sells a range of eco-friendly items like leggings, rash guards, and board shorts that are made using recycled post-consumer plastic bottles. There are currently 16 causes represented by distinct marine-life patterns, from whale shark research and invasive lionfish removal to sockeye salmon monitoring and abalone restoration.

One such organization is Get Inspired, a nonprofit that specializes in ocean restoration and environmental education. Get Inspired founder, marine biologist Nancy Caruso, says supporting on-the-ground efforts is one thing that sets Waterlust apart, like their apparel line that supports Get Inspired abalone restoration programs.
"All of us [conservation partners] are doing something," Caruso said. "We're not putting up exhibits and talking about it — although that is important — we're in the field."
Waterlust not only helps its conservation partners financially so they can continue their important work. It also helps them get the word out about what they're doing, whether that's through social media spotlights, photo and video projects, or the informative note card that comes with each piece of apparel.
"They're doing their part for sure, pushing the information out across all of their channels, and I think that's what makes them so interesting," Caruso said.
And then there are the clothes, which speak for themselves.
Advocate Apparel to Start Conversations About Conservation
waterlust.com / @oceanraysphotography
Waterlust's concept of "advocate apparel" encourages people to see getting dressed every day as an opportunity to not only express their individuality and style, but also to advance the conversation around marine science. By infusing science into clothing, people can visually represent species and ecosystems in need of advocacy — something that, more often than not, leads to a teaching moment.

"When people wear Waterlust gear, it's just a matter of time before somebody asks them about the bright, funky designs," said Waterlust's CEO, Patrick Rynne. "That moment is incredibly special, because it creates an intimate opportunity for the wearer to share what they've learned with another."
The idea for the company came to Rynne when he was a Ph.D. student in marine science.
"I was surrounded by incredible people that were discovering fascinating things but noticed that often their work wasn't reaching the general public in creative and engaging ways," he said. "That seemed like a missed opportunity with big implications."
Waterlust initially focused on conventional media, like film and photography, to promote ocean science, but the team quickly realized engagement on social media didn't translate to action or even knowledge sharing offscreen.
Rynne also saw the "in one ear, out the other" issue in the classroom — if students didn't repeatedly engage with the topics they learned, they'd quickly forget them.
"We decided that if we truly wanted to achieve our goal of bringing science into people's lives and have it stick, it would need to be through a process that is frequently repeated, fun, and functional," Rynne said. "That's when we thought about clothing."
Support Marine Research and Sustainability in Style
To date, Waterlust has sold tens of thousands of pieces of apparel in over 100 countries, and the interactions its products have sparked have had clear implications for furthering science communication.
For Caruso alone, it's led to opportunities to share her abalone restoration methods with communities far and wide.
"It moves my small little world of what I'm doing here in Orange County, California, across the entire globe," she said. "That's one of the beautiful things about our partnership."
Check out all of the different eco-conscious apparel options available from Waterlust to help promote ocean conservation.
Melissa Smith is an avid writer, scuba diver, backpacker, and all-around outdoor enthusiast. She graduated from the University of Florida with degrees in journalism and sustainable studies. Before joining EcoWatch, Melissa worked as the managing editor of Scuba Diving magazine and the communications manager of The Ocean Agency, a non-profit that's featured in the Emmy award-winning documentary Chasing Coral.
Sow and cub polar bears in the Arctic National Wildlife Refuge, Alaska.
Alan D. Wilson/ Nature's Pics Online / CC BY-SA 3.0
The Interior Department's Bureau of Land Management office in Alaska received a plan to conduct extensive, 3-D seismic testing in search of oil on the coastal plain of the Arctic National Wildlife Refuge (ANWR) this winter.
The plan—submitted by surveying services SAExploration, Inc. and its partners Arctic Slope Regional Corporation and the Kaktovik Inupiat Corporation—is the first step in opening up Alaska's pristine refuge for oil exploration and drilling, the Washington Post reported.
Last year, Congress controversially lifted a four-decade ban on energy development in ANWR after pro-drilling Alaska Sen. Lisa Murkowski buried the provision into the GOP tax bill that passed in December. President Trump also claims he was the driving force behind the provision's inclusion.
The companies have requested a permit to survey an area encompassing 2,602 square miles, or the entire "1002 area" of the 1.5-million-acre coastal plain, which has an estimated 12 billion barrels of recoverable crude.
SAExploration said that "this partnership is dedicated to minimizing the effect of our operations on the environment."
However, the Interior Department's Fish and Wildlife Service (FWS) said the plan is "not adequate," the Post revealed. FWS said the application showed "a lack of applicable details for proper agency review." The department complained that the companies' permit application did not include any studies about the impacts of the seismic work and equipment on wildlife, the tundra or the aquatic conditions in the area.
"There is no documentation of environmental effects, whether positive or adverse," FWS said. According to the Post, the department's response shows no sign it will approve the request.
The 1002 area is described by the Sierra Club as "the biological heart" of ANWR—home to polar bears, caribou, migratory birds and other species—as well as vital lands and wildlife for the subsistence way of life of the Gwich'in Nation.
After reviewing the proposal, the Alaska Wilderness League criticized the companies' plan to conduct 3-D seismic exploration in the ecologically sensitive area:
The scars of the 2-D seismic testing completed on the coastal plain in 1984 and 1985 are still visible 30 years later. Modern seismic exploration, however, is done using a 3-D technique that requires a much denser grid of trails—the 1984-85 trails on the coastal plain were approximately four miles apart, while the 3-D seismic trails envisioned here would be a mere 660 feet apart. Seismic activities would involve convoys of 30-ton thumper trucks and bulldozers traveling over extensive areas of fragile tundra. These intrusive surface exploration activities—typically employed year after year throughout the life of an oil field—would cause severe and long-lasting damage to the Arctic Refuge.
The organization also noted that the SAExploration seismic plan could threaten polar bears:
The plan makes no mention of Endangered Species Act consultation—only incidental harassment authorization—related to polar bears. This despite the Southern Beaufort Sea population's status as threatened, its 40 percent reduction in population size over the first decade of the 2000s, and the increasing presence of mothers and cubs denning along the coastal plain due to loss of sea ice from climate change.
"This is the polar opposite of what was promised by drilling proponents. Instead of a small footprint and a careful process, they want to deploy a small army of industrial vehicles and equipment with a mandate to crisscross every square inch of the Refuge's biological heart," Adam Kolton, executive director at Alaska Wilderness League, said in a statement.
"This scheme will put denning polar bears at risk and leave lasting scars on the fragile tundra and its vegetation, and that's before a single drill rig has been placed or length of pipeline installed."
The group also noted that the seismic plan promises to mitigate conflicts with subsistence users, but only mentions coordination with only the village of Kaktovik, and did not mention coordination with the Gwich'in.
Investors Controlling $2.5 Trillion Stand With Indigenous People Against Trump Plan to Drill 'Sacred' Arctic Refuge… https://t.co/ggRjhskZaM

— Sierra Club (@Sierra Club)1526421606.0
The Brooks Range in the Arctic National Wildlife Refuge. Hillebrand / U.S. Fish and Wildlife Service
After decades of bitter struggle, the Arctic National Wildlife Refuge (ANWR) seems on the verge of being opened to the oil industry. The consensus tax bill Republicans are trying to pass retains this measure, which was added to gain the key vote of Alaska Sen. Lisa Murkowski.
This bill, however, stands no chance of being the final word. ANWR has been called America's Serengeti and the last petroleum frontier, terms I've seen used over more than a decade studying this area and the politics around it. But even these titles merely hint at the multifold conflict ANWR represents–spanning politics, economics, culture and philosophy.
Differing Views From the Start
Little of this debate, which stretches back decades, makes sense without some background. Let's begin with wildlife, the core of why the refuge exists.
With 45 species of land and marine mammals and over 200 species of birds from six continents, ANWR is more biodiverse than almost any area in the Arctic. This is especially true of the coastal plain portion, or 1002 Area, the area now being opened up to exploration and drilling. This has the largest number of polar bear dens in Alaska and supports muskoxen, Arctic wolves, foxes, hares and dozens of fish species. It also serves as temporary home for millions of migrating waterfowl and the Porcupine Caribou Herd which has its calving ground there.
All of which merely suggests the unique concentration of life in ANWR and the opportunity it offers to scientific study. One part of the debate is therefore over how drilling might impact this diversity.
Map of northern Alaska showing locations of the Arctic National Wildlife Refuge, including. the 1002 Area, which is slated to be opened for oil and gas drilling, and the National Petroleum Reserve–Alaska (NPRA). U.S. Geological Survey
At the same time, debate over this area's mineral resources has existed since even before Alaska's founding. An effort by the U.S. Fish and Wildlife Service to withdraw part of northeast Alaska from mining (later drilling) was eventually passed by the House in 1960 but then killed in the Senate, on the urging of both Alaska senators. It was resurrected by President Eisenhower through an executive order establishing a wildlife range (not refuge, which requires government protection and study).
ANWR thus began as a battleground over state versus federal control of resources. Change came with the oil crises of the 1970s. After much debate, Congress passed and President Carter signed the Alaska National Interest Lands Conservation Act in 1980, increasing the size of the area to 19.4 million acres and changing it to a "refuge." ANILCA also mandated an evaluation of wildlife, oil and natural gas resources, and impacts if drilling occurred.
Map shows the 1002 Area, which will be opened up to oil and gas exploration, along with existing drilling sites in the region.U.S. Geological Survey
Such evaluation was delivered to Congress in 1987, with three principal conclusions. First, the 1.5 million-acre 1002 Area, had "outstanding wilderness values." Second, it also had large hydrocarbon resources, likely tens of billions of barrels. Third, oil development would bring widespread changes in habit, but adequate protection for wildlife was achievable and leasing should proceed.
Made public, these results ignited major opposition from environmental groups. However, low oil prices meant that no companies would be interested in drilling so no action toward leasing was taken. Over the next 20 years, Congress and the president traded blows over drilling, with Republicans passing or proposing legislation in favor and Democrats voting down or vetoing or the relevant bills.
Matters of Wilderness
These struggles added support to a larger view: that wilderness is incompatible with any level of development. The stance is often referenced to the 1964 Wilderness Act, a venerable law protecting wildlands but one whose definition of "wilderness" is ambiguous: "an area of undeveloped federal land retaining its primeval character … [that] generally appears to have been affected primarily by the forces of nature, with the imprint of man's work substantially unnoticeable." The vagueness here allows for ANILCA's position that drilling could happen so long as protection of wildlife and reclamation of land occurred.
Caribou grazing on the Arctic National Wildlife Refuge. The area is more diverse than any area on the Arctic.U.S. Fish and Wildlife Service
Today, however, no such allowance is accepted by pro-wilderness organizations and the FWS. "You can have the oil. Or you can have this pristine place. You can't have both. No compromise," said Robert Mrazek, ex-chair of the Alaska Wilderness League.
Saving ANWR has thus become an effort to save the very idea of wilderness, culturally and philosophically.
How Much Oil?
The most recent comprehensive assessment of oil and gas in the 1002 Area was by the U.S. Geological Survey (USGS) in 1998. This work shows a mean estimate of 10.4 billion barrels of oil and 35 trillion cubic feet of natural gas, which at today's prices ($57/bbl oil, $3/kcf) equals a total value of about $600 billion before drilling.
If well costs were $50 a barrel (low for onshore Arctic drilling today but possible with cost reductions spurred by 1002 development), the value after extraction would be $100 billion, from which a federal royalty of 12.5 percent must be subtracted, yielding $87.5 billion–a significant sum. Obviously if well costs are higher, this figure would be lower. Note that Alaska gets 90 percent of that federal royalty and pays a yearly dividend to every state resident–one reason many Alaskans favor drilling and reject the uncompromising wilderness position.
When considering how oil and gas is available, the USGS estimates should be considered low, even minimal. This is because they were made well before the current era of shale oil and gas and tight oil and gas development. New discoveries and use of fracking to the west of ANWR suggest there is more accessible petroleum. How much more? It's impossible to say, given the many uncertainties.
Though only one well has ever been drilled in the 1002 Area, dozens have been sited in surrounding onshore and offshore areas. These have resulted in a number of limited discoveries and one substantial field, Point Thomson, which is estimated to have recoverable reserves of up to 6 trillion cubic feet of gas and 850 million barrels of oil plus condensate. It began producing in 2016, yet its reservoir is geologically complex, challenging and insufficiently understood, causing difficulties and raising costs.
But Point Thomson's larger significance could stem from its location: Close to the northwestern margin of 1002, it has brought a pipeline connection to the Trans-Alaska Pipeline right to ANWR's doorstep.
But Will They Come?
Given the substantial possible reserves and at least some pipeline access, how interested might energy companies actually be in ANWR? The answer for now seems to be: not very. This comes from my own discussions with industry personnel and from the results of a recent lease sale in NPR-A, the National Petroleum Reserve in Alaska to the west of ANWR: Out of 900 tracts offered, only seven received bids (0.008 percent). A Dec. 7, lease sale on state lands did only somewhat better (0.04 percent), with a single company bidding on tracts near the 1002 Area, adjacent to the Point Thomson field, and in the immediate area of two small, undeveloped discoveries (Sourdough and Yukon Gold) made by BP in 1994.
If this be any indication, another multiyear period of high oil prices–in a range, say, more than $80 per barrel–needs to arrive before 1002 looks attractive. Leasing and drilling in an area with extreme weather, little detailed data on the subsurface geology, no discoveries or production, and no existing infrastructure is considered high risk, all the more so in an uncertain price environment like today's.
My own guess is that the estimated $1.1 billion revenue from an ANWR leasing program has roughly the same probability of coming true as the discovery that climate change is indeed a Chinese hoax. Similarly, we should probably view with a dash of skepticism Sen. Murkowski's statements that opening ANWR will "create thousands of good jobs … keep energy affordable for families and businesses … reduce the federal deficit and strengthen our national security" by reducing foreign oil. Regardless of what claims are being made now, one can say the measure would undoubtedly deliver on a long-standing promise to Alaskan voters.
Meanwhile, from an environmental perspective, climate change continues to alter and damage the Arctic, even if no development happens. As such, it is hard not to hope that we will never need the oil that lies beneath the refuge.
In the end, whichever way we turn, no stable compromise exists in this conflict. Opening the area to leasing now will not prevent a closing or ban later on. Even native voices are divided on the issue. The Inupiat who live in Kaktovik and depend on sea life for sustenance, would welcome the work that drilling could bring, while the Gwich'in to the south, who rely on the caribou, see development as jeopardizing their culture.
Legal challenges to any level of leasing are certain, including those intended to slow the process until drilling opponents will win later elections, if they can.
The one truth all can agree on is that ANWR has never been a "refuge" in the landscape of American society.
Reposted with permission from our media associate The Conversation.
From Your Site Articles
Related Articles Around the Web
Sen. Lisa Murkowski (R-Alaska) introduced legislation Wednesday night that would open a portion of the Arctic National Wildlife Refuge (ANWR) to oil and gas development for the first time.
The bill could advance with only 51 votes in the Senate instead of the usual 60 as it complies under Congress' budget resolution instructions for 2018.
The Alaskan senator, who chairs the Senate Committee on Energy and Natural Resources, expects her legislation will bring in more than $1 billion in federal revenue over the next decade.
"Our instruction is a tremendous opportunity both for our committee and our country," Murkowski said. "The legislation I released tonight will put Alaska and the entire nation on a path toward greater prosperity by creating jobs, keeping energy affordable for families and businesses, generating new wealth and strengthening our security—while reducing the federal deficit not just by $1 billion over ten years, but tens or even hundreds of billions of dollars over the decades to come."
ANWR, the largest protected wilderness in the U.S., consists of more than 19 million acres of pristine landscapes and is home to 37 species of land mammals, eight marine mammals, 42 fish species and more than 200 migratory bird species.
Last month, Senate Democrats offered an amendment to the Senate's budget resolution that would block drilling in the Alaskan refuge but the measure failed 48-52 mostly along party lines. Democratic lawmakers and environmental groups criticized the GOP for sneaking the "backdoor drilling provision" through the budget process.
Conservatives have long sought to open up the refuge and have targeted the so-called "1002 area," a 1.5 million-acre coastal plain which the U.S. Geological Survey estimates has between 5.7 billion to 16 billion barrels of recoverable oil.
Murkowski calls the area a "non wilderness portion" but Earthjustice notes that the targeted area hosts migratory bird species, endangered wildlife and is considered to be sacred to the indigenous Gwich'in people, who sustain themselves from the caribou that migrate there.
Additionally, the expectation that drilling could raise $1 billion in revenue over the next decade is under dispute. Even oil industry execs anticipate a world of $50 for a barrel of oil over the next few years.
"Nothing in this bill can magically make these fantastical revenue assumptions materialize," said Adam Kolton, executive director of the Alaska Wilderness League, in a statement.
"What this bill would do is turn America's last great wilderness into a lost wilderness. Senator Lisa Murkowski had promised some kind of new and improved directional drilling, but that's just a talking point. What we got was simply misdirection and deception. The fact is that is that the entire 1.5 million acres could be offered up in two massive lease sales."
BREAKING: A bill has been introduced in the Senate that would open the #ArcticRefuge to drilling. Doing so WILL NOT… https://t.co/K3MeB5oY3U

— Alaska Wilderness League ❄️ (@Alaska Wilderness League ❄️)1510193888.0
Here's what the legislation entails, as detailed by Huffington Post:
"As written, the bill would require Interior Secretary Ryan Zinke to approve at least two lease sales—each no less than 400,000 acres—in the first 10 years. The first sale would be required within four years, with the second having to be finalized within seven years. The royalties from those sales would be split in half between the state of Alaska and the federal government.
The bill allows for 2,000 acres of the coastal plain to be developed with wells and support facilities.
Opening the refuge is also on the Trump administration's wish list. In May, Zinke signed an order to 'jump-start Alaskan energy production.' He said at the time that the move was an 'important first step in a smart and measured approach to energy development in ANWR.' Additionally, the administration's 2018 fiscal year budget calls for allowing oil and gas production in the coastal plain."
Murkowski's bill is scheduled for a committee hearing on Nov. 15.
This week, Rep. Marcia Fudge (D-OH) will vote on a bill that includes a measure to open the Arctic National Wildlife Refuge to oil drilling. The Arctic Refuge is our greatest wilderness icon and is home to caribou, polar bears and hundreds of bird species that migrate to all 50 states and six continents. It's a pristine, intact ecosystem that is unparalleled in North America, and for the first time in six years, pro-drilling Representatives are pushing to open this amazing place to Big Oil's dirty, dangerous drills.
There are some places in this country that are just too extraordinary to drill, and the Arctic Refuge is one of them—Rep. Fudge needs to hear from you before this important vote.
Call Rep. Fudge at (202) 225-7032 today and ask her to vote against drilling in the Arctic National Wildlife Refuge and HR 7—the American Energy and Infrastructure Jobs Act (also known as the Transportation bill.)
Then, click here to report your call.
Here are some more talking points you could use for your call:
There is no such thing as safe drilling in the Arctic Refuge. Oil drilling cannot be done in an environmentally-safe manner. Once a pristine wilderness like the Arctic Refuge is lost to drilling, it's lost forever.
Americans will pay while Big Oil profits—not just at the pump but in environmental, health and economic costs. We must learn from the BP Deepwater Horizon spill in the Gulf of Mexico and the Exxon Valdez disaster in Alaska's Prince William Sound and protect this special place.
Some places in this country are too extraordinary to drill, and the Arctic Refuge is one of them. For more than fifty years, we have protected this remarkable place and Americans have remained committed to its protection ever since.
Take a minute to call Rep. Fudge at (202) 225-7032 today and ask her to vote against drilling in the Arctic National Wildlife Refuge.
For more information, click here.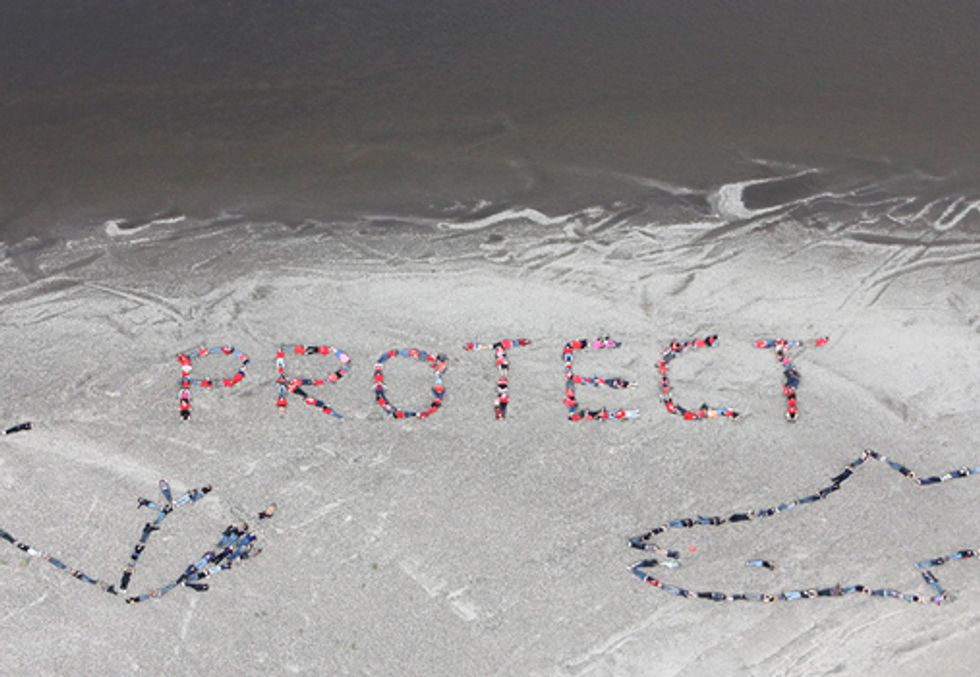 Congress passed an omnibus spending bill Dec. 16 for fiscal year 2012 that includes a poison pill buried deep within the bill's 1,200 page conference agreement—that literally poisons the air in our nation's Arctic Ocean. This poison pill, or Dirty Arctic Air rider, would compromise the health of the Inupiat people who have thrived there for thousands of years as well as the Arctic's myriad wildlife species, from polar bears and beluga whales to walrus and millions of birds.
Specifically, the poison pill transfers authority over Arctic offshore drilling air pollution permits from the U.S. Environmental Protection Agency (EPA) to the U.S. Department of Interior (DOI). As a result, Arctic drilling will become almost completely exempt from the Clean Air Act's health-based national ambient air quality standards and the act's program to prevent significant deterioration of air quality.
Statement from Cindy Shogan, executive director, Alaska Wilderness League:
"Today's action by Congress tells the people of America's Arctic—proud Inupiats and Americans—that they are less important than a few foreign-owned oil companies such as Royal Dutch Shell.
"There is no question that this Dirty Arctic Air rider—snuck into a vital spending bill at the 11th hour—is a clear giveaway to Shell and Big Oil. Currently, Shell's proposed drilling program in the Arctic's Chukchi and Beaufort Seas would release, each year, tens of thousands of tons of climate-warming greenhouse gases; hundreds of tons of nitrogen dioxide, which causes and exacerbates respiratory disease; and tens of tons of other harmful pollutants including carbon monoxide and volatile organic compounds. If subject to DOI's regulations, Shell could be authorized to emit pollution in excess of even these massive amounts.
"The people of America's Arctic already suffer from the impacts of drilling in their pristine, wild home. When Rosemary Ahtuangaruak started her career as health aide in 1986 in Nuiqsut, a small village that sits adjacent to the Alpine Oil Field and near Prudhoe Bay, North America's largest oil field, she treated one patient with asthma. When she quit in 1997, there were 60 people who had to use respiratory medications. This is an increase of more than tenfold, and
corresponded with an increase of oil industry activity near her town. As the National Academy of Sciences noted in its extensive study of cumulative environmental effects of oil and gas development on Alaska's North Slope, "petroleum development has resulted in major, significant, and probably irreversible changes to the way of life on the North Slope."
"President Barack Obama owes it to the people of the Arctic to demand that DOI immediately tighten its air rules to match those of EPA."
Arctic air pollution oversight—EPA vs. DOI:
The EPA has a long history of protecting public health through the Clean Air Act, which has saved more than 200,000 lives and prevented millions of asthma attacks, heart problems and other serious illnesses. Such expertise is essential for protecting a region as fragile as the Arctic, which is already under significant threat from the effects of climate change and onshore development.
Beyond the fact that DOI has no history or expertise in Arctic air quality, DOI regulations are not nearly as protective. They do not require compliance with Clean Air Act requirements over the ocean but only onshore and the regulations include wholesale exemptions from air quality analysis for many facilities based on their distance from the shore. This is especially alarming in the Arctic where there are vast lease tracks offshore, thereby exempting 80 million acres of potential leases from regulation at the source.
Shifting the point of compliance from the source on the ocean to the shoreline ignores that some members of Arctic coastal communities spend significant time on the ocean. DOI regulations would allow the oil companies to pollute at unhealthy levels within traditional Alaska Native subsistence hunting areas.
For more information, click here.