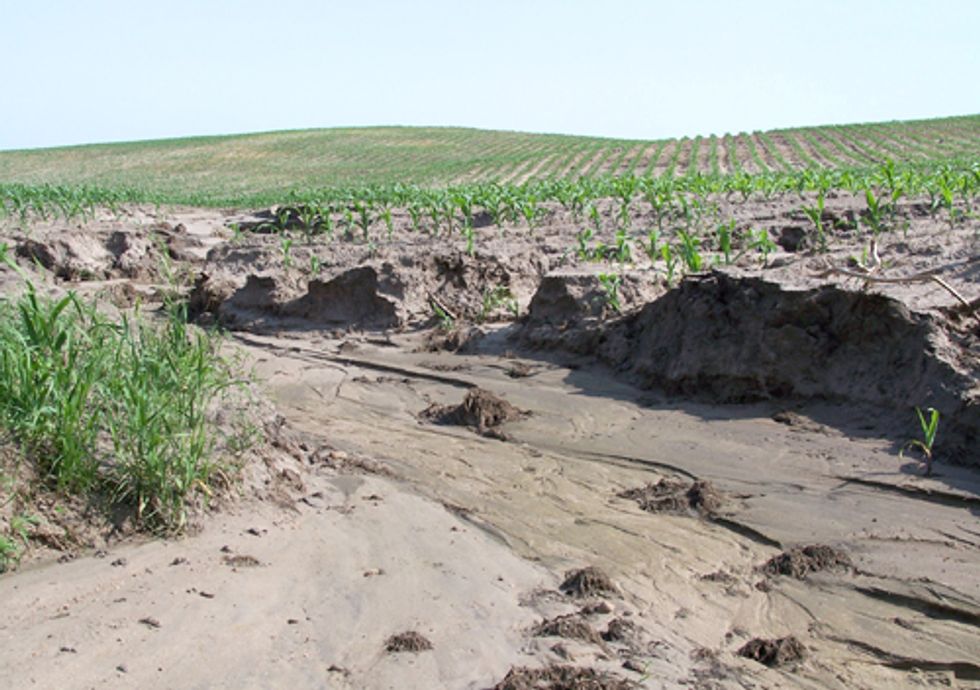 A new research paper finds that most farmers support the long-standing conservation compact that has helped protect the rich soil and clean water that sustain food, farming and public health.
Conservation Compliance: A Retrospective…and Look Ahead by conservationist Max Schnepf concludes through a comprehensive review of public opinion polls that the farming community has consistently supported the historic deal between taxpayers and farmers that was struck in the 1985 farm bill. Under it, growers agreed to keep soil from washing away and chemicals out of waterways in return for generous taxpayer support.
Seven polls taken in the last 30 years show that a solid majority of farmers believe that bargain is a fair one.
"The conservation compact was a godsend for agricultural and conservation groups and farmers," Schnepf writes. "In the 10 years following the 1985 farm bill, farmers did more to curb soil erosion than at any time since the infamous Dust Bowl years of the 1930s."
Schnepf notes that Environmental Working Group's (EWG) 2011 report, Losing Ground, found that high prices, intense competition for farmland leases and ethanol mandates have put unprecedented pressure on land and water. As a result, the historic gains in soil conservation the compact achieved are being lost.
"Conservation is once again being pushed to the back seat—the very situation that led to the compact in the first place," said EWG Senior Vice President Craig Cox. "We need to reinvigorate the compact just to keep things from getting worse, let alone make long-overdue progress on pollution problems that have gone unchecked for decades."
In the negotiations over a 2012 farm bill, agribusiness lobbyists are pushing their allies in Congress to gut the conservation compact entirely, with dire consequences for the environment and public health.
To raise awareness of the disastrous situation, EWG released a series of web-based ads and Schnepf's paper ahead of the Feb. 28 scheduled hearing of the Senate Agriculture, Nutrition and Forestry, which will focus on "Strengthening Conservation Through the 2012 Farm Bill."
Funding for agricultural conservation programs has been cut every year since 2002 and is currently $4 billion below the amount authorized in previous farm bills. Meanwhile, the taxpayers' tab for guaranteeing farm business income through so-called risk management programs has increased almost five-fold—from $1.5 billion in 2002 to $7.4 billion in 2011. There are no conservation strings attached because Congress ended those requirements in 1996.
"Congress must not break the 25-year old conservation compact between farmers and taxpayers under the guise of farm policy reform," said Cox. "Farmers need a safety net, but so do fertile soil and clean water."
EWG recommends that Congress reconfirm and reinvigorate the conservation compact by:
Bringing risk management programs back under the conservation compact umbrella.
Updating decades-old conservation plans to reflect modern technology and current weather patterns.
Requiring landowners to control highly damaging gully erosion on all annually tilled cropland.
Dedicating funding for conservation planning and enforcement.
For more information, click here.
EcoWatch Daily Newsletter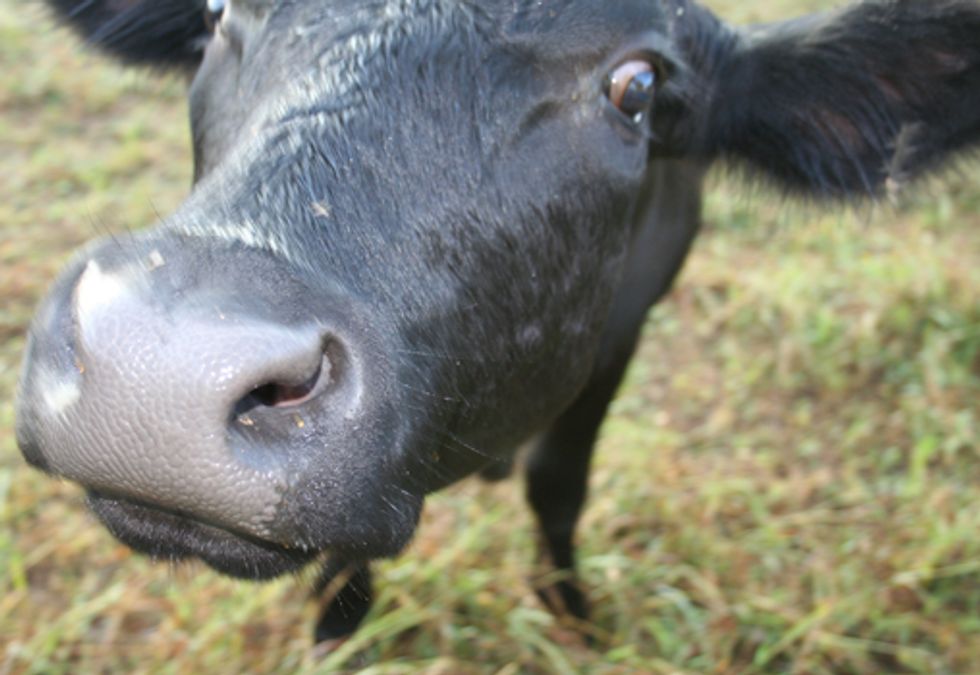 The Center for Food Safety (CFS) submitted comments strongly criticizing the U.S. Environmental Protection Agency's (EPA) disappointing failure to implement a 2010 settlement agreement it reached with environmental groups and called on the agency not to capitulate to industry pressure and weaken its much needed action. CFS's comments were also joined by Friends of the Earth.
In 2010, EPA agreed to conduct an inventory and profile the largest animal factories by requiring reporting of very basic operational information such as geographic location, ownership, quantity of manure produced, and use of manure. Despite widespread animal factory farming in the U.S., EPA never previously tracked this data, and thus has no understanding of the scope of the manure problem that is polluting our nation's waters and placing our food supply at risk. 
EPA recognized years ago that it has absolutely no handle on the billions of gallons of manure annually entering the nation's waters and food supplies from U.S. animal factories. A 2008 Government Accounting Office (GAO) report entitled EPA Needs More Information and a Clearly Defined Strategy sharply criticized the agency's lack of action. However, EPA's late 2011 draft rule only required reporting of less than half of the information required by the agreement, without explanation. Under the EPA proposal, the animal factory industry would be allowed to continue mismanagement of manure and would leave to local communities the burden of enforcing environmental laws. 
"EPA's proposal is a misguided, head-in-the-sand approach to an issue that the government has recognized as a significant problem for many years," said Elisabeth Holmes, CFS Staff Attorney.  "EPA's draft rule is contrary to the Court Settlement, the GAO Report, the Pew Commission recommendations, as well as EPA's overarching duty to protect the public and the environment."
Most of the dairy, beef, pork, chicken, turkey, and egg products sold in U.S. grocery stores—and served at institutional facilities such as schools, hospitals, nursing homes, and prisons—comes from animal factories. Animal factories raise hundreds, thousands, or tens of thousands of animals destined for human consumption in large-scale, high-density confinements and as a result produce large quantities of meat, dairy or egg products at a low economic cost. Animal factories also produce too much manure to fertilize their own fields, and the manure is so laden with pharmaceutical products, animal feed additives and heavy metals that it can actually kill crops instead of promoting soil fertility and moisture. Animal factories frequently disregard restrictions on applying manure as a fertilizer so over-applications and mis-applications result in manure, pharmaceutical products and additives escaping and flowing into drinking water supplies and rivers. Manure management is a major operational concern and a constant source of water pollution for every animal factory. Annually, a single animal factory can produce 1.6 million tons of waste, or more than 1.5 times the sanitary waste produced by the 1.5 million residents of Philadelphia, Pa. One cow can produce 20 times the amount of waste as a single human.  Animal factories store millions of gallons of manure usually in "lagoons," which are susceptible to breakage and leakage. 
The federal government claims that approximately 20,000 animal factories exist in the U.S., but other data suggests there may be as many as 238,000 animal feeding operations. Without an inventory and data tracking system the EPA cannot estimate the number of animal factories in the country or their environmental effects. 
Under the current Clean Water Act permitting structure, EPA only requires certain animal factories to report limited information. The information reported for permitting purposes does not correspond to that required by the 2010 agreement, which was designed specifically to begin meaningfully assessing the scope of the nationwide pollution problem.
"The Center for Food Safety is just as concerned with security issues facing our nation's food supply as farmers," said Holmes. "As the GAO Report and Pew Commission Report on Industrial Animal Farm Production demonstrate, this problem is an immediate threat to our waters, our health, and our food supply. EPA must require animal factories to report basic operational information that other industries have had to declare for decades, and EPA must make this information available to the public."
EPA has indicated it will respond to comments on its proposal by July 13, 2012.
Read CFS's comments by clicking here.
Read the GAO Report by clicking here.
Read the Pew Report by clicking here.
For more information, click here.
—————
The Center for Food Safety is a national, non-profit, membership organization founded in 1997 to protect human health and the environment by curbing the use of harmful food production technologies and by promoting organic and other forms of sustainable agriculture.
boonchai wedmakawand / Moment / Getty Images
Delta-8 THC is a cannabis product that has become a bestseller over the past few months, as many consumers find they can legally purchase it from CBD retailers. Its proponents say that Delta-8 THC will give you a nice little buzz, minus some of the more intense feelings (including paranoia) that are sometimes associated with marijuana.

Delta-8 THC is being marketed as a legal option for consumers who either don't live in a state with legal cannabis, or are a little apprehensive about how traditional psychoactive THC products will affect them. But is it all it's cracked up to be? Let's take a closer look, exploring what Delta-8 THC is, how it differs from other THC products, and whether it's actually legal for use.
<h2>What is Delta-8 THC?</h2><p>To better understand <a href="https://www.nytimes.com/2021/02/27/health/marijuana-hemp-delta-8-thc.html" target="_blank">Delta-8 THC</a>, it helps to cover some basics about THC and cannabis.</p><p>Cannabis plants come chock full of different <a href="https://www.nccih.nih.gov/health/cannabis-marijuana-and-cannabinoids-what-you-need-to-know" rel="noopener noreferrer" target="_blank"><em>cannabinoids</em></a>. These are naturally-occuring chemical compounds that bind with receptors throughout your body. They can offer a wide range of mental, emotional, and physical effects; indeed, the healing and therapeutic properties marijuana or <a data-linked-post="2648563694" href="https://www.ecowatch.com/strongest-cbd-oil-2648563694.html" target="_blank">CBD products</a> offer can be attributed to cannabinoids.</p><p>One of the most common cannabinoids is what's known as Delta-9 THC. Simply put, this is the part of marijuana that gets you "high." It's worth noting that Delta-9 THC remains illegal in many states, except for in the most minute doses, and is still illegal at the federal level. CBD products are made with trace amounts of THC, ensuring that consumers can enjoy positive health effects in a perfectly legal way, without the risk of getting high.</p><p>On a chemical level, <a href="https://www.nytimes.com/2021/02/27/health/marijuana-hemp-delta-8-thc.html" rel="noopener noreferrer" target="_blank">Delta-8 THC</a> is not too different from Delta-9 THC; the distinction comes down to just a few molecules. But those molecules make a big practical impact: Delta-8 THC will give you a buzz, but the psychoactive effects are considerably milder than with Delta-9 THC.</p><p>More specifically, many cannabis enthusiasts report that Delta-8 THC helps them feel good but also leaves them relatively clear-headed; and, it doesn't produce the anxiety or jitteriness that often characterize a Delta-9 THC high.</p><p>Additionally, because of the way the law is written regarding Delta-9 THC, some CBD companies now sell Delta-8 THC products in places where traditional cannabis is still illegal.</p><h2>What's the Difference Between Delta-9 THC and Delta-8 THC?</h2><p>Here are the primary differences to note between Delta-9 and Delta-8 THC:</p><ul class="ee-ul"><li>Delta-9 THC is the primary psychoactive ingredient found in marijuana. In other words, it's the part that gets you high.</li><li>Though some states have found workarounds, Delta-9 THC is still illegal under federal law.</li><li>Delta-8 THC is also found in the cannabis plant, though it's not quite as powerful or as well-known. </li><li>Delta-8 THC is milder in its psychoactive effects. And, it's not <em>technically </em>illegal under current law.</li></ul><p>These are just a few of the key distinctions to keep in mind. Delta-8 THC is popular among consumers who want a smoother high, and don't want to violate federal law.</p><h2>Is Delta-8 THC Legal?</h2><p>We noted that Delta-8 THC is not <em>technically </em>illegal. Here, we need to get into some of the nuanced legal considerations that surround this substance.</p><p>First of all, there are plenty of cannabis companies that actively promote Delta-8 THC as a legal way to get high. Again, that's technically true, but is still a point of debate for some.</p><p>For one thing, it's not explicitly listed as an illegal substance. While federal laws, and some state laws, specifically ban Delta-9 THC, Delta-8 THC is never mentioned. More to the point, though, many proponents will cite the<a href="https://www.usda.gov/farmbill" rel="noopener noreferrer" target="_blank"> 2018 Farm Bill</a>. This law legalized several industrial hemp products on a national level, including CBD.</p><p>The Farm Bill also includes some fairly nuanced positions regarding THC. In summary, the law says that hemp and cannabis-derived products are legal so long as they contain less than 0.3 percent Delta-9 THC.</p><p>With that said, some lawyers contend that Delta-8's heyday may soon come to an end. That's because the Farm Bill clears it only so long as it's derived directly from hemp; most of the Delta-8 THC products sold today aren't made from hemp, but rather from synthetically-altered CBD.</p><p>Some of these issues are a little fuzzy, and <a href="https://www.rollingstone.com/culture/culture-features/delta-8-thc-legal-weed-explained-1113859/" rel="noopener noreferrer" target="_blank">the legal future of Delta-8 THC</a> remains a little uncertain. For now, though, many experts would argue that it is legal to purchase.</p><h2>What Kinds of Delta-8 THC Products Are Available?</h2><p><em>Each product featured here has been independently selected by the writer. If you make a purchase using the links included, we may earn commission.</em></p><p>If you're looking to try Delta-8 THC products, you'll certainly find plenty of different products. Dispensaries and legal cannabis stores currently have a trove of products that use this cannabinoid. Some examples include:</p><ul class="ee-ul"><li>Vape cartridges, tinctures, and capsules.</li><li>Beverages made with Delta-8 THC, including some seltzers.</li><li>Edibles, including Delta-8 THC gummy bears, chocolate bars, and more.</li></ul><p>The cannabis industry has really been running with Delta-8 THC, finding creative ways to bring it to market. And chances are, even more products will be springing up in the weeks and months to come. </p><p>It's very important to note that you should only purchase Delta-8 THC products from reputable brands and established cannabis retailers. We do not recommend purchasing any products that contain Delta-8 THC from gas stations or vape shops. If you are looking for a reputable place to explore these products, here are a few brands that we trust and recommend:</p>
<img class="rm-lazyloadable-image rm-shortcode" type="lazy-image" data-runner-src="https://assets.rebelmouse.io/eyJhbGciOiJIUzI1NiIsInR5cCI6IkpXVCJ9.eyJpbWFnZSI6Imh0dHBzOi8vYXNzZXRzLnJibC5tcy8yNjAzNjAyMy9vcmlnaW4uanBnIiwiZXhwaXJlc19hdCI6MTYzMTMxMjAyNX0.wRpb_E9ZFZFNgkYsYh6cleNbTezo16rUeTmifcP_yCk/img.jpg?width=980" id="60683" width="400" height="400" data-rm-shortcode-id="32630bf41fd6909a232194b540c570eb" data-rm-shortcode-name="rebelmouse-image" />
nuleafnaturals.com
<p><a href="https://nuleafnaturals.com/product/full-spectrum-delta-8-thc-oil-30mg-ml/" target="_blank" rel="noopener noreferrer">NuLeaf Naturals Full Spectrum Delta 8 THC Oil</a> is made from organic hemp and organic virgin hemp seed extract. It's available in a 150 mg bottle and a 450 mg bottle, which both provide 15 mg of Delta 8 THC per serving. This formula is also available in a soft gel.</p>
<img class="rm-lazyloadable-image rm-shortcode" type="lazy-image" data-runner-src="https://assets.rebelmouse.io/eyJhbGciOiJIUzI1NiIsInR5cCI6IkpXVCJ9.eyJpbWFnZSI6Imh0dHBzOi8vYXNzZXRzLnJibC5tcy8yNjAzNjE2Ni9vcmlnaW4uanBnIiwiZXhwaXJlc19hdCI6MTY2OTcwNTgzM30.opm4l5-rSqV1HfvrbVE16EEVZvqxI42xgqnsQfL9p2M/img.jpg?width=980" id="2c749" width="400" height="400" data-rm-shortcode-id="a678e76d8cd5e13bae95d9c3ae664b85" data-rm-shortcode-name="rebelmouse-image" />
botanyfarms.com
<p>The <a href="https://www.botanyfarms.com/product/delta-10-thc-vape-cartridge/?aff=14" target="_blank">Botany Farms Delta-10 THC Vape Cartridge</a> actually contains both Delta-10 and Delta-8 THC.This is designed to provide the desired effects of Delta-8 THC but without the drowsiness. They also offer a vape cartridge with a 1:1 concentration of <a href="https://www.botanyfarms.com/product/delta-10-delta-8-thc-vape-cartridge/?aff=14" target="_blank">Delta-8 THC</a> and Delta-10 THC. Note that while vape products can be used to aid in smoking cessation, we do not recommend vaping or smoking because of the negative health effects they can cause.</p>
<h2>What are the Pros and Cons of Delta-8 THC?</h2><p>As you consider whether Delta-8 THC is worth your time, it may be helpful to weigh the pros against the cons.</p><p><strong>Pros</strong></p><p>Let's start with some of the positives:</p><ul class="ee-ul"><li>Delta-8 THC does have psychoactive effects, but it's a milder effect than with traditional Delta-9 THC.</li><li>Delta-8 THC is currently legal and widely accessible in multiple states.</li><li>There are a wide number of products that use Delta-8 THC.</li></ul><p><strong>Cons</strong></p><p>Now, a few of the downsides.</p><ul class="ee-ul"><li>Delta-8 THC isn't quite as commonplace as other cannabis products, including CBD, and some of the options on the market are expensive.</li><li>While this substance is technically legal, there are plenty of uncertainties over its legal future. It's something you want to keep in mind.</li><li>As a relatively new product, Delta-8 THC products are not regulated by the FDA and there is not independent testing in place to verify that it is safe or pure.</li></ul><p>As with any cannabis product, Delta-8 THC has its pros and cons. As you seek the cannabis product that's best for you, it's largely a matter of personal preference.</p><p>Also note that smoking, vaping, or otherwise imbibing any kind of cannabis-related product can carry some medical risks and negative health consequences. If you have any specific concerns, we recommend consulting with your doctor before you try any Delta-8 THC product.</p><p><em><strong>Josh Hurst </strong></em><em>is a journalist, critic, and essayist. He lives in Knoxville, TN, with his wife and three sons. He covers natural health, nutrition, supplements, and clean energy. His writing has appeared in Health, Shape, and Remedy Review.</em></p>