This website uses cookies to ensure you get the best experience while browsing it. By clicking 'Got It' you're accepting these terms.
STAN HONDA / AFP / Getty Images
A jury's verdict in California that a groundskeeper got cancer from repeated exposure to Monsanto's Roundup weedkiller is offering new hope for justice for millions of plaintiffs an ocean away.
Late Wednesday, a coalition of environmental organizations and farmers represented by the Center for Food Safety (CFS) and Earthjustice filed new legal papers in federal court seeking the reversal of Scott Pruitt and the Trump Environmental Protection Agency's (EPA) approval of Dow Chemical's toxic pesticide, Enlist Duo. The novel pesticide is a combination of glyphosate and 2,4-D, to be sprayed over the top of corn, cotton and soybeans that are genetically engineered by Dow with resistance to both pesticides.
EcoWatch Daily Newsletter
By Christina Sarich
One of Monsanto's former companies, among nine contractors responsible for creating Agent Orange, sprayed more than 20 million gallons of the herbicide on an area of South Vietnam about the size of the state of Massachusetts between 1962 and 1971.
In a caustic plot twist, the Vietnamese government says it hopes to have 30 to 50 percent of its cropland planted with GMOs by 2020—exactly 55 years after the U.S. government first devastated Ho Chi Minh City and surrounding areas.
U.S. Huey helicopter spraying Agent Orange over Vietnam.Wikimedia Commons
Monsanto and the U.S. government alike have issued statements saying Monsanto deserves no blame for making chemical agents that have caused hundreds of thousands of birth defects and contaminated Vietnam's land so inexorably that even without applying additional herbicides to transgenic crops, they shall remain toxic for decades.

Babies are still being born today with horrific birth defects—decades after Agent Orange was sprayed so haphazardly across Vietnam. Nearly 4.8 million Vietnamese people have been exposed, causing 400,000 deaths and a grab bag of health issues that would make a haunted house seem cheery. An estimated 650,000 victims are suffering from chronic illnesses linked to Agent Orange in Vietnam, alone.
The Vietnamese government has never officially stated its stance on the grievous actions of Monsanto and other military contractors for the U.S., focusing instead on reparations for victims of Agent Orange. As one of the makers of Agent Orange, Monsanto claims they were just following the recipe for the formula as directed by the U.S. government.
Instead, the country seems to be embracing a company headquartered in the U.S. and its incessant propaganda promoting genetically modified organisms.
Furthermore, dioxin, found in Agent Orange, is one of the most dangerous chemicals ever made by man. Though the U.S. military carries out orders to help remove dioxin "hot-spots," their actions include heating the old Da Nang air base to temperatures above 600 degrees Fahrenheit, a level said to render the toxin harmless. There is no scientific proof that this even works.
A draft report released for public comment in September 1994 by the U.S. Environmental Protection Agency clearly describes dioxin as a serious public health threat, yet Cao Duc Phat, Vietnam's former agriculture minister says there's no problem. "GMOs are a scientific achievement of humankind, and Vietnam needs to embrace them as soon as possible," he stated.
This is a surprising statement since dioxin and other herbicides are part of the overall platform upon which genetically modified crops are sold. According to the U.S. Department of Agriculture, in recent years, more than 93 percent of soy planted in America was "herbicide tolerant," meaning it was engineered to withstand herbicides (sold by the same companies who patent and sell the seeds).
Although the toxicity of dioxins harms human health through other means of contamination, such as through industrial emissions, Enlist Duo, the latest herbicidal development by Dow Agrochemical and Monsanto is a combination of both 2,4-D and glyphosate. It has been called the "Agent Orange" of GMOs by environmentalists, though others dispute this fact.
Meanwhile, Monsanto, who has absolved themselves from any responsibility in practically defecating on Vietnam with their insidious chemicals, is creating yet a new herbicide for use in the U.S. Companies like Dow Chemical and Bayer are also implicated in putting more dioxin into the environment—and they too promote the GMO agenda.
Enlist Duo—the latest herbicide, which is a combination of 2,4-D (another component of Agent Orange), choline and glyphosate—is set to be approved anytime.
Dekalb Vietnam, which operates under U.S. mega-corporation Monsanto; Pioneer Hi-Bred Vietnam, under the U.S.'s Dupont; and Syngenta of Switzerland have been licensed to carry out lab research and tests on genetically-modified seeds in Vietnam since 2011.
Moreover, Monsanto received the endorsement of the Ministry of Agriculture and Rural Development, which announced that their worm- and weed-killer-resistant varieties are "environmentally friendly."
Fifty-five years after rendering almost an entire country cancerous, chemical companies like Monsanto are welcomed with open arms into Vietnam. It boggles the mind.
Reposted with permission from UndergroundReporter.org.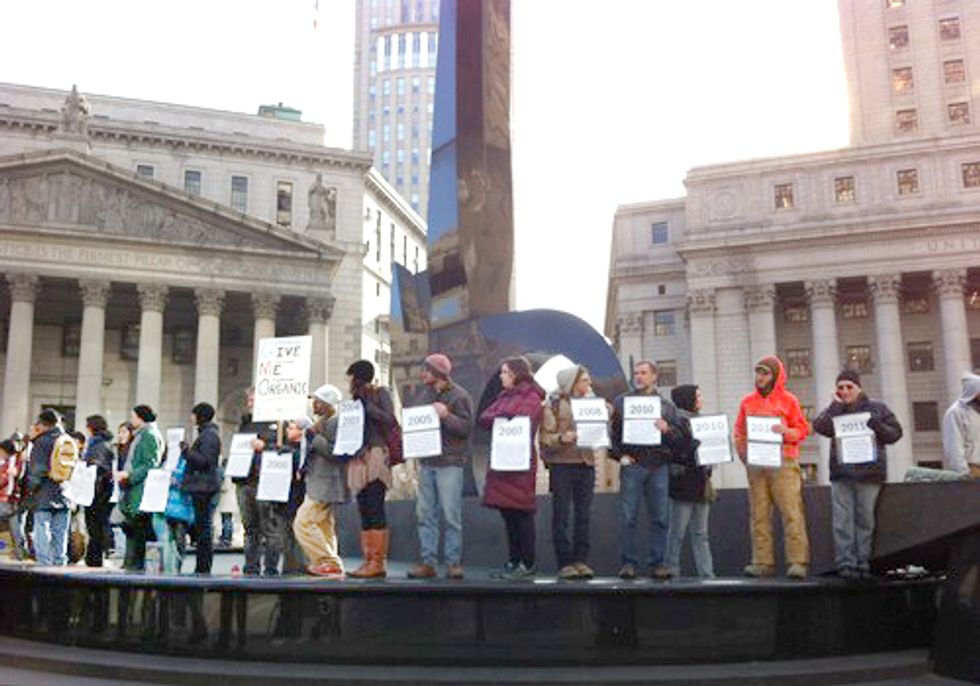 It was standing room only as family farmers from around North America filled Federal Court Judge Naomi Buchwald's courtroom in Manhattan on Tuesday, Jan. 31. The topic was the landmark organic community lawsuit Organic Seed Growers and Trade Association (OSGATA) et al v. Monsanto and the oral argument from Monsanto's pre-trial motion to dismiss, which it filed last July. Plaintiffs from at least 21 States and provinces were in the courtroom including Oregon, California, New Mexico, Colorado, Kansas, Nebraska, South Dakota, Saskatchewan, Missouri, Iowa, Ohio, Florida, North Carolina, Virginia, New Jersey, Pennsylvania, New York, Connecticut, Massachusetts, Vermont and Maine.
Meanwhile, outside the courthouse in Foley Square, hundreds turned out for the citizen's assembly of support for family farmers, an action organized by several groups including Occupy Food Justice. A depiction of Monsanto's infamous 100 year history including Agent Orange, dioxin, PCBs and now gene-spliced food was presented. Speakers addressed topics ranging from sustainable agriculture to risks associated with genetically modified organisms (GMOs) to issues of good food and food justice. After the conclusion of the courtroom oral argument, the plaintiff farmers and their legal team from the Public Patent Foundation provided details and comments on the courtroom proceedings, to supporters at the citizens' assembly.
"We were very pleased that the court granted our request to have oral argument regarding Monsanto's motion to dismiss our case today," said Daniel Ravicher of the Public Patent Foundation, lead lawyer for the plaintiffs. "The judge graciously permitted both parties to raise all the points they wished in a session that lasted over an hour. While Monsanto's attorney attempted to portray the risk organic farmers face from being contaminated and then accused of patent infringement as hypothetical and abstract, we rebutted those arguments with the concrete proof of the harm being suffered by our clients in their attempts to avoid such accusations. The judge indicated she will issue her ruling within two months. We expect she will deny the motion and the case will then proceed forward. If she should happen to grant the motion, we will most likely appeal to the Court of Appeals who will review her decision without deference."
The large group of 83 Plaintiffs in OSGATA v. Monsanto is comprised of individual family farmers, independent seed companies and agricultural organizations. The total number of members within the plaintiff group exceeds 300,000 and includes many thousands of certified organic farmers. The plaintiffs are not seeking any monetary compensation. Instead, the farmers are pre-emptively suing Monsanto and seeking court protection under the Declaratory Judgment Act, from Monsanto-initiated patent infringement lawsuits.
President and lead Plaintiff for Organic Seed Growers and Trade Association—Maine organic seed farmer Jim Gerritsen—was in the courtroom and witnessed the oral argument. Gerritsen had this to say, "Our lawyer did a good job explaining the current injustice farmers face. We have a right to be secure on our farms and to be free from Monsanto's GMO trespass. If we become contaminated by Monsanto, not only is the value of our organic seed crop extinguished but we could also be sued by Monsanto for patent infringement because their contamination results in our 'possession' of their GMO technology. We have farmers who have stopped growing organic corn, organic canola and organic soybeans because they can't risk being sued by Monsanto. It's not fair and it's not right. Family farmers need justice and we deserve the protection of the court."
Early on in the legal process, Monsanto was asked by lawyers for the plaintiffs to provide a binding legal covenant not to sue. Monsanto refused this request and in doing so made clear that it would not give up its option to sue contaminated innocent family farmers who want nothing to do with Monsanto's GMO technology.
In a remarkable demonstration of solid support by American citizens for family farmers, co-plaintiff Food Democracy Now! has collected more than 100,000 signatures on it's petition supporting the rights of family farmers against Monsanto. "For the past 12,000 years farmers have saved the best seeds each year to increase yields and improve traits for the food we eat," said Dave Murphy, founder and executive director of Food Democracy Now! "In 1996, when Monsanto sold its first patented genetically modified (GMO) seed to farmers, this radically changed the idea of how farmers planted and saved seed. Less than two decades later, Monsanto's aggressive patent infringement lawsuits have created a climate of fear in rural America among farmers. It's time for that to end. Farmers should not have to live in fear because they are growing our food."
For more information, click here.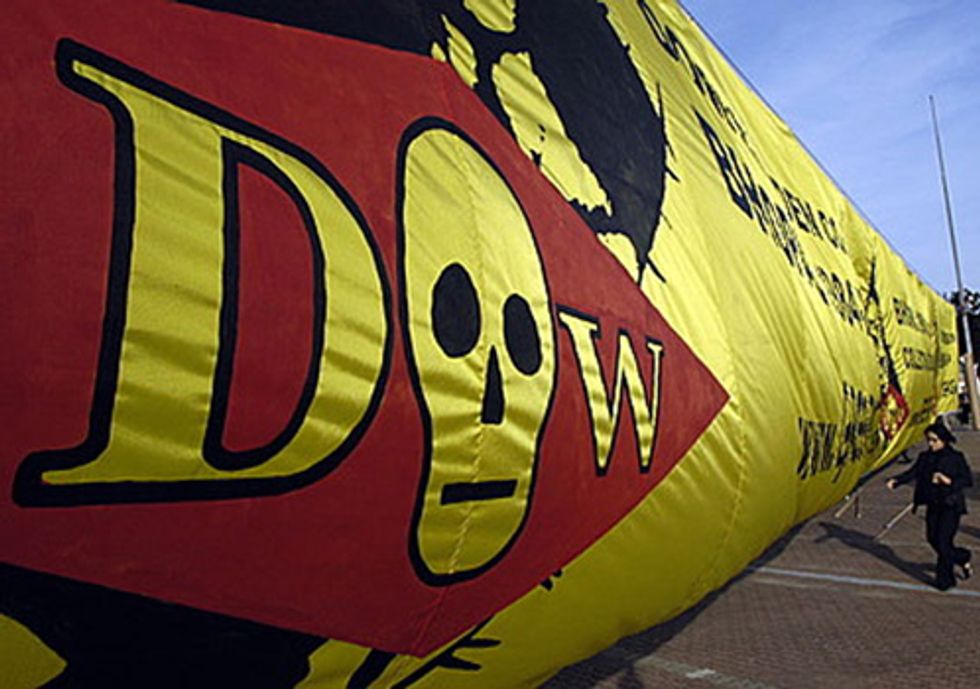 Dow Chemical is currently requesting unprecedented approval from the U.S. Department of Agriculture (USDA) to market a genetically engineered (GE) version of corn that is resistant to 2,4-D, a major component of the highly toxic Agent Orange. Agent Orange was the chemical defoliant used by the U.S. in Vietnam, and it caused lasting ecological damage as well as many serious medical conditions in both Vietnam veterans and the Vietnamese.
Exposure to 2,4-D has been linked to major health problems that include cancer (especially non-Hodgkin's lymphoma), lowered sperm counts, liver disease and Parkinson's disease. A growing body of evidence from laboratory studies shows that 2,4-D causes endocrine disruption, reproductive problems, neurotoxicity and immunosuppression. Furthermore, tests within the industry show that 2,4-D is contaminated with dioxins, a group of highly toxic chemical compounds that bioaccumulate, so even a minute amount can accumulate as it goes up the food chain, causing dangerous levels of exposure. Dioxins in Agent Orange have been linked to many diseases, including birth defects in children of exposed parents—and, according to the U.S. Environmental Protection Agency (EPA), 2,4-D is the seventh largest source of dioxins in the U.S.
USDA approval of Dow's GE corn will trigger a big increase in 2,4-D use—and our exposure to this toxic herbicide. Yet the USDA has not assessed how much exposure will increase, nor analyzed the resulting impacts on public health, the environment or neighboring farmers (2,4-D is prone to drift and cause damage to nearby crops). Instead, the agency has once again bowed to the pesticide industry by giving preliminary approval to still another pesticide-promoting crop that will likely harm people and their children, including farmers, and the environment. The USDA claims to be adhering to a scientific process, yet they are blatantly ignoring the science on 2,4-D.
Tell the USDA to reject 2,4-D resistant GE corn—Sign the petition today.
For more information, click here.