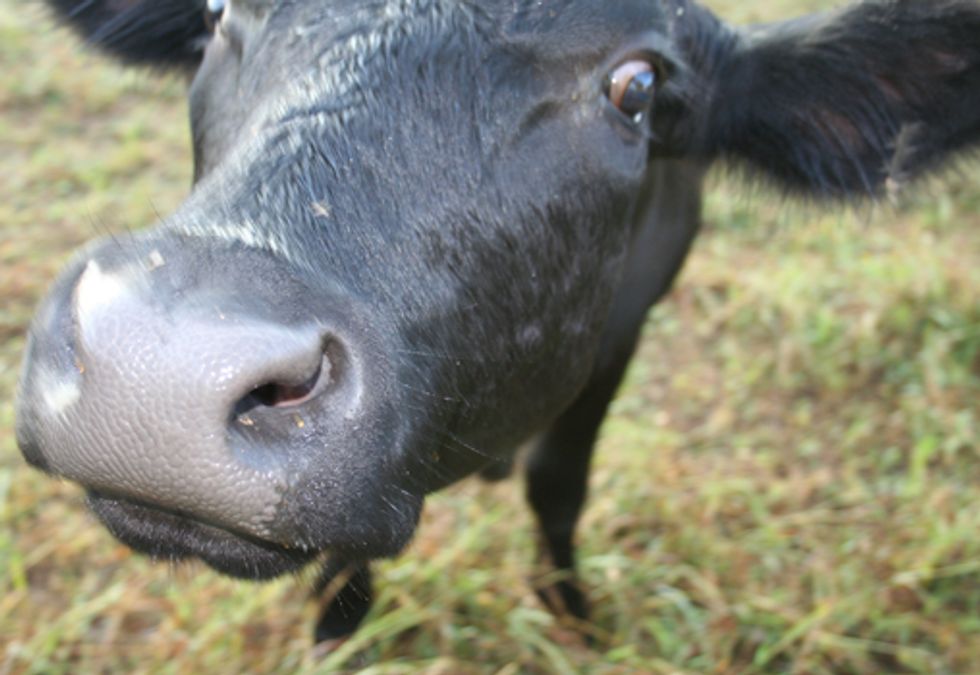 The Center for Food Safety (CFS) submitted comments strongly criticizing the U.S. Environmental Protection Agency's (EPA) disappointing failure to implement a 2010 settlement agreement it reached with environmental groups and called on the agency not to capitulate to industry pressure and weaken its much needed action. CFS's comments were also joined by Friends of the Earth.
In 2010, EPA agreed to conduct an inventory and profile the largest animal factories by requiring reporting of very basic operational information such as geographic location, ownership, quantity of manure produced, and use of manure. Despite widespread animal factory farming in the U.S., EPA never previously tracked this data, and thus has no understanding of the scope of the manure problem that is polluting our nation's waters and placing our food supply at risk. 
EPA recognized years ago that it has absolutely no handle on the billions of gallons of manure annually entering the nation's waters and food supplies from U.S. animal factories. A 2008 Government Accounting Office (GAO) report entitled EPA Needs More Information and a Clearly Defined Strategy sharply criticized the agency's lack of action. However, EPA's late 2011 draft rule only required reporting of less than half of the information required by the agreement, without explanation. Under the EPA proposal, the animal factory industry would be allowed to continue mismanagement of manure and would leave to local communities the burden of enforcing environmental laws. 
"EPA's proposal is a misguided, head-in-the-sand approach to an issue that the government has recognized as a significant problem for many years," said Elisabeth Holmes, CFS Staff Attorney.  "EPA's draft rule is contrary to the Court Settlement, the GAO Report, the Pew Commission recommendations, as well as EPA's overarching duty to protect the public and the environment."
Most of the dairy, beef, pork, chicken, turkey, and egg products sold in U.S. grocery stores—and served at institutional facilities such as schools, hospitals, nursing homes, and prisons—comes from animal factories. Animal factories raise hundreds, thousands, or tens of thousands of animals destined for human consumption in large-scale, high-density confinements and as a result produce large quantities of meat, dairy or egg products at a low economic cost. Animal factories also produce too much manure to fertilize their own fields, and the manure is so laden with pharmaceutical products, animal feed additives and heavy metals that it can actually kill crops instead of promoting soil fertility and moisture. Animal factories frequently disregard restrictions on applying manure as a fertilizer so over-applications and mis-applications result in manure, pharmaceutical products and additives escaping and flowing into drinking water supplies and rivers. Manure management is a major operational concern and a constant source of water pollution for every animal factory. Annually, a single animal factory can produce 1.6 million tons of waste, or more than 1.5 times the sanitary waste produced by the 1.5 million residents of Philadelphia, Pa. One cow can produce 20 times the amount of waste as a single human.  Animal factories store millions of gallons of manure usually in "lagoons," which are susceptible to breakage and leakage. 
The federal government claims that approximately 20,000 animal factories exist in the U.S., but other data suggests there may be as many as 238,000 animal feeding operations. Without an inventory and data tracking system the EPA cannot estimate the number of animal factories in the country or their environmental effects. 
Under the current Clean Water Act permitting structure, EPA only requires certain animal factories to report limited information. The information reported for permitting purposes does not correspond to that required by the 2010 agreement, which was designed specifically to begin meaningfully assessing the scope of the nationwide pollution problem.
"The Center for Food Safety is just as concerned with security issues facing our nation's food supply as farmers," said Holmes. "As the GAO Report and Pew Commission Report on Industrial Animal Farm Production demonstrate, this problem is an immediate threat to our waters, our health, and our food supply. EPA must require animal factories to report basic operational information that other industries have had to declare for decades, and EPA must make this information available to the public."
EPA has indicated it will respond to comments on its proposal by July 13, 2012.
Read CFS's comments by clicking here.
Read the GAO Report by clicking here.
Read the Pew Report by clicking here.
For more information, click here.
—————
The Center for Food Safety is a national, non-profit, membership organization founded in 1997 to protect human health and the environment by curbing the use of harmful food production technologies and by promoting organic and other forms of sustainable agriculture.
EcoWatch Daily Newsletter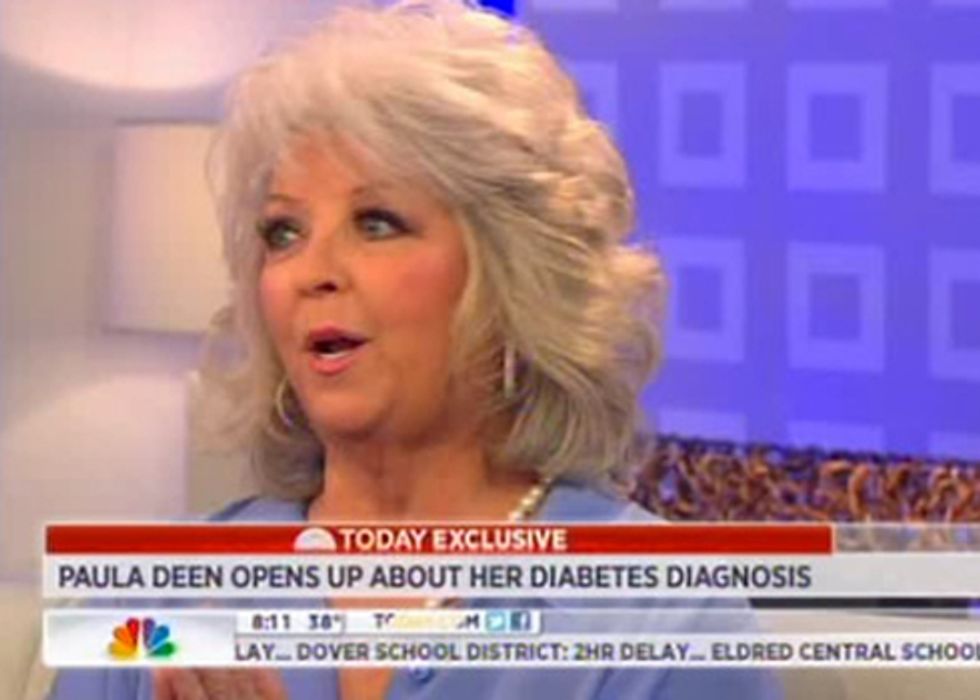 By Kristin Wartman
Paula Deen's public admission that she has Type 2 diabetes and her follow-up announcement that she is also a paid spokesperson for the pharmaceutical company Novo Nordisk, and its diabetes drug, Victoza, has sparked an interesting debate about the deeper issues surrounding our food system—especially the impact it has on the many people diagnosed with diabetes. And according to Deen's comments on the Today show, she implies to her millions of fans, that the primary ways to deal with this largely diet-related disease are through personal responsibility and pharmaceuticals.
Indeed, when Al Roker, asks her if she is going to change the way she eats and the foods she cooks, Deen says, "Honey, I'm your cook, I'm not your doctor. You are going to have to be responsible for yourself." Evading the question, Deen puts the onus back on the individual to decide what foods to eat or not, despite the fact that she promotes unhealthful and processed foods on TV. The one comment she does make about food choice is "moderation," one of the most meaningless and confusing bits of nutrition advice. In fact, this is what the industry giants often use as their defense for harmful, unhealthful foods.
Personal responsibility and consumer choice are solutions heralded by conservatives and liberals alike—the idea being that ultimately good health comes down to what we choose to buy and eat. But it's not that simple.
There are three main issues when it comes to the myth of personal responsibility about food choice and they get at the root of our nation's health crisis—The public's confusion about nutrition, the lack of time and knowledge about real home cooking, and the promotion of quick fixes like drugs, diet foods, and fads in lieu of addressing underlying causes. The Paula Deen diabetes story manages to hit on every single one of these issues.
Americans suffer from nutrition confusion, thanks to an array of conflicting and often inaccurate public health messages, misleading labels and claims on packaging, and a lack of nutrition knowledge by many doctors, dietitians, and other health care providers.
Deen's cooking, and now her public diabetes announcement, only adds to this confusion. During the Today show interview she repeatedly mentions the amount of fat in her recipes, as do many in the media reporting on the story. "For 10 years, wielding slabs of cream cheese and mounds of mayonnaise," a New York Times article begins, "Paula Deen has become television's self-crowned queen of Southern cuisine."
But real, unprocessed cream cheese and mayonnaise are not the problem. The issue that mainstream media has largely overlooked is that Deen uses the processed, packaged versions of these foods, which are full of chemicals, additives and trans-fats. Actual home cooking would require whipping these foods up herself in her kitchen using real ingredients. And that is the real story behind Deen's diabetes diagnosis—Her health problems are largely due to her reliance on packaged, processed foods that are the foundation for many of her recipes.
Even though her cooking show is called Paula's Home Cooking, there's a lot going on in her kitchen that is as far removed from home cooking as you can get. Many of her recipes include "ingredients" like Krispy Kreme doughnuts, biscuit mixes, cans of mushroom soup, and sour-cream-and-onion flavored potato chips. This is processed food cooking, not home cooking.
Heaping the blame on all the "fat" she cooks with only serves to confuse the public further. A New York Daily News article also cites fat as one of the main culprits in Deen's cooking and her diet. But the most recent research indicates that when it comes to diabetes, fat is not the problem. The problem foods are sugar, refined white flour, chemical additives, artificial sweeteners and flavors, trans-fats, and the various other chemicals and additives found in the processed foods that abound in Deen's recipes.
Now Deen is pushing the idea that taking medicine is the real solution to diabetes. On the Today show, she says, "Here's what I want to get across to people, I want them to first start by going to their doctor and asking to be tested for diabetes. Get on a program that works for you. I'm amazed at the people out there that are aware they're diabetic but they're not taking their medicine."
According to Deen, the reason she waited three years to go public with her diagnosis was because she didn't have anything to give her fans. "I could have walked out and said, 'Hey ya'll, I have been diagnosed with Type 2 diabetes.' I had nothing to give to my fellow friends out there. I wanted to bring something to the table when I came forward." So what is she bringing to the table? A sales pitch for a diabetes drug that costs $500 per month and has some seriously troubling side effects, including thyroid cancer, as Tom Philpott reports.
Just think of the kind of influence she could have wielded had she come out with a new cooking show that focused on using fresh, real food ingredients that cut way back on sugar and refined carbohydrates. In fact, if she had done so and eaten this way for the past three years she might have reversed her own diabetes diagnosis, which is entirely possible given the right diet.
But instead, Deen is getting paid to leave that task to a drug company. This isn't her first corporate sponsorship (here she peddles Smithfield ham) and I doubt it will be her last. Diabetic and diet foods can't be far behind in products she'll attach to her name.
Alas, we can't fairly discuss personal responsibility without taking into account the under-regulated advertising industry that pushes cheap, convenient, and processed foods on an overworked and cash-strapped population. Add to this the diminishing knowledge on how to shop for, cook, and prepare foods from scratch and we have a serious problem.
As Paula Deen now joins the 25.8 million other Americans suffering with diabetes, she "brings to the table" the ideas of moderation (an essentially meaningless and confusing bit of nutrition advice), personal responsibility, and the drug Victoza as the solutions. She could do so much more with all the power she wields.
Anthony Bourdain put it squarely when he said of Deen, "If I were on at seven at night and loved by millions of people at every age, I would think twice before telling an already obese nation that it's OK to eat food that is killing us." And this was before her diabetes announcement. Bourdain has also said that Deen is the "worst, most dangerous person to America." He might have a point.
For more information, click here.
—————
Kristin Wartman is a food writer living in Brooklyn. She has a Masters in Literature from UC Santa Cruz and is a Certified Nutrition Educator. She is interested in the intersections of food, health, politics, and culture. You can follow her on Twitter and read more of her writing at kristinwartman.wordpress.com.
Like many other plant-based foods and products, CBD oil is one dietary supplement where "organic" labels are very important to consumers. However, there are little to no regulations within the hemp industry when it comes to deeming a product as organic, which makes it increasingly difficult for shoppers to find the best CBD oil products available on the market.
<p>Here you can learn about the importance of organic hemp oil, why it's better for the environment, and which CBD companies actually make trustworthy products with sustainable farming processes. origins which weigh heavily on many consumers who want to buy a product that's produced in the best way possible for not only themselves to ingest, but for the environment as well through sustainable farming methods. </p><h2>What Is CBD Oil?</h2><p>First things first, CBD stands for cannabidiol, and it's a cannabinoid found within cannabis sativa plants. This plant compound is believed to have many potential benefits, and it is primarily derived from hemp plants via a CO2 extraction process. </p><p>Since CBD is extracted from industrial hemp, which contains only trace amounts of THC (the psychoactive component in cannabis plants), this means that CBD won't make you feel high like marijuana, which has much higher levels of THC that causes psychoactive effects. Instead, the effects of CBD are much more subtle and promote a general sense of calm and relaxation in most users.</p><h2>What Makes a CBD Oil Organic?</h2><p>In terms of organic labels, perhaps the most important (and prominent) certification comes from the United States Department of Agriculture (USDA). This government organization has been labeling foods as "organic" for many years, but what exactly does this certification entail? Essentially, a label indicating that a product is "USDA Organic" or "Certified Organic" means that at least 95% of the ingredients are obtained from organic sources.</p><p>For a crop to be considered organic by the USDA, it must be grown without the use of industrial solvents, irradiation, genetic engineering (GMOs), synthetic pesticides, or chemical fertilizer. Instead, farmers rely on natural substances and <a href="https://www.usda.gov/media/blog/2012/03/22/organic-101-what-usda-organic-label-means" rel="noopener noreferrer" target="_blank">mechanical, physical, or biologically based farming</a> techniques to cultivate healthy and organic crops.</p><p>Before the passage of the 2018 Farm Bill, no hemp-derived products could be dubbed as "certified organic" since the hemp plant and its extracts were still categorized as a Schedule I Controlled Substance. However, it's still difficult for CBD companies to obtain a USDA certified organic label for their products due to the legal grey area that still surrounds CBD extracts. </p><p>Because of these challenges, and due to the fact that industrial hemp has only recently become an agricultural crop, very few CBD oils are USDA certified organic. Rather, many CBD products contain hemp extracts from plants that were grown in organic conditions but may not be federally certified.</p><h2>What are the Best Organic CBD Oil Brands?</h2><p><em>Each product featured here has been independently selected by the writer. If you make a purchase using the links included, we may earn commission.</em></p><em><br></em>