iStock
By Rachel Hubbard
Tuesday, the city of Paris has said it will explore the possibilities of suing the fossil fuel industry. In response to the city's recent climate damage including massive recent floods, Paris is considering taking this action following in the footsteps of New York and other U.S. cities.
Paris made the commitment to divest three years ago in the run-up to COP21 where the Paris agreement was signed. The city council also aims to use its influence, as well as the mandate of president Anne Hidalgo within the C40 Cities Climate Leadership Group to convince other big cities to divest.
This month, Paris suffered once again major floods, which, according to Anne Hidalgo, poses "clearly a question of adaptation of the city to climate change." Following the floods that swamped Paris in May 2016, studies have shown that climate change has increased the chances of floods by almost twice as much.
But Tuesday's announcement shows that cities in the path of climate impacts are ready to take action.
Clémence Dubois, of 350.org France said:
"It's fantastic news that cities like New York and Paris are mobilizing to protect their citizens and hold multinational fossil fuel companies accountable for the damage they cause. This is a major breakthrough for the divestment movement and the thousands of people around the world who have pushed cities to take a stand against polluters who are destroying our climate and the planet.
Fossil fuel companies like Total, Shell, BP and Exxon are causing floods and heat waves that are intensifying in Paris, and severe floods, droughts, forest fires, rising sea levels strike in France and around the world. This wish is a crucial step towards a future free of fossils. "
On Jan. 10, the mayor of New York, Bill de Blasio, announced that the city would disinvest its pension funds of $191 billion in fuel fossil investments and sued BP, Shell, ExxonMobil, Chevron and ConocoPhillips.
With Tuesday's statement, the city of Paris affirms its solidarity with the City of New York's bold move. Major cities such as Sydney and Cape Town, as well as many European capitals such as Berlin, Oslo, Copenhagen and Stockholm have already committed to divest fossil fuels.
Could this be a start of a wave of cities divesting and institutions suing fossil fuel companies for damages?
In France, 33 other local authorities, such as Bordeaux Lille La Rochelle, Dijon have adopted divestment motions.
Clémence Dubois said:
"We will mobilize locally to ask other cities to follow: communities have more power than is believed in resistance to the fossil industry, including through their links with the 'Caisse des Depots et Consignation' who manages the pensions of their employees, officials and contractors. We will ask that this crucial public financial institution listens to this momentum that is happening throughout the country, and divests from fossil fuels."
Find out more about the Caisse des Depot campaign (in French).
With this announcement, the global pressure on the fossil fuel industry ramps up some more. To date, more than 800 institutions, including universities, religious and medical groups, have joined the divestment movement. To build on these victories, the Fossil Free movement is preparing to launch a new wave of local actions around the world to keep fossil fuels in the ground and accelerate the shift to community-run renewable energy.
Be a part of it—find out how you can take action wherever you are.
From Your Site Articles
Related Articles Around the Web
EcoWatch Daily Newsletter
For those who missed out on the action, or just want to relive it, Pathway to Paris released Wednesday an album of its two-night event last December in Paris, which coincided with the UN's climate change conference, COP21.
Pathway to Paris, an initiative in partnership with 350.org, brings musicians, artists, activists, academics, politicians and innovators together to participate in live concerts to raise consciousness, foster dialogue and inspire climate action and the need to transition to renewable energy. Co-founders Jesse Paris Smith and Rebecca Foon organized the Dec. 4 and 5 events at Le Trianon concert hall in Paris.
The evening included performances by renowned artists and speeches by prominent environmentalists. The Path to Paris Live @ Le Trianon album includes:

Wing by Patti Smith
Bloom by Thom Yorke
Elemental Prayer by Tenzin Choegyal
White Nile by Flea and Warren Ellis
Service by Fally Ipupa
Nature by Patti Smith, Jesse Paris Smith and Rebecca Foon
Heartstrings by Tenzin Choegyal
Peaceable Kingdom by Patti Smith
Two Suits by Flea and Warren Ellis
Sweet Life by Fally Ipupa
People have the Power by Patti Smith
Speakers on the album include:
All proceeds from the the album will benefit 350.org and the United Nations Development Programme. Pathway to Paris @ Le Trainon can be purchased online for $9.99.
For a taste of the album's content, watch the following two videos that recap both nights of performances:
Dec. 4, 2015:
Dec. 5, 2015:
waterlust.com / @tulasendlesssummer_sierra .
Each product featured here has been independently selected by the writer. If you make a purchase using the links included, we may earn commission.
The bright patterns and recognizable designs of Waterlust's activewear aren't just for show. In fact, they're meant to promote the conversation around sustainability and give back to the ocean science and conservation community.
Each design is paired with a research lab, nonprofit, or education organization that has high intellectual merit and the potential to move the needle in its respective field. For each product sold, Waterlust donates 10% of profits to these conservation partners.
Eye-Catching Designs Made from Recycled Plastic Bottles
waterlust.com / @abamabam
The company sells a range of eco-friendly items like leggings, rash guards, and board shorts that are made using recycled post-consumer plastic bottles. There are currently 16 causes represented by distinct marine-life patterns, from whale shark research and invasive lionfish removal to sockeye salmon monitoring and abalone restoration.

One such organization is Get Inspired, a nonprofit that specializes in ocean restoration and environmental education. Get Inspired founder, marine biologist Nancy Caruso, says supporting on-the-ground efforts is one thing that sets Waterlust apart, like their apparel line that supports Get Inspired abalone restoration programs.
"All of us [conservation partners] are doing something," Caruso said. "We're not putting up exhibits and talking about it — although that is important — we're in the field."
Waterlust not only helps its conservation partners financially so they can continue their important work. It also helps them get the word out about what they're doing, whether that's through social media spotlights, photo and video projects, or the informative note card that comes with each piece of apparel.
"They're doing their part for sure, pushing the information out across all of their channels, and I think that's what makes them so interesting," Caruso said.
And then there are the clothes, which speak for themselves.
Advocate Apparel to Start Conversations About Conservation
waterlust.com / @oceanraysphotography
Waterlust's concept of "advocate apparel" encourages people to see getting dressed every day as an opportunity to not only express their individuality and style, but also to advance the conversation around marine science. By infusing science into clothing, people can visually represent species and ecosystems in need of advocacy — something that, more often than not, leads to a teaching moment.

"When people wear Waterlust gear, it's just a matter of time before somebody asks them about the bright, funky designs," said Waterlust's CEO, Patrick Rynne. "That moment is incredibly special, because it creates an intimate opportunity for the wearer to share what they've learned with another."
The idea for the company came to Rynne when he was a Ph.D. student in marine science.
"I was surrounded by incredible people that were discovering fascinating things but noticed that often their work wasn't reaching the general public in creative and engaging ways," he said. "That seemed like a missed opportunity with big implications."
Waterlust initially focused on conventional media, like film and photography, to promote ocean science, but the team quickly realized engagement on social media didn't translate to action or even knowledge sharing offscreen.
Rynne also saw the "in one ear, out the other" issue in the classroom — if students didn't repeatedly engage with the topics they learned, they'd quickly forget them.
"We decided that if we truly wanted to achieve our goal of bringing science into people's lives and have it stick, it would need to be through a process that is frequently repeated, fun, and functional," Rynne said. "That's when we thought about clothing."
Support Marine Research and Sustainability in Style
To date, Waterlust has sold tens of thousands of pieces of apparel in over 100 countries, and the interactions its products have sparked have had clear implications for furthering science communication.
For Caruso alone, it's led to opportunities to share her abalone restoration methods with communities far and wide.
"It moves my small little world of what I'm doing here in Orange County, California, across the entire globe," she said. "That's one of the beautiful things about our partnership."
Check out all of the different eco-conscious apparel options available from Waterlust to help promote ocean conservation.
Melissa Smith is an avid writer, scuba diver, backpacker, and all-around outdoor enthusiast. She graduated from the University of Florida with degrees in journalism and sustainable studies. Before joining EcoWatch, Melissa worked as the managing editor of Scuba Diving magazine and the communications manager of The Ocean Agency, a non-profit that's featured in the Emmy award-winning documentary Chasing Coral.
A day before officially declaring Donald Trump as the Republican Party's presidential nominee, the party released its 2016 platform that promises sweeping changes to climate and environmental policies.
The platform calls for pulling the U.S. out of the Paris agreement, ending all renewable energy incentives and demoting the U.S. Environmental Protection Agency—set up by Republican President Richard Nixon in 1970—to a commission.
"If this extremist platform were ever actually implemented, it would imperil clean air and clean water for all Americans," Sierra Club Political Director Khalid Pitts said. "Donald Trump has vowed to eliminate the Environmental Protection Agency, and now the Republican Party has codified a radical and dangerous path to enable Trump and his anti-environmental ideology.
"This double-dealing platform both praises NASA while simultaneously rejecting the scientific consensus on the climate crisis, which NASA has affirmed time and time again. The Republican platform has gone beyond partisan politics and extended into cartoonish absurdity. Any voter who cares about our climate has to help make sure that Donald Trump never becomes president, and that this platform never gets near a piece of legislation."
Calling climate change "not proven science," the Republican platform promises to cancel the Clean Power Plan, oppose "any carbon tax" and prioritize fossil fuels. Free-market group Partnership for Responsible Growth has launched efforts to get the Republican Party to accept climate science and climate action efforts, including an ad running on Fox News where President H.W. Bush, among other GOP leaders, said "We cannot allow a question such as climate change to be characterized as a debate."

For a deeper dive:

News: Guardian, ClimateWire, Grist, Deutsche Welle, Greenwire, E&E News
Commentary: New York Magazine, Jonathan Chait column; Washington Post, Steven Mufson column; The Hill, John D. Graham op-ed

For more climate change and clean energy news, you can follow Climate Nexus on Twitter andFacebook, and sign up for daily Hot News.

By Simon Evans
What does the UK's shock vote to leave the European Union mean for energy and climate change?
Speaking simultaneously on Wednesday morning at separate events in London, Amber Rudd, secretary of state for energy and climate change and Andrea Leadsom, energy minister, both sought to offer reassurances that UK energy and climate commitments would continue.
What does the UK's shock vote to leave the European Union mean for energy and climate change? Abdullah Bin Sahl / Flickr
Rudd said, in unscripted comments added to her planned speech:
"We made a clear commitment to acting on climate change in our manifesto last year. That will continue."
She confirmed commitments to the UK Climate Change Act, a phaseout of unabated coal, thecapacity market to secure electricity supplies and support for offshore wind and new nuclear. Leadsom also said the referendum would not affect climate and energy policy.
However, Rudd conceded that the referendum result had made the path to climate action harder, raising a host of questions. Adding to the air of uncertainty, there is now the prospect of a new Conservative prime minister being in place by September, as well as the possibility of a snap general election.
Carbon Brief has assembled a lengthy and probably incomplete, list of post-referendum questions for climate and energy policy.
Questions Remain
In the days following the referendum, a range of questions and possible answers have already been offered on the climate and energy implications of the vote.
Policy Exchange looks at impacts across environment policy. Business Green has 12 unanswered questions for the green economy, Climate Home has six questions for UK and EU climate ambition and another three questions on whether Brexit means a climate policy "bonfire." Meanwhile, the Energy and Climate Intelligence Unit has five energy and climate predictions.
Elsewhere, consultancy Aurora Energy Research, the Economist Intelligence Unit and Nick Butler for the Financial Times look at what it means for energy and climate, with a focus on markets.
The expected approval this week of the UK's fifth carbon budget for 2028-2032 would provide a key reference point for future policy. Still, uncertainty is sure to continue for months, if not years.
Here are some of the many unanswered questions.
The Paris Agreement on Climate Change:
Will the UK ratify it while still an EU member state, allowing the EU to ratify it, too?
If the UK and EU delay ratification, (when) will the agreement enter force?
Will the UK be able to retain a strong voice in international climate talks, outside of Europe?
Or will the spending be pared back as part of a move to end the UK commitment to spend 0.7 percent of national income on international aid?
UK Policy:
Is the cross-party commitment to UK climate ambition assured, as Rudd claimed this week?
Will the next prime minister believe in continued climate action?
What are the views of other contenders, such as home secretary Theresa May or work and pensions secretary Stephen Crabb?
How long will Rudd remain secretary of state for energy and climate change and Leadsom as energy minister, with both tipped for promotion if their side won the referendum?
Who will replace them if they are moved on?
Will the Department of Energy and Climate Change continue to exist under a new government?
UK Climate Change Act:
The indications are that the government will put legislation on the fifth carbon budget before parliament on June 30, but Carbon Brief understands that parliamentary process means it may not pass into law before the end-of-June legal deadline. Will that legislation be in line with the advice of the Committee on Climate Change (CCC) to cut emissions by 57 percent by 2032, against 1990 levels?
Will carbon accounting rules be amended, as per CCC advice, so that all UK emissions are counted towards carbon budget compliance?
Will the government still publish a UK carbon plan by the end of 2016, on how the whole economy can decarbonize in line with the fourth and fifth carbon budgets for 2023-2032?
If this plan is delayed or abandoned, how long can stasis continue without jeopardizing UK carbon targets?
Would a delay or abandonment be subject to legal challenge, given the Act requires a planto be presented "as soon as is reasonably practicable" after the carbon budget is set?
Does the act itself retain the overwhelming support of parliament, given all but six MPs approved it in 2008?
Does it count for anything that Andrea Leadsom—Leave supporter, energy minister and potential Conservative leadership candidate—has said both before and after the referendum (see above) that the UK's climate commitment would be secure after Brexit?
Energy Bills:
What price premium on loans will be demanded by investors in UK energy infrastructure to cover the costs of political uncertainty? Rudd was unable to offer a direct answer to this "depressing" question from Carbon Brief.
How much will this add to the costs of building new electricity generating capacity?
Will any impacts vary by technology type, potentially favoring lower- or higher-carbon sources of power?
How quickly will exchange-rate driven increases filter through to pump prices and energy bills, via the fuel used to heat homes and generate electricity?
Is it realistic to expect any new government to mitigate this impact through a promised end to the 5 percent rate of VAT on energy, given the £2bn a year it brings the exchequer?
How will steel and other energy-intensive industries cope with the expectation of higher energy prices?
For instance, will the hoped-for Tata Steel rescue still go ahead?
Will the government's Levy Control Framework, designed to limit the impact of low-carbon support on energy bills, remain in place?
Could a new government seek to scrap the UK carbon price floor as a means to reduce energy bills for homes, businesses and industry, even though it brings in more than £1.5bn a year for the Treasury?
How would this be squared with consequential increases in the level of required support for low-carbon sources of power?
Will rising UK wholesale electricity prices attract investment in new generating capacity or will the rising cost of imported fuel outweigh any benefit?
Could a post-Brexit cut in tariffs on Chinese solar module imports offset the impact of a falling pound?
Will windfarms get more expensive in the UK, as sterling's fall pushes up the price of imported steel or turbine parts?
UK Energy Markets:
Will Brexit lead to weaker economic growth and reduced energy use, as expected?
Will this ease pressure on electricity supplies and reduce UK emissions?
How will the new administration approach fuel duty, which has been repeatedly frozen by current Chancellor George Osborne?
Is there still a business case for new interconnectors if the UK leaves the EU internal energy market and how will that case be affected by currency swings and changes in carbon pricing in the UK, France or other countries?
How will energy firms operating in the UK and elsewhere fare if the value of sterling remains depressed, affecting relative earnings denominated in pounds, euros and dollars?
Will the City of London still remain a leading lender to oil and coal projects around the world, as well as a center for carbon trading?
Rudd has this week reiterated plans to phase out unabated coal, but when will the consultation on how to achieve this be published and what policy levers will it propose?
Could the fall in the pound revive the UK coal-mining industry, which is currently embroiled in contentious efforts to expand despite the UK's coal phaseout plans?
Will the new government heed climate-sceptic calls to back out of the EU Industrial Emissions Directive, blamed for the closure of aging coal-fired power stations?
Will the government invoke provisions of the 2013 Energy Act, allowing it to set a 2030 decarbonization target for the power sector, once it has set the fifth carbon budget?
How will support for shale gas exploration be affected by changes in government personnel?
How will the nascent fracking industry fare with a weaker economy and pound?
When will the government publish the CCC's report on fracking and UK carbon budgets?
Will North Sea industry benefit from currency movements as costs become relatively cheaper or will restrictions on freedom of labor movement pose greater challenges?
Low-Carbon Energy:
Will the UK now abandon efforts to meet its EU 2020 renewable energy targets, which it has in any case been widely expected to miss?
Could the UK still be fined by the European Court of Justice if Brexit is slow and the UK is still a member of the EU when the target bites in 2020?
Is there cross-government backing for new renewable heat and transport subsidies?
When will the government set out the details and budget of the next auction for low-carbon electricity subsidies, supposedly due to take place later this year?
Will this year's Autumn Statement set out post-2020 arrangements for low-carbon support under the Levy Control Framework, as suggested this week by Leadsom?
Will there be support for low-carbon technologies other than offshore wind, which has received the clearest government backing but is more costly than solar and onshore wind?
Rudd has given post-referendum assurances to French firm EDF over the Hinkley C new nuclear plant, but can the scheme hope to retain the high-level political support it has enjoyed from David Cameron, George Osborne and the French government?
Does Brexit render Austria's legal challenge to the Hinkley C scheme irrelevant?
Would a UK exit from the EU free the UK's hand to subsidize further new nuclear reactors without the need to seek state aid approval from the European Commission?
Will the new government be as keen on small modular nuclear reactors as the current one?
After Siemens' decision to freeze its UK wind power plans and with UK access to the EU's single market in doubt, can the UK attract new renewable manufacturing investments?
What will a weaker pound mean for the cost of burning imported biomass at power stations including Drax, formerly the UK's largest coal plant?
Does the prospect of Brexit mean the UK can award further biomass subsidies to Drax, before the ongoing EU state aid investigation into the planned support has concluded?
When will the government publish follow-up research it commissioned on the climate impacts of burning wood, mostly imported from north America, to generate electricity?
Could a new administration reverse the current government's skepticism over financial support for carbon capture and storage or tidal energy?
EU Policy:
How will Brexit affect the balance of power between EU member states on the European Council, given the UK has been part of a progressive alliance on climate and energy?
Could Brexit strengthen Germany's hand, with its backing for more interventionist and target-led approaches such as binding energy efficiency and renewable energy targets?
Or will Brexit give eastern European countries more leverage as they attempt to limit EU climate ambition?
Will the UK relinquish its EU presidency, scheduled for the second half of 2017?
Will the EU continue to negotiate its effort-sharing decision on member state climate targets for 2030, despite the prospect of Brexit?
If the EU's 2030 target is recast with no UK participation, will it keep its headline goal of a 40 percent emissions reduction on 1990 levels or will it choose a new goal for 2030 emissions, either by simply removing the UK contribution or formally renegotiating country shares?
Will the UK remain part of the EU Emissions Trading System (EU ETS)? (Non-EU members including Norway are part of the scheme).
Are currently-proposed EU ETS reforms still considered sufficient to cope with market shocks, such as that experienced in the wake of the UK vote?
Does the fall in EU ETS prices of more than 20 percent in a week suggest further reform, perhaps an EU-wide floor price, is necessary to maintain decarbonization momentum?
Who will lead the reform process now that British MEP Iain Duncan has resigned from the role of European Parliament rapporteur?
Will the UK remain part of the EU Energy Union, with its plans for closer coupling between European energy markets?
Would current or future energy infrastructure investments, including electricityinterconnectors to the continent, automatically lose EU funding after Brexit? (The EU isinvesting more than €2bn in UK energy projects, more than any other member state).
Will the UK remain subject to EU product standards, including on the energy efficiency of vehicles and household goods?
Scotland and Northern Ireland:
If Brexit triggers a successful Scottish independence referendum, what would become of UK climate policy and how would UK climate targets be divided? (Scotland already has its own climate goals, but the rest of the UK does not).
Would consumers in the rest of the UK be willing to continue paying for a planned expansion of renewable energy in Scotland?
Could the rest of the UK meet its climate targets without Scottish renewables?
Would Scotland be willing to shoulder the cost of North Sea oil and gas decommissioning, which being funded via tax breaks on the industry?
Are moves to unite Northern Ireland with the Irish republic likely to gain any traction and what would that mean for UK, Irish and EU climate pledges?
Other Issues:
What are the prospects for a third runway at Heathrow, given the committed opposition of Boris Johnson, a leading candidate to become prime minister?
Does Brexit ease its path, given the UK's long-running breach of EU air pollution rules has been seen as a barrier to approval or will its demise enable the UK to meet suggested targets for aviation emissions more easily?
How will the UK respond to this week's ruling that it breached EU air pollution rules in relation to the coal plant at Aberthaw in south Wales?
Will the National Infrastructure Commission, seen as a personal project of current Chancellor George Osborne, still be able to carve out the significant policy role it had been poised to secure?
Will a new government reverse the decision to scrap rules for zero carbon homes?
How will it approach planning law, in particular the major pieces of UK environmental legislation that originate in EU law?
If these EU planning rules are scrapped, will it become easier to build new energy infrastructure including wind farms, fracking sites or marine renewables?
Will a new government continue to respect EU law during any transitional period, as called for by some lawyers?
Update 6/29/16—The question on the fifth carbon budget was amended. It previously said, in line with earlier press reports, that the fifth carbon budget would pass in to law on June 30, meeting the legal deadline. However, Carbon Brief now understands that the parliamentary process will not be completed on June 30.
YOU MIGHT ALSO LIKE
Free Trade, DNC Platform and the Climate Crisis
Glyphosate Given Last-Minute Approval Despite Failure to Secure Majority Support
Kochs Dump Trump to Fund Climate-Denying Senators in Ohio and Nevada
Republican presumptive presidential nominee and climate change denier Donald Trump said in an interview he would renegotiate U.S.' role in the Paris agreement.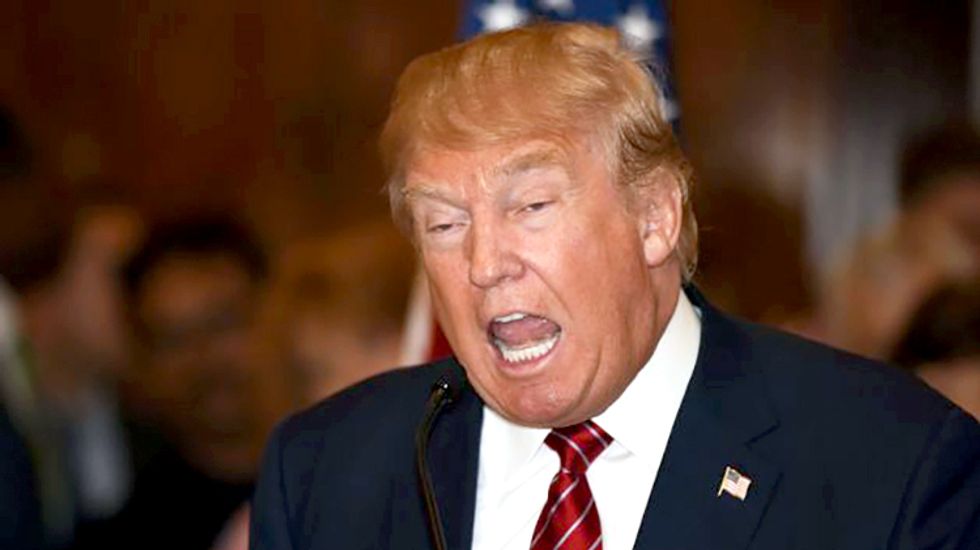 "I will be looking at that very, very seriously and at a minimum I will be renegotiating those agreements, at a minimum. And at a maximum I may do something else," Trump told Reuters. "But those agreements are one-sided agreements and they are bad for the United States." The Paris agreement has a clause that says a new government wanting to back out of the climate accord would have to wait four years to do so.
"This is simply more proof that Trump's international antics would isolate the United States around the world and only 'negotiate' away American leadership," Sierra Club political director Khalid Pitts said. "Meanwhile, we can only wonder how a climate science denier is supposed to renegotiate an international climate agreement."
For a deeper dive:
News: Reuters, MotherJones.
Commentary: New York Times, Tom Friedman column
For more climate change and clean energy news, you can follow Climate Nexus on Twitter and Facebook, and sign up for daily Hot News.
YOU MIGHT ALSO LIKE
Historic Victory: 4 Teenagers Win in Massachusetts Climate Change Lawsuit
Will the Arctic Be Ice-Free Within the Next Two Decades?
Noam Chomsky: Climate Change and Nuclear Proliferation Pose Worst Threat Ever Faced by Humans
Today, we have renewed hope as leaders from more than 170 countries formally signed the Paris agreement to cut greenhouse gas emissions and stop climate change.
For decades, Earth Day has served as a global rallying cry for a cleaner, healthier planet. It's a symbolic day but only one day in a 365-day movement. But this Earth Day is different. Today we have renewed hope as leaders from almost 170 countries formally signed the Paris agreement created at last December's COP 21 climate conference. The agreement commits countries to a series of pledges to cut greenhouse gas emissions and other steps with the goal of limiting global temperature rise to well below 2 degrees Celsius (with efforts to aim for 1.5 degrees). It isn't victory, but a hopeful sign that the international community is committed to get there.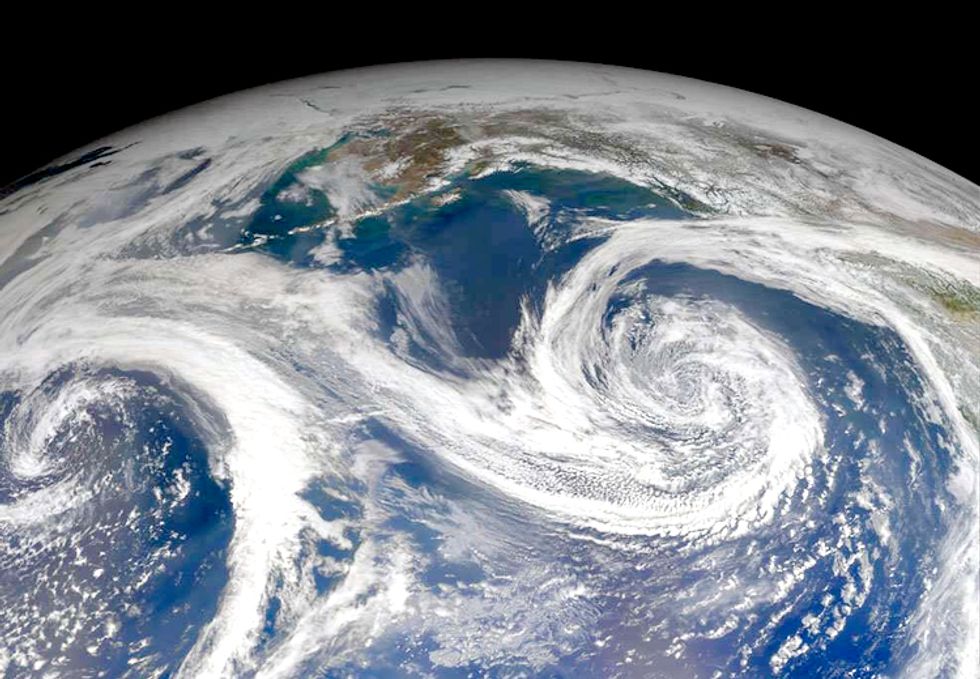 There have been global climate agreements before, but nothing with this extraordinary reach, ambition and international backing. It sends a clear message that finally, as a planet, we're serious about moving away from the dirty fossil fuels slowly destroying our planet and finally stopping climate change.
After many hard fought fights, wins, losses, optimistic moments mixed with disappointing setbacks, the climate action movement has had its fair share of ups and downs which only makes this moment more remarkable. I was awestruck by the unanimous view among all the world's leaders who were present that they have to take significant steps now to address climate change and by the fact that there was no climate denial expressed by anyone. It brought me back to the lead up to the Paris negotiations when millions of individuals, businesses and NGOs across the globe demanded their leaders do what's required to protect our planet. If you weren't at the UN ceremony, I can say that the world's leaders will be working together to protect your future.
[email protected]

: The World Is Now Watching https://t.co/Ff3xfM7jj4 @UN #EarthDay #ParisAgreement #climatechange https://t.co/homqwfDrUo

— EcoWatch (@EcoWatch)1461342277.0
With the Paris agreement coming into force and countries actively cutting emissions and turning to clean, renewable energy, we have both the framework we need to stop climate change and the tools to do it. Already, we can see how the agreement has transformed perspectives all around the world and spurred countries, companies, and citizens to get to work even before it's been formally signed. In just the four months since negotiators reached the agreement, Copenhagen announced plans to divest from fossil fuels, while the influential Rockefeller Family Fund began to do the same. Norway banned more than 50 firms from its sovereign wealth fund. New York State announced plans to go coal-free by 2020 while JP Morgan halted funding new coal mines. Investment in renewables reached levels double that of coal and gas.
The list goes on and on and reaches into nearly every sector. And it tells you that the world is changing in profound ways.
So let's savor this moment. Know that today, you're experiencing history in the making. Today on Earth Day, let yourself believe that finally solving climate change is possible—because, thanks to the Paris agreement, it is. Imagine a world powered by renewable energy and know that while we won't get there tomorrow, we will get there.
Tomorrow, however, it's time to act. There is real and hard work ahead of us to implement the Paris Agreement in every country that signs it and the fossil fuel industry and its powerful allies have no intention of going gently into that good night. Witness, for example, the current action against the Clean Power Plan here in the U.S. brought forward by two dozen state attorneys general. Plus, we need to make the commitments to cutting emissions now in the agreement even more ambitious if we're going to keep warming below 2 degrees.
Which countries won't be signing the #ParisAgreement on #EarthDay? https://t.co/i154kS1gDa via @EcoWatch

— TckTckTck (@TckTckTck)1461309603.0
But also know that increasingly, millions and millions of people on every continent are waking up not just to the threat climate change poses to the future of our precious planet, but also to the reality we can solve it. They're speaking up for change with a voice so loud and strong that politicians can simply no longer afford to ignore it.
And more than anything, more than any meeting of politicians, more than any agreement, that simple fact gives us hope.
Let world leaders know you support the Paris agreement—and your president, prime minister or representative know you're ready to get to work to implement it at home by signing our petition today.
YOU MIGHT ALSO LIKE
Leonardo DiCaprio: The World Is Now Watching
Scientists Share Why Keeping Warming Under 1.5 Degrees Celsius Is Crucial
Watch Racing Extinction: It Will Change the Way You View the World
Not Everyone Is Celebrating the Signing of the Paris Climate Agreement
Leonardo DiCaprio's address to the United Nations at the Paris climate agreement signing ceremony in New York City on April 22.
Thank you, Mr. Secretary General, for the honor to address this body once more. And thanks to the distinguished climate leaders assembled here today who are ready to take action.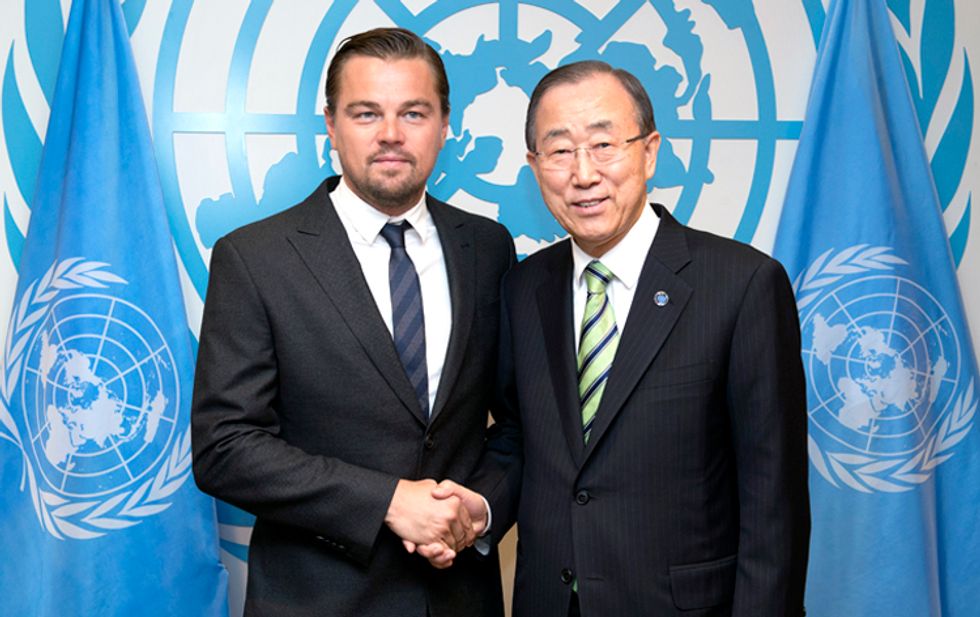 President Abraham Lincoln was also thinking of bold action 150 years ago when he said:
"The dogmas of the quiet past are inadequate to the stormy present. As our case is new so we must think anew and act anew. We must disenthrall ourselves and then we shall save our country."
He was speaking before the U.S. Congress to confront the defining issue of his time—slavery.
Everyone knew it had to end but no one had the political will to stop it. Remarkably, his words ring as true today when applied to the defining crisis of our time— climate change.
As a UN Messenger of Peace, I have been traveling all over the world for the last two years documenting how this crisis is changing the natural balance of our planet. I have seen cities like Beijing choked by industrial pollution. Ancient Boreal forests in Canada that have been clear cut and rainforests in Indonesia that have been incinerated. In India I met farmers whose crops have literally been washed away by historic flooding. In America I have witnessed unprecedented droughts in California and sea level rise flooding the streets of Miami. In Greenland and in the Arctic I was astonished to see that ancient glaciers are rapidly disappearing well ahead of scientific predictions. All that I have seen and learned on this journey has terrified me.
There is no doubt in the world's scientific community that this a direct result of human activity and that the effects of climate change will become astronomically worse in the future.
I do not need to throw statistics at you. You know them better than I do, and more importantly, you know what will happen if this scourge is left unchecked. You know that climate change is happening faster than even the most pessimistic of scientists warned us decades ago. It has become a runaway freight train bringing with it an impending disaster for all living things.
Now think about the shame that each of us will carry when our children and grandchildren look back and realize that we had the means of stopping this devastation, but simply lacked the political will to do so.
Yes, we have achieved the Paris agreement. More countries have come together to sign this agreement today than for any other cause in the history of humankind—and that is a reason for hope—but unfortunately the evidence shows us that it will not be enough.
Our planet cannot be saved unless we leave fossil fuels in the ground where they belong. An upheaval and massive change is required, now. One that leads to a new collective consciousness. A new collective evolution of the human race, inspired and enabled by a sense of urgency from all of you.
We all know that reversing the course of climate change will not be easy, but the tools are in our hands—if we apply them before it is too late.
Renewable energy, clean fuels and putting a price on carbon pollution are beginning to turn the tide. This transition is not only the right thing for our world, but it also makes clear economic sense, and is possible within our lifetime.
But it is now upon you to do what great leaders have always done: to lead, inspire and empower as President Lincoln did in his time.
We can congratulate each other today, but it will mean nothing if you return to your countries and fail to push beyond the promises of this historic agreement. Now is the time for bold unprecedented action.
My friends, look at the delegates around you. It is time to ask each other—which side of history will you be on?
As a citizen of our planet who has witnessed so much on this journey I thank you for all you have done to lay the foundation of a solution to this crisis, but after 21 years of debates and conferences it is time to declare no more talk. No more excuses. No more 10-year studies. No more allowing the fossil fuel companies to manipulate and dictate the science and policies that effect our future. This is the only body that can do what is needed. You, sitting in this very hall.
The world is now watching. You will either be lauded by future generations, or vilified by them.
Lincoln's words still resonate to all of us here today:
"We will be remembered in spite of ourselves. The fiery trial through which we pass will light us down, in honor or dishonor, to the last generation... We shall nobly save, or meanly lose, the last best hope of Earth."
That is our charge now—you are the last best hope of Earth. We ask you to protect it. Or we—and all living things we cherish—are history.
Thank you.
YOU MIGHT ALSO LIKE
Scientists Share Why Keeping Warming Under 1.5 Degrees Celsius Is Crucial
Celebrating John Muir's Incessant Study That Saved Yosemite National Park
Scientists Confirm: 93% of Great Barrier Reef Now Bleached
Bill Nye vs. Sarah Palin on Climate Change: Who Do You Believe?
With the possible prospect of the world warming dangerously and uncontrollably, half of one degree Celsius may sound like a negligible temperature change unlikely to make much difference to life on Earth.
But scientists say 0.5 C could make a crucial difference in some regions—particularly in developing countries in the tropics—that are already at great risk from climate change. The consequences could include higher sea level rise and extended heatwaves, threatening most tropical coral reefs.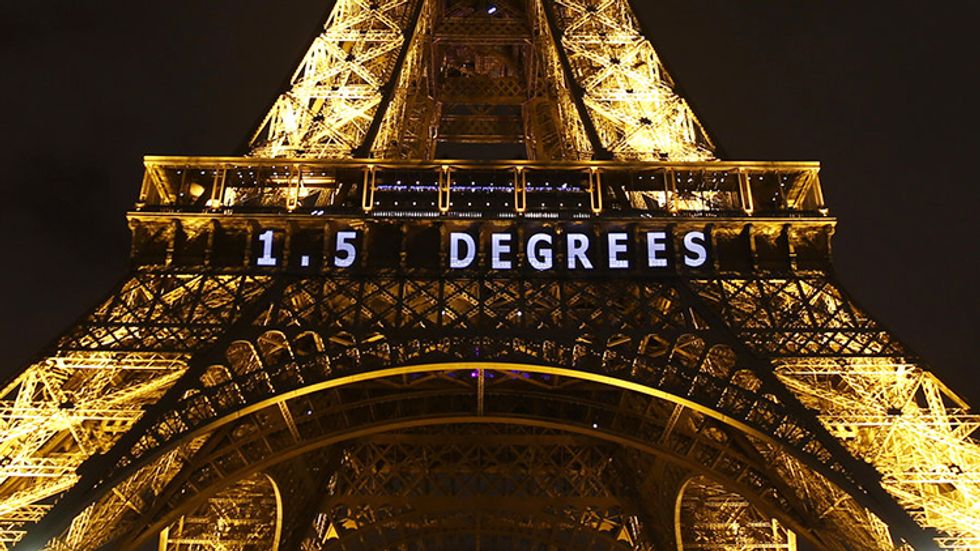 Bill Hare, CEO of Climate Analytics and a member of the research team that has produced the cautionary report, said: "Our study shows that tropical regions—mostly developing countries that are already highly vulnerable to climate change—face the biggest rise in impacts between 1.5 C and 2 C.
Vulnerable Countries
"Our results add to a growing body of evidence showing that climate risks occur at lower levels than previously thought. They provide scientific evidence to support the call by vulnerable countries, such as the Least Developed Countries and Small Island Developing States, that a 1.5 C warming limit would substantially reduce the impacts of climate change."
The Paris agreement on climate change being signed today in New York was concluded at last December's UN climate conference. It aims to keep global average temperatures "well below" the 2 C previously agreed—and to pursue efforts to limit the increase to 1.5 C.
But the report by European researchers—published in Earth System Dynamics, an open access journal of the European Geosciences Union (EGU)—says they have found that there would be substantially different impacts for the two targets by 2100. They say the extra 0.5 C would mean a global sea-level rise of 10 centimeters, longer heatwaves and would put virtually all tropical coral reefs at risk.
"We found significant differences for all the impacts we considered," said the study's lead author, Carl-Friedrich Schleussner, a physicist at Climate Analytics.
"We analyzed the climate models used in the Intergovernmental Panel on Climate Change's Fifth Assessment Report, focusing on the projected impacts at 1.5 C and 2 C warming at the regional level. We considered 11 different indicators, including extreme weather events, water availability, crop yields, coral reef degradation and sea-level rise."
The team, including researchers from Germany, Switzerland, Austria and the Netherlands, identified a number of hotspots around the globe where projected climate impacts at 2 C are significantly more severe than at 1.5 C.
One of these is the Mediterranean region, already experiencing climate change-induced drying. With a global temperature increase of 1.5 C, the availability of fresh water in the region would be about 10 percent lower than in the late 20th century. But in a 2 C world, the researchers project that this reduction would double to about 20 percent.
In tropical regions, the half-a-degree difference in global temperature could damage crop yields, particularly in Central America and West Africa. On average, local tropical maize and wheat yields would fall twice as much with a 2 C temperature increase as with 1.5 C.
By 2100, tropical regions would also experience warm spells lasting up to 50 percent longer in a 2 C world than at 1.5 C. "For heat-related extremes, the additional 0.5 C increase marks the difference between events at the upper limit of present-day natural variability and a new climate regime, particularly in tropical regions," Schleussner said.
The extra warming would also affect tropical coral reefs. Limiting warming to 1.5 C would provide a window of opportunity for some reefs to adapt to climate change, but a 2 C increase by 2100 would put virtually all of them at risk of severe degradation from coral bleaching.
Large-scale Bleaching
Australian researchers say 93 percent of the Great Barrier Reef, off the coast of Queensland, is affected to some degree by bleaching. They say large-scale bleaching has also been found off Australia's west coast.
In the EGU study, the researchers say they expect sea level to rise by about 50 cm by 2100 in a 2 C warmer world, 10 cm more than for 1.5 C warming. These levels are appreciably lower than some scientists expect.
"Sea level rise will slow down during the 21st century only under a 1.5 C scenario," Dr. Schleussner warns.
One of his co-authors, Jacob Schewe, a climate physicist at the Potsdam Institute for Climate Impact Research, Germany, says it is necessary to account for natural variability, model uncertainties and other factors that could obscure the picture.
"We did that in our study," he said. "And by focusing on key indicators at the regional level, we clearly show that there are significant differences in impacts between 1.5 C and 2 C."
YOU MIGHT ALSO LIKE
Scientists Confirm: 93% of Great Barrier Reef Now Bleached
Not Everyone Is Celebrating the Signing of the Paris Climate Agreement
Do the Koch Brothers Want to Mine the Grand Canyon for Uranium?
NOAA: Last Month Was by Far the Planet's Warmest March Since Record Keeping Began
By The Climate Mobilization
When establishment civil society groups and politicians gather Friday to cheer the signing of the Paris agreement as a "historic" achievement that will avert global catastrophe, a group of climate emergency protesters will stage a "mass death" and collapse scenario outside the United Nations to demonstrate the reality of the future the agreement locks in.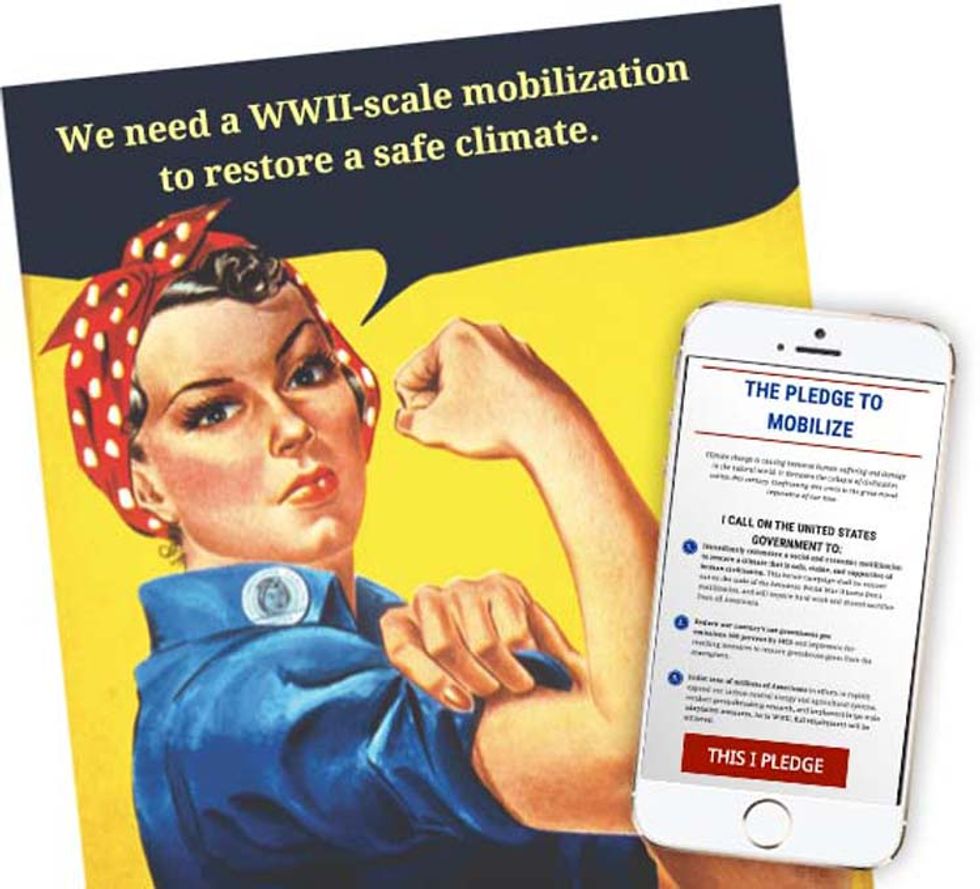 The protesters will act out the collapse of global civilization that will occur if humanity remains on the Paris agreement's non-binding emissions trajectory toward a world 3.5 C hotter than the pre-industrial period.
More specifically, they will enact the mass starvations the agreement ensures, erect grave stones for the nation-states that will collapse under the stress of extreme drought and water scarcity and play the government and civil society bureaucrats who pretend that the situation is under control and that business-as-usual reforms can protect humanity and the natural world.
Speakers will include Theravadan Buddhist monk Bhikkhu Bodhi and the Climate Mobilization's Founders Margaret Klein Salamon and Ezra Silk. All of the speakers will call for an emergency, World War II-scale mobilization that eliminates global net greenhouse gas emissions by 2030 and restores a safe and stable climate by drawing down all excess carbon dioxide and cooling the planet from the dangerously high temperatures reached in recent months and years.
The Paris agreement calls for net zero greenhouse gas emissions at some point "in the second half of this century" and does not directly cover aviation, shipping or agriculture, which collectively account for, at minimum, between a quarter and a third of global greenhouse gas emissions. In the first three months of 2016, global average temperature anomalies approached and surpassed the limits called for in the agreement, rendering its gradual emissions trajectory irrelevant and dangerous.
"The Paris agreement is historic in the sense that the Munich Agreement was historic—a catastrophic act of appeasement meant to maintain business-as-usual arrangements," said Climate Mobilization Deputy Director Ezra Silk. "Leading economists argue that climate change could cause at least as much destruction as World War II—and the non-binding Paris agreement paves the way for that future. It's time to stop waiting for another climate 'Pearl Harbor' and to mobilize all available resources to save human civilization."
The Climate Mobilization is sponsoring the event with the support of the People's Climate Movement New York. Since last fall, the Climate Mobilization has pressured all Democratic and Republican presidential contenders to endorse a WWII-scale mobilization to restore a safe climate. Last week, Bernie Sanders embraced the idea at the CNN debate held at the Brooklyn Navy Yard, which played a pivotal role in the World War II home front mobilization of the 1940s.
"Of course the [Paris] agreement is a step forward, but you know agreements and I know agreements, there's a lot of paper there," Sanders said. "If we approach this, Errol, as if we were literally at a war—you know, in 1941, under Franklin Delano Roosevelt, we moved within three years, within three years to rebuild our economy to defeat Nazism and Japanese imperialism. That is exactly the kind of approach we need right now."
Climate voters who #FeelTheBern—let's call on @BernieSanders to champion the WWII-scale mobilization America needs! https://t.co/PxxYVL2B90

— Climate Mobilization (@Climate Mobilization)1458062578.0
YOU MIGHT ALSO LIKE
Cuomo's Next Step Against Fracking: Reject the Constitution Pipeline
12 Arrested in Earth Day-Themed Protest Against Gas Storage in Seneca Lake's Salt Caverns
On Earth Day 150 World Leaders to Sign Paris Climate Agreement
Which Countries Won't Be Signing the Paris Climate Deal on Earth Day?
An unprecedented number of countries will be gathering in New York City tomorrow to sign the Paris climate deal.
After significant progress was made this past December in agreeing the landmark deal, more than 167 countries—including past climate villains Iran, Canada and Australia and polluting giants China, the U.S. and the EU—are set to sign the Paris agreement on its opening day.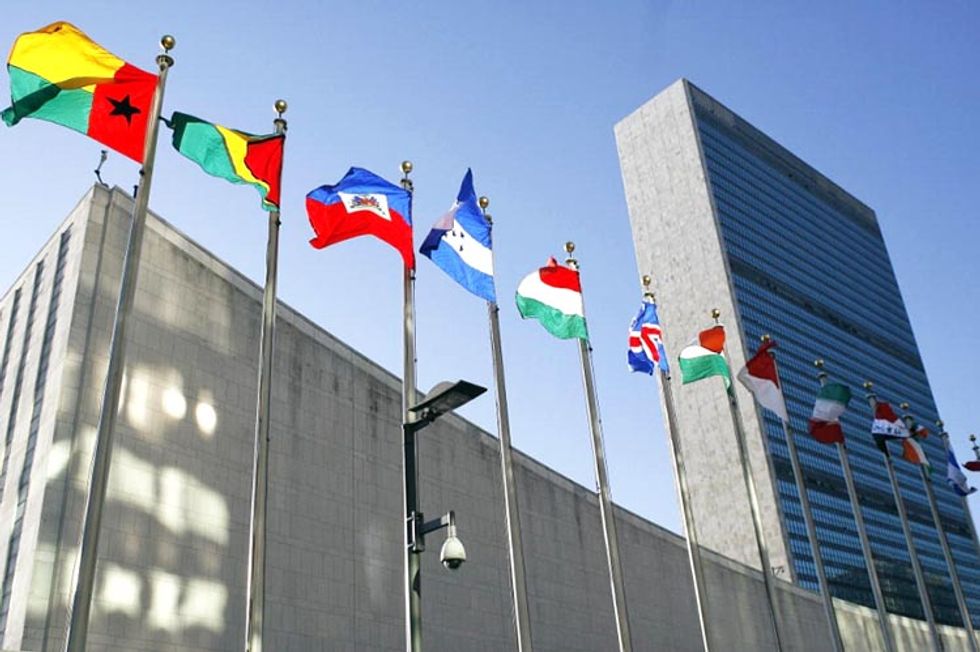 But despite this, there are still some countries that remain absent from the UN's official list of attendees—and this includes some pretty big emitters and fossil fuel producers.
So while much focus has been on who will be signing the Paris agreement on April 22, here we take a look at those that might not be.
Russia and the Commonwealth of Independent States (CIS)
There have been a lot of questions about whether or not Russia would attend.
Up until April 20, it was the largest emitter and producer absent from the UN's list is Russia, dwarfing other non-signatories, representing more than five percent of annual global emissions.
But according to a new list updated by the UN, Russia has now indicated that it will be attending the New York ceremony tomorrow.
The country's president Vladimir Putin has previously described climate change as a conspiracy to diminish the country's power, but changed his tone (though not necessarily increasing Russia's ambition) at the opening ceremony of COP21 in Paris.
Russian newspaper Kommersant hinted at progress there reporting that some ministries have begun submitting draft implementation measures for the Paris agreement.
As Vladimir Chuprov, Head of the Energy Unit at Greenpeace Russia told DeSmog UK, a Russian Federation governmental order stated that the country would sign the agreement.
World Wildlife Fund's Alexey Kokorin echoed Chuprov's comments, saying Deputy Prime Minister Alexander Khloponin will sign on behalf of Russia in spite of hard lobbying of coal and steel companies.
There are however still some Commonwealth of Independent States which have also not indicated whether they will attend, including Ukraine and Uzbekistan.
Saudi Arabia, OPEC and the Middle East
Saudi Arabia, with almost 1.2 percent of global emissions leads the list of the five OPEC nations and two other Middle Eastern states currently not confirmed to attend the event.
The country's minister for Petroleum and Mineral Resources Ali Al-Naimi indicated in 2015 that Saudi Arabia would have to stop using fossil fuels at some point.
Despite this the country faced accusations of trying to wreck the climate deal at the Paris COP21 climate conference. The Guardian reported that Wael Hmaidan, director of Climate Action Network, said they were "undermining the position of other Arab countries."
Meanwhile, Africa's largest economy, Nigeria, is a major oil exporter and the second largest OPEC member who may not put pen to paper tomorrow. The country significantly out-emits the other African non-signatories, with 0.66 percent of global annual emissions.
Ecuador, one of the smallest OPEC members is the only South American country that hasn't indicated it will sign.
Others include Iraq with more than 0.5 percent of global emissions, Qatar and non-OPEC countries Syria and Yemen, with emissions between 0.2 percent and 0.05 percent of the global total.
The Other No-Shows
According to the latest UN update there are still some sub-Saharan African countries that may not be at the New York ceremony. This includes Botswana and Zambia.
Last month, the think tank Third World Network called on developing nation to boycott the signing.
Speaking to ClimateHome on the call to boycott, an advisor to African nations said their slowing of the ratification process could lead to countries that stand to lose the most from climate change being excluded from talks on the deal's implementation.
Others nations still missing from the list include Trinidad and Tobago and Nicaragua.
Michael Jacobs, visiting professor at the Grantham Research Institute on Climate Change told DeSmog UK that Russia, Saudi Arabia and other OPEC states will not like the rhetoric on decarbonization and the necessity of strong climate action which will surround the event. But it makes no difference.
Whether or not any of these countries show up on Friday, some 83 percent of states and 88 percent of emissions will still be represented at the ceremony.
And as Carbon Brief points out, the agreement is open for signatures at the UN headquarters for a year and that it's even possible to accede to the agreement after this.
The next, more important step, is for those countries to get approval at home.
Once 55 percent of signatories covering 55 percent emissions do so, the agreement will come into effect after 30 days.
So far eight countries, Barbados, Belize, Fiji, The Maldives, Nauru, St Lucia, Samoa and Tuvalu have indicated they will deposit their instrument of ratification after the signing ceremony.
YOU MIGHT ALSO LIKE
NOAA: Last Month Was by Far the Planet's Warmest March Since Record Keeping Began
On Earth Day 150 World Leaders to Sign Paris Climate Agreement
Bill Nye vs. Sarah Palin on Climate Change: Who Do You Believe?
Dalai Lama, Archbishop Tutu Among 250 Faith Leaders Urging Immediate Action on Climate Change
By Kathleen Rogers
On April 22, 1970, 20 million Americans hit the streets to protest the environmental effects of more than 100 years of uncontrolled fossil-fueled industrial development. It was the first Earth Day.
What was intended to be a college campus teach-in soon spread to every community and city across the United States. It was and remains the single largest secular event in history. The sheer size of the protest—along with increasing visual evidence of dire health threats associated with air and toxic pollution—soon forced Congress to pass some of the world's toughest environmental laws, most of which include community right-to-know provisions and allow citizens to sue their government if it fails to enforce the law.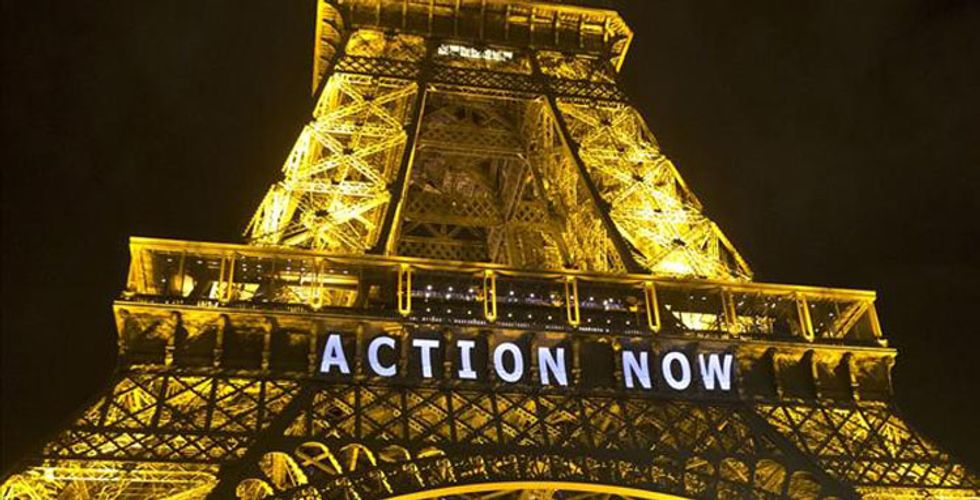 Citizens' rights have been enshrined in every major environmental law from that point on. These laws spawned others around the world—many more stringent than those in the U.S.—and most recognize the role of citizens in the enforcement of environmental laws.
Nearly 50 years later, Earth Day remains a day of reckoning, and now more than 1 billion people take action each year in almost every country on Earth. Some protest, many clean up their communities and plant trees, and millions more have their first exposure to environmentalism through educational programs at schools and universities. Governments large and small make commitments and meet with their constituents, while corporations make pledges to be more sustainable and responsible for the pollution they create.
It is fitting then that United Nations Secretary-General Ban Ki-moon chose Earth Day, April 22, for world leaders to sign the historic Paris climate agreement at UN headquarters in New York. At least 150 world leaders are expected to sign, making it the largest single signing of an international agreement in world history (another Earth Day first). And it's happening not a moment too soon. On every front, global warming is becoming more immediate, more threatening and more irreversible, while scientific consensus and data on the health effects of climate change—particularly on the poor—mount.
Critics warn that the agreement's specific emissions targets are too low, that the pace of implementation is too slow, and it fails failed to specify penalties for non-compliance. That's where we the people come in.
Included in the climate agreement are provisions that recognize the critical role civil society must play to make it work. It calls on citizens to scale up their efforts and support actions to reduce emissions. It signals the need for all of us to be actively engaged in transforming our world from one dominated by fossil fuels to one driven by renewable energy. While these words don't amount to a call for revolution, it's clear both the UN and world leaders recognize that citizen participation in solving global warming has been missing. The success—or failure—of the agreement is on our shoulders.
This isn't a fight in which any of us can remain on the sidelines and hope for the best. Unless we take these matters into our own hands, the agreement alone won't save the world's ecosystems from collapsing, or our biodiversity, which supports all living things on Earth, from disappearing.
Doing our part doesn't mean merely buying green products or inquiring how things are going. It means action. It means a direct challenge to the status quo. It means holding our elected officials accountable and voting out of office national, state and local leaders who won't take action on climate change. It means not passing the buck and hoping others do the hard work.
For many, getting involved means knowing how your retirement accounts and pensions are invested and demanding divestment from fossil fuel stocks. It means demanding that your children be educated for green jobs of the future. It means showing up at town hall or city council meetings and asking about your community's survivability in a climate crisis. It means saying "No" to every new coal or fracking project, and retooling those communities for safer green powered jobs.
And there are no doubt countless other ways to act. Undoubtable, the climate agreement makes it clear that governments don't have the power to solve climate change alone. We all must do something more than we currently are. Earth Day 2016 is not about crossing the finish line. When the agreement is signed, the hard work begins anew.
Kathleen Rogers is president of Earth Day Network.
YOU MIGHT ALSO LIKE
Bill Nye vs. Sarah Palin on Climate Change: Who Do You Believe?
Scientists Start to Look at Ground Beneath Their Feet for Solution to Climate Change
March 2016 Was Hottest on Record by Greatest Margin Yet Seen for Any Month
Al Gore and Neil deGrasse Tyson Talk the Future of Our Planet