This website uses cookies to ensure you get the best experience while browsing it. By clicking 'Got It' you're accepting these terms.


The best of EcoWatch, right in your inbox. Sign up for our email newsletter!
Pexels
By Katie Day and Trent Hodges
When we think of plastic pollution, we think of images of plastic bags on the beach, suffering marine life and the almost invisible smog of microplastics in our ocean. What often gets overlooked is the fact that conventional plastic is made from fossil fuels, and is a product of the oil and gas industry.
U.S. and Canada together discard 22 million pounds of plastic into the waters of the Great Lakes each year, according to a new Rochester Institute of Technology (RIT) study. Most of it washes up along the shores, accounting for 80 percent of the litter found there.
Researchers said that Chicago, Toronto, Cleveland and Detroit are the worst contributors to the plastic pollution. Half of the plastic dumped into the Great Lakes—11 million pounds—goes into Lake Michigan. Lake Erie comes in at number two, receiving 5.5 million pounds. Lake Ontario gets 3 million pounds of plastic waste a year, with Lake Huron and Lake Superior receiving smaller amounts.
"This study is the first picture of the true scale of plastic pollution in the Great Lakes," said Matthew Hoffman, assistant professor in RIT's School of Mathematical Sciences and lead author of the study.
Plastic pollution in Lake Michigan is approximately the equivalent of 100 Olympic-sized pools full of plastic bottles dumped into the lake every year.
"Every piece of plastic entering our watersheds is an example of a serious design flaw: we are manufacturing products that have no recovery plan or value after they leave consumer's hands," said Anna Cummins, co-founder and global strategy director of 5 Gyres Institute. "Just as we demand that people dispose of their trash properly, we must also demand that companies take responsibility for the end life of their products."
Plastic debris in the Great Lakes moves differently than in the ocean. Instead of the free-floating garbage patches that are driven by ocean currents, like the Great Pacific Garbage Patch, plastic in the Great Lakes is carried by winds and currents toward shore.
"Most of the particles from Chicago and Milwaukee end up accumulating on the eastern shores of Lake Michigan, while the particles from Detroit and Cleveland end up along the southern coast of the eastern basin of Lake Erie," Hoffman explained. "Particles released from Toronto appear to accumulate on the southern coast of Lake Ontario, including around Rochester and Sodus Bay."
But, like the oceans, much of what remains as floating trash in the Great Lakes consists of microplastics, which are consumed by fish and enter the food chain.
"Similar to what we find worldwide, much of the plastic is microplastic, which are fragments smaller than a grain of rice and practically impossible to clean up, making prevention the only real option," said Marcus Eriksen, research director at 5 Gyres Institute.

Estimates of surface microplastics entering the lakes each year show 9,722 pounds in Lake Erie, 3,174 pounds in Lake Huron and less than 50 pounds in Lake Superior.
"Like our successful microbead campaign, the fact of so much trash entering the Great Lakes is an opportunity to identify the most common brands and work with those companies to improve recovery or choose something less harmful than plastic for their products and packaging," said Eriksen.

The RIT study, which will be published in an upcoming issue of Marine Pollution Bulletin, used computer simulations and mathematical modeling to provide a more complete and accurate picture of plastic pollution in the Great Lakes.
Researchers said that the study could help inform future cleanup and prevention efforts.
EcoWatch Daily Newsletter
Two North Atlantic right whales were found dead off the Maine coast on Tuesday, while a third was rescued from entrapment by fishing gear off Cape Cod.
Ropes and bouys entangle a young, endangered right whale bear the U.S./Canada border in the Gulf of Maine.Campobello Whale Rescue
A study by the New England Aquarium in Boston, released earlier this month, revealed that the critically-endangered whales are threatened by a dramatic increase in lethal entanglements with fishing gear. Only 500 remain in the ocean.
The North Atlantic right whale is one of three right whale species in the world's oceans, the other two being the Pacific right whale and Southern right whale. They are distinct species and do not interbreed. Like blue whales and humpbacks, right whales are baleen whales that get their food by filtering large quantities of water through plates of baleen, which act like a strainer. They can consume more than 2,600 pounds of tiny zooplankton and krill per day.
Right whales have led a hard life for the last 1,000 years. That's when the earliest hunting of whales began, and they owe their name to the notion that they were the "right whale" to hunt. They tend to stay close to the coast and they are slow swimmers. When killed, they float on the surface. As early as the 1700s, the population of right whales became so decimated that they were no longer commercially significant.
The North Atlantic right whale flirted with extinction by the early 20th century, and whaling for this species became illegal in 1935. But almost 60 years later, there were just 295 whales and the population was well below a sustainable level. In the U.S., they were first listed as an endangered species in 1970, but recovery has been slow and uneven. The most recent data from NOAA Fisheries estimates the population at 465 individuals.
As far back as 1990, ship strikes and entanglement with fishing nets were responsible for one-third of right whale deaths. Now, fishing gear is the dominant cause of death for North Atlantic right whales. The New England Aquarium study, published in Frontiers in Marine Science, reveals that from 2010 to 2015, 85 percent of right whale fatalities were due to entanglements. Ship strikes have declined as a percentage of death since shipping lanes in the Bay of Fundy were moved in 2003 and the U.S. lowered ship speed limits in right whale habitats in 2008.
However, efforts to reduce kills from fishing gear have not been successful. Many whales become entangled multiple times, often able to free themselves only to get caught up once more. Young whales become trapped more often than adults. The study's authors echoed a 2016 paper from NOAA Fisheries "that efforts made since 1997 to reduce right whale entanglement have not worked."
North Atlantic right whale.WDC/REGINA ASMUTIS-SILVIA / Whale and Dolphin Conservation
Off Provincetown, Massachusetts, last Thursday, rescuers removed 200 feet of fishing gear and buoys, freeing that one lucky right whale. Attached to one of the buoys was a U.S. fishing license. An investigation is under way.
One of the unlucky dead whales found floating near Boothbay Harbor was an 11-year old female, who was only at the very beginning of her reproductive years. She was well known to scientists, having been tracked and spotted 26 times since 2006. In her short life, her travels had taken her to the Florida waters, Cape Cod Bay, the mid-Atlantic and the Gulf of Maine. She died a long, painful death, with rope wrapped around her head, both flippers and in her mouth.
Seasonal migration of North Atlantic right whales.Credit: Woods Hole Oceanographic Institution Graphics
It is now about the time that most North Atlantic right whales head south for the winter. Following a spring and summer off Northern New England and the Canadian Maritime Provinces, they'll head for the warmer waters near Georgia and Florida. There, females may give birth, but do so only once every three to five years.
On Sept. 15, President Obama created the first marine national monument in the Atlantic Ocean. The Northeast Canyons and Seamounts National Monument lies to the southeast of Cape Cod, covering some right whale habitat, but at only 4,913 square miles, it protects only a small triangle of a vast ocean.
The authors of the New England Aquarium study put it plainly: "In conclusion, right whales are not yet a conservation success story."
For the next 30 days, I'm going to be wearing every single piece of trash that I create. At first that might sound crazy, but anybody who knows me, knows that I am indeed crazy ... crazy in a good way. My biggest goal in life is to inspire people to think about how our little daily actions affect the world around us both near and far.
When a research team set sail on a nine-month, worldwide expedition in 2010 to study the impact of global warming on Earth's oceans, one of their projects was to locate the accumulations of plastic.
They found plenty. They explored the five huge gyres, which collectively contain tens of thousands of tons of plastic. The result was the creation of a compelling, first-of-its-kind map of this debris.

But in the process, they realized that the plastic in the gyres didn't begin to account for the enormous amount of plastic that's been manufactured since the mass production of plastic began in the mid 1940s.
In a National Geographic report, marine biologist Andres Cozar Cabañas, who was part of the Malaspina expedition led by the Spanish National Research Council, said:
"Our observations show that large loads of plastic fragments, with sizes from microns to some millimeters, are unaccounted for in the surface loads. But we don't know what this plastic is doing. The plastic is somewhere—in the ocean life, in the depths or broken down into fine particles undetectable by nets."
While there's been considerable alarm raised about these gyres of floating plastic, the missing plastic could be having negative impacts we don't yet know about. As National Geographic reports, the study of marine plastic debris is new, dating back only to 2004, when British marine biologist Richard Thompson concluded that most ocean debris is, in fact, plastic.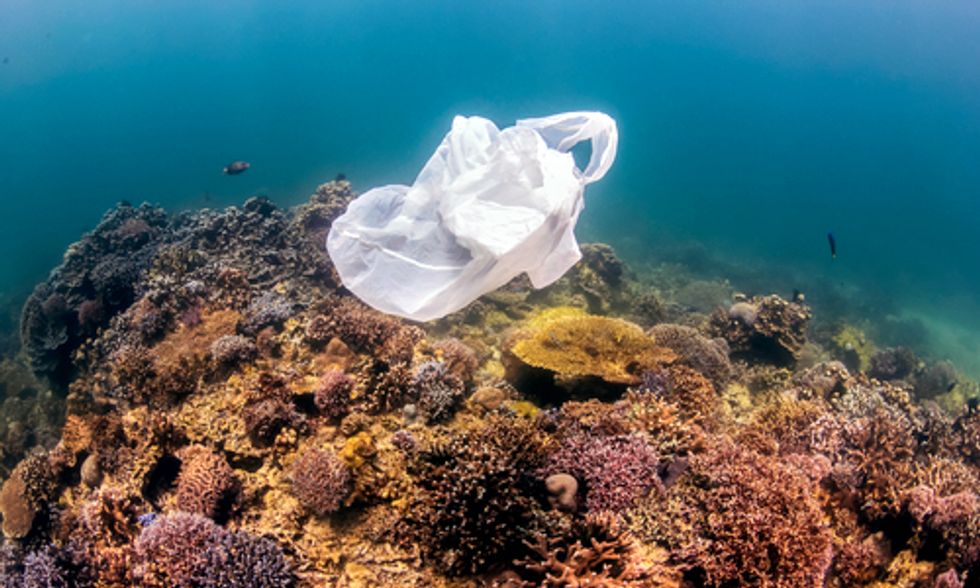 Photo credit: Shutterstock
The discovery of the missing plastic raises a host of questions. Oceanographer Kara Lavender Law of the Cape Cod-based Sea Education Association, part of a team currently researching issues surrounding marine debris, told National Geographic:
"We are at the very early stages of understanding the accounting. If we think ten or a hundred times more plastic is entering the ocean than we can account for, then where is it? We still haven't answered that question. And if we don't know where it is or how it is impacting organisms, we can't tell the person on the street how big the problem is."
Among the possibilities: it's being consumed by small fish that are eaten by larger fish caught for human consumption, such as tuna and swordfish, and ending up in the human food system. Or it could be finding its way into the ecosystem of the world's least explored region, the deep ocean.
"Sadly, the accumulation of plastic in the deep ocean would be modifying this enigmatic ecosystem before we can really know it," said Cozar.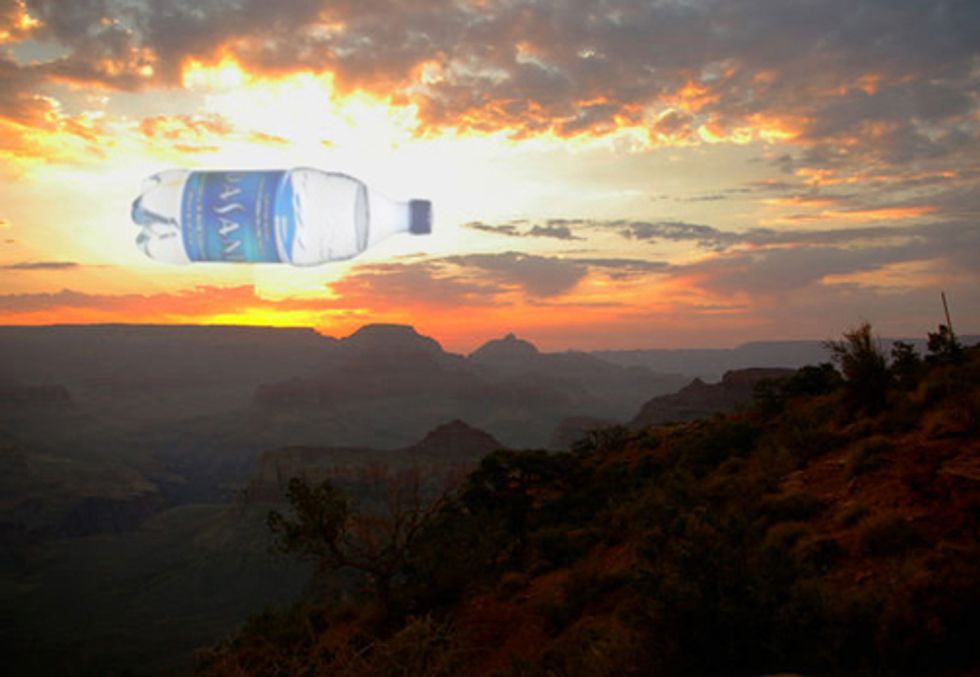 A new National Park Service (NPS) policy issued Dec. 14 may lead the way for plastic bottle bans in all national parks. This announcement comes after nearly 100,000 people across the country joined a popular campaign on Change.org calling on the NPS to ban plastic water bottles following the park's decision to abruptly cancel implementation of a ban amid charges of corporate influence from Coca Cola.
Stiv Wilson, who started the campaign on Change.org, signed by almost 100,000 people, said:
"While it is commendable that the National Park Service has decided not to completely cow to Coca-Cola on a plastic bottle ban, the new policy is still troubling.
"Unfortunately, the new directive, which allows park superintendents to implement bottle bans in their jurisdiction, may not result in changes best for our national parks. If the barriers to implementation of bottle bans are too cost-prohibitive or onerous for the superintendents to act, then we've only witnessed a bait and switch.
"The public outcry around the Park Service's seemingly backroom corporate deals has been overwhelming, and the public expects the NPS to go the whole way and save our national parks from plastic pollution."
Stiv Wilson launched the campaign on Change.org after learning of allegations that the NPS nixed its long-planned ban on plastic water bottles in the Grand Canyon due to a last-minute lobbying effort by Coca-Cola, a major national park donor actively opposed to bottled water bans. Wilson worked as a journalist before dedicating his life to reducing plastic pollution and joining the staff of 5 Gyres, a nonprofit focused on plastic pollution.
"Mobilizing 100,000 people to take action is no small feat," said Corinne Ball, organizing director at Change.org. "Stiv has demonstrated, through using Change.org's unique platform, that anyone, anywhere can act on issues that are important to them and create meaningful change."
Live signature totals from Stiv Wilson's campaign can be found by clicking here.
Related Links:
For Public Employees for Environmental Responsibility exposes the controversy, with documents from a whistleblower, click here.
For New York Times coverage that prompted Mr. Wilson to launch his campaign, click here.
For Stiv Wilson's blog post about the National Park Service directive on 5gyres.org, click here.
For more information, click here.
—————
5 Gyres is a research organization that seeks to communicate the global impact of plastic pollution in the world's oceans and employ strategies to eliminate the accumulation of plastic pollution in the 5 subtropical gyres. Almost 100,000 people have joined Stiv Wilson's campaign on Change.org
Change.org is the world's fastest-growing platform for social change—growing by more than 500,000 new members a month, and empowering millions of people to start, join, and win campaigns for social change in their community, city and country.