Last month, something incredible happened.
In Istanbul, 500 climate activists from 134 countries came together for "Phase 1" of Global Power Shift, a planetary-scale project to spark a new wave of climate action around the world. The young climate leaders gathered in Istanbul, Turkey, for a week of intensive training, strategizing and preparations for "Phase 2" in which national teams will work on scaling up the climate movement through regional convergences, strategic campaigns and grassroots mobilizations.
These events will be launchpads for new, highly-coordinated efforts targeting political and corporate power to achieve bold climate action. Working together, we will truly shift the power and spark the kind of visionary transformation we need to fight the climate crisis. Watch the inspiring footage from Global Power Shift below:
Visit EcoWatch's CLIMATE CHANGE page for more related news on this topic.
——–
SHARE YOUR THOUGHTS BELOW: Are you ready for the Global Power Shift?

——–

EcoWatch Daily Newsletter
By Aaron Packard
Bill McKibben is a kind of big deal here in Australia. Big enough that yesterday, we woke up to find him cartooned in the Canberra Times.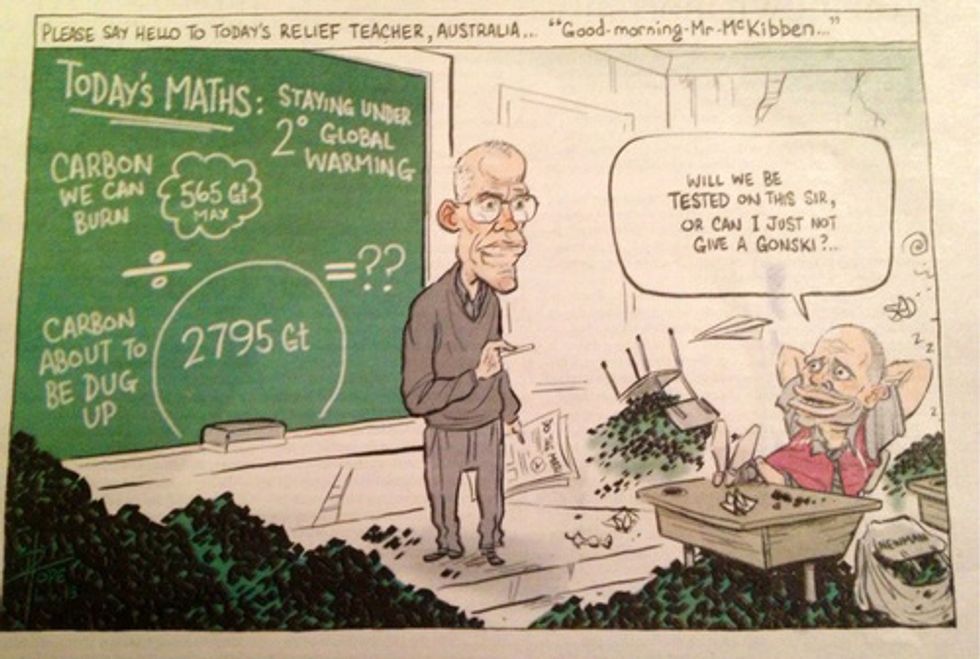 Here are two pieces of context you might like with the cartoon: 
1. The student sitting at the desk is the Premier of Queensland State, Campbell Newman, who is pushing coal extraction like crazy.
2. The Gonski reference is to the Gonski report, which the Australian government commissioned to review the education system in Australia.
The Do the Math tour of Australia is now well underway and with Sydney under our belts, we're part way through our stop in the nation's capital, Canberra. It really is hard to keep up with things, but here's a bit of what has gone on.
Within hours of touching down in Sydney, McKibben underwent an Australian baptism by fire, being a panelist on the live TV show Q & A. Despite being dropped straight in the middle of a foreign culture and a few unsavory characters, McKibben easily stood his ground and impressed the audience, both in studio and watching from home, with his depth of knowledge and clear message about climate challenge. In essence, he mopped the floor with them.
The next day, McKibben found himself on another panel, but this time talking to more than 100 financiers from Sydney and Melbourne. After presenting the "math," a lively debate ensued about the possibilities for and limits to divestment and what the carbon bubble means for investors. Changing tack completely, the next stop was to meet with the head of the Uniting Church of New South Wales and Australian Capital Territory, to say a big thank you for being "the first church in the world" to divest their portfolio of fossil fuel holdings. After a quick prayer it was time to move on to the main event of the day, the presentation at the Seymour Center, University of Sydney—which, as you can see in the photograph below, was packed.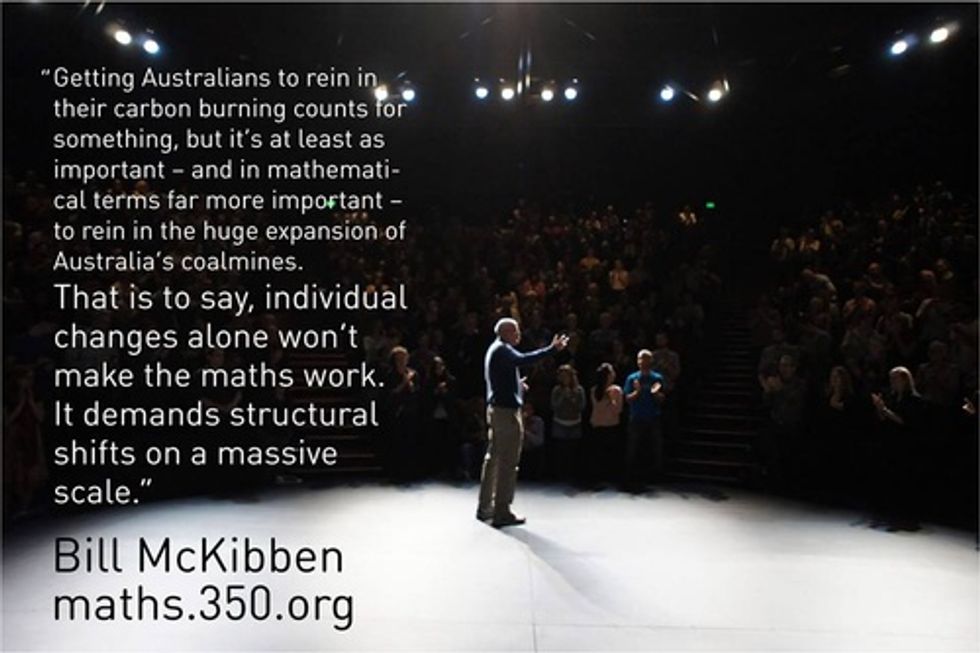 Here is a take on the evening from audience member Georgia Bamber:
If ticket sales, packed seats and a rapt audience are anything to go by, Bill McKibben's first show in Australia was a roaring success. The Seymour Center was abuzz with anticipation at 6 p.m., amazing in light of the fact that we were all there to essentially hear a math lesson.
Despite claims of jetlag, Bill was fantastic. Relaxed and personal, he immediately won the audience over with his charm, intelligence and above all, his passion.
His message to the audience was clear and simple: If the Australian mining industry is allowed to proceed with the massive expansion of coal mining and export that they have planned, the planet will be pushed to warming beyond the point of no return. End of story, no wiggle room. The laws of physics say it is so.
However, gloom and doom about the plight we are in was quickly dispelled as Bill invited young members from Lock the Campus and the Australian Youth Climate Coalition onto the stage to demonstrate his math—using beer. After giggles from the audience and a few sips of beer by Bill and the Lord Mayor of Sydney, everyone was ready to hear the plan of action. Divestment, direct action and perhaps even a little jail time for a few. 
The way Bill connected with the audience was incredible. He not only educated the audience but he fired them up and made them feel empowered. I know I walked away from the evening ready to fight the good fight, and I am pretty sure most everybody else did too.
Thank you Bill, for saying what needs to be said.
Visit EcoWatch's CLIMATE CHANGE and RENEWABLES page for more related news on this topic.
——–
Click here to tell Congress to Expedite Renewable Energy

waterlust.com / @tulasendlesssummer_sierra .
Each product featured here has been independently selected by the writer. If you make a purchase using the links included, we may earn commission.
The bright patterns and recognizable designs of Waterlust's activewear aren't just for show. In fact, they're meant to promote the conversation around sustainability and give back to the ocean science and conservation community.
Each design is paired with a research lab, nonprofit, or education organization that has high intellectual merit and the potential to move the needle in its respective field. For each product sold, Waterlust donates 10% of profits to these conservation partners.
Eye-Catching Designs Made from Recycled Plastic Bottles
waterlust.com / @abamabam
The company sells a range of eco-friendly items like leggings, rash guards, and board shorts that are made using recycled post-consumer plastic bottles. There are currently 16 causes represented by distinct marine-life patterns, from whale shark research and invasive lionfish removal to sockeye salmon monitoring and abalone restoration.

One such organization is Get Inspired, a nonprofit that specializes in ocean restoration and environmental education. Get Inspired founder, marine biologist Nancy Caruso, says supporting on-the-ground efforts is one thing that sets Waterlust apart, like their apparel line that supports Get Inspired abalone restoration programs.
"All of us [conservation partners] are doing something," Caruso said. "We're not putting up exhibits and talking about it — although that is important — we're in the field."
Waterlust not only helps its conservation partners financially so they can continue their important work. It also helps them get the word out about what they're doing, whether that's through social media spotlights, photo and video projects, or the informative note card that comes with each piece of apparel.
"They're doing their part for sure, pushing the information out across all of their channels, and I think that's what makes them so interesting," Caruso said.
And then there are the clothes, which speak for themselves.
Advocate Apparel to Start Conversations About Conservation
waterlust.com / @oceanraysphotography
Waterlust's concept of "advocate apparel" encourages people to see getting dressed every day as an opportunity to not only express their individuality and style, but also to advance the conversation around marine science. By infusing science into clothing, people can visually represent species and ecosystems in need of advocacy — something that, more often than not, leads to a teaching moment.

"When people wear Waterlust gear, it's just a matter of time before somebody asks them about the bright, funky designs," said Waterlust's CEO, Patrick Rynne. "That moment is incredibly special, because it creates an intimate opportunity for the wearer to share what they've learned with another."
The idea for the company came to Rynne when he was a Ph.D. student in marine science.
"I was surrounded by incredible people that were discovering fascinating things but noticed that often their work wasn't reaching the general public in creative and engaging ways," he said. "That seemed like a missed opportunity with big implications."
Waterlust initially focused on conventional media, like film and photography, to promote ocean science, but the team quickly realized engagement on social media didn't translate to action or even knowledge sharing offscreen.
Rynne also saw the "in one ear, out the other" issue in the classroom — if students didn't repeatedly engage with the topics they learned, they'd quickly forget them.
"We decided that if we truly wanted to achieve our goal of bringing science into people's lives and have it stick, it would need to be through a process that is frequently repeated, fun, and functional," Rynne said. "That's when we thought about clothing."
Support Marine Research and Sustainability in Style
To date, Waterlust has sold tens of thousands of pieces of apparel in over 100 countries, and the interactions its products have sparked have had clear implications for furthering science communication.
For Caruso alone, it's led to opportunities to share her abalone restoration methods with communities far and wide.
"It moves my small little world of what I'm doing here in Orange County, California, across the entire globe," she said. "That's one of the beautiful things about our partnership."
Check out all of the different eco-conscious apparel options available from Waterlust to help promote ocean conservation.
Melissa Smith is an avid writer, scuba diver, backpacker, and all-around outdoor enthusiast. She graduated from the University of Florida with degrees in journalism and sustainable studies. Before joining EcoWatch, Melissa worked as the managing editor of Scuba Diving magazine and the communications manager of The Ocean Agency, a non-profit that's featured in the Emmy award-winning documentary Chasing Coral.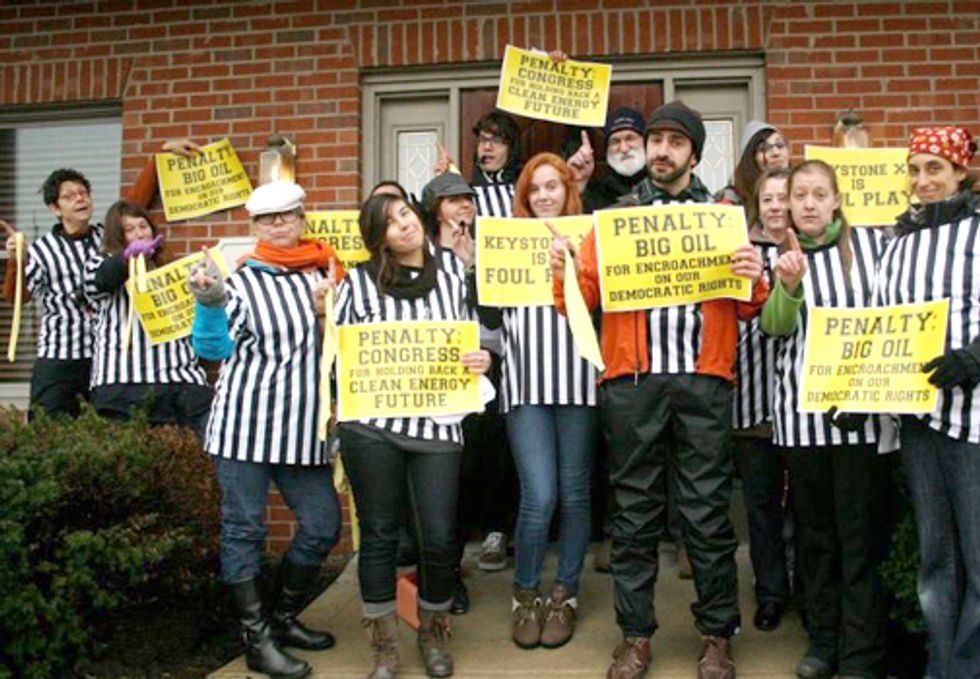 By Danny Berchenko
It's become clear that Speaker of the House, John Boehner, is more interested in filling his pockets with dirty energy's money than in representing his constituents and ensuring ecological and economic security for Americans (and the rest of the planet). So yesterday morning, a group of twenty citizen referees braved the cold and rain to pay his district office in West Chester, Ohio a visit and call foul on his dirty dealings. The office, which is supposed to be open Monday-Friday during normal business hours, was mysteriously closed with no explanation on the door or their answering machine as to why. I guess the Speaker doesn't like being called out for blatant corruption.
Rep. Boehner (R-OH) has taken over 1.1 million dollars from the fossil fuel industry and in turn fights tooth and nail for their interests and against the interests of the American people and the planet. The Speaker invested hundreds of thousands of dollars in Big Oil companies involved with dirty Tar Sands extraction. He then held the payroll tax extension hostage to expedition of the Keystone XL pipeline decision, and is threatening to hold it hostage again to the pipeline's approval. Holding solutions to the climate crisis and relief for the struggling middle class hostage in order to advance his own financial interests is an egregious abuse of the Speaker's power.
So climate and Occupy activists teamed up in West Chester yesterday to blow the whistle on the Speaker's corruption. It's a natural fit for our movements to work together. Occupy is out to end corporate domination of our public policy-making process and obstruction of our democratic rights—to create a level playing-field where we the people have a say in our economic, political and cultural destiny. The climate movement has long had to deal with obstruction of solutions to one of the greatest threats humanity (and all other living species on the planet) has ever faced, by the wealthiest and most powerful industry on Earth. Our struggles are one: end the collusion and corruption that has essentially replaced American democracy with American oligarchy. Establish true democracy in which the voices of the 99% calling for economic justice are heard over the checks flying into representatives pockets from Goldman Sachs and the voices of 99% of the world's scientists calling for an emergency response to the climate crisis are heard over the bribes from fossil fuel industry lobbyists.
Dressed up in referee uniforms and literally blowing whistles and throwing penalty flags, we headed to Speaker Boehner's district office in West Chester, but when we got there the door was locked. We looked inside and could see that no one was home. It was 11am on a Thursday and their morning paper was still on the ground in front of the door. The office is supposed to be open Monday through Friday, except on federal holidays—that's why our tax dollars are paying for this office. This is supposed to be a representative democracy in which we the people are afforded our right to lobby our representatives without having to travel all the way to Washington D.C.—that's the purpose of Rep. Boehner's district office. It concerned us that the office was closed for no apparent reason. It was an insult to the whole of Boehner's constituency.
But then again, the Speaker has already shown us time and time again, most recently through his scheming to push through the Keystone XL pipeline against the will of a vast, diverse movement opposed to the destructive project, that he's perfectly happy to ignore the interests of the American people and to shill for Big Oil and Big Money instead. So why would he want to keep his district office open if he has no respect for real democracy and isn't going to work for his constituents anyway?
We call foul on Boehner and Big Oil for obstruction and corruption of our democracy and we'll keep blowing the whistle on them and other members of congress who sell us out. We'll keep growing this movement and organizing our communities and we won't stop until we see an end to the corruption, an end to the billions in government handouts to the fossil fuel industry, an end to the selling out of our voices and our votes, an end to the destruction of our global climate system, an end to holding back our clean energy future, an end to the struggling of the many so that the few may prosper.
This is our democracy and our future, and we're taking it back!
Stay in touch with 350.org Ohio by joining our Facebook page.