This website uses cookies to ensure you get the best experience while browsing it. By clicking 'Got It' you're accepting these terms.


The best of EcoWatch, right in your inbox. Sign up for our email newsletter!
Syngenta Hired Guns Attack New Documentary
May. 11, 2012 10:50AM EST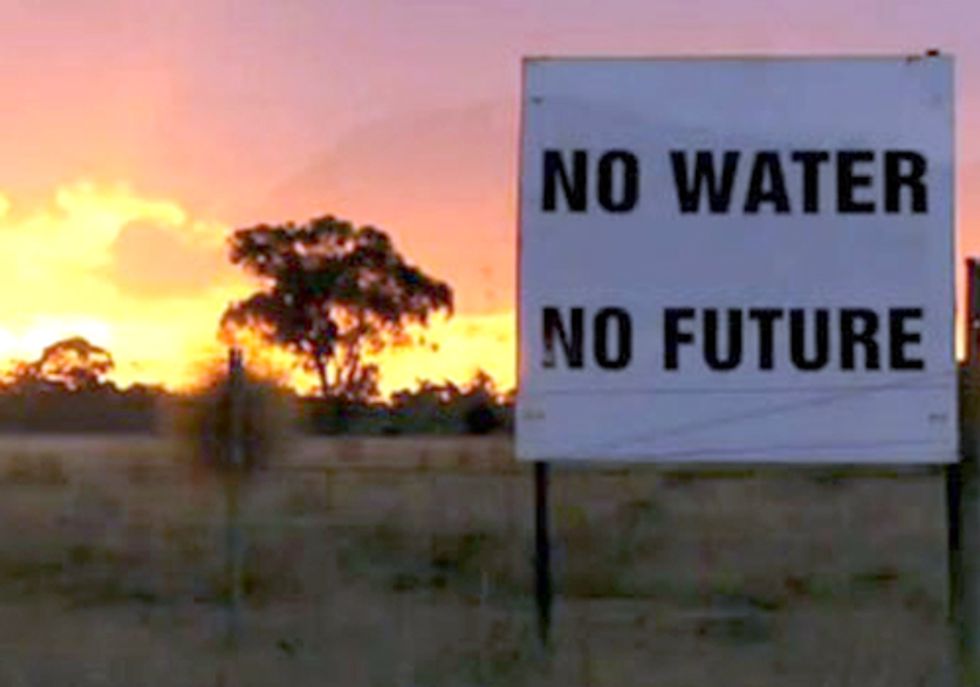 As a new film highlights water contamination throughout the U.S. Midwest from Syngenta's flagship herbicide atrazine, the world's largest pesticide company has mounted a PR counter-attack downplaying the human and environmental health risks of a chemical linked to birth defects, low birth weight and certain cancers. Atrazine was banned in the EU in 2004, leaving the U.S. market as one of Syngenta's most profitable and vigorously guarded markets.
Syngenta's lobbying and often-covert PR efforts have been continuously scrutinized in the press since it was revealed that the company held more than 50 closed-door meetings with U.S. Environmental Protection Agency (EPA) officials during atrazine's previous review in 2003. Looking at the same data, EPA subsequently approved atrazine for continued use while E.U. regulators banned it as a groundwater contaminant. Syngenta has since paid economists to claim that atrazine creates jobs, conducted a PR campaign against a court hearing a case against the company, subpoenaed physicians and environmental health NGOs (including Pesticide Action Network) working on atrazine, and repeatedly attempted to suppress science and intimidate scientists whose work shows the harms of atrazine.
In response to last week's release of the film Last Call at the Oasis, Syngenta's PR firm Jayne Thompson and Associates has launched a new website, "Saving the Oasis." The project uses paid spokespersons posing as independent experts and attempts to greenwash atrazine as environmentally beneficial, downplay human health risks and discredit one of the scientists from the film. According to the Chicago Tribune, Jayne Thompson, the former Illinois first lady, attempted to place stories critical of Illinois courts where the company is being sued by public water utilities and characterize litigation against the company as anti-farmer. 
Spokespersons paid by Syngenta to advocate for atrazine:
| | | |
| --- | --- | --- |
| Name | Affiliations | Links to Syngenta |
| Richard Fawcett | Fawcett Consulting Firm | Received at least $500,000 from Syngenta between 1995-2011 to promote atrazine in studies and speaking engagements |
| Alex Avery | Hudson Institute, Center for Global Food Issues | CGFI has received at least $68,550 from Syngenta and has coordinated research for the company |
| Jayne Thompson | Jayne Thompson & Associates, former First Lady of Illinois | Helped coordinate Syngenta's "first strike" mentality and managing "third party" spokespeople, especially around court cases |
| Elizabeth Whelan | American Council on Science and Health | Sought $100,000 from Syngenta to produce materials about atrazine and publicly attacked New York Times coverage of the chemical |
| Don Coursey | University of Chicago | Received $35,000 for one report he authored for Syngenta and has spoken at several Syngenta-sponsored briefings in DC |
| Steven Milloy | JunkScience.com, Fox News commentator | An unknown number of checks for $25,000 each from Syngenta for talking points and has publicly attacked independent scientists researching health effects atrazine |
| Jon Entine | Statistical Assessment Service (STATS), American Enterprise Institute, ESG MediaMetrics | Released a book on "Chemophobia" shortly after New York Times piece on atrazine, received $100,000 from Syngenta-funded ACSH for the book |
Sources: PR Watch/Center for Media & Democracy, Clare Howard/100 Reporters and Tom Philpott/Mother Jones
As EPA continues its current re-evaluation of atrazine's safety, results released last week from water sampling across four Midwestern states—Illinois, Nebraska, Iowa and Minnesota—indicate that the endocrine disrupting pesticide atrazine is still being found in drinking water. The results, on average, demonstrate that levels frequently found in drinking water are five times the levels associated with adverse health effects, including low birth-weight in babies.
"These water monitoring results should raise concerns for policymakers. They confirm that atrazine continues to contaminate Midwest drinking water at meaningful levels," said Emily Marquez, PhD, endocrinologist and staff scientist for Pesticide Action Network. "Endocrine disrupting chemicals like atrazine are hormonally active at vanishingly small amounts."
For more information, click here.
EcoWatch Daily Newsletter
A school in Queensland, Australia sent a note home to parents asking them to send their children with extra water bottles since its water supply has run dry, according to the Australian Broadcasting Corporation (ABC).
European Commission President Ursula von der Leyen delivers a press statement on the European Green Deal at the EU headquarters in Brussels, Belgium on Dec. 11, 2019. Xinhua / Zheng Huansong via Getty Images
The European Commission introduced a plan to overhaul the bloc's economy to more sustainable, climate-conscious policies and infrastructure, with the goal of being carbon-neutral by 2050, according to CNBC.
Young activists shout slogans on stage after Greta Thunberg (not in the picture) took part in the plenary session during the COP25 Climate Conference on Dec. 11 in Madrid, Spain. Pablo Blazquez Dominguez / Getty Images
By Andrea Germanos
Young activists took over and occupied the main stage at the COP25 climate conference in Madrid, Spain Wednesday and demanded world leaders commit to far more ambitious action to address the ecological emergency.
A NASA image showing the ozone hole at its maximum extent for 2015. NASA Goddard Space Flight Center
The Montreal Protocol, a 1987 international treaty prohibiting the production of chlorofluorocarbons (CFCs) to save the ozone layer, was the first successful multilateral agreement to successfully slow the rate of global warming, according to new research. Now, experts argue that similar measures may lend hope to the climate crisis.
Police in Wales are in the midst of an unusual investigation: the sudden death of more than 200 starlings.