This website uses cookies to ensure you get the best experience while browsing it. By clicking 'Got It' you're accepting these terms.
Symptoms of Fossil Fuel Addiction
Jul. 18, 2013 09:03AM EST
Climate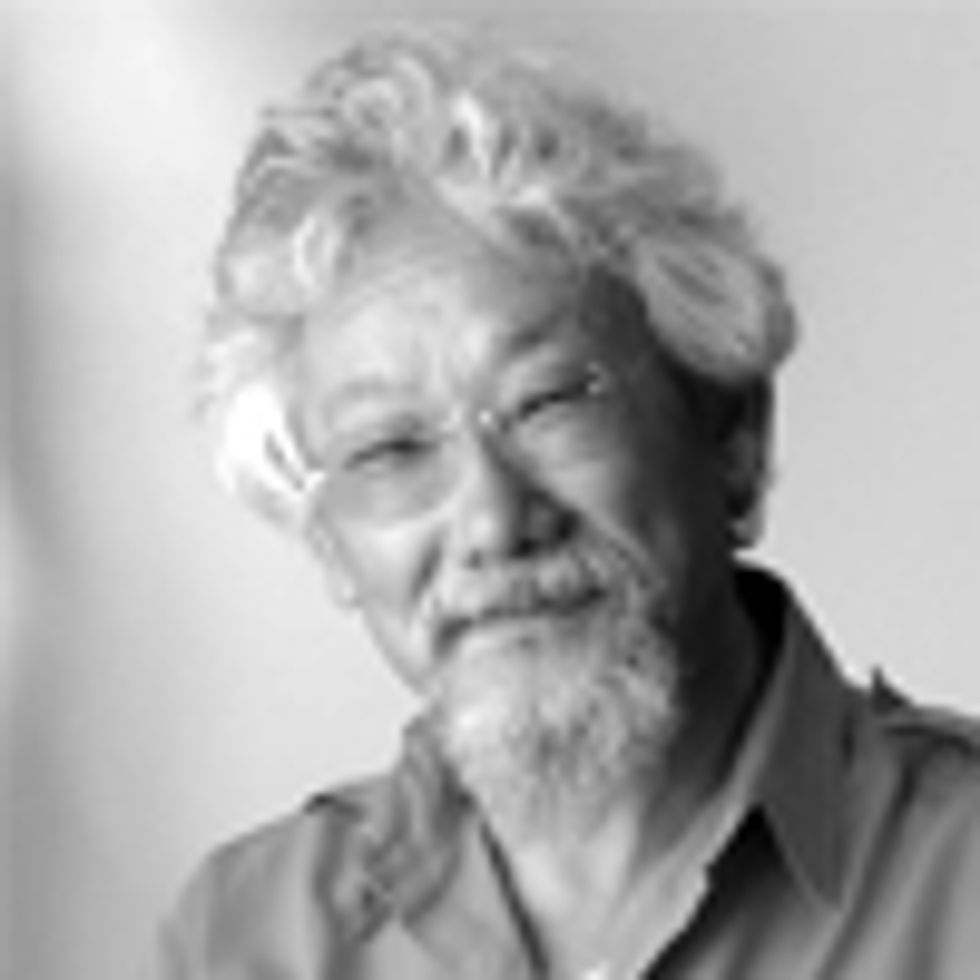 Like smokers who put off quitting until their health starts to suffer, we're learning what happens when bad habits catch up with us. We're witnessing the terrible effects of fossil fuel addiction every day: frequent, intense storms and floods, extended droughts, rapidly melting Arctic ice, disappearing glaciers, deadly smog and pollution, contaminated waterways and destroyed habitats. Transport accidents are also increasing as governments and industry scramble to get fuels out of the ground and to market as quickly as possible.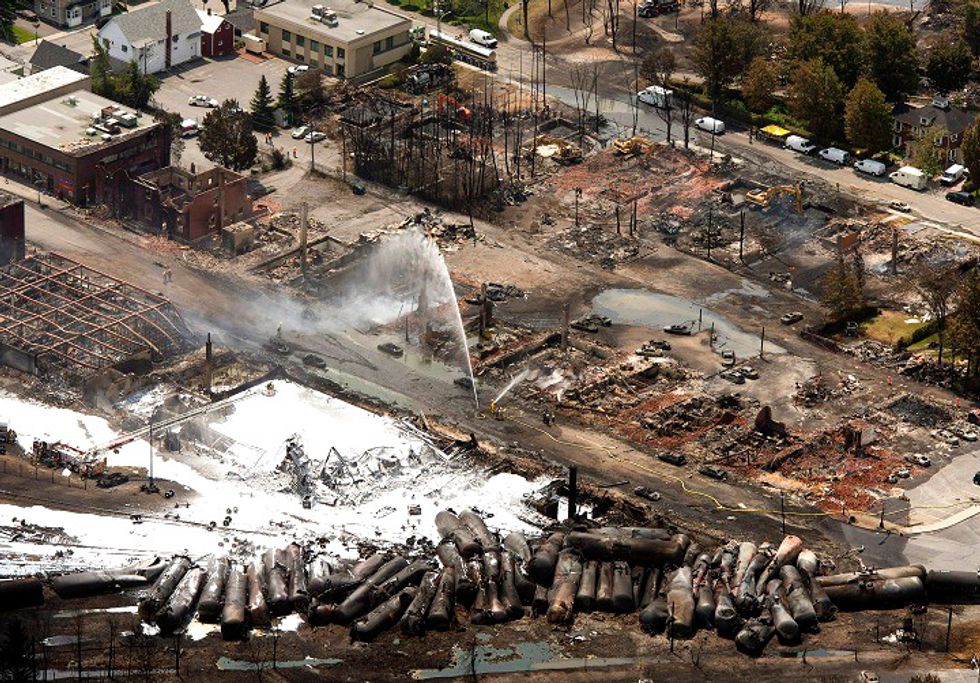 Throughout it all, we're asking the wrong questions. Take the recent horrific disaster in Lac-Mégantic, Quebec. A train carrying fracked crude oil from North Dakota to a refinery in Saint John, New Brunswick, derailed, caught fire and caused explosions that destroyed much of the town and killed dozens of people, sending millions of litres of oil into the ground, air, sewers and Chaudière River. It's a senseless tragedy that has everyone in Canada and beyond grieving for the community's citizens and their families.
 
Governments and the railway company must answer numerous questions about safety regulations and practices, to prevent a similar catastrophe from ever occurring. The larger questions, though, are about the dramatic increases in fossil fuel use and transport. Sadly, industry proponents quickly exploited the situation to argue for expanding pipelines.
As growing human populations and increasing industrialization drive up the worldwide demand for fossil fuels, and as oil, gas and coal companies rush to extract, sell and burn as much as possible while markets remain strong, we're seeing ever-increasing exploitation from difficult sources—fracking, oil sands, deep sea drilling and more.
 
The Canadian Association of Petroleum Producers expects oil production in Western Canada to double from 3 million barrels a day to more than 6 million by 2030. This means a huge increase in the amount of fuels transported around the country and the world in pipelines, rail cars, trucks and ocean tankers. According to the Railway Association of Canada, rail shipment of oil has already increased dramatically in Canada, from 500 carloads in 2009 to 140,000 this year.
 
It's true that rail accidents can be more devastating to human life than pipeline accidents—although when it comes to oil, pipeline breaks usually spill greater quantities and cause more environmental damage than train derailments. But shipping massive volumes of oil and gas is unsafe by either method. As we transport ever-increasing volumes of fossil fuels over greater distances to broader networks, we can expect more spills and accidents. Wastefully and rapidly burning them is also driving climate change, which experts say may even affect rail safety, as extreme heat and sudden temperature shifts can cause rails to buckle, increasing the potential for derailments.
 
Massive pipeline spills and devastating rail accidents are among the immediate and frightening consequences of our growing appetite for fossil fuels, but our bad habits are really starting to hit back with climate change. The homes and lives lost around the world, numerous plant and animal species facing extinction, rising health-care costs from pollution-related illness and massive clean-up efforts after flooding show that failing to address climate change is far more costly than doing something about it. Much of what we're seeing now—from increased intense rainfall and flooding in some parts of the world to extended droughts in others—is what climate scientists have been predicting for decades.
 
We're not going to stop using oil overnight, and we will continue to transport it, so we must improve standards and regulations for pipelines, rail, trucks and tankers. This should include safer rail cars for moving dangerous goods. Also, many environmental groups are calling for "a comprehensive, independent safety review of all hydrocarbon transportation—pipelines, rail, tanker and truck." But in the long run, we have to find ways to slow down. By conserving energy and switching to cleaner sources, we can start to move away from fossil fuels—and to use remaining reserves less wastefully.
 
That's the discussion we need to have, rather then getting mired in debates about transport methods. As energy writer Russ Blinch noted in a Huffington Post article, "Looking at pipelines versus rail tankers is really like asking, 'Should I drive the car with bad brakes or the one with bad tires?'"
 
We need to look at the big picture.
Visit EcoWatch's CLIMATE CHANGE page for more related news on this topic.
——–
SHARE YOUR THOUGHTS BELOW: What are you doing to break your fossil fuel addiction? What can you do today?
——–

EcoWatch Daily Newsletter
Investing in grid infrastructure would enable utilities to incorporate modern technology, making the grid more resilient and flexible. STRATMAN2 / FLICKR
By Elliott Negin
The Royal Swedish Academy of Sciences' recent decision to award the 2019 Nobel Prize in Chemistry to scientists who developed rechargeable lithium-ion batteries reminded the world just how transformative they have been. Without them, we wouldn't have smartphones or electric cars. But it's their potential to store electricity generated by the sun and the wind at their peak that promises to be even more revolutionary, reducing our dependence on fossil fuels and protecting the planet from the worst consequences of climate change.
Two Javan rhinos deep in the forests of Ujung Kulon National Park, the species' last habitat on Earth. Sugeng Hendratno / WWF
The global population of the critically endangered Javan rhinoceros has increased to 72 after four new calves were spotted in the past several months.
A tiger looks out from its cage at a new resort and zoo in the eastern Lao town of Tha Bak on Dec. 5, 2018. Karl Ammann believes the "zoo" is really a front for selling tigers. Terrence McCoy / The Washington Post / Getty Images
Are tigers extinct in Laos?
That's the conclusion of a detailed new study that found no evidence wild tigers still exist in the country.
A group of scientists is warning that livestock production must not expand after 2030 for the world to stave off ecological disaster.
The largest wetland in Africa is in the South Sudan. George Steinmetz / Corbis Documentary / Getty Images Plus
Methane emissions are a far more powerful greenhouse gas than carbon dioxide – about 28 times more powerful. And they have been rising steadily since 2007. Now, a new study has pinpointed the African tropics as a hot spot responsible for one-third of the global methane surge, as Newsweek reported.