This website uses cookies to ensure you get the best experience while browsing it. By clicking 'Got It' you're accepting these terms.
Symbolic Victory for Clean Energy as North America's Largest Coal-Fired Power Plant Will Soon Be Home to a Solar Farm
Mar. 31, 2016 11:22AM EST
Renewable Energy
By Ron Johnson
One would be hard-pressed to find a more symbolic victory for clean energy than a solar farm taking up residence inside the former home of one of the largest coal-fired power plants in North America. That's what is happening, on the shores of Lake Erie in Ontario, Canada.
At one time, the Nanticoke generating station was producing a staggering 4,000 megawatts of energy and was one of the country's largest greenhouse gas emitters. The plant was officially decommissioned in 2013, part of a long process to shutter all coal-fired plants in the province—a goal that was accomplished in 2014.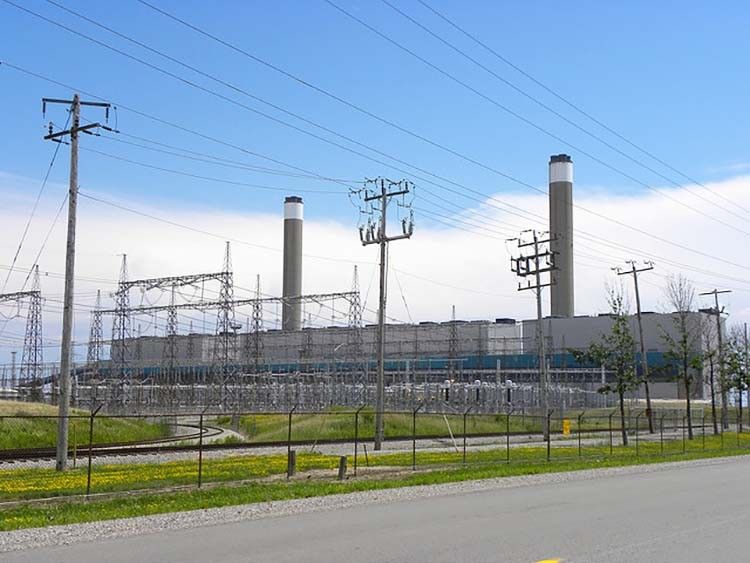 Now, in a move that unites local First Nations business leaders and renewable energy companies, the mothballed site will soon be home to a solar farm called Nanticoke Solar. The new project is a joint venture of Sun Edison Canadian Construction and the Six Nations of the Grand River Development Corporation.
The facility—located in Haldimand County on four separate parcels of land including a former coal pile—is expected to generate 44 megawatts and utilize the transmission wires already in place. The plant's capacity, is just a little over one percent of the some 4,000 megawatts the former coal plant used to generate, but it's part of Ontario's larger effort to replace coal with renewable energy sources.
Currently, the province of Ontario meets the majority of its energy needs through nuclear and hydroelectric generation. Clean energy sources—wind, solar and bioenergy—provide just six percent of the province's energy demand. Unlike most Canadian provinces, Ontario's emissions are on the way down—already at six percent below 1990 levels. The long-term goal of the province's climate change strategy is an 80 percent reduction in 1990 emission levels by 2050.
Nanticoke Solar is one of 16 new renewable energy projects announced by Ontario's Independent Electricity System Operator that in total could generate 455.885 megawatts of renewable energy including five wind, seven solar and four hydroelectric contracts. Of the new projects announced, 13 involve participation from Aboriginal communities.
"Six Nations has been involved in renewable energy for quite some time," said Matt Jamieson, the president and CEO of the Six Nations development corporation, an equity investor in the project. "We are a participant , through the (now defunct) Ontario Power Authority's Feed-in Tariff Program and we gained a lot of exposure through our partnership with Samsung at the Grand River Energy Park. We've demonstrated the First Nations community capacity to get projects done, those that benefit the environment."
In addition to generating clean energy, the project also manages to reuse an old industrial facility that has been nothing but a financial liability for the past two years.
"There are a tremendous amount of transmission lines essentially sitting idle and a quite expansive supply of land owned by OPG, so it made sense to work with them," Jamieson said. "That was the real motivation for us; it made a lot of sense."
In addition, the deal should also provide jobs for First Nations members. One of the corporations' stated goals, according to Jamieson, is to "maximize employment of our community members." The group has a contract to sell power back to the Ontario power grid at a set rate for 20 years. Beyond Nanticoke, the Six Nations group is looking for more ways to get involved in renewable energy.
"Our activities align with our cultural values," Jamieson explained. "You won't find us engaging in development activities that conflict with the environment or those elements that are important to us."
Six Nations of the Grand River is the largest First Nations reserve in Canada, with more than 25,000 members. The corporation was set up after a long 18-month process of dialogue and discovery with the Six Nations of the Grand River.
"We take a multi-generational approach," Jamieson said. "There is a common expression that asks to look to the next seven generations to make sure there is nothing well down the line [that will be negatively impacted by] what we are doing today. We are hypersensitive to this."
Construction work for the project is set to begin in 2017 and the solar plant is expected to start operating by late 2018 or early 2019.
The project hasn't been without its detractors though. Toby Barrett, a local conservative Member of Provincial Parliament, described Nanticoke Solar "a symbolic move" for province premier Kathleen Wynne. "It will be a good photo-op for Kathleen Wynne to let environmental extremists know that she has replaced the coal pile with solar panels. And when they get around to knocking down the stacks, that'll be another photo-op," he told a local newspaper.
Barrett pointed out that power produced by the former coal plant cost only 2 cents per kilowatt hour, while energy from the solar plant would cost consumers nearly eight times more or about 15.67 cents a kilowatt hour.
But such criticism doesn't take into account the long-term environmental and public health benefits of shifting away from coal. Here's a small example: In 2015, the first full year when Ontario was entirely coal-fired power free, the province had zero smog days.
YOU MIGHT ALSO LIKE
7 Must-See Eco Docs at One of the Best Film Festivals in America
Boom & Bust: The Future of Coal-Fired Power Plants
20 Attorneys General Launch Climate Fraud Investigation of Exxon
Induced Earthquakes Increase Chances of Damaging Shaking, Wastewater Disposal From Fracking Primary Cause
EcoWatch Daily Newsletter
A vegan diet can improve your health, but experts say it's important to keep track of nutrients and protein. Getty Images
By Dan Gray
Research shows that 16 weeks of a vegan diet can boost the gut microbiome, helping with weight loss and overall health.
A healthy microbiome is a diverse microbiome. A plant-based diet is the best way to achieve this.
It isn't necessary to opt for a strictly vegan diet, but it's beneficial to limit meat intake.
New research shows that following a vegan diet for about 4 months can boost your gut microbiome. In turn, that can lead to improvements in body weight and blood sugar management.
Students gathered at the National Mall in Washington DC, Sept. 20. NRDC
By Jeff Turrentine
Nearly 20 years have passed since the journalist Malcolm Gladwell popularized the term tipping point, in his best-selling book of the same name. The phrase denotes the moment that a certain idea, behavior, or practice catches on exponentially and gains widespread currency throughout a culture. Having transcended its roots in sociological theory, the tipping point is now part of our everyday vernacular. We use it in scientific contexts to describe, for instance, the climatological point of no return that we'll hit if we allow average global temperatures to rise more than 2 degrees Celsius above preindustrial levels. But we also use it to describe everything from resistance movements to the disenchantment of hockey fans when their team is on a losing streak.
samael334 / iStock / Getty Images
Berries are small, soft, round fruit of various colors — mainly blue, red, or purple.
A glacier is seen in the Kenai Mountains on Sept. 6, near Primrose, Alaska. Scientists from the U.S. Geological Survey have been studying the glaciers in the area since 1966 and their studies show that the warming climate has resulted in sustained glacial mass loss as melting outpaced the accumulation of new snow and ice. Joe Raedle / Getty Images
By Mark Mancini
On Aug. 18, Iceland held a funeral for the first glacier lost to climate change. The deceased party was Okjökull, a historic body of ice that covered 14.6 square miles (38 square kilometers) in the Icelandic Highlands at the turn of the 20th century. But its glory days are long gone. In 2014, having dwindled to less than 1/15 its former size, Okjökull lost its status as an official glacier.
Members of Chicago Democratic Socialists of America table at the Logan Square Farmers Market on Aug. 18. Alex Schwartz
By Alex Schwartz
Among the many vendors at the Logan Square Farmers Market on Aug. 18 sat three young people peddling neither organic vegetables, gourmet cheese nor handmade crafts. Instead, they offered liberation from capitalism.
Hackney primary school students went to the Town Hall on May 24 in London after school to protest about the climate emergency. Jenny Matthews / In Pictures / Getty Images
Bird watching in the U.S. may be a lot harder than it once was, since bird populations are dropping off in droves, according to a new study.