Sylvia Earle's Mission Blue II + TED = Ideas to Tackle World's Most Pressing Ocean Issues
Oct. 26, 2015 10:40AM EST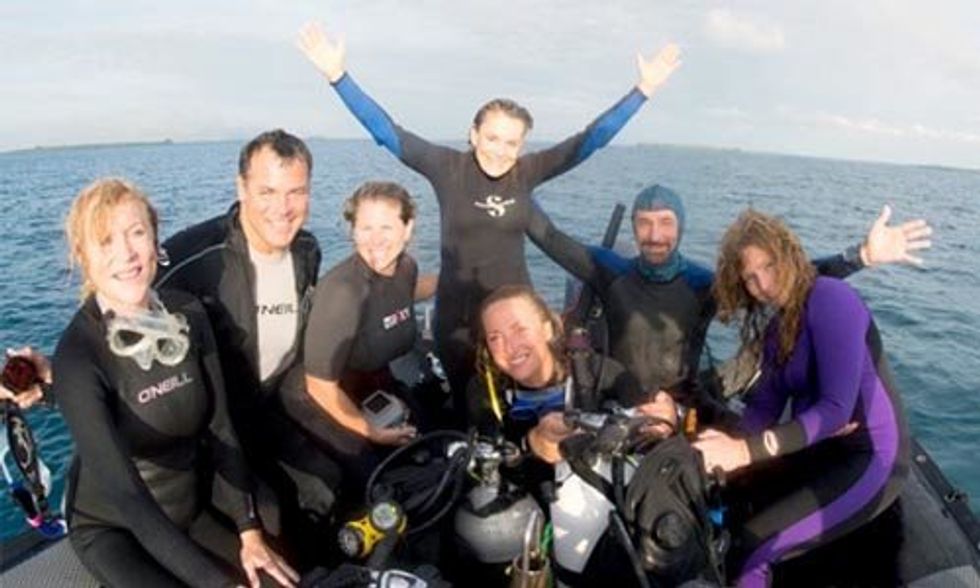 Creative collaboration and brilliant ideas were backed by practical solutions to ocean problems on Mission Blue ll, a TED held aboard the National Geographic Lindblad ship Orion in the South Pacific, Oct. 10 - 16.
MissionBlue founder Sylvia Earle, TED curator Chris Anderson and Lindblad Expedition's Sven Lindblad, convened an ecosystem of bright people who play unique roles in today's society to sail together from Papua New Guinea to the Solomon Islands. Common traits among the passengers were ingenuity and the will to tackle tough ocean issues through media, science, art, technology, entrepreneurship and, most of all, ideas.
[insert_gallery]
On the aft deck at sunset, TED Talks were presented in style against a backdrop of softly lit mosaic walls made from recycled bottles. The talks covered a range of topics from satellites and robots to monitor the sea, species extinction, seafloor art, island nations, rising tides and marine protected areas (MPA), to what animals think and feel. Presentations that make the grade will be posted on TED.com.
Ideas for Mission Blue II Initiatives were generated by the stellar guests on board—a constellation of island leaders, scientists, engineers, philanthropists, policymakers, artists, inventors, writers, filmmakers, educators and entrepreneurs. Ten final initiatives were selected from which groups were formed. These collectives focused their ingenuity on new approaches to overfishing, climate change effects, creative ocean education, immersive experiential media, public engagement, MPA, remotely operated underwater vehicles (ROV), species recovery, tackling illegal unreported unregulated fishing (IUU) and reversing the global degradation of marine ecosystems that support life on Earth.
One initiative addressed the demise of Pacific Bluefin tuna that have roamed the sea for millions of years. Its population has been reduced to 4 percent of its pre-industrial revolution size. The group brainstormed how to change the public image of tuna in cans, casseroles, and fish 'n chips to incredibly smart wildlife roaming freely in the sea. Clever plans were devised. For instance, when a member of the group pointed out that the population still has a chance to recover if allowed to reach reproductive age before they are killed, a creative director proposed an amusing campaign about staying away from underage fish.
Earle, who sparked the first Mission Blue expedition to the Galapagos in 2010 through a wish that earned her a TED Prize, pointed out that Mission Blue I and II is one wish that keeps on coming true. She urged everyone to use everything in their power to ignite public support for marine protected areas, which she calls "Hope Spots," referring to their potential to allow the ocean to recover. The topic of expanded protected areas spanned several initiatives including the Micronesia Challenge, which is a commitment of the Federated States of Micronesia, the Republic of the Marshall Islands, the Republic of Palau, Guam and the Commonwealth of the Northern Marianas Islands to conserve at least 30 percent of nearshore marine resources. International Union for Conservation of Nature (IUCN) encouraged the conversation to continue at its World Conservation Congress in 2016.
The Hope Spot initiative delved deeply into how to rapidly scale up. Earle reported that since she launched the idea of Hope Spots at TED in 2009, and the film Mission Blue on Netflix, a groundswell of communities around the world have expressed interest in Hope Spots and are looking to her organization, MissionBlue, for guidance and support. The group addressed what is needed now, including increased capacity and a framework for sharing information and data across cultures and diverse ocean environments with "how to" tools to help others succeed. The group also explored virtual reality models to express why the concept works.
It's been a tough century for the ocean. Homo sapiens, the newcomers on Earth, have managed to wipe out at least 70 percent of the big fish, and drive many species to extinction. As one participant put it, "We thought we were the boss of the Earth but are finding that we are not."
On the bright side, Mission Blue II and other projects show evidence that mankind has the mental capacity and consciousness to admit its mistakes, learn tough lessons and attempt a mid-course correction. Passengers were gleeful in their drive to meet the challenge, and turn the tide. Spirits were lifted by sunrise yoga, the magnificence of coral reefs, music and kindred spirit. Shawn Heinrichs of Racing Extinction presented the new film, a sobering reminder of why we need all hands on deck if we want our children to experience the wonderment of the spectacular world underwater, and leave them an ocean that can support human life.
Outcomes from the first Mission Blue have spurred some of the most important ocean initiatives of the past century with projects that continue. Time will tell the full effect of Mission Blue II.
On the last day, TED's Anderson asked everybody to write down thoughts in the form of a letter. Best-selling author Carl Safina read his out loud:
To All The World's Children of All Ages,
Someone once said—with a wink—that animals were invented by water as a device for transporting itself from one place to another. That's an interesting perspective. It's true that when animals left the seas in which life arose, they took saltwater with them, in their bodies—an internal environment crucial for cellular survival.  We are, in a sense, soft vessels of seawater. Seventy percent of our bodies is water, the same percentage as covers Earth's surface. We are wrapped around an ocean within. You can test this simply enough: taste your tears.
YOU MIGHT ALSO LIKE
Earth Is Facing Most Severe Extinction Crisis in 65 Million Years
These 5 Countries Account for 60% of Plastic Pollution in Oceans
Scuba Divers' Haunting Photos Show Devastating Impact of Ocean Trash on Marine Life
Interactive Map Shows 414 U.S. Cities Already Locked Into Catastrophic Sea Level Rise
EcoWatch Daily Newsletter