This website uses cookies to ensure you get the best experience while browsing it. By clicking 'Got It' you're accepting these terms.
Sylvia Earle and Sam Low Win Cronkite Award as Mission Blue Debuts on Martha's Vineyard
Aug. 07, 2014 06:41AM EST
What do Walter Cronkite, Sylvia Earle and Sam Low all have in common? They have mastered the might of media on behalf of the sea.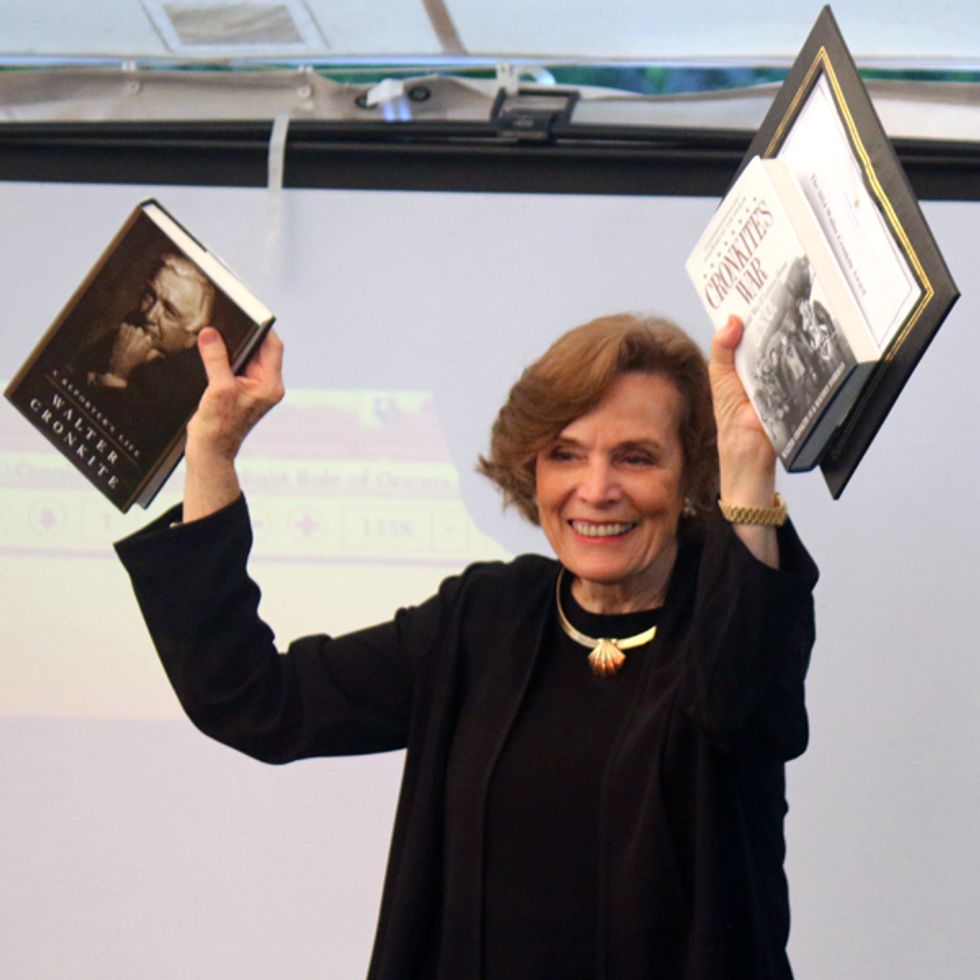 The 2014 Walter Cronkite Award was bestowed on ocean all-stars Dr. Sylvia Earle and Dr. Sam Low by the MVYLI, Martha's Vineyard Youth Leadership Initiative, which honors people who create positive social change in the world through the power of media.
Like the award recipients, Walter Cronkite was a champion for the 71 percent of Earth's surface that is the sea—our omnipotent, astonishing, complex, generous and sorely neglected neighbor who rules our planet and keeps us terrestrials alive. Since the industrial revolution, the ocean has been polluted, and literally put through the meat grinder as never before in its 4 billion year history. Walter stirred the hearts of people, young and old, to take an interest not only in the beauty and bounty of our ocean, but in its health and future. The Walter Cronkite Award recognizes leaders who provide this level of inspiration to today's youth.
Award recipient Dr. Sylvia A. Earle is a world-famous ocean pioneer and former chief scientist at the National Oceanic and Atmospheric Administration (NOAA) who has spent her life exploring the world's oceans and sharing her boundless curiosity for what lies beneath the surface of sea—once a glass ceiling for women scientists. In 2009, she formed Mission Blue as a collaborative platform to ignite public support for a global network of marine protected areas large enough to save and restore the "blue heart" of the planet, known as Hope Spots. 
"We are at the sweet spot of human history," said Dr. Earle. "More has been learned about the ocean in the last decade than throughout all of human history. For the first time, we have access to information about our ocean as never before. Now we can actually do something. What will we do with this new knowledge? As a new generation that knows more than anyone has ever known before, what will you do with your future?"
"Walter Cronkite epitomized the spirit of what went up (to space) and what went down (to sea) and as a young scientist that inspired me," said Earle. "I see his presence is still alive and well on Martha's Vineyard. I am honored to be receiving this award with Sam Low, who has offered such a boatload of information about the ocean to all of us. I bow low, to Sam Low."
The co-recipient was Dr. Sam Low, an anthropologist and award-winning storyteller dedicated to island people in their quest to raise awareness of our planet's fragility, of which islands are most vulnerable. His film, The Navigators—Pathfinders of the Pacific, and recent book, Hawaiki Rising—Hokule'a Nanoa Thompson and the Hawaiian Renaissance, tell the story of the Polynesian settlement of the Pacific and ancient mariners who use native intelligence and natural signs to navigate our ocean. Low has both Vineyard and Hawaiian roots, and will join a global voyage in an ancient Polynesian canoe with the Polynesian Voyagers Society to share and celebrate the ancient wisdom of the sea.
Following the awards presentation, young leaders from MVYLI remarked on how the ocean was bringing everyone together, particularly island people, and shared their ideas for creating a more sustainable blue planet.
At sundown, the Martha's Vineyard Film Festival set up a big screen on Menemsha Beach to premiere Mission Blue, the remarkable and breathtakingly beautiful documentary about Dr. Sylvia Earle's life. The film was directed by Vineyard filmmaker Bob Nixon, and Fisher Stevens, who followed Earle with their crew around the world ocean for more than five years. Island residents and summer visitors laid blankets on the sand to be among the first to see the film, before it goes up on NetFlix on Aug. 15.
Native Vineyard fisherman and advocate for sustainable fisheries, Buddy Vanderhoop, shared his admiration for the mission of Dr. Earle and his support for marine protected areas to allow the depleting local fish population to spawn and populate again, and to prevent massive fish factory ships from destroying what is left. Dr. Earle promised to return to Martha's Vineyard and work together toward this, in light of NOAA's recent invitation to communities across the nation to nominate national marine sanctuaries.
You Might Also Like
NOAA: Ocean Acidification Rises, Marine Economy Sinks
EcoWatch Daily Newsletter
Fresno, California, seen above, is receiving $66 million for walking trails, sidewalks, bike lanes, and more. DenisTangneyJr / iStock / Getty Images
Grecia Elenes grew up in Fresno, California. She says some parts of the city have been neglected for decades. When she moved back after college she realized nothing has changed.
People are seen embracing at Numeralla Rural Fire Brigade near the scene of a water tanker plane crash on Jan. 23 in Cooma, Australia. Three American firefighters have have died after their C-130 water tanker plane crashed while battling a bushfire near Cooma in southern NSW this afternoon. Jenny Evans / Getty Images
Three U.S. firefighters gave their lives battling Australia's historic wildfires Thursday when their airborne water tanker crashed.
The Doomsday Clock is now at 100 seconds to midnight. EVA HAMBACH / AFP via Getty Images
The Doomsday Clock is now 100 seconds to midnight, partly because of the
climate crisis
.
A new report spotlights a U.N. estimate that at least 275 million people rely on healthy coral reefs. A sea turtle near the Heron Island in the Great Barrier Reef is seen above. THE OCEAN AGENCY / XL CATLIN SEAVIEW SURVEY
In a new report about how the world's coral reefs face "the combined threats of climate change, pollution, and overfishing" — endangering the future of marine biodiversity — a London-based nonprofit calls for greater global efforts to end the climate crisis and ensure the survival of these vital underwater ecosystems.
Half of the extracted resources used were sand, clay, gravel and cement, seen above, for building, along with the other minerals that produce fertilizer. Cavan Images / Cavan / Getty Images
The world is using up more and more resources and global recycling is falling. That's the grim takeaway from a new report by the Circle Economy think tank, which found that the world used up more than 110 billion tons, or 100.6 billion metric tons, of natural resources, as Agence France-Presse (AFP) reported.