Swiss Firm to Embark on First Around-the-World Trip in a Solar Airplane
Apr. 10, 2014 08:25AM EST
Business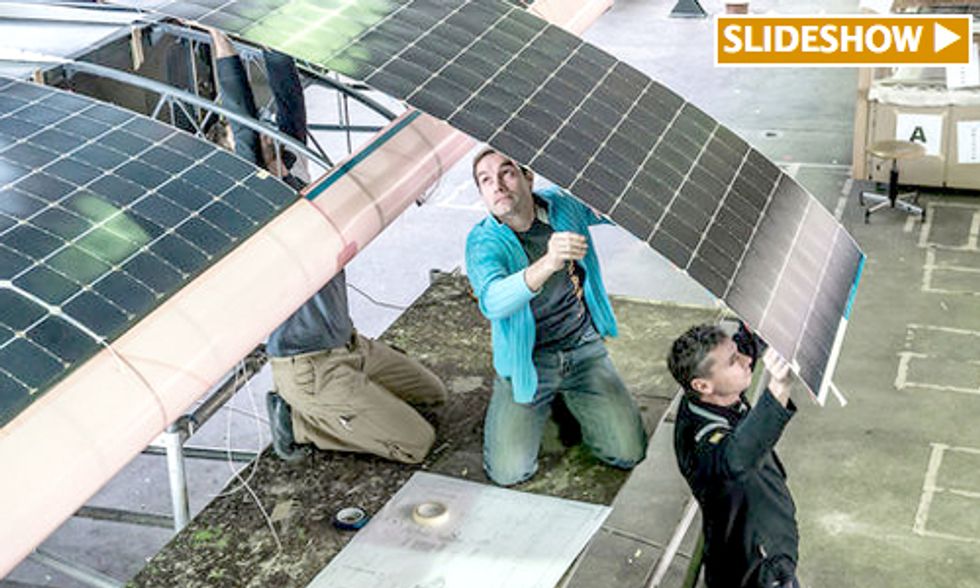 How far can an airplane expect to travel without fuel?
Around the world, if you're talking about the Solar Impulse 2.
Leaders of Swiss firm Solar Impulse unveiled a new solar plane Wednesday and also discussed an ambition nobody has ever accomplished—to fly around the world in a solar plane in 2015.
[slideshow_deploy id='351641']
The Solar Impulse has a 236-foot-wide wingspan, with more than 17,000 solar cells covering those wings. The cells collect solar energy and store it in lithium polymer batteries that power the plane's four engines.
Co-founders and pilots André Borschberg and Bertrand Piccard don't appear too daunted by the goal they have established, and not just because they won't need to refuel. They have already broken eight world records for solar flights. Their solar planes achieved success in recent years, including the first night flight for a solar plane in 2010; a European flight in 2011; a flight across the Mediterranean Sea to Morocco in 2012; and a U.S. tour last year, flying over San Francisco, CA, Phoenix, AZ, Dallas, TX, St. Louis, MO, Washington D.C. and New York City. 
The trip around the world, or #RTW, as the company has dubbed it for the Twittersphere, is expected to take a total of 500 hours of flight time. They'll bring at least six oxygen bottles and have no pressurization system.
To the founders, that type of experience is worth potentially changing the face of flight.
"I've been educated at (Massachusetts Institute of Technology) and this time spent in Boston led me to found startup companies," Borschberg said in a company video. "I know that dreams fuel innovation.
"I also know that human commitment and new technologies can really change the world."
——–
YOU ALSO MIGHT LIKE
The Solar Technology That Could Solve California's Water Problem
Bill Gates-Funded Solar Toilet Converts Feces Into Soil Stabilizer
The Turbine That Could Transform Wind Energy by Flying the Highest
——–
EcoWatch Daily Newsletter
Related Articles from EcoWatch
Recent Stories from EcoWatch