This website uses cookies to ensure you get the best experience while browsing it. By clicking 'Got It' you're accepting these terms.
Sweden Opens World's First Electric Highway
Jun. 23, 2016 10:36AM EST
Business
Sweden opened a stretch of electric highway, becoming the first country to test electric power for heavy transport.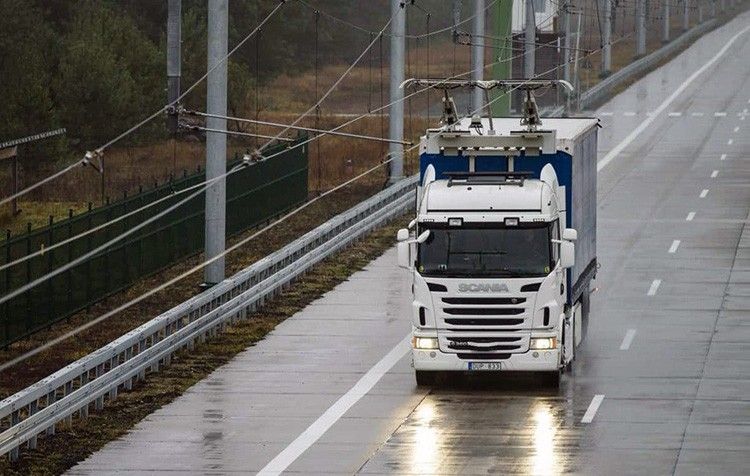 Electric-powered trucks are expected to cut 80 to 90 percent of fossil fuel emissions in Sweden.
A 22 kilometer (or roughly 13 miles) stretch of the E16 road—which connects Oslo, Norway, to Gävle, Sweden—is fitted with power lines overhead, developed by Siemens, providing electricity to hybrid trucks. The system works like a tram system. A current collector on the trucks will transfer energy from the power lines to the trucks' hybrid electric motors, Sputnik News reported. The electric lines help trucks operate longer between recharges.
"Electric roads will bring us one step closer to fossil fuel-free transports, and has the potential to achieve zero carbon dioxide emissions," Lena Erixon, director general of transport authority Trafikverket, said. "This is one way of developing environmentally smart transports in the existing road network. It could be a good supplement to todays road and rail network."
When the trucks, provided by Scania, are not on the electric stretch of road, they will operate as hybrid vehicles running on biofuel. Electric-powered trucks are expected to cut 80 to 90 percent of fossil fuel emissions. The opening of this stretch of road is another step toward Sweden's goal of operating a fossil fuel-free fleet by 2030, Inhabitat reported.
"Electric roads are one more piece of the puzzle in the transport system of the future, especially for making the heavy transport section fossil fuel-free over the long term," Erik Brandsma, director general of the Swedish Energy Agency, said. "This project also shows the importance of all the actors in the field cooperating."
Road transport accounts for one third of Sweden's net carbon dioxide emissions, Sputnik News reported. In the U.S. in 2014, carbon dioxide emissions accounted for 80.9 percent of all human-related greenhouse gas emissions, according to the U.S. Environmental Protection Agency. Carbon dioxide emissions accounts for 65 percent of global greenhouse gas emissions.
Siemens is planning to create another demonstration route, according to Sputnik News. The new stretch will be completed on public roads near Los Angeles and Long Beach, California. Siemens is working with Volvo Trucks on that project.
YOU MIGHT ALSO LIKE:
First Self-Driving, 3D-Printed Smart Bus Hits the Streets of Washington, DC
Tesla Makes $2.8 Billion Offer to Acquire SolarCity
Breaking: Diablo Canyon Nuclear Reactors to Be Replaced With 100% Renewable Energy
Solar Impulse 2 Takes Off for Historic Odyssey Across the Atlantic
EcoWatch Daily Newsletter
By Anita Desikan
The Trump administration is routinely undermining your ability — and mine, and everyone else's in this country — to exercise our democratic rights to provide input on the administration's proposed actions through the public comment process. Public comments are just what they sound like: an opportunity for anyone in the public, both individuals and organizations, to submit a comment on a proposed rule that federal agencies are required by law to read and take into account. Public comments can raise the profile of an issue, can help amplify the voices of affected communities, and can show policymakers whether a proposal has broad support or is wildly unpopular.
Alena Gamm / EyeEm / Getty Images
Picture this: a world where chocolate is as rare as gold. No more five-dollar bags of candy on Halloween. No more boxes of truffles on Valentine's day. No more roasting s'mores by the campfire. No more hot chocolate on a cold winter's day.
Who wants to live in a world like that?
Fabian Krause / EyeEm / Getty Images
Water protectors of all persuasions gathered in talking circles at Borderland Ranch in Pe'Sla, the heart of the sacred Black Hills, during the first Sovereign Sisters Gathering. At the center are Cheryl Angel in red and white and on her left, Lyla June. Tracy Barnett
By Tracy L. Barnett
Sources reviewed this article for accuracy.
For Sicangu Lakota water protector Cheryl Angel, Standing Rock helped her define what she stands against: an economy rooted in extraction of resources and exploitation of people and planet. It wasn't until she'd had some distance that the vision of what she stands for came into focus.
Hedges, 2019 © Hugh Hayden. All photos courtesy of Lisson Gallery
By Patrick Rogers
"I'm really into trees," said the sculptor Hugh Hayden. "I'm drawn to plants."
BruceBlock / iStock / Getty Images
Thanks to their high concentration of powerful plant compounds, foods with a natural purple hue offer a wide array of health benefits.