This website uses cookies to ensure you get the best experience while browsing it. By clicking 'Got It' you're accepting these terms.
Sustainable Energy Revolution Grows, Says Bloomberg Report
Feb. 04, 2015 11:12AM EST
Energy
The third annual Sustainable Energy in America Factbook released today documents the continuing dramatic changes in how the U.S. produces, delivers and consumes energy, and makes some projections and predictions about the direction of the energy sector in the future. The report was researched and produced by Bloomberg New Energy Finance and commissioned by The Business Council for Sustainable Energy.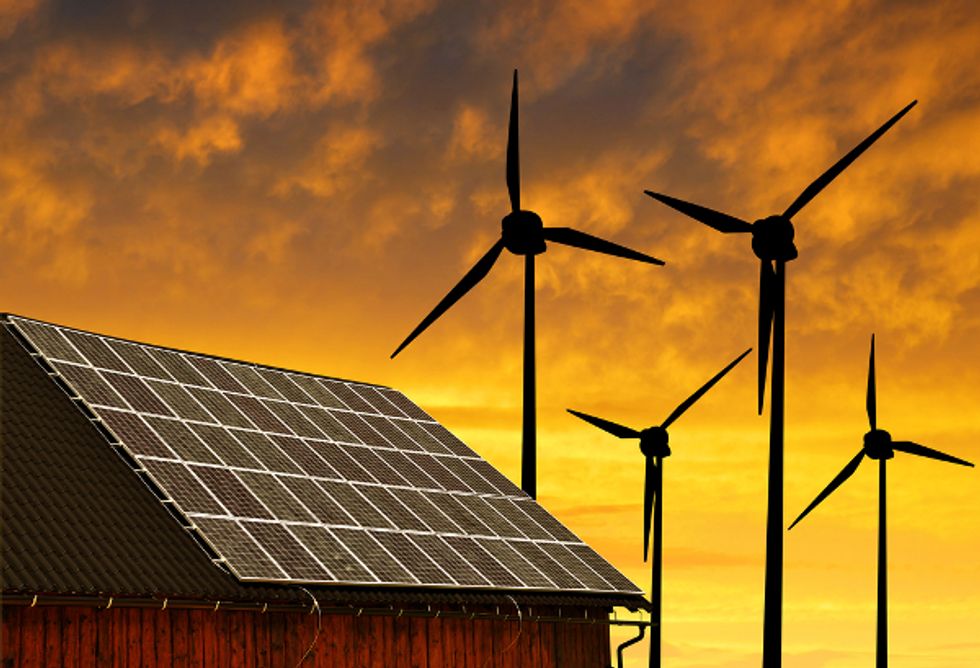 Photo credit: Shutterstock
"To single out just a few tell-tale headlines from the hundreds of statistics presented in this report: over the 2007-2014 period, U.S. carbon emissions from the energy sector dropped 9 percent, U.S. natural gas production rose 25 percent and total U.S. investment in clean energy (renewables and advanced grid, storage and electrified transport technologies) totaled $386 billion," the report said.
The report backs up what other studies have been showing—that despite strong resistance on the part of the fossil-fuel sector and some policymakers, a new way of thinking about energy is taking hold. The factbook points to four significant trends:
the advance in infrastructure projects and technology to accommodate new forms of energy;

more capital flowing to projects aimed at sustainable energy development with the U.S. attracting the second highest number of dollars after China;

companies with high energy-related costs gravitating to the U.S.; and

government policies that favor the development of clean energy sources.
In regard to government policies, it specifically cites President Obama's proposed Clean Power Plan, announced in June, to retire coal-fired plants and the historic agreement struck between the U.S. and China in November in which the U.S. pledged to reduce its greenhouse gas emissions by 26-28 percent by 2025 while China would reach peak emissions by 2030.
"The 2015 Factbook clearly shows that America is on the path to a more sustainable energy sector," said Lisa Jacobson, president of the Business Council for Sustainable Energy. "Our energy productivity is rising along with economic growth, while energy-intensive industries are onshoring production to the United States to take advantage of low energy costs. All of this is happening as investment in clean energy continues to grow and as new natural gas infrastructure continues to come online. These are strong positive signs for America's economy and environment."
$447.6bn invested in US #cleanenergy in the last decade #Factbook @BCSECleanEnergy http://t.co/DEEgJpL9di pic.twitter.com/zJ75O3P6w2

— BloombergNEF (@BloombergNEF) February 4, 2015
The U.S. is becoming more "energy productive" with its economic growth decoupled from the growth in demand for electricity, according to the report. "Between 1950 and 1990, electricity demand grew at an annual rate of just below 6%," it says. "Between 1990 and 2007, it grew at an annual of 1.9%. Between 2007 and 2014, annualized electricity demand growth has been ... zero."
In addition, the trend toward decarbonization continues with renewable energy's share of the total energy mix rising from 7 percent in 2007 to 13 percent in 2014. Since 2000, 93 percent of new U.S. power capacity has been natural gas, wind, solar, biomass, geothermal or other renewable projects. Investment in the clean energy sector has grown hand in hand with that, adding up to $386 billion since 2007 and increasing by 7 percent in 2014 over 2013's level.
"Against the backdrop of a surging economy and crumbling oil prices, major trends around decarbonization and improving energy productivity continued in the United States," said Michel Di Capua, head of Americas research for Bloomberg New Energy Finance. "Low-carbon energy technologies stand to benefit from key policies proposed in 2014, including the U.S. Environmental Protection Agency's proposed regulation for the power sector and an innovative new vision for the electricity market in New York State."
US progress to cleaner sources going strong, via @BloombergNEF & @BCSECleanEnergy #Factbook http://t.co/8kVfcUZ1dg pic.twitter.com/3FWvqomN67

— American Wind Energy (@AWEA) February 4, 2015
The report finds that gasoline consumption in the transportation sector is down by 8 percent, due to a combination of factors including more energy-efficient vehicles, the public's preference for those vehicles and a decline in driving, as well as the still small but growing adoption of hybrid and electric vehicles. Yet conversely the factbook says, thanks largely to fracking, U.S. oil production has grown by 41 percent since 2007 and "has returned to levels not seen since the 1980s."
It also points to some retrenchment in clean energy growth. In what will seem like mixed news to many renewable energy advocates, the contribution of natural gas to U.S. electricity generation has declined somewhat since 2013, and thanks to a drop in energy prices, that has allowed coal to become more competitive and regain a small piece of its market share, ticking up to 39 percent in 2013 and 2014, after dropping to 37 percent in 2012 from 49 percent in 2007. But longer-term trends, especially the closing of coal-fired power plants, will probably not sustain such growth in the future. Carbon emissions have increased as well, although that trend too is likely to reverse as coal-fired plants are shut down.
The final area of backtracking the factbook points to is the uncertainty over the very government policies the report says have fueled growth in the sustainable energy sector. Regarding President Obama's Clean Energy Plan and the U.S.-China agreement, it says, "Neither policy will come easy. Legal challenges to the EPA's proposal are underway, and achievement of the 2025 pledge will require new policy action."
The enactment of policies at the state level that encouraged investment in and growth of wind and solar power has not just slowed down but shows signs of reversing. In 2014, Ohio froze its renewable energy standards, which has reduced job growth and investments in solar and wind projects, while Arizona is considering a tax on rooftop solar installations, and other states are discussing such backward moves, including the Hoosier state.
"Policy actions taken by the U.S. in 2014 have set the stage for a potentially momentous global climate summit at Paris in December 2015," says the report. "The U.S.-China pact was the most notable achievement in the global climate negotiations process in 2014. Such public pledges from China and the U.S. (the world's first and second biggest emitters, respectively) have the potential to challenge other nations to do more as well. The summit to be held in Paris at the end of 2015 will be the most significant multilateral climate negotiations since the discussions in Copenhagen in 2009. The growth of sustainable energy is a critical part of achieving any targets that might be struck under diplomatic deals on greenhouse gas emissions."
YOU MIGHT ALSO LIKE
Robert Redford: Fossil Fuels Need to Stay in the Ground, Renewable Energy Is the Future
Solar Is Creating Jobs Nearly 20 Times Faster Than Overall U.S. Economy
Interactive Map: Find Out How Your State Ranks on Renewable Energy
EcoWatch Daily Newsletter
A woman walks to her train in Grand Central Terminal as New York City attempts to slow down the spread of coronavirus through social distancing on March 27. John Lamparski / Getty Images
By Julia Conley
A council representing more than 800,000 doctors across the U.S. signed a letter Friday imploring President Donald Trump to reverse his call for businesses to reopen by April 12, warning that the president's flouting of the guidance of public health experts could jeopardize the health of millions of Americans and throw hospitals into even more chaos as they fight the coronavirus pandemic.
polaristest / Flickr / CC BY-NC-ND 2.0
By Melissa Kravitz Hoeffner
Over six gallons of water are required to produce one gallon of wine. "Irrigation, sprays, and frost protection all [used in winemaking] require a lot of water," explained winemaker and sommelier Keith Wallace, who's also a professor and the founder of the Wine School of Philadelphia, the largest independent wine school in the U.S. And water waste is just the start of the climate-ruining inefficiencies commonplace in the wine industry. Sustainably speaking, climate change could be problematic for your favorite glass of wine.
Pixabay
Spinach is a true nutritional powerhouse, as it's rich in vitamins, minerals, and antioxidants.
Pexels
By Jeff Turrentine
From day to day, our public health infrastructure — the people and systems we've put in place to keep populations, as opposed to individuals, healthy — largely goes unnoticed. That's because when it's working well, its success takes the form of utter normalcy.
By Eoin Higgins
A viral video showing cell phone data collected by location accuracy company X-Mode from spring break partiers potentially spreading the coronavirus around the U.S. has brought up questions of digital privacy even as it shows convincingly the importance of staying home to defeat the disease.