This website uses cookies to ensure you get the best experience while browsing it. By clicking 'Got It' you're accepting these terms.
Survey Reveals Worldwide Fears of Climate Change
Sep. 05, 2013 02:02PM EST
Climate
By Kieran Cooke
A worldwide survey commissioned by the multinational insurance group Swiss Re to assess public attitudes towards risk has shown that climate change is ranked high on the list of people's concerns.
The survey, conducted on behalf of Swiss Re by the Gallup polling organization, involved 22,000 people aged 15 years  and older across five continents. People were asked what concerns them most—whether it's the economy, aging, climate change, natural disasters, energy issues or questions about food supplies.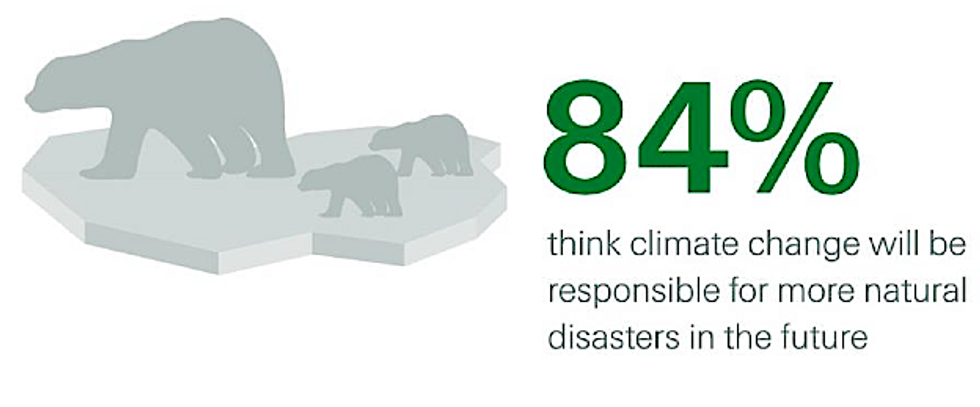 While almost all respondents expressed fears about the economic future in their countries, concern about climate change and natural disasters was also widespread, with 84 percent of respondents anticipating climate change being responsible for more natural disasters in the future.
Swiss Re says a majority of respondents also said they feel threatened by the risk that climate change poses to their communities. Most said they would be willing to shoulder some of the financial burden of dealing with future risks, but felt that governments should do more to meet the challenges of climate change.
The policy of governments does not fully address the risks faced today and by future generations, respondents said. In particular, more than 90 percent of those surveyed want to see governments doing more to ensure more efficient energy use.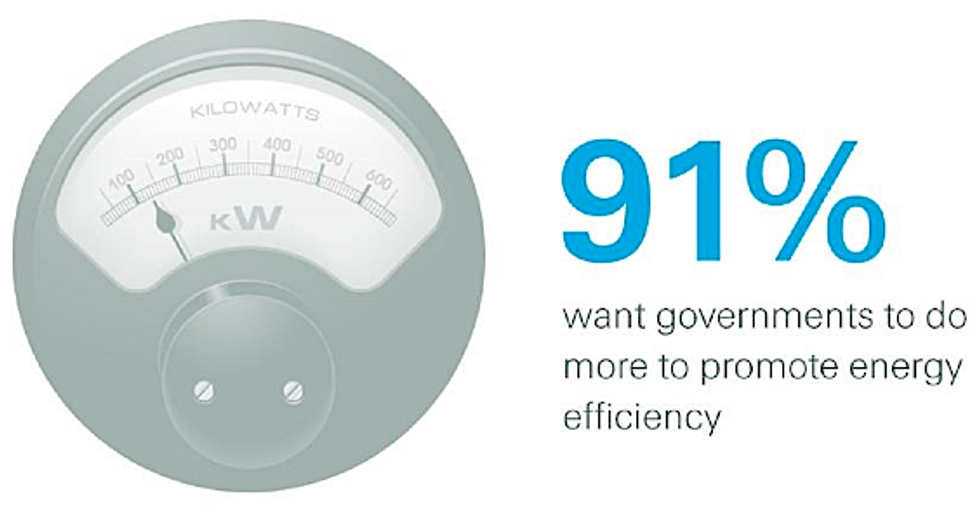 "These findings show that individuals are willing to take as much responsibility as their leaders," says David Cole, chief risk officer at Swiss Re, which commissioned the survey to mark the company's 150th anniversary.
"The findings are a call for better co-operation between government and the private sector," Cole continued. "It's vital to prepare systematically for the future and make societies more resilient. That's where Swiss Re also plays a key role with its risk expertise."
Large insurance companies such as Swiss Re are deeply involved in assessing the economic costs associated with changes in climate, insuring against a wide range of climate-related events that include flooding, storm damage, drought and crop failure.
Hurricane Sandy, which hit the Caribbean region and the east coast of the U.S. in October last year, is estimated to have caused $19 billion worth of damage in New York City alone.
The U.S. accounts for a large slice of the world's insurance market. Aon Benfield, a global reinsurance group, estimates that the cost of Hurricane Sandy, combined with losses incurred by the serious drought in the states of the Midwest in 2012, reached $100 billion—a figure representing more than 65 percent of total worldwide insured losses last year.
With such gargantuan sums involved, it is little wonder that insurance companies—and their shareholders—are acutely aware of the financial risks posed by climate change. Earlier this year, shareholders of insurance companies in parts of the U.S. successfully lobbied for insurers to reveal the extent of their preparedness for events related to climate change.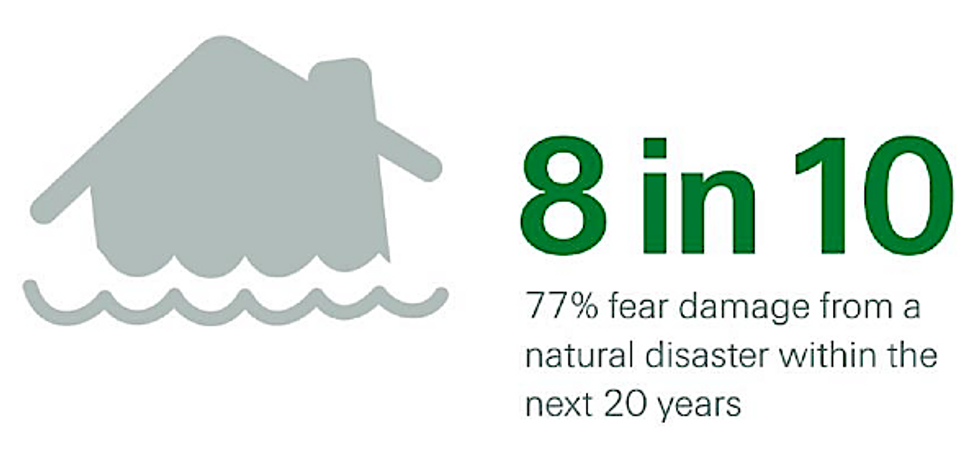 Later this month, the Intergovernmental Panel on Climate Change (IPCC) is due to release the first parts of its latest assessment report. Insurance companies are sure to focus special attention on the IPCC's likely scenarios for sea level rise —and the estimates of costs involved, particularly to coastal cities.
A recent World Bank study suggested that, by 2050, costs related to flooding brought about by a combination of sea level rise and extremes of heat, windstorms and rain in the world's coastal cities could rise to $1 trillion per year. Flood damage in just four cities—New Orleans, New York and Miami in the U.S. and Guangzhou in southern China—would account for nearly half of that sum.
Visit EcoWatch's CLIMATE CHANGE page for more related news on this topic.
——–
EcoWatch Daily Newsletter
Doctors report that only 1 in 4 children are getting the recommended 60 minutes of physical activity per day. Ronnie Kaufman / DigitalVision / Getty Images
By Dan Gray
Pediatricians are being urged to start writing "exercise prescriptions" for the children they see in their office.
A First Nations protester walks in front of a train blockade in Tyendinaga, near Belleville, Ontario, Canada on Feb. 21, 2020. LARS HAGBERG / AFP via Getty Images
An indigenous rail blockade that snarled train travel in Canada for more than two weeks came to an end Monday when police moved in to clear protesters acting in solidarity with another indigenous community in British Columbia (B.C.), which is fighting to keep a natural gas pipeline off its land.
A rainbow snake, a rare reptile spotted in a Florida county for the first time in more than 50 years, seen here on July 5, 2013.
Kevin Enge / FWC Fish and Wildlife Research Institute / Flickr
A Florida hiker recently stumbled across a slithering surprise — a rare snake that hadn't been spotted in the area for more than 50 years.
We need our government to do everything it can to stop PFAS contamination and exposure from wreaking havoc in communities across the country. LuAnn Hun /
Unsplash
By Genna Reed
The EPA announced last week that it is issuing a preliminary regulatory determination for public comment to set an enforceable drinking water standard to two of the most common and well-studied PFAS, PFOA and PFOS.
This decision is based on three criteria:
PFOA and PFOS have an adverse effect on public health
PFOA and PFOS occur in drinking water often enough and at levels of public health concern;
regulation of PFOA and PFOS is a meaningful opportunity for reducing the health risk to those served by public water systems.
Charging EVs in Stockholm: But where does a dead battery go? Ranjithsiji / Wikimedia Commons
By Kieran Cooke
Driving an electric-powered vehicle (EV) rather than one reliant on fossil fuels is a key way to tackle climate change and improve air quality — but it does leave the old batteries behind as a nasty residue.