This website uses cookies to ensure you get the best experience while browsing it. By clicking 'Got It' you're accepting these terms.
Surreal Photos Show Impact of Plastic Pollution on One of the World's Most Beautiful Places
Apr. 21, 2015 09:05AM EST
Brooklyn-based multimedia artist Alejandro Durán is bringing attention to the devastating environmental catastrophe of global waste and plastic pollution. In this ongoing project, Washed Up: Transforming a Trashed Landscape, the pristine beauty of Sian Ka'an—Mexico's largest federally-protected reserve—is contrasted with colorful yet unsettling garbage collected from all over the world.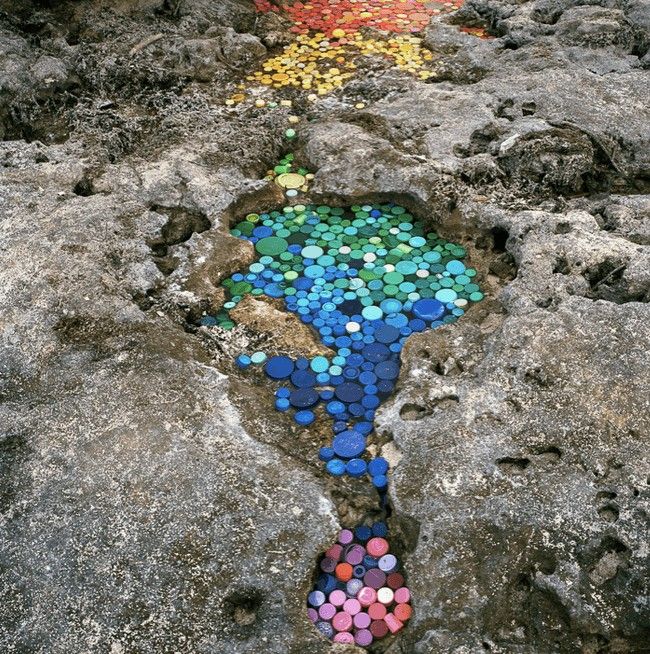 Derrame
(Spill), 2010. Alejandro Durán artistically arranges colorful pieces of plastic in sites along Mexico's Caribbean coast. Photo Credit: Alejandro Durán
"With more than 20 pre-Columbian archaeological sites, this UNESCO World Heritage site is also home to a vast array of flora and fauna and the world's second largest coastal barrier reef," the Mexico City-native said about the site of his installation. "Unfortunately, Sian Ka'an is also a repository for the world's trash, which is carried there by ocean currents from many parts of the globe."
Artfully strewn along Mexico's Caribbean coast are countless pieces of waste and other disposables, including plastic bottles, bottle caps, toothbrushes, light bulbs and more.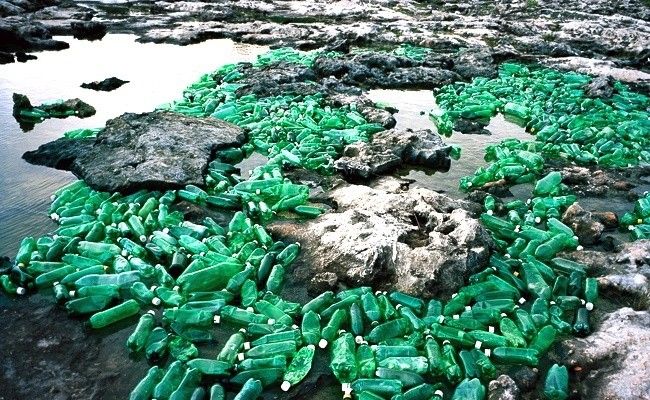 Algas
(Algae), 2013. About 8 million metric tons of plastic is dumped into the world's oceans each year. Photo Credit: Alejandro Durán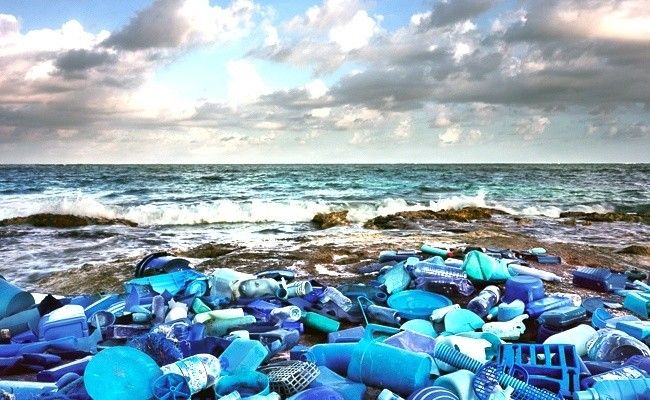 Mar
(Sea), 2013. "At times I distribute the objects the way the waves would; at other times, the plastic takes on the shape of algae, roots, rivers or fruit, reflecting the infiltration of plastics into the natural environment." Photo Credit: Alejandro Durán
Over the course of the project, Durán identified waste from 50 different countries across six continents that have surfaced along a single coastline of Sian Ka'an. As we previously reported, 8 million metric tons of plastic is dumped into world's oceans each year, causing $13 billion in damages to marine ecosystems annually.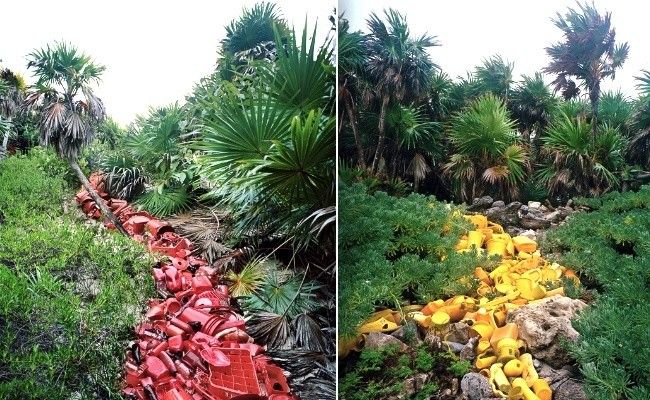 Vena
(Vein), 2011 and
Rayo
(Ray), 2011. These photos bring much-needed attention to consumerism and its devastation to the environment. Photo Credit: Alejandro Durán
Durán uses this international debris to create color-based, site-specific sculptures. "Conflating the hand of man and nature, at times I distribute the objects the way the waves would; at other times, the plastic takes on the shape of algae, roots, rivers or fruit, reflecting the infiltration of plastics into the natural environment," he said.
Brotes
(Shoots), 2014. Durán's work "examines the fraught intersections of man and nature, particularly the tension between the natural world and an increasingly overdeveloped one." Photo Credit: Alejandro Durán
Durán hopes to "change our relationship to consumption and waste" with his project. "More than creating a surreal or fantastical landscape, these installations mirror the reality of our current environmental predicament," he said. "The resulting photo series depicts a new form of colonization by consumerism, where even undeveloped land is not safe from the far-reaching impact of our disposable culture."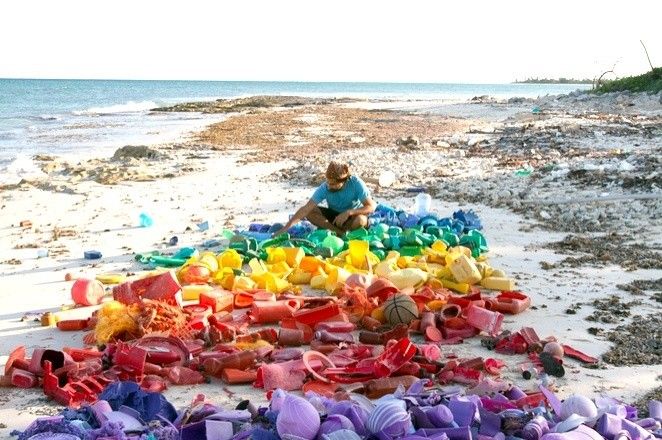 The project recently received a Juror's Award from CENTER, which recognizes outstanding photographers working in fine art series or documentary projects. "The singular focus applied to this project is unparalleled," said juror and CNN Digital senior photo editor Bernadette Tuazon, who selected Durán's project for the award.
Visit his website to see more of his work. The artist will be displaying his project at upcoming exhibitions and discussions. Go here for dates and locations.
YOU MIGHT ALSO LIKE
Stunning Photos Capture Devastating Worldwide E-Waste Problem
Incredible Photos: Is This Tiny Cabin Micro-Community the Future of Sustainable Living?
Award-Winning Photographer Captures Waves Like You've Never Seen Them
EcoWatch Daily Newsletter
Artist's conception of solar islands in the open ocean. PNAS
Millions of solar panels clustered together to form an island could convert carbon dioxide in seawater into methanol, which can fuel airplanes and trucks, according to new research from Norway and Switzerland and published in the Proceedings of the National Academy of Sciences journal, PNAS, as NBC News reported. The floating islands could drastically reduce greenhouse gas emissions and dependence on fossil fuels.
Marcos Alves / Moment Open / Getty Images
More than 40 percent of insects could go extinct globally in the next few decades. So why did the U.S. Environmental Protection Agency (EPA) last week ok the 'emergency' use of the bee-killing pesticide sulfoxaflor on 13.9 million acres?
EcoWatch teamed up with Center for Biological Diversity via EcoWatch Live on Facebook to find out why. Environmental Health Director and Senior Attorney Lori Ann Burd explained how there is a loophole in the The Federal Insecticide, Fungicide, and Rodenticide Act under section 18, "that allows for entities and states to request emergency exemptions to spraying pesticides where they otherwise wouldn't be allowed to spray."
Simple swaps that cut down on kitchen trash.
Sponsored
By Kayla Robbins
Along with the bathroom, the kitchen is one of the most daunting areas to try and make zero waste.
View of downtown Miami, Florida from Hobie Island on Feb. 2, 2019.
Michael Muraz / Flickr
The Democratic candidates for president descended upon Miami for a two-night debate on Wednesday and Thursday. Any candidate hoping to carry the state will have to make the climate crisis central to their campaign, as The New York Times reported.
By Sharon Kelly
On Monday, the Wall Street Journal featured a profile of Scott Sheffield, CEO of Pioneer Natural Resources, whose company is known among investors for its emphasis on drawing oil and gas from the Permian basin in Texas using horizontal drilling and hydraulic fracturing, or fracking.
Pexels
By Craig K. Chandler
The federal government has available to it, should it choose to use them, a wide range of potential climate change management tools, going well beyond the traditional pollution control regulatory options. And, in some cases (not all), without new legislative authorization.
Denis Poroy / Getty Images
By Dan Gray
Processed foods, in their many delicious forms, are an American favorite.
But new research shows that despite increasing evidence on just how unhealthy processed foods are, Americans have continued to eat the products at the same rate.
By Sarah Steffen
With a profound understanding of their environmental surroundings, indigenous communities around the world are often cited as being pivotal to tackling climate change.