This website uses cookies to ensure you get the best experience while browsing it. By clicking 'Got It' you're accepting these terms.


The best of EcoWatch, right in your inbox. Sign up for our email newsletter!
Surprising Reason Why Nearsightedness Has More Than Doubled in 50 years
Mar. 24, 2015 09:27AM EST
Health + Wellness
In certain parts of the world, children are developing myopia—or near-sightedness—at much higher rates than they have in the past, according to an article published in the esteemed scientific journal Nature.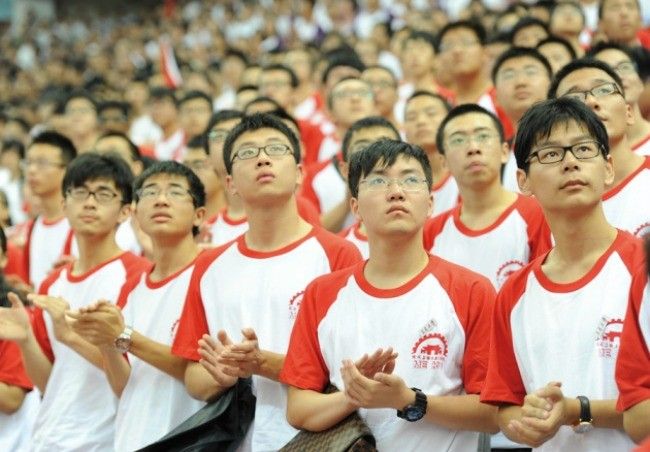 Myopia, which causes blurred vision and requires prescription lenses, is reaching epidemic proportions in some populations; in China, rates have increased from 10–20 percent 60 years ago to as many as 90 percent of young adults today. The rates of myopia in the U.S. and Europe have doubled during the same time period.
According to the Nature article, researchers have explored the many possible reasons for these increases, and have proposed genetics and watching more television as possible explanations.
Several reports published in the last 10 years suggest a related—but very different—reason for the cause. Research at Ohio State University and from Australia found that children who spent less time outside were more likely to develop myopia. Australian researchers then identified the reason why spending more time inside effected eyesight: children's eyes got less exposure to direct sunlight.
Specifically, looking at sunlight less actually changes the shape of the eyeball to become elongated. As a result of an elongated eyeball, light gets focused front of the retina instead of on the retina. This change in where the eye focuses light causes people to see less clearly and have difficultly seeing objects far away.
"We're really trying to give this message now that children need to spend more time outside," Kathryn Rose, head of orthoptics at the University of Technology, Sydney, said in the Nature article.
Ian Morgan, a myopia researcher at the Australian National University in Canberra, stated in the Nature article that children should spend three hours per day under light levels of at least 10,000 lux. This amount of sunlight will protect them from developing myopia. Ten thousand lux would be about the amount of light someone would get from sitting under a shady tree on a bright summer day while wearing sunglasses. A well-lit schoolroom or office provides a much lower amount of lux light—generally less than 500 lux.
In Australia, where three hours of outdoor time is normal, only 30 percent of 17-year olds are nearsighted. In other parts of the world where myopia rates are higher—like the U.S. and Europe—many children don't see more than an hour or two of outdoor time.
"We've got proof of principle that increasing the amount of time children spend outside actually works," Dr. Morgan said in Nature. "The question then is how do we make this work in practice at a level that would have a significant impact?"
Programs and research are in the works to measure the benefits of adding outdoor class time to school schedules. So far, notable improvements in myopia rates are being seen when compared to control groups.
Dr. Morgan is now working on programs to have classrooms made of glass so that children can be exposed to high levels of lux light during school hours.
YOU MAY ALSO LIKE
Obama Initiative Seeks to Get 4 Million Fourth Graders Exploring America's Public Lands
Top 10 Park Systems in the U.S.
Are You Flushing Your Baby Wipes Down the Toilet? Here's Why You Shouldn't
EcoWatch Daily Newsletter
jenifoto / iStock / Getty Images
Many people consider granola bars a convenient and healthy snack and enjoy their flavor and versatility.
A common green darners (Anax junius). Judy Gallagher / Flickr
By Jason Bittel
It's that time of year again: Right now, monarch butterflies are taking wing in the mountains of northwestern Mexico and starting to flap their way across the United States.
fstop123 / iStock / Getty Images Plus
At EcoWatch, our team knows that changing personal habits and taking actions that contribute to a better planet is an ongoing journey. Earth Day, happening on April 22, is a great reminder for all of us to learn more about the environmental costs of our behaviors like food waste or fast fashion.
To offer readers some inspiration this Earth Day, our team rounded up their top picks for films to watch. So, sit back and take in one of these documentary films this Earth Day. Maybe it will spark a small change you can make in your own life.
Denali national park. Domen Jakus / Flickr / CC BY-NC 2.0
By Stephanie Gagnon
Happy National Parks Week! This year, between April 20 and 28, escape to the beautiful national parks — either in person or in your imagination — and celebrate the amazing wildlife that calls these spaces home.
Sesame, three months old, at Seal Rescue Irleand.
Screenshot / Seal Rescue Ireland Instagram
On Friday, Seal Rescue Ireland released Sesame the seal into the ocean after five months of rehabilitation at the Seal Rescue Ireland facility. Watch the release on EcoWatch's Facebook.

Beer packs of Guinness will now come in a cardboard box. Diageo

By Jordan Davidson
Guinness is joining the fight against single use plastic. The brewer has seen enough hapless turtles and marine life suffering from the scourge of plastic.
Maskot / Getty Images
People of all ages are spending more of their day looking at their phones, computers and television screens, but parents now have another reason for limiting how much screen time their children get — it could lead to behavioral problems.