Supreme Court Rejects Coal Industry Lawsuit, Defends EPA Veto of Mountaintop Removal Mine
Today the U.S. Supreme Court denied the coal mining industry's request to hear a case against the Environmental Protection Agency (EPA) for vetoing part of a permit for one of the largest and most harmful mountaintop removal coal mines in West Virginia's history, the Spruce No. 1 mine. By declining to take the case the Supreme Court refused to reverse the lower court's ruling that the EPA has full authority to protect clean water whenever necessary to prevent unacceptable environmental harm.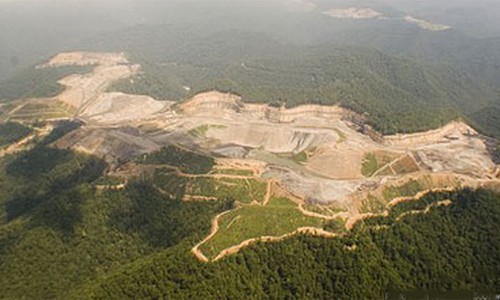 In October 1999, the Spruce No. 1 Mine became the subject of the first significant federal court decision on mountaintop removal mining, won by individual community members and the West Virginia Highlands Conservancy (represented by Appalachian Mountain Advocates and Public Justice). That case initiated years of controversy and litigation over this proposed mine. In the meantime, the science accumulated showing how devastating this type of mining is for local waters and communities.
In Jan. 2011, the EPA decided to veto the Spruce No. 1 Mine permit based on robust science showing the irreparable harm that would occur if the mining company were allowed to permanently bury and pollute natural headwater streams with mining waste. The permit would have allowed the Mingo Logan coal company to bury and destroy more than six miles of pristine mountain streams under mining waste dumps created from the destruction of more than 2,000 acres of land, releasing harmful pollutants into downstream waters that sustain local communities and wildlife. Appalachian citizen groups have been fighting to save the streams that would be destroyed by the Spruce Mine for more than a decade—as one of the largest, most harmful mountaintop removal mines ever proposed.
"The Spruce No. 1 mine is one of the largest and most destructive mountaintop removal mines ever proposed in Appalachia," said Trip Van Noppen, president of Earthjustice. "EPA's decision to veto the dumping of waste from this mine was a decision to prevent the most extreme impacts of the most radical type of strip mining—the worst of the worst. The Clean Water Act, enacted with wide bipartisan and public support, gave EPA broad authority to step in and stop this type of wholesale destruction and pollution of U.S. waters. The Supreme Court refusal to hear industry's baseless case confirms that the EPA has the clear legal authority to prevent the dumping of waste whenever it would cause unacceptable harm to communities and the environment."
In this instance, the EPA decided to veto the Spruce No. 1 mine permit after substantial new science had come to light. The EPA considered more than 50,000 written comments before issuing the veto. The vast majority—70 percent—supported the EPA's veto.
"The coal industry has falsely painted the Spruce mine veto as an example of EPA overreach and a 'war on coal,' when in fact EPA's authority to veto this permit is obvious from the face of the statute and EPA's decision is based on clear scientific evidence of serious environmental harm from mining," said Jim Hecker, environmental enforcement director at Public Justice and co-counsel in the 1998 case that initially blocked the Spruce mine
In 2012, the D.C. district court ruled that the EPA lacked authority to veto the permit after the Corps had issued it, without addressing the scientific merits of the EPA's decision. In 2013, the D.C. Circuit (in an opinion by Judges Henderson, Griffith and Kavanaugh) unanimously reversed the district court's ruling and upheld the EPA's authority to veto whenever there is unacceptable harm, including after a permit has been issued. The full D.C. Circuit then denied the coal company's petition for en banc review.
"This is a very gratifying outcome for water drinkers everywhere," said Vivian Stockman, project coordinator, Ohio Valley Environmental Coalition. "The Court agrees that Congress gave EPA the authority to protect our waters from devastating harm, harm the proposed massive Spruce mountaintop removal mine would wreak if its permit was not vetoed. By protecting clean water, EPA is ultimately protecting human health, and as recent events have underscored, here in central West Virginia we cannot depend on the coal industry, nor state government to protect human health by protecting clean water. We need EPA to be able to keep a check on things."
Today's denial of certiorari reaffirms what the D.C. Circuit decided—that the EPA has authority to veto a harmful permit after it is issued. The case now goes back to the district court to review the scientific merits of the EPA's veto decision in this specific instance.
"It's absurd that we have to fight this hard to protect one site from mountaintop removal when there are so many threatening the health of mountain communities," said Vernon Haltom, executive director of Coal River Mountain Watch. "We have to rely on the EPA to do the job clearly entrusted to them, because the West Virginia Dept. of Environmental Protection long ago abdicated their mission. To struggle so long for one site is all the more reason that we need to pass the Appalachian Community Health Emergency Act, HR 526."
Visit EcoWatch's WATER and COAL page for more related news on this topic.
Disturbing footage of a snake in Goa, India vomiting an empty soft drink bottle highlights the world's mounting plastic pollution crisis.
Keep reading...
Show less
By Melissa Hellmann
When her eldest son was in elementary school in the Oakland Unified School District, Ruth Woodruff became alarmed by the meals he was being served at school. A lot of it was frozen, processed foods, packed with preservatives. At home, she was feeding her children locally sourced, organic foods.
Keep reading...
Show less
May. 28, 2017 01:33PM EST
Laurie Woolever
By James O'Hare
There are 20 million people in the world facing famine in South Sudan, Somalia, Nigeria and Yemen. In developed nations, too, people go hungry. Venezuela, for instance, is enduring food insecurity on a national level as a result of economic crisis and political corruption. In the U.S., the land of supposed excess, 12.7 percent of households were food insecure in 2015, meaning they didn't know where their next meal would come from.
Keep reading...
Show less
May. 28, 2017 01:22PM EST
Melwater, Greenland ice sheet. Diane Tuft
Artists are taking the climate crisis into frame and the results are emotional, beautiful and stirring.
So you've seen the best climate change cartoons and shared them with your friends. You've showed your family the infographics on climate change and health, infographics on how the grid works and infographics about clean, renewable energy. You've even forwarded these official National Oceanic and Atmospheric Administration graphs that explain the 10 clear indicators of climate change to your colleagues at the office.
Keep reading...
Show less
May. 27, 2017 01:11PM EST
As the Trump administration moves full speed ahead on boosting the oil and fossil fuel industry, opposition to increased pipeline construction is cropping up in different communities around the country.
Keep reading...
Show less
May. 27, 2017 01:02PM EST
Minke whale stranding near Havergate Island in Suffolk. MCGA.
By Simon Evans
Last Saturday, two dead whales washed up on the coast of Suffolk, in eastern England, and a third was spotted floating at sea.
What happened next illustrates how news can spread and evolve into misinformation, when reported by journalists rushing to publish before confirming basic facts or sourcing their own quotes.
Keep reading...
Show less
May. 27, 2017 01:22PM EST
By Monica Amarelo and Paul Pestano
Sun safety is a crucial part of any outdoor activity for kids, and sunscreen can help protect children's skin from harmful ultraviolet rays. Kids often get sunburned when they're outside unprotected for longer than expected. Parents need to plan ahead and keep sun protection handy in their cars or bags.
Keep reading...
Show less
May. 27, 2017 01:02PM EST
By Joe McCarthy
A lot of people take part in community clean-up efforts—spending a Saturday morning picking up litter in a park, mowing an overgrown field or painting a fence.
Keep reading...
Show less