This website uses cookies to ensure you get the best experience while browsing it. By clicking 'Got It' you're accepting these terms.
Supreme Court Chooses Dark Money Billionaires Over Environment in Historic McCutcheon v. FEC Ruling
Apr. 02, 2014 02:14PM EST
Energy
Environmental groups believe a large favor was handed to corporations, billionaires and the campaigns they fund when U.S. Supreme Court justices decided Wednesday to strike down overall limits on campaign contributions.
The 5-4 decision in the case of coal executive Shaun McCutcheon v. the Federal Election Commission (FEC) means that individual contributors no longer face a cap on how many candidates and parties they can fund in an election cycle. That unnerves environmental groups who have been fighting against the once-quiet contributions of coal and fossil fuel supporters like the Koch Brothers who fund legislators that favor anti-renewable energy policies.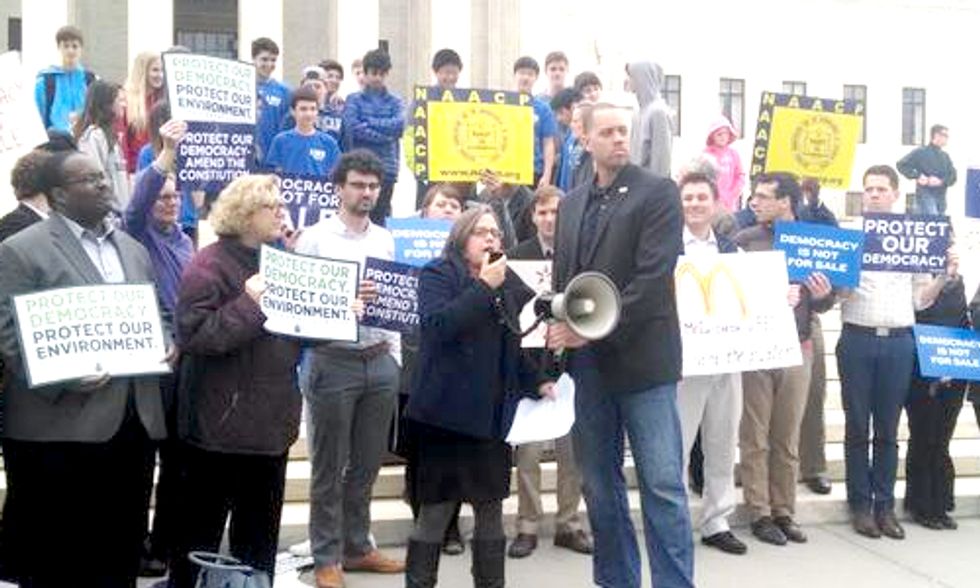 "The Supreme Court's decision today in McCutcheon v. FEC fundamentally contradicts the values that sustain our democracy and undermines the notion that our government functions of, by, and for the people," Sierra Club Executive Director Michael Brune wrote in a statement following the decision.
"To be clear, today the Court capitulated to a coal executive's demand that he and his fellow big polluters be allowed to dump millions more of their corrupt dollars into politics."
That coal executive is Shaun McCutcheon of Alabama who bristled at being unable to spread his funds to 27 congress members in 2012. Now, he and his other contributors will have no such worry.
"The McCutcheon ruling shows that the decades-long crisis with money in politics—a serious problem accelerated by Citizens United—has just been turned up another notch," said Wenonah Hauter, executive director of Food & Water Watch. "With these two rulings, corporations and billionaires like the Koch brothers will be able to use their money to buy more influence in more places, gaining a tighter grip on our government."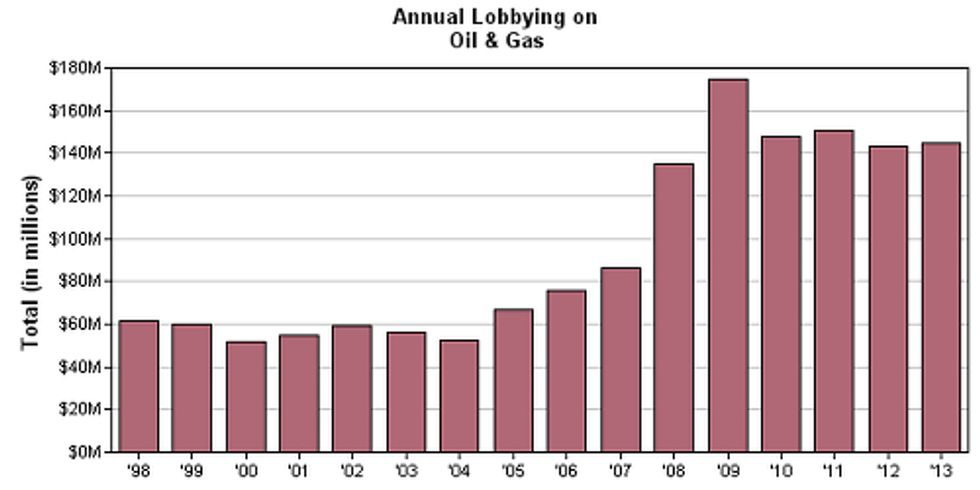 Hauter pointed to some statistics the Center for Responsive Politics that illustrate how much influence the oil and gas industries already had on politics before Wednesday's ruling. Spending more than $145 million to lobby in Washington, oil and gas was one of the top five industries in terms of political spending. Exxon, Chevron, BP and Koch Industries top most of the annual lists of top funders within the oil and gas realm.
Without an aggregate limit, the Court allows individuals to contribute up to $3.6 million during an election cycle to benefit the parties, candidates and political action committees of his or her liking. The limit was previously $123,200.
"After decades of funding think tanks and judges to promote radical ideas equating money with speech and corporations with people, the big-money men and women who want to have the government in their pocket are at their apex," Claiborne Deming wrote in a statement on behalf of The Story of Stuff Project. "But history tells us that after hitting the top, the pendulum will begin to swing the other way."
Brune's statement exhibited a similar sense of optimism, regarding the ruling as a chance to galvanize those who disagree with it.
"This decision isn't just an egregious attempt to cede our democracy to corporate rule—it is an opportunity to organize the 91 percent of Americans who want something done about corrupt money in politics," he said. "The Supreme Court and big polluters have made it clear what side they are on.
Now, we will make clear that its the wrong side."
——–
YOU ALSO MIGHT LIKE
New Study Exposes Flood of Dark Money Feeding Climate Change Denial
New Report Reveals Koch Brothers Could Make $100B Profit if Keystone XL Pipeline is Built
First Potential Offshore Wind Farm in U.S. Survives Koch-backed Lawsuit, But Faces Another
——–
EcoWatch Daily Newsletter
A Starbucks barista prepares a drink at a Starbucks Coffee Shop location in New York. Ramin Talaie / Corbis via Getty Images
By Cathy Cassata
Are you getting your fill of Starbucks' new Almondmilk Honey Flat White, Oatmilk Honey Latte, and Coconutmilk Latte, but wondering just how healthy they are?
By Sharon Kelly
Back in April last year, the Trump administration's Environmental Protection Agency decided it was "not necessary" to update the rules for toxic waste from oil and gas wells. Torrents of wastewater flow daily from the nation's 1.5 million active oil and gas wells and the agency's own research has warned it may pose risks to the country's drinking water supplies.
Swedish climate activist Greta Thunberg takes part in a "Friday for Future" youth demonstration in a street of Davos on Jan. 24, 2020 on the sideline of the World Economic Forum annual meeting. FABRICE COFFRINI / AFP via Getty Images
Treasury Secretary Steven Mnuchin pretended not to know who Greta Thunberg is, and then he told her to get a degree in economics before giving world leaders advice, as The Guardian reported.
The Visible Infrared Imaging Radiometer Suite on the Suomi NPP satellite acquired this image of forest fire smoke hovering over North America on Aug. 15, 2018. NASA Earth Observatory
New York City isn't known for having the cleanest air, but researchers traced recent air pollution spikes there to two surprising sources — fires hundreds of miles away in Canada and the southeastern U.S.
If temperatures continue to rise, the world is at risk from global
sea-level rise
, which will flood many coastal cities as seen above in Bangladesh. NurPhoto / Contributor / Getty Images
The mounting climate emergency may spur the next global financial crisis and the world's central banks are woefully ill equipped to handle the consequences, according to a new book-length report by the Bank for International Settlements (BIS), as S&P Global reported. Located in Basel, Switzerland, the BIS is an umbrella organization for the world's central banks.