This website uses cookies to ensure you get the best experience while browsing it. By clicking 'Got It' you're accepting these terms.
Support Family Farmers in Their Case against Monsanto
Jan. 17, 2012 10:45AM EST
GMO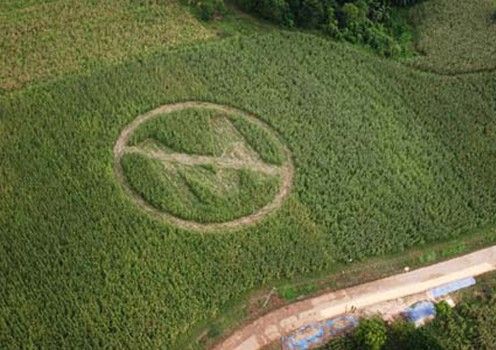 The Organic Seed Growers and Trade Association (OSGATA) invites citizens to assemble outside the Manhattan District court on Jan. 31 in an effort to present the message to family farmers that millions of Americans stand behind them as they seek their day in court. In the past two decades, Monsanto's seed monopoly has grown so powerful that they control the genetics of nearly 90 percent of five major commodity crops including corn, soybeans, cotton, canola and sugar beets. This has resulted in onerous costs to farmers through high technology patent fees for seeds as well as burdensome litigation costs in defending themselves against lawsuits asserted by Monsanto.
In many cases organic and conventional farmers are forced to stop growing certain crops in order to avoid genetic contamination and potential lawsuits. Between 1997 and April 2010, Monsanto filed 144 lawsuits against American farmers in at least 27 different states, for alleged infringement of its transgenic seed patents and/or breach of its license to those patents, while settling another 700 out of court for undisclosed amounts. As a result of these aggressive lawsuits, Monsanto has created an atmosphere of fear in rural America and driven dozens of farmers into bankruptcy.
The lawsuit OSGATA et al vs. Monsanto was filed on behalf of 300,000 organic and non-GMO (genetically modified organisms) farmers and citizens to seek judicial relief in "protect[ing] themselves from ever being accused of infringing patents on transgenic (GMO) seed." The judge has requested and agreed to hear oral argument in order to make a decision of whether or not to allow the farmers' cases to move forward in the courts after Monsanto filed a motion to dismiss the lawsuit.
"We are family farmers and we are headed to court in New York City on Jan. 31 to let the judge know that our survival as farmers depends on this lawsuit," said Jim Gerritsen, OSGATA president. "We're not asking Monsanto for one penny. We just want justice for our farmers and we want court protection from Monsanto."
"I don't think it's fair that Monsanto should be able to sue my family for patent infringement because their transgenic seed trespasses onto our farm and contaminates and ruins our organic crop," said Bryce Stephens, of Stephen's Land and Cattle Co. "We have had to abandon raising corn because we are afraid Monsanto wouldn't control their genetic pollution and then they would come after us for patent infringment. It's not right."
We are encouraging supporters of farmers' rights to grow food without fear and intimidation to assemble outside the courtroom in a peaceful manner to support the farmers in their claims, recognizing that these injustices affect us all and that this case is deserving of the court's time and attention on Jan. 31, 2012.
Due to limited space, only a small number of individuals will be able to enter the courtroom and listen to the proceedings. We respectfully ask that farmers and plaintiffs in the case be given priority to hear this case in person as each plaintiff will have traveled many miles and put a great deal on the line to be a part of this case.
In the spirit of peaceful assembly and respect for the courts, we request that you adhere to the following principles:
Principles for Citizens' Assembly
1. Assemble outside the court in a show of support for family farmers and their right to grow food without the threat of intimidation, harassment or loss of income.
2. Assemble peacefully to present a positive message that America's citizens stand behind family farmers and support their rights of legal protection under the Constitution.
3. Bring signs that portray messages of:
Hope
The positive impacts of sustainable and organic agriculture
Solutions to our current crisis in food, agriculture and society
Support for farmers who seek justice in the courts
4. Be respectful of court security requests and follow them faithfully.
5. Maintain a respectful distance from the court entry on Pearl Street, making sure not to block access for foot traffic or vehicles.
6. Maintain a tone of respect for the court and the sanctity of our legal process as the judge hears the merits of this important case.
7. Cell phones, cameras and tape recorders are prohibited inside the courthouse. Those who enter the courthouse must conform to court security protocols.
8. No signs, t-shirts with slogans or other disruptions, visual or otherwise, are appropriate or allowed in the courtroom.
9. No chanting or loud noises allowed outside the courthouse as all must maintain their conduct in ways that are respectful to the judicial process and in accordance with the seriousness of the case.
10. Follow the instructions of designated assembly captains who will continue to update you as the events of the day unfold.
As advocates for farmers and supporters of a citizen-based democracy we greatly appreciate your support for family farmers and your agreement to act in accordance with these principles in order to guarantee farmers' rights to grow food without fear and intimidation.
Location to Hear Plaintiffs and Attorney Comment After Hearing
Once oral arguments are heard in the court, farmers, plaintiffs and Lead Attorney Dan Ravicher of the Public Patent Foundation will be available for comments to supporters and the media, at the Southwest Corner on 500 Pearl Street, at Pearl Street and Cardinal Hayes Place.
For those planning on assembling at 9 a.m., Pearl Street has been recommended to gather respectfully and overflow can gather at Foley Square.
Find a link to a map of the location by clicking here.
To RSVP to the event, click here.
To sign a petition supporting farmers in the case against Monsanto, click here.
For more information, click here.
EcoWatch Daily Newsletter
A vegan diet can improve your health, but experts say it's important to keep track of nutrients and protein. Getty Images
By Dan Gray
Research shows that 16 weeks of a vegan diet can boost the gut microbiome, helping with weight loss and overall health.
A healthy microbiome is a diverse microbiome. A plant-based diet is the best way to achieve this.
It isn't necessary to opt for a strictly vegan diet, but it's beneficial to limit meat intake.
New research shows that following a vegan diet for about 4 months can boost your gut microbiome. In turn, that can lead to improvements in body weight and blood sugar management.
Students gathered at the National Mall in Washington DC, Sept. 20. NRDC
By Jeff Turrentine
Nearly 20 years have passed since the journalist Malcolm Gladwell popularized the term tipping point, in his best-selling book of the same name. The phrase denotes the moment that a certain idea, behavior, or practice catches on exponentially and gains widespread currency throughout a culture. Having transcended its roots in sociological theory, the tipping point is now part of our everyday vernacular. We use it in scientific contexts to describe, for instance, the climatological point of no return that we'll hit if we allow average global temperatures to rise more than 2 degrees Celsius above preindustrial levels. But we also use it to describe everything from resistance movements to the disenchantment of hockey fans when their team is on a losing streak.
samael334 / iStock / Getty Images
Berries are small, soft, round fruit of various colors — mainly blue, red, or purple.
A glacier is seen in the Kenai Mountains on Sept. 6, near Primrose, Alaska. Scientists from the U.S. Geological Survey have been studying the glaciers in the area since 1966 and their studies show that the warming climate has resulted in sustained glacial mass loss as melting outpaced the accumulation of new snow and ice. Joe Raedle / Getty Images
By Mark Mancini
On Aug. 18, Iceland held a funeral for the first glacier lost to climate change. The deceased party was Okjökull, a historic body of ice that covered 14.6 square miles (38 square kilometers) in the Icelandic Highlands at the turn of the 20th century. But its glory days are long gone. In 2014, having dwindled to less than 1/15 its former size, Okjökull lost its status as an official glacier.
Members of Chicago Democratic Socialists of America table at the Logan Square Farmers Market on Aug. 18. Alex Schwartz
By Alex Schwartz
Among the many vendors at the Logan Square Farmers Market on Aug. 18 sat three young people peddling neither organic vegetables, gourmet cheese nor handmade crafts. Instead, they offered liberation from capitalism.
Hackney primary school students went to the Town Hall on May 24 in London after school to protest about the climate emergency. Jenny Matthews / In Pictures / Getty Images
Bird watching in the U.S. may be a lot harder than it once was, since bird populations are dropping off in droves, according to a new study.