This website uses cookies to ensure you get the best experience while browsing it. By clicking 'Got It' you're accepting these terms.
Superbug Suit: Court Slams FDA on Antibiotics in Animal Feed
Jun. 05, 2012 11:27AM EST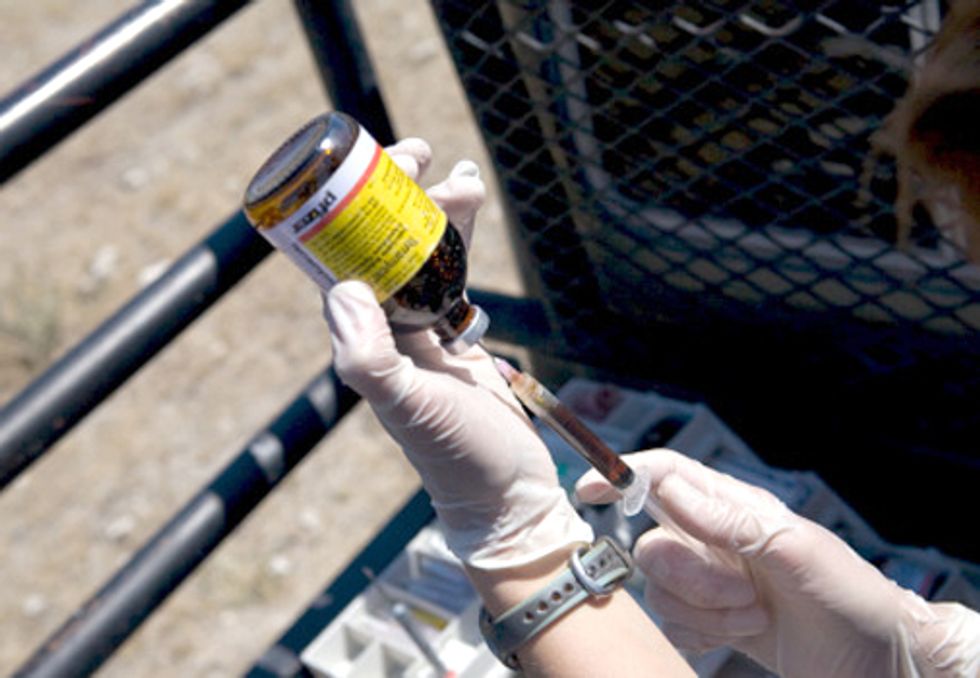 Last night, for a second time in three months, a federal court ordered the Food and Drug Administration (FDA) to take action to protect public health from the overuse of antibiotics in animal feed by instructing FDA to reconsider two citizen petitions which urge the agency to revoke approvals for all nontherapeutic uses of antibiotics in livestock production. For years, scientists, health care organizations and government agencies have warned that the widespread use of antibiotics to hasten animal growth and compensate for unsanitary and over-crowded feedlots results in diminishing effectiveness of these essential medicines to treat infections in people.
"The court's order pushes the agency one step closer to meaningful action to curb the dangerous overuse of antibiotics in animal feed," said Avinash Kar, Natural Resources Defense Council (NRDC) health attorney. "The court calls out FDA's protracted foot-dragging on the problem of antibiotic resistance and requires the agency do its job to protect our food, our health and our families."
FDA denied the citizen group petitions late last year, in favor of an unenforceable guidance document that recommends the industry voluntarily discontinue this widespread drug use. The court ruled that FDA's denial of the citizen petitions, which were filed seven and thirteen years ago, violated the law because the agency failed to address the substantial scientific evidence presented by the petitions that the use of penicillin, tetracycline and five additional drug classes in livestock production poses risks to human health.
The decision resolves the second claim in a lawsuit filed by the Natural Resources Defense Council, Center for Science in the Public Interest (CSPI), Food Animal Concerns Trust (FACT), Public Citizen and Union of Concerned Scientists (UCS) last year. The victory comes just two months after a court order that compels FDA to withdraw approval for most nontherapeutic uses of penicillin and tetracyclines in animal feed, unless the industry can prove in public hearings that those drug uses are safe.
The court decision noted, "For over thirty years, the Agency has been confronted with evidence of the human health risks associated with the widespread subtherapeutic use of antibiotics in food-producing animals, and, despite a statutory mandate to ensure the safety of animal drugs, the Agency has done shockingly little to address these risks." The FDA insisted that withdrawal proceedings would be too time consuming, but the court called that position "both ironic and arbitrary," saying "had the Agency addressed the Petitions in a timely fashion, withdrawal proceedings could have been commenced and completed by now."
"As the court points out, FDA has recognized but stopped just short of making formal findings that the nontherapeutic use of antibiotics in livestock production poses a risk to human health," said NRDC attorney Jen Sorenson. "By forcing the agency to grapple with the science, the court's order paves the way for a ban on these dangerous drug uses."
The June 4 ruling also challenges FDA's unenforceable "voluntary guidance" policy for antibiotic use, which it adopted shortly after the ruling in March. That policy was criticized by NRDC and other public interest organizations for being ineffective. The court held that FDA had "forsaken" its statutory obligation to ensure the safety of all marketed drugs "in the name of a proposed voluntary program."
"This is a great victory for the public health" said Margaret Mellon, senior scientist of Union of Concerned Scientists. "The court has seen through the FDA's excuses and is ordering the agency to move expeditiously on critical issues that have dragged on for far too long."
According to the Union of Concerned Scientists, approximately 70 percent of all antibiotics used in the U.S. are given to healthy farm animals at low doses to promote faster growth and compensate for unsanitary living conditions—a practice that has increased over the past 60 years despite evidence that it breeds antibiotic-resistant bacteria dangerous to humans. The antibiotics, mixed into feed or water for pigs, cows, chicken and turkeys, are used at levels too low to treat disease, leaving surviving bacteria stronger and resistant to medical treatment.
The American Academy of Pediatrics, the American Medical Association, the Infectious Diseases Society of America, the Centers for Disease Control and Prevention, the Institute of Medicine of the National Academy of Sciences, the United States Department of Agriculture (USDA), the World Health Organization and many other groups have identified the routine use of low-dose antibiotics for livestock growth promotion as a significant contributor to the rapid proliferation of antibiotic-resistant bacteria in both animals and humans.
"It's a powerful statement for a federal judge to tell a federal agency that it has been 'arbitrary and capricious' in denying regulatory petitions from consumer groups," said Center for Science in the Public Interest executive director Michael F. Jacobson. "We hope that this decision, combined with Judge Katz's earlier decision, will speed an end to the inappropriate use of medically important antibiotics in animal agriculture."
"For years the FDA has avoided taking action by simply refusing to look at the evidence," said Steven Roach, FACT's Public Health Program director. "With this order, the FDA will be forced to look at the evidence and withdraw drugs that are putting public health at risk."
For more information on this lawsuit and antibiotics in animal feed, see:
Visit EcoWatch's FACTORY FARMING page for more related news on this topic.
EcoWatch Daily Newsletter
A volcano erupts on New Zealand's Whakaari/White Island on Dec. 9, 2019.
Michael Schade / Twitter
A powerful volcano on Monday rocked an uninhabited island frequented by tourists about 30 miles off New Zealand's coast. Authorities have confirmed that five people died. They expect that number to rise as some are missing and police officials issued a statement that flights around the islands revealed "no signs of life had been seen at any point,", as The Guardian reported.
Guardians of the Forest monitor passersby entering Juracal Village in Araribóia Indigenous Reserve, Maranhão, Brazil on Aug. 8, 2015. Bonnie Jo Mount / The Washington Post via Getty Images
Two indigenous leaders were killed in a drive-by shooting in Northeast Brazil Saturday, and two others were injured.
Human activity is smothering the ocean, the largest study of its kind has found, and it poses a major threat to marine life.
Pexels
Up to 20% of people may have a food addiction or exhibit addictive-like eating behavior.
Spiced hot chocolate. Lilechka75 / iStock / Getty Images
Food is the cornerstone of the holiday season. It brings friends and family together to share memories, cultural traditions, and great flavors.