Super Typhoon Haiyan: Realities of a Warmed World and Need for Immediate Climate Action

It is with a heavy heart and a respectful hand that I write this. Super Typhoon Haiyan has only just passed, and the devastation cannot yet even be fully understood. With that in mind, please consider a donation to the Philippine Red Cross.
But that will only aid those impacted by this storm. Not the next. Or the one after that.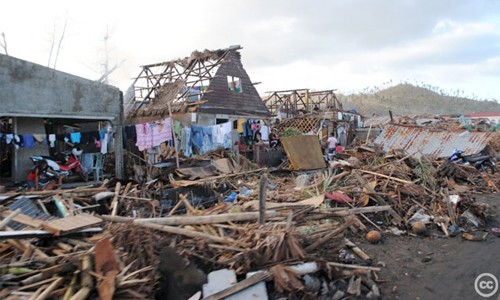 This was the feeling captured by Yeb Saño, the Philippine's lead negotiator to this year's United Nations Climate Talks (COP). As he tearfully pleaded with the delegation gathered in Warsaw, Poland, he powerfully pressed them for action and challenged those who stand it its way. He dared those still unconvinced by the need for climate action to do a little sightseeing, and take in the impacts of rising sea levels as they surge inland in front of storms, of melting glaciers as they flood the land they once nourished, of drought-induced famine as it destabilizes weak nations and of unprecedented hurricanes and typhoons that have pounded the U.S. and Asia alike.
For now, super storms are still rare. However, models suggest more frequent and intense storms in a warmed world. A number of scientists suspect that certain recent storms like Sandy and Haiyan exhibited characteristics outside the range of natural variation.
Although exact measurements are hard to come by (there were no flights in the Western Pacific to provide direct measurements) satellite images along with readings of ocean heat seem to suggest that Haiyan was an unnaturally powerful storm. The science is hinting that this storm may not have been so catastrophic in a world without warming.
The unusually deep, unusually warm pool of water that provided the initial fuel is unlikely to have existed in a world without warming. Global warming-induced sea level rise contributed to the 20-foot storm surges that caught victims off guard, much as it contributed to Sandy's record 13-foot coastal surge that flooded substantial sections of New York and New Jersey. These events would not have been as severe in a world without warming.
But herein lies the crux—we no longer live in a world without warming. Given that 1985 was the last year with temperatures below the 20th century average, and 2000-2010 was the hottest decade on record, it has become impossible to say for certain that any given storm is free from the influence of our warmed world.
While contrarians may dislike it when activists or actors like George Clooney point out the linkage between climate change and extreme weather, the bottom line is this: climate change makes tropical storms more damaging. Not only through increased wind speed and rainfall, but most notably through rising sea levels. This means greater damage and loss of property and life.
There are those who suggest that it would be easier to simply retreat from the coasts that get battered by these storms. But I imagine many people would agree with Yeb Saño, who said:
"We can take drastic action now to ensure that we prevent a future where super typhoons are a way of life, because we refuse, as a nation, to accept a future where super typhoons like Haiyan become a fact of life. We refuse to accept that running away from storms, evacuating our families, suffering the devastation and misery, having to count our dead, become a way of life. We simply refuse to."
Let that call echo, and be heard in response to those who would insist on waiting for the next storm to take action.
--------
Michael E. Mann is Distinguished Professor of Meteorology at Penn State University and author of "The Hockey Stick and the Climate Wars", now out in paperback with a foreword by Bill Nye "The Science Guy."
Visit EcoWatch's CLIMATE CHANGE page for more related news on this topic. 

Stomach contents of an albatross chick photographed in the Pacific in 2009. Chris Jordan / U.S. Fish & Wildlife Service HQ
By Tim Radford
Scientists have calculated yet another item on the human shopping list that makes up the modern world: plastics. They have estimated the mass of all the plastic bottles, bags, cups, toys, instruments and fabrics ever produced and tracked its whereabouts, as yet another index of the phenomenal change to the face of the planet made by recent human advance.
Altogether, since about 1950, with the birth of a new industry, more than 8.3 billion tonnes (or 9.1 tons) of synthetic organic polymers have been generated, distributed and discarded. Of that total, 6.3 billion tonnes are classified as waste.
Keep reading...
Show less
By Jessica Corbett
As Senate Democrats stay silent on an energy bill that environmental groups call "a pro-fracking giveaway to oil and gas interests that would commit America to decades more of dangerous fossil fuel dependence," Sen. Bernie Sanders (I-Vt.) is receiving applause for speaking out against it.
"As a nation, our job is to move away from fossil fuels toward sustainable energy and energy efficiency. This bill does the opposite," Sanders said in a statement.
Keep reading...
Show less
ExxonMobil filed suit against the federal government last week, claiming that a $2 million fine levied against the company by the Treasury Department is "unlawful" and "capricious."
The Treasury Department fined Exxon Thursday morning, alleging that the oil giant displayed "reckless disregard" of U.S.-Russian sanctions in its dealings with Russian company Rosneft in 2014 under CEO Rex Tillerson.
Keep reading...
Show less
By Andy Rowell
For years, environmentalists have warned that due to climate change, there will be billions of barrels of oil that we will never be able to burn. These reserves will become what has increasingly been called "stranded assets."
To give you one example: In a new report, Friends of the Earth argued that "The coal, oil and gas in reserves already in production and development globally is more than we can afford to burn. There is no room for any new coal, oil or gas exploration and production.
Keep reading...
Show less
Craftsman tiny house by Zyl Vardos. Abel Zyl / Shuttertstock
Late last year, the tiny house community celebrated a watershed moment—an official appendix in the 2018 version of the International Residential Code, the model building code used by most jurisdictions in the U.S.
"There are many things that are monumental in the adoption of tiny house construction codes by the IRC," cheered Thom Stanton, the CEO of small space developer, Timber Trails. "Among them, that architects, designers, builders, community developers and (maybe most importantly) zoning officials have a means of recognizing tiny houses as an official form of permissible dwelling."
Keep reading...
Show less
www.youtube.com
The colossal mass of throwaway plastic—from straws to bags to bottles—has grown much faster than recycling and disposal efforts can contain it. You might even say this is obvious, no matter where you look.
As a result, places that were once considered pristine—such as Antarctica and the ocean floors of Australia—have become inundated with plastic waste.
Check out this video from National Geographic to watch underwater photographer Huai Su film a diver collecting an endless amount of plastic bottles that litter the seafloor off Xiaoliuqiu Island, Taiwan.
A reef off the coast of Cancún will become the first in the world with its own insurance policy, testing a new strategy meant to encourage local investment in the wellbeing of the reef.
Under the policy, created by insurance company Swiss Re and the Nature Conservancy, local hotels and other organizations dependent on tourism will pay into the policy, receiving reimbursements to repair the reef and local beaches after natural disasters.
Keep reading...
Show less
www.youtube.com
The Northeast Organic Farming Association of New York (NOFA-NY) denounced the USDA's permit for the world's first open-air trials of the Genetically Engineered (GE) Diamondback moth to be released in Geneva, New York.

This announcement came concurrently with the availability of a final environmental assessment and finding of no significant impact for the field release of the GE Diamondback moths. NOFA-NY considers the Environmental Assessment lacking comprehensive health and environmental details.
Keep reading...
Show less