Super Typhoon Haiyan: Realities of a Warmed World and Need for Immediate Climate Action

It is with a heavy heart and a respectful hand that I write this. Super Typhoon Haiyan has only just passed, and the devastation cannot yet even be fully understood. With that in mind, please consider a donation to the Philippine Red Cross.
But that will only aid those impacted by this storm. Not the next. Or the one after that.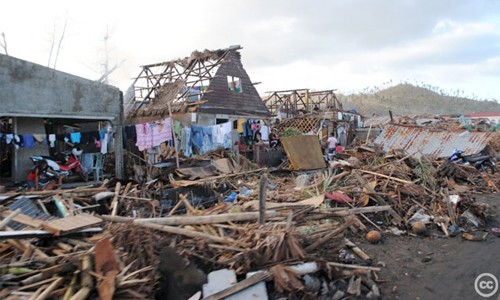 This was the feeling captured by Yeb Saño, the Philippine's lead negotiator to this year's United Nations Climate Talks (COP). As he tearfully pleaded with the delegation gathered in Warsaw, Poland, he powerfully pressed them for action and challenged those who stand it its way. He dared those still unconvinced by the need for climate action to do a little sightseeing, and take in the impacts of rising sea levels as they surge inland in front of storms, of melting glaciers as they flood the land they once nourished, of drought-induced famine as it destabilizes weak nations and of unprecedented hurricanes and typhoons that have pounded the U.S. and Asia alike.
For now, super storms are still rare. However, models suggest more frequent and intense storms in a warmed world. A number of scientists suspect that certain recent storms like Sandy and Haiyan exhibited characteristics outside the range of natural variation.
Although exact measurements are hard to come by (there were no flights in the Western Pacific to provide direct measurements) satellite images along with readings of ocean heat seem to suggest that Haiyan was an unnaturally powerful storm. The science is hinting that this storm may not have been so catastrophic in a world without warming.
The unusually deep, unusually warm pool of water that provided the initial fuel is unlikely to have existed in a world without warming. Global warming-induced sea level rise contributed to the 20-foot storm surges that caught victims off guard, much as it contributed to Sandy's record 13-foot coastal surge that flooded substantial sections of New York and New Jersey. These events would not have been as severe in a world without warming.
But herein lies the crux—we no longer live in a world without warming. Given that 1985 was the last year with temperatures below the 20th century average, and 2000-2010 was the hottest decade on record, it has become impossible to say for certain that any given storm is free from the influence of our warmed world.
While contrarians may dislike it when activists or actors like George Clooney point out the linkage between climate change and extreme weather, the bottom line is this: climate change makes tropical storms more damaging. Not only through increased wind speed and rainfall, but most notably through rising sea levels. This means greater damage and loss of property and life.
There are those who suggest that it would be easier to simply retreat from the coasts that get battered by these storms. But I imagine many people would agree with Yeb Saño, who said:
"We can take drastic action now to ensure that we prevent a future where super typhoons are a way of life, because we refuse, as a nation, to accept a future where super typhoons like Haiyan become a fact of life. We refuse to accept that running away from storms, evacuating our families, suffering the devastation and misery, having to count our dead, become a way of life. We simply refuse to."
Let that call echo, and be heard in response to those who would insist on waiting for the next storm to take action.
--------
Michael E. Mann is Distinguished Professor of Meteorology at Penn State University and author of "The Hockey Stick and the Climate Wars", now out in paperback with a foreword by Bill Nye "The Science Guy."
Visit EcoWatch's CLIMATE CHANGE page for more related news on this topic. 

www.elysee.fr
By Andy Rowell
There is a growing feeling within European capitals that a quiet, but deeply positive, revolution is happening under Emmanuel Macron in France.
Macron's opinion poll rating is high, especially boosted in how the young French president has reacted to Donald Trump on the international stage.
Keep reading...
Show less
www.facebook.com
Keep reading...
Show less
Keep reading...
Show less
www.youtube.com
According to Bloomberg, "SeaWorld Entertainment Inc. received a subpoena earlier this month from regulators investigating disclosures and public statements by executives, including comments about the Blackfish documentary that caused a public backlash against the confinement of orcas.
Keep reading...
Show less
By Mary Mazzoni
In 2013, shoppers were reacquainted with the tragic story of their clothing when a massive factory collapse claimed the lives of more than 1,100 Bangladeshi garment workers.
The nonprofit Fashion Revolution, formed in response to that disaster, continues to track the apparel industry's progress on environmental stewardship and human rights. But four years later, big brands are still not doing enough to disclose their efforts to customers, the organization concluded in a recent report.
Keep reading...
Show less
Hawaii Renewable Energy Alliance
The latest issue of the U.S. Energy Information's "Electric Power Monthly" (with data through April 30) reveals that—for the first time since the beginning of the nuclear era—renewable energy sources (i.e., biomass, geothermal, hydropower, solar—inc. small-scale PV, wind) are now providing a greater share of the nation's electrical generation than nuclear power.
Keep reading...
Show less
www.youtube.com
Check out this great 360° virtual reality video by NowThis on the world's largest indoor vertical farm, AeroFarms. Located in Newark, New Jersey, AeroFarms grows more than 2 million pounds of greens a year without sunlight, soil or pesticides.
As reported by EcoWatch in July 2105, the $30 million, 70,000-square-foot AeroFarms headquarters dwarfs Japan's (already impressive) 25,000-square-foot vertical indoor farm, which had been the world's largest until now.
www.facebook.com
"There's no such thing as clean coal," according to this ATTN: video.
Watch above as ATTN: explains the many hazards of coal beyond carbon emissions, that no matter what there's no reviving the coal industry and how investment in renewable energy is the best way forward.
Share this video if you think America needs real energy solutions.
Wikipedia
By Franziska Spritzler, RD, CDE
Boosting your metabolic rate can help you lose body fat. However, most "fat-burning" supplements on the market are either unsafe, ineffective or both.
Fortunately, several natural foods and beverages have been shown to increase your metabolism and promote fat loss.
Keep reading...
Show less


Get EcoWatch in your inbox