This website uses cookies to ensure you get the best experience while browsing it. By clicking 'Got It' you're accepting these terms.
Suicide and Depression Among Farmers Linked to Pesticides
Oct. 06, 2014 12:04PM EST
We know that increased use of pesticides on crops isn't good for human health or the environment, but we probably don't know the full extent of its damage.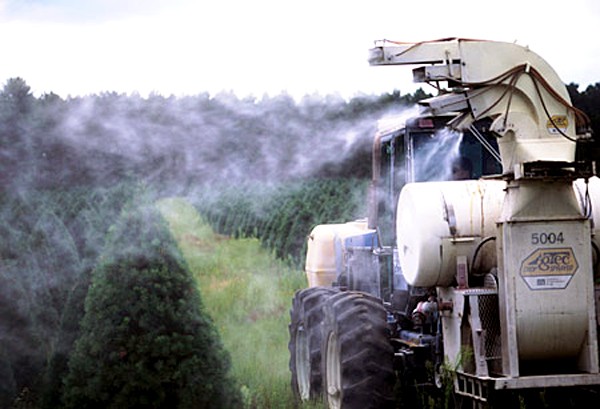 A story in Environmental Health News explores the impact that prolonged exposure to large amounts of pesticides might be having on the mental health of farmers, leading to depression and suicide. According to the article by Brian Bienkowski, "Recent research has linked long-term use of pesticides to higher rates of depression and suicide. Evidence also suggests that pesticide poisoning—a heavy dose in a short amount of time—doubles the risk of depression."
One study, Pesticide Exposure and Depression Among Male Private Pesticide Applicators in the Agricultural Health Study, published last month, found "a positive association between depression and occupational pesticide use among applicators. Furthermore, [our study] suggests several specific pesticides that deserve further investigation in animal studies and other human populations."
The study analyzed data for 10 classes of pesticides and 50 specific pesticides. It found a positive connection to depression in two classes—fumigants and organochlorine pesticides (which includes DDT)—and seven specific pesticides. The study tracked 19,000 farmers who applied for pesticide application licenses in North Carolina and Iowa between 1993 and 1997.
Matt Peters was one of the farmers who participated in the study. Bienkowski relates how he suddenly became agitated and depressed and then took his own life in 2011. Peters was heavily exposed pesticides including organophosphates, and his wife said, "Matt did almost all of his own spraying of the crops."

Only three of the seven pesticides that produced a positive link are still registered for use with the Environmental Protection Agency (EPA), and those are currently being reviewed by the EPA. But while those pesticides may be phased out—Monsanto, Syngenta and Bayer, three of the largest pesticide producers, say they don't currently make them—mental health problems could be connected to newer chemicals, such as neonocotinoids, widely connected with bee dieoffs in recent years by interfering with bees' brains and nervous systems. No studies have been done on the effect of neonocotinoids on humans. Matt Peters was using neonocontinoids when he committed suicide.
Additional studies have suggested a link  between pesticide use and suicide, which is frequently an outcome of depression. A study in Brazil and another by the World Health Organization (WHO) in China found a connection between exposure to large amounts of pesticides and suicide. The WHO study found rural suicide rates two to five times higher in rural areas of China where organophosphates are heavily used than in urban areas. A University of Iowa study found that farm workers were 3.6 times as likely to commit suicide as those in other occupations but did not examine why.
Pesticide use could also be linked to other neurological conditions as well, including Parkinson's disease, according a study by University of California neurologist Dr. Beate Ritz. Other studies have suggested a link between pesticides and Alzheimer's, another disease with neurological origins. Both diseases count depression among their effects.
Since pesticides work by interfering with an insect's nervous system, it's long been speculated that they could have a similar impact on humans. While the studies all note that the pesticide/mental health link is controversial and inconclusive, scientists have found the evidence compelling.
"I don't think there's any question that pesticides can affect the functions of the brain," said Freya Kamel, one of the authors of the Iowa/North Carolina study. "There could also be indirect effects. Pesticides can promote other health problems, which could be related to depression." 
YOU MIGHT ALSO LIKE
Organic Farmer Taken to Court for Refusing to Spray Pesticides
16-Year Study Blames Pesticides for Significant Sperm Decline
EcoWatch Daily Newsletter
Strawberries top the Environmental Working Group's "Dirty Dozen" list of U.S. produce most contaminated with pesticides. DANIEL LEAL-OLIVAS / AFP / Getty Images
Which conventionally-grown fruits and vegetables in the U.S. are most contaminated with pesticides? That's the question that the Environmental Working Group answers every year with its "Dirty Dozen" list of produce with the highest concentration of pesticides after being washed or peeled.
A drilling rig in a Wyoming natural gas field. William Campbell / Corbis via Getty Images
A U.S. federal judge temporarily blocked oil and gas drilling on 300,000 acres of federal leases in Wyoming Tuesday, arguing that the Bureau of Land Management (BLM) "did not sufficiently consider climate change" when auctioning off the land, The Washington Post reported.
Mizina / iStock / Getty Images
Oats are widely regarded as one of the healthiest grains you can eat, as they're packed with many important vitamins, minerals, and fiber.
JPMorgan Chase building in New York City. Ben Sutherland / CC BY 2.0
By Sharon Kelly
A report published Wednesday names the banks that have played the biggest recent role in funding fossil fuel projects, finding that since 2016, immediately following the Paris agreement's adoption, 33 global banks have poured $1.9 trillion into financing climate-changing projects worldwide.
Sriram Madhusoodanan of Corporate Accountability speaking on conflict of interest demand of the People's Demands at a defining action launching the Demands at COP24. Corporate Accountability
By Patti Lynn
2018 was a groundbreaking year in the public conversation about climate change. Last February, The New York Times reported that a record percentage of Americans now believe that climate change is caused by humans, and there was a 20 percentage point rise in "the number of Americans who say they worry 'a great deal' about climate change."
The head of England's Environment Agency has urged people to stop watering their lawns as a climate-induced water shortage looms. Pexels
England faces an "existential threat" if it does not change how it manages its water, the head of the country's Environment Agency warned Tuesday.
Pexels
By Jessica Corbett
A new analysis revealed Tuesday that over the past two decades heat records across the U.S. have been broken twice as often as cold ones—underscoring experts' warnings about the increasingly dangerous consequences of failing to dramatically curb planet-warming emissions.
A flock of parrots in Telegraph Hill, San Francisco.
~dgies / Flickr
By Madison Dapcevich
Ask any resident of San Francisco about the waterfront parrots, and they will surely tell you a story of red-faced conures squawking or dive-bombing between building peaks. Ask a team of researchers from the University of Georgia, however, and they will tell you of a mysterious string of neurological poisonings impacting the naturalized flock for decades.