Suicide and Depression Among Farmers Linked to Pesticides
We know that increased use of pesticides on crops isn't good for human health or the environment, but we probably don't know the full extent of its damage.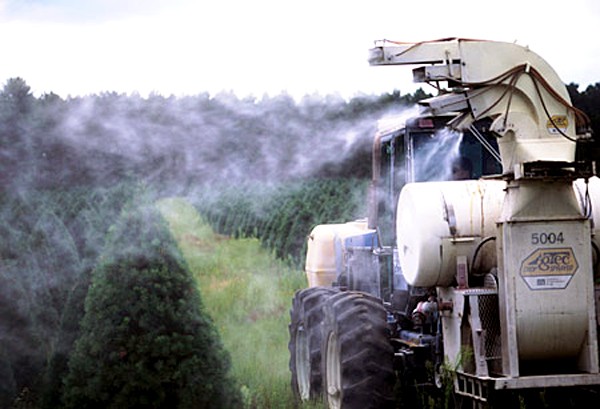 A story in Environmental Health News explores the impact that prolonged exposure to large amounts of pesticides might be having on the mental health of farmers, leading to depression and suicide. According to the article by Brian Bienkowski, "Recent research has linked long-term use of pesticides to higher rates of depression and suicide. Evidence also suggests that pesticide poisoning—a heavy dose in a short amount of time—doubles the risk of depression."
One study, Pesticide Exposure and Depression Among Male Private Pesticide Applicators in the Agricultural Health Study, published last month, found "a positive association between depression and occupational pesticide use among applicators. Furthermore, [our study] suggests several specific pesticides that deserve further investigation in animal studies and other human populations."
The study analyzed data for 10 classes of pesticides and 50 specific pesticides. It found a positive connection to depression in two classes—fumigants and organochlorine pesticides (which includes DDT)—and seven specific pesticides. The study tracked 19,000 farmers who applied for pesticide application licenses in North Carolina and Iowa between 1993 and 1997.
Matt Peters was one of the farmers who participated in the study. Bienkowski relates how he suddenly became agitated and depressed and then took his own life in 2011. Peters was heavily exposed pesticides including organophosphates, and his wife said, "Matt did almost all of his own spraying of the crops."

Only three of the seven pesticides that produced a positive link are still registered for use with the Environmental Protection Agency (EPA), and those are currently being reviewed by the EPA. But while those pesticides may be phased out—Monsanto, Syngenta and Bayer, three of the largest pesticide producers, say they don't currently make them—mental health problems could be connected to newer chemicals, such as neonocotinoids, widely connected with bee dieoffs in recent years by interfering with bees' brains and nervous systems. No studies have been done on the effect of neonocotinoids on humans. Matt Peters was using neonocontinoids when he committed suicide.
Additional studies have suggested a link  between pesticide use and suicide, which is frequently an outcome of depression. A study in Brazil and another by the World Health Organization (WHO) in China found a connection between exposure to large amounts of pesticides and suicide. The WHO study found rural suicide rates two to five times higher in rural areas of China where organophosphates are heavily used than in urban areas. A University of Iowa study found that farm workers were 3.6 times as likely to commit suicide as those in other occupations but did not examine why.
Pesticide use could also be linked to other neurological conditions as well, including Parkinson's disease, according a study by University of California neurologist Dr. Beate Ritz. Other studies have suggested a link between pesticides and Alzheimer's, another disease with neurological origins. Both diseases count depression among their effects.
Since pesticides work by interfering with an insect's nervous system, it's long been speculated that they could have a similar impact on humans. While the studies all note that the pesticide/mental health link is controversial and inconclusive, scientists have found the evidence compelling.
"I don't think there's any question that pesticides can affect the functions of the brain," said Freya Kamel, one of the authors of the Iowa/North Carolina study. "There could also be indirect effects. Pesticides can promote other health problems, which could be related to depression." 
YOU MIGHT ALSO LIKE
Organic Farmer Taken to Court for Refusing to Spray Pesticides
16-Year Study Blames Pesticides for Significant Sperm Decline
Glyphosate, the main ingredient in Monsanto's widely used herbicide Roundup, will be added July 7 to California's list of chemicals known to the state to cause cancer, according to a Reuters report Tuesday. This news comes after the company's unsuccessful attempt to block the listing in trial court and requests for stay were denied by a state appellate court and California's Supreme Court.
California's Office of Environmental Health Hazard Assessment (OEHHA) announced the designation on Monday under the Safe Drinking Water and Toxic Enforcement Act of 1986, or Proposition 65.
Keep reading...
Show less
www.facebook.com
Keep reading...
Show less
Researchers from the Marine Animal Response Society examine one of the dead right whales. Marine Animal Response Society
Canadian government officials and marine biologists are investigating the mysterious deaths of six North American right whales. The endangered animals all turned up dead between June 6 and June 23 in the Gulf of St. Lawrence, off Canada's southeastern coast.
North Atlantic right whales are the rarest of all large whale species and among the rarest of all marine mammal species, with only about 450 right whales in the North Atlantic.
Keep reading...
Show less
Scott Pruitt testifies during his Senate confirmation hearing for EPA administrator, January 2017.
The U.S. Environmental Protection Agency's (EPA) chief of staff pressured the leader of its Board of Scientific Counselors to change her congressional testimony to downplay the impact of the agency's mass dismissal of scientists from the board, the New York Times reports.
Keep reading...
Show less
By Jason Mark
Sequoiadendron giganteum. That's the scientific name for the giant sequoia: the mammoth trees found in California's Sierra Nevada that are the largest organisms on Earth, and among the longest-lived. Biologists estimate that about half of all sequoias live in Giant Sequoia National Monument, a 328,000-acre preserve in the Southern Sierra Nevada established by President Clinton in 2000.
Now that national monument is in jeopardy.
Keep reading...
Show less
By Andy Rowell
Donald Trump this week is launching an "energy week," pushing the argument that the U.S. will become a net exporter of oil and gas.
The president and his cronies are talking about a new era of "U.S. energy dominance," which could stretch for decades to come. However, no one believes the president anymore.
Keep reading...
Show less
UN
By Colleen Curry
The United Nations has designated 23 new sites around the world to its World Network of Biosphere reserves—stunning natural landscapes that balance environmental and human concerns and strive for sustainability.
The forests, beaches and waterways were added to the list this year at the International Coordinating Council of the Man and the Biosphere Programme meeting in Paris earlier this month.
Keep reading...
Show less
Jun. 26, 2017 01:48PM EST
www.elysee.fr
By Andy Rowell
There is a growing feeling within European capitals that a quiet, but deeply positive, revolution is happening under Emmanuel Macron in France.
Macron's opinion poll rating is high, especially boosted in how the young French president has reacted to Donald Trump on the international stage.
Keep reading...
Show less
Jun. 26, 2017 12:32PM EST
www.facebook.com
Keep reading...
Show less