This website uses cookies to ensure you get the best experience while browsing it. By clicking 'Got It' you're accepting these terms.
Suicide and Depression Among Farmers Linked to Pesticides
Oct. 06, 2014 12:04PM EST
We know that increased use of pesticides on crops isn't good for human health or the environment, but we probably don't know the full extent of its damage.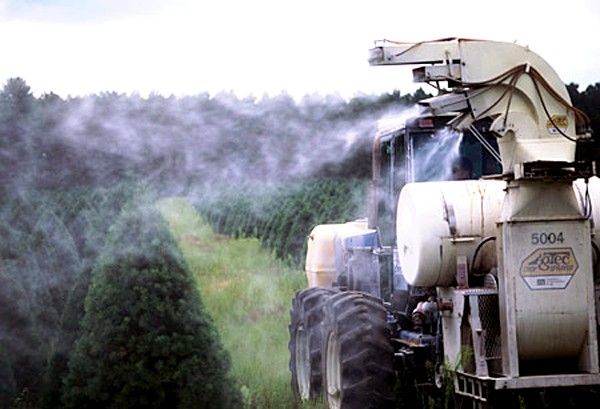 A story in Environmental Health News explores the impact that prolonged exposure to large amounts of pesticides might be having on the mental health of farmers, leading to depression and suicide. According to the article by Brian Bienkowski, "Recent research has linked long-term use of pesticides to higher rates of depression and suicide. Evidence also suggests that pesticide poisoning—a heavy dose in a short amount of time—doubles the risk of depression."
One study, Pesticide Exposure and Depression Among Male Private Pesticide Applicators in the Agricultural Health Study, published last month, found "a positive association between depression and occupational pesticide use among applicators. Furthermore, [our study] suggests several specific pesticides that deserve further investigation in animal studies and other human populations."
The study analyzed data for 10 classes of pesticides and 50 specific pesticides. It found a positive connection to depression in two classes—fumigants and organochlorine pesticides (which includes DDT)—and seven specific pesticides. The study tracked 19,000 farmers who applied for pesticide application licenses in North Carolina and Iowa between 1993 and 1997.
Matt Peters was one of the farmers who participated in the study. Bienkowski relates how he suddenly became agitated and depressed and then took his own life in 2011. Peters was heavily exposed pesticides including organophosphates, and his wife said, "Matt did almost all of his own spraying of the crops."

Only three of the seven pesticides that produced a positive link are still registered for use with the Environmental Protection Agency (EPA), and those are currently being reviewed by the EPA. But while those pesticides may be phased out—Monsanto, Syngenta and Bayer, three of the largest pesticide producers, say they don't currently make them—mental health problems could be connected to newer chemicals, such as neonocotinoids, widely connected with bee dieoffs in recent years by interfering with bees' brains and nervous systems. No studies have been done on the effect of neonocotinoids on humans. Matt Peters was using neonocontinoids when he committed suicide.
Additional studies have suggested a link  between pesticide use and suicide, which is frequently an outcome of depression. A study in Brazil and another by the World Health Organization (WHO) in China found a connection between exposure to large amounts of pesticides and suicide. The WHO study found rural suicide rates two to five times higher in rural areas of China where organophosphates are heavily used than in urban areas. A University of Iowa study found that farm workers were 3.6 times as likely to commit suicide as those in other occupations but did not examine why.
Pesticide use could also be linked to other neurological conditions as well, including Parkinson's disease, according a study by University of California neurologist Dr. Beate Ritz. Other studies have suggested a link between pesticides and Alzheimer's, another disease with neurological origins. Both diseases count depression among their effects.
Since pesticides work by interfering with an insect's nervous system, it's long been speculated that they could have a similar impact on humans. While the studies all note that the pesticide/mental health link is controversial and inconclusive, scientists have found the evidence compelling.
"I don't think there's any question that pesticides can affect the functions of the brain," said Freya Kamel, one of the authors of the Iowa/North Carolina study. "There could also be indirect effects. Pesticides can promote other health problems, which could be related to depression." 
YOU MIGHT ALSO LIKE
Organic Farmer Taken to Court for Refusing to Spray Pesticides
16-Year Study Blames Pesticides for Significant Sperm Decline
EcoWatch Daily Newsletter
By Adam Vaughan
Two-thirds of people in the UK think the amount people fly should be reined in to tackle climate change, polling has found.
Climate Week NYC
On Monday, Sept. 23, the Climate Group will kick off its 11th annual Climate Week NYC, a chance for governments, non-profits, businesses, communities and individuals to share possible solutions to the climate crisis while world leaders gather in the city for the UN Climate Action Summit.
By Pam Radtke Russell in New Orleans
Local TV weather forecasters have become foot soldiers in the war against climate misinformation. Over the past decade, a growing number of meteorologists and weathercasters have begun addressing the climate crisis either as part of their weather forecasts, or in separate, independent news reports to help their viewers understand what is happening and why it is important.

While airlines only serve bottled drinking water directly to customers, they use the plane's water for coffee and tea, and passengers can drink the tap water. Aitor Diago / Getty Images
You might want to think twice before washing your hands in an airplane bathroom.
By Allegra Kirkland, Jeremy Deaton, Molly Taft, Mina Lee and Josh Landis
Climate change is already here. It's not something that can simply be ignored by cable news or dismissed by sitting U.S. senators in a Twitter joke. Nor is it a fantastical scenario like The Day After Tomorrow or 2012 that starts with a single crack in the Arctic ice shelf or earthquake tearing through Los Angeles, and results, a few weeks or years later, in the end of life on Earth as we know it.
A pregnant woman works out in front of the skyline of London. SHansche / iStock / Getty Images Plus
Air pollution particles that a pregnant woman inhales have the potential to travel through the lungs and breach the fetal side of the placenta, indicating that unborn babies are exposed to black carbon from motor vehicles and fuel burning, according to a study published in the journal Nature Communications.
Teen activist Greta Thunberg delivered a talking-to to members of Congress Tuesday during a meeting of the Senate Climate Change Task Force after politicians praised her and other youth activists for their efforts and asked their advice on how to fight climate change.
Ten feet of water flooded 20 percent of this Minot, North Dakota neighborhood in June 2011.
DVIDSHUB
/
CC BY 2.0