This website uses cookies to ensure you get the best experience while browsing it. By clicking 'Got It' you're accepting these terms.
Sugar Beet Leaves Create Vegan Protein Alternative
Feb. 27, 2015 12:14PM EST
A scientist in the Netherlands is turning plant waste into a potential substitute for environmentally unsustainable proteins like meat, dairy and soy. The Dutch government commissioned Peter Geerdink, a food scientist at TNO, to identify a use for the 3 million tons of beet sugar leaves produced each year and left to rot after the beets themselves are harvested. The result of his work is a vegan gluten-free plant-based protein extracted from the pressed green juice of sugar beet leaves that, according to Geedink, is as versatile as a chicken egg.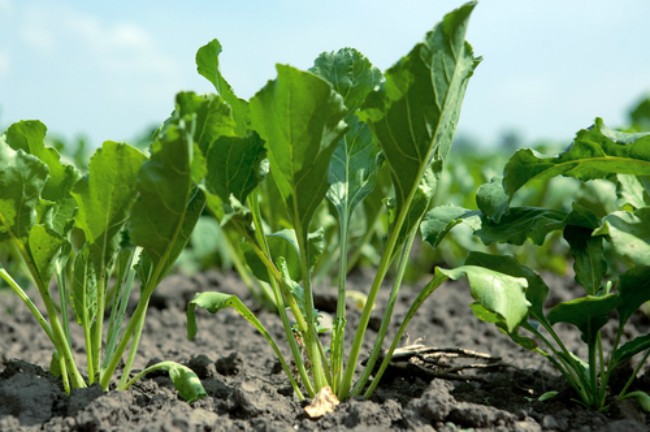 Photo credit: Shutterstock
The amount of land and water required to raise livestock puts a major strain on our air and water quality and ocean health by depleting resources and ramping up greenhouse gas emissions regionally and globally. In fact, eating less meat and dairy has been identified as a factor in curbing climate change.
Joining a number of meat and dairy alternatives on the market today, Geerdink's new sugar beet leaf protein could be processed in many ways as a substitute for animal proteins. "It can be used as a substitute for soy in veggie burgers, for example. But I've also made delicious cookies with it," he said. "There's not much flavor to the protein itself, but the protein adds a texture to veggie burgers that is lacking with soy, and which makes for a much beefier bite."
So will you be seeing sugar beet protein on store shelves in the U.S. any time soon? Geerdink thinks it's unlikely, saying it will be a few years before it even appears in supermarkets in the Netherlands.
What about sugar beets themselves? Here in the U.S. sugar beets are among the top genetically modified crops with 90 percent of sugar beet crops being GMO. While the Dutch sugar beet leaf protein scientist doubts sugar beets are fit for human consumption, they are processed into sugar sold in the U.S.
The highly controversial crop was introduced in 2005 with Monsanto's Roundup-Ready sugar beet seeds which were then banned in 2010 by U.S. District Judge Jeffrey S. White pending a U.S. Department of Agriculture (USDA) study on the potential consequences of the plants. The ban was lifted after Monsanto successful argued before the Supreme Court for the USDA to partially deregulate GMO sugar beets while the study is completed. In 2012, the USDA approved genetically modified sugar beets for agricultural use, and they account for more than half of all sugar production in the U.S. today.
YOU MIGHT ALSO LIKE
12 Fruits and Veggies You Should Avoid (If Buying Non-Organic)
3 Young Entrepreneurs Find Revolutionary Way to Cut Out Food Waste
KarinaKnyspel / iStock / Getty Images
2018 saw a number of studies pointing to the outsized climate impact of meat consumption. Beef has long been singled out as particularly unsustainable: Cows both release the greenhouse gas methane into the atmosphere because of their digestive processes and require a lot of land area to raise. But for those unwilling to give up the taste and texture of a steak or burger, could lab-grown meat be a climate-friendly alternative? In a first-of-its-kind study, researchers from the Oxford Martin School set out to answer that question.
Three scissor-tailed flycatcher fledglings in a mesquite tree in Texas. Texas Eagle / CC BY-NC 2.0
By Gary Paul Nabhan
President Trump has declared a national emergency to fund a wall along our nation's southern border. The border wall issue has bitterly divided people across the U.S., becoming a vivid symbol of political deadlock.
PeopleImages / E+ / Getty Images
By Daniel Ross
Hurricane Florence, which battered the U.S. East Coast last September, left a trail of ruin and destruction estimated to cost between $17 billion and $22 billion. Some of the damage was all too visible—smashed homes and livelihoods. But other damage was less so, like the long-term environmental impacts in North Carolina from hog waste that spilled out over large open-air lagoons saturated in the rains.
Hog waste can contain potentially dangerous pathogens, pharmaceuticals and chemicals. According to the state's Department of Environmental Quality, as of early October nearly 100 such lagoons were damaged, breached or were very close to being so, the effluent from which can seep into waterways and drinking water supplies.
This picture taken on May 21, 2018 shows discarded climbing equipment and rubbish scattered around Camp 4 of Mount Everest. Decades of commercial mountaineering have turned Mount Everest into the world's highest rubbish dump as an increasing number of big-spending climbers pay little attention to the ugly footprint they leave behind. DOMA SHERPA / AFP / Getty Images
China has closed its Everest base camp to tourists because of a buildup of trash on the world's tallest mountain.