This website uses cookies to ensure you get the best experience while browsing it. By clicking 'Got It' you're accepting these terms.
Sugar Beet Leaves Create Vegan Protein Alternative
Feb. 27, 2015 12:14PM EST
Food
A scientist in the Netherlands is turning plant waste into a potential substitute for environmentally unsustainable proteins like meat, dairy and soy. The Dutch government commissioned Peter Geerdink, a food scientist at TNO, to identify a use for the 3 million tons of beet sugar leaves produced each year and left to rot after the beets themselves are harvested. The result of his work is a vegan gluten-free plant-based protein extracted from the pressed green juice of sugar beet leaves that, according to Geedink, is as versatile as a chicken egg.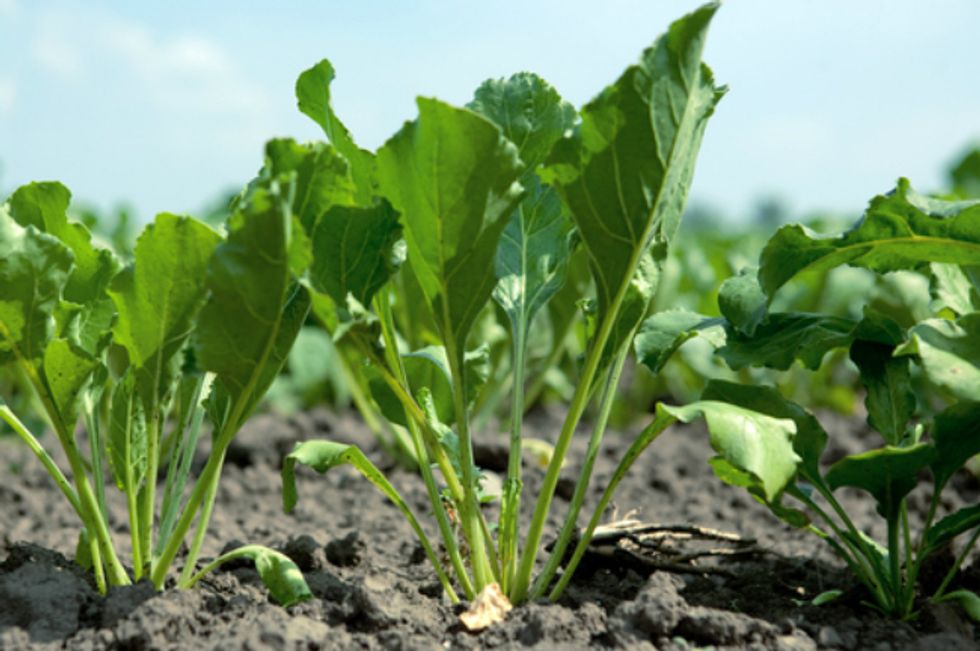 Photo credit: Shutterstock
The amount of land and water required to raise livestock puts a major strain on our air and water quality and ocean health by depleting resources and ramping up greenhouse gas emissions regionally and globally. In fact, eating less meat and dairy has been identified as a factor in curbing climate change.
Joining a number of meat and dairy alternatives on the market today, Geerdink's new sugar beet leaf protein could be processed in many ways as a substitute for animal proteins. "It can be used as a substitute for soy in veggie burgers, for example. But I've also made delicious cookies with it," he said. "There's not much flavor to the protein itself, but the protein adds a texture to veggie burgers that is lacking with soy, and which makes for a much beefier bite."
So will you be seeing sugar beet protein on store shelves in the U.S. any time soon? Geerdink thinks it's unlikely, saying it will be a few years before it even appears in supermarkets in the Netherlands.
What about sugar beets themselves? Here in the U.S. sugar beets are among the top genetically modified crops with 90 percent of sugar beet crops being GMO. While the Dutch sugar beet leaf protein scientist doubts sugar beets are fit for human consumption, they are processed into sugar sold in the U.S.
The highly controversial crop was introduced in 2005 with Monsanto's Roundup-Ready sugar beet seeds which were then banned in 2010 by U.S. District Judge Jeffrey S. White pending a U.S. Department of Agriculture (USDA) study on the potential consequences of the plants. The ban was lifted after Monsanto successful argued before the Supreme Court for the USDA to partially deregulate GMO sugar beets while the study is completed. In 2012, the USDA approved genetically modified sugar beets for agricultural use, and they account for more than half of all sugar production in the U.S. today.
YOU MIGHT ALSO LIKE
12 Fruits and Veggies You Should Avoid (If Buying Non-Organic)
3 Young Entrepreneurs Find Revolutionary Way to Cut Out Food Waste
EcoWatch Daily Newsletter
Psychedelic mushrooms are currently classified as a Schedule I drug by the FDA, and possession is a felony nationwide. juriskraulis / iStock / Getty Images
Democratic presidential candidate, former Vice President Joe Biden speaks during a campaign town hall meeting at Vista Grande Jan. 28 in Clinton, Iowa. The Iowa caucuses are February 3. Chip Somodevilla / Getty Images
Joe Biden put his hand on the chest of an Iowa voter and told the man to vote for someone else when the voter asked the former vice president about his plans to replace gas pipelines, The Independent reported.
Greening the barren mountain has helped recharge groundwater levels in the villages. Photo by Gurvinder Singh. Mongabay India
Jamini Mohan Mahanty is out for a morning walk every day. At 91, he is hale and hearty. A resident of Jharbagda village in Purulia district, West Bengal, Mahanty thanks the "green mountain" in his village for having added some extra years to his life.

A wild Woodland Bison walks in the Arctic wilderness. RyersonClark / iStock / Getty Images Plus
Visitors to the Hollywood & Highland mall in Hollywood wear face masks on Jan. 27 . Five people in the U.S. have tested positive for the deadly strain of Coronavirus, one each in Washington, Illinois and Arizona, and two in Southern California, according to the U.S. Centers for Disease Control and Prevention. ROBYN BECK / AFP / Getty Images