This website uses cookies to ensure you get the best experience while browsing it. By clicking 'Got It' you're accepting these terms.


The best of EcoWatch, right in your inbox. Sign up for our email newsletter!
Sugar Beet Leaves Create Vegan Protein Alternative
Feb. 27, 2015 12:14PM EST
Food
A scientist in the Netherlands is turning plant waste into a potential substitute for environmentally unsustainable proteins like meat, dairy and soy. The Dutch government commissioned Peter Geerdink, a food scientist at TNO, to identify a use for the 3 million tons of beet sugar leaves produced each year and left to rot after the beets themselves are harvested. The result of his work is a vegan gluten-free plant-based protein extracted from the pressed green juice of sugar beet leaves that, according to Geedink, is as versatile as a chicken egg.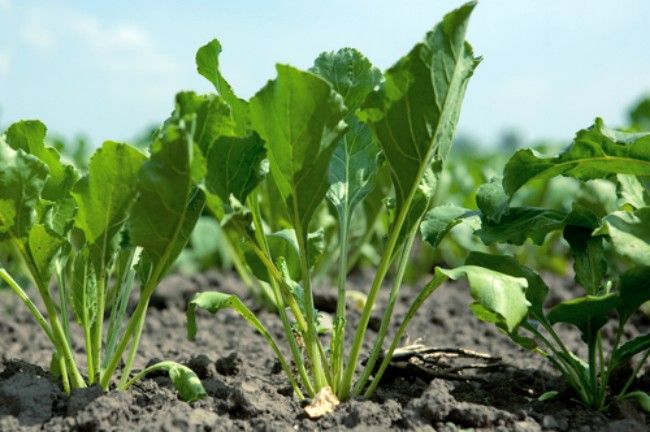 Photo credit: Shutterstock
The amount of land and water required to raise livestock puts a major strain on our air and water quality and ocean health by depleting resources and ramping up greenhouse gas emissions regionally and globally. In fact, eating less meat and dairy has been identified as a factor in curbing climate change.
Joining a number of meat and dairy alternatives on the market today, Geerdink's new sugar beet leaf protein could be processed in many ways as a substitute for animal proteins. "It can be used as a substitute for soy in veggie burgers, for example. But I've also made delicious cookies with it," he said. "There's not much flavor to the protein itself, but the protein adds a texture to veggie burgers that is lacking with soy, and which makes for a much beefier bite."
So will you be seeing sugar beet protein on store shelves in the U.S. any time soon? Geerdink thinks it's unlikely, saying it will be a few years before it even appears in supermarkets in the Netherlands.
What about sugar beets themselves? Here in the U.S. sugar beets are among the top genetically modified crops with 90 percent of sugar beet crops being GMO. While the Dutch sugar beet leaf protein scientist doubts sugar beets are fit for human consumption, they are processed into sugar sold in the U.S.
The highly controversial crop was introduced in 2005 with Monsanto's Roundup-Ready sugar beet seeds which were then banned in 2010 by U.S. District Judge Jeffrey S. White pending a U.S. Department of Agriculture (USDA) study on the potential consequences of the plants. The ban was lifted after Monsanto successful argued before the Supreme Court for the USDA to partially deregulate GMO sugar beets while the study is completed. In 2012, the USDA approved genetically modified sugar beets for agricultural use, and they account for more than half of all sugar production in the U.S. today.
YOU MIGHT ALSO LIKE
12 Fruits and Veggies You Should Avoid (If Buying Non-Organic)
3 Young Entrepreneurs Find Revolutionary Way to Cut Out Food Waste
EcoWatch Daily Newsletter
The 18th century St. Catherine of Alexandria church is seen after its bell tower was destroyed following a 6.3 magnitude earthquake that struck the town of Porac, pampanga province on April 23. TED ALJIBE / AFP / Getty Images
At least 16 people have died, 81 are injured and 14 are still missing after an earthquake struck Luzon island in the Philippines Monday, according to the latest figures from the National Disaster Risk Reduction and Management Council, as the Philippine Star tweeted Tuesday.
Climate change activists gather in front of the stage at the Extinction Rebellion group's environmental protest camp at Marble Arch in London on April 22, on the eighth day of the group's protest calling for political change to combat climate change. TOLGA AKMEN / AFP / Getty Images
Pexels
By Alina Petre, MS, RD (CA)
Veganism refers to a way of living that attempts to minimize animal exploitation and cruelty. For this reason, vegans aim to exclude all foods containing meat, poultry, fish, eggs, dairy and honey from their diet (1).
American farmers use chlorpyrifos, a pesticide tied to brain and nervous system issues, on crops such as apples, broccoli, corn and strawberries. Stephanie Chapman / Flickr / CC BY 2.0
By Jessica Corbett
In a ruling welcomed by public health advocates, a federal court on Friday ordered the Trump administration to stop stalling a potential ban on a pesticide linked to brain damage in children, giving regulators until mid-July to make a final decision.
fstop123 / iStock / Getty Images Plus
At EcoWatch, our team knows that changing personal habits and taking actions that contribute to a better planet is an ongoing journey. Earth Day, happening on April 22, is a great reminder for all of us to learn more about the environmental costs of our behaviors like food waste or fast fashion.
To offer readers some inspiration this Earth Day, our team rounded up their top picks for films to watch. So, sit back and take in one of these documentary films this Earth Day. Maybe it will spark a small change you can make in your own life.
NASA
By Shuchi Talati
Solar geoengineering describes a set of approaches that would reflect sunlight to cool the planet. The most prevalent of these approaches entails mimicking volcanic eruptions by releasing aerosols (tiny particles) into the upper atmosphere to reduce global temperatures — a method that comes with immense uncertainty and risk. We don't yet know how it will affect regional weather patterns, and in turn its geopolitical consequences. One way we can attempt to understand potential outcomes is through models.
Maria Gunnoe Flight, courtesy of southwings.org
By Julia Conley
Green groups on Saturday celebrated the latest federal ruling aimed at preventing President Donald Trump from rolling back environmental regulations that were put in place by his predecessor.
NASA scientists flew over the Kuskokwim river in southwest Alaska in 2017 to investigate how water levels in the Arctic landscape change as permafrost thaws. Peter Griffith, NASA