This website uses cookies to ensure you get the best experience while browsing it. By clicking 'Got It' you're accepting these terms.
SUCCESS! Shell Stops Arctic Oil Drilling
Sep. 18, 2012 07:05AM EST
Energy
By Ben Ayliffe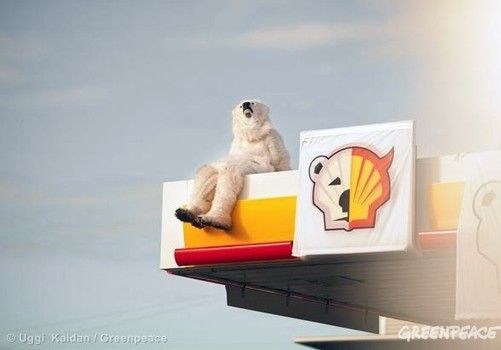 For more than six months, huge numbers of people have been pressuring Shell to stay out of the Arctic. Yesterday, company bosses announced they were scrapping their oil drilling program for this year. It's a huge victory for people power.
Protests against Shell started six months ago in New Zealand, when Lucy Lawless climbed and occupied Shell's Noble Discoverer rig, as it started its long journey up to drill in the Arctic. As Lucy said, "six activists went up, but 133,000 came down."
But that was only the beginning.
As thousands of people spread the word of the unparalleled insanity that is Arctic drilling, more and more people became involved.
When Penelope Cruz, Sir Paul McCartney and One Direction joined the growing voices calling out for Arctic protection it was obvious that this movement was going to keep growing.
And yesterday we've landed a major victory.
As one of the world's biggest oil companies, Shell was set to lead the pack and spark the Arctic oil rush. But finally admitted defeat for 2012.
With the eyes of two million people on them, Shell executives knew that any mistakes would be noticed. And yesterday they admitted yet another one. A special dome which was designed to clean up after a spill has been damaged. That means the end of the project for this year.
By shining a light in the far frozen corners of this planet, together we've helped keep risky oil drilling out of the Arctic—for this year.
The significance of Shell stopping oil drilling is hard to overestimate. After sinking five billion dollars into its failing program, other oil giants are now questioning the logic of Arctic drilling. Only a few days ago, the Norwegian company Statoil said it was going to wait and see how Shell gets on in the Arctic.
Yesterday's news makes it totally clear: Shell's Arctic misadventure is an expensive and risky mistake.
Thank you to the thousands of volunteers around the world on high streets, petrol stations, universities and places of work who've shown what a movement can do.
This is a huge step forward in our campaign, but we need to build on it to make sure we keep the Arctic protected from all oil drillers, for good.
If you're one of the two million who've joined the Greenpeace campaign to save the Arctic—now is a time to celebrate what you've achieved against one of the most powerful corporations on the planet. If you're not, join to make the movement even stronger: savethearctic.org.
Visit EcoWatch's OFFSHORE OIL DRILLING page for more related news on this topic.
EcoWatch Daily Newsletter
Large food companies are following in the footsteps of fast-food restaurants such as Burger King and KFC by offering meat alternatives. Getty Images
By Elizabeth Pratt
Hormel, Kellogg's, and Kroger are among the large companies now planning to offer "fake meat" products at grocery stores.
Experts say the trend toward plant-based meats coincides with consumers' desires to eat less meat.
However, experts urge consumers to closely check package labels as a product isn't necessarily healthy just because it's described as plant-based.
In grocery stores and fast-food outlets around the U.S., a revolution is taking place.
Colombia rainforest. Marcel Oosterwijk / CC BY-SA 2.0
Many of us think of the Amazon as an untouched wilderness, but people have been thriving in these diverse environments for millennia. Due to this long history, the knowledge that Indigenous and forest communities pass between generations about plants, animals and forest ecology is incredibly rich and detailed and easily dwarfs that of any expert.
picture-alliance / Newscom / R. Ben Ari
By Wesley Rahn
Plastic byproducts were found in 97 percent of blood and urine samples from 2,500 children tested between 2014 and 2017, according to a study by the German Environment Ministry and the Robert Koch Institute.

Pexels
Medically reviewed by Daniel Bubnis, MS, NASM-CPT, NASE Level II-CSS
Hot yoga has become a popular exercise in recent years. It offers many of the same benefits as traditional yoga, such as stress reduction, improved strength, and flexibility.
Lara Hata / iStock / Getty Images
By SaVanna Shoemaker, MS, RDN, LD
Rice is a staple in many people's diets. It's filling, inexpensive, and a great mild-tasting addition to flavorful dishes.
An image of the trans-alaskan oil pipeline that carries oil from the northern part of Alaska all the way to valdez. This shot is right near the arctic national wildlife refuge. kyletperry / iStock / Getty Images Plus
The Trump administration has initialized the final steps to open up nearly 1.6 million acres of the protected Alaskan National Wildlife Refuge to allow oil and gas drilling.