Subway to Remove Chemical Found in Shoe Soles and Yoga Mats From Its Bread
Feb. 11, 2014 10:40AM EST
Food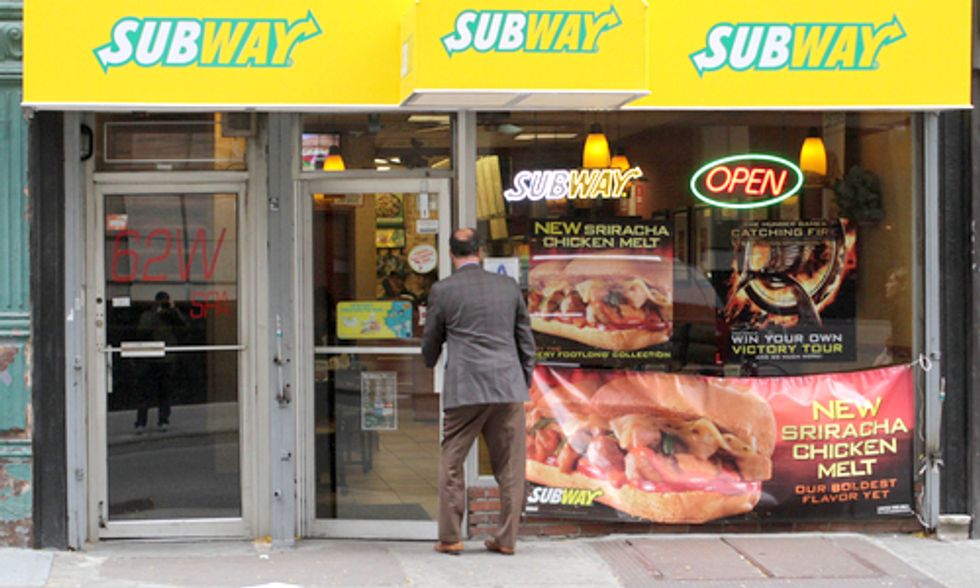 The U.S. Food and Drug Administration (FDA) allows for the use of azodicarbonamide under certain conditions, but that doesn't mean it belongs in your food.
After all, it's a chemical that is used to make yoga mats and shoe soles.
That's likely why Subway announced that it would stop using the chemical to strengthen and condition the dough used for its famous six-inch and $5 footlong sandwiches.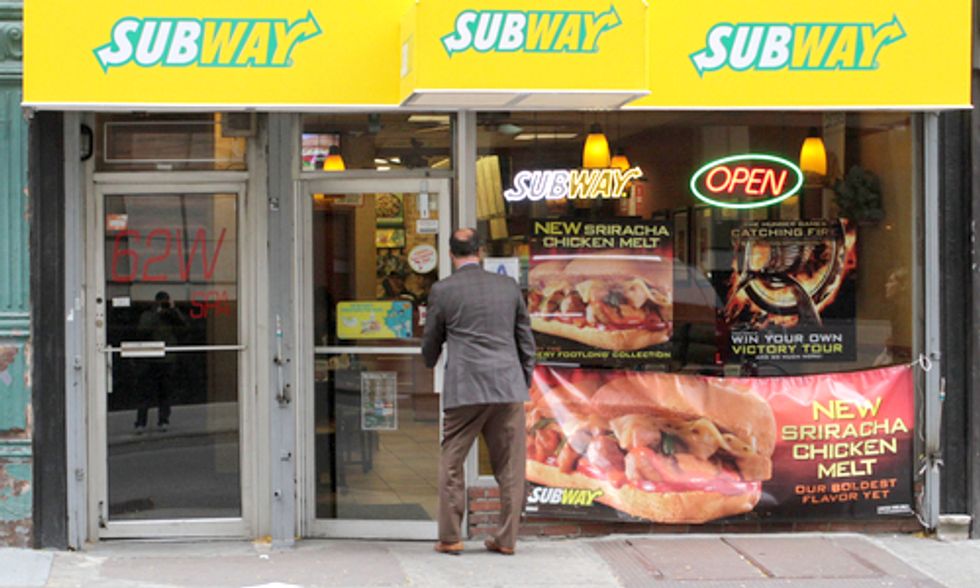 Photo courtesy of Shutterstock
"We are already in the process of removing azodicarbonamide as part of our bread improvement efforts despite the fact that it is (a) USDA and FDA approved ingredient," Subway said in a statement, according to The Associated Press (AP). "The complete conversion to have this product out of the bread will be done soon."
A Subway representative told the AP that a change was underway before Vani Hari, known as the blogger behind FoodBabe.com, launched a petition that garnered nearly 80,000 signatures. Still, nobody has been able to discern when "soon" will be.
"We know this is just a corporate spin and how big companies operate," Hari wrote in a recent post. "They don't want us to know how much power we have over their decisions ... There's been dead silence on their end. Every single reporter I talked with yesterday and today (over 30) has tried to get the same answer from Subway headquarters and they aren't responding."
According to an ingredient list that was last revised in January, azodicarbonamide is found in its nine-grain wheat, Italian (white), Italian herbs and cheese, parmesan/oregano, honey oat, roasted garlic, Monterey cheddar and sourdough breads. Subway does not use the chemical in the sandwiches the company sells in Europe or Australia—two continents where azodicarbonamide is banned.
McDonald's also uses the additive for the bun on its McRib sandwich. The company behind the golden arches says that the variation it uses "shouldn't be confused" with the variety used to form yoga mats. According to CNN, Starbucks and Arby's have also used azodicarbonamide.
When speaking to CNN, a representative from the American Bakers Association defended the use of the agent in bread.
"Past FDA sampling results have indicated appropriate low-level use in products. As a dough conditioner it has a volume/texture effect on the finished loaf," an unnamed representative told the network. "It is a functional ingredient that improves the quality of bread and any substitutes are likely not to work as well as [azodicarbonamide]."
A 1999 report published by the World Health Organization says the chemical can impact breathing and skin sensitivity after repeated exposure. Though the study is 15 years old, it appears to be the best resource available on the chemical. While the experts said the human impact needed further evaluation, the study issued a warning.
"The level of risk is uncertain; hence, exposure levels should be reduced as much as possible," the study reads.
Visit EcoWatch's FOOD page for more related news on this topic.

EcoWatch Daily Newsletter