Stunning NASA Video Illustrates a Year's Worth of Global Carbon Emissions
Nov. 19, 2014 12:50PM EST
Climate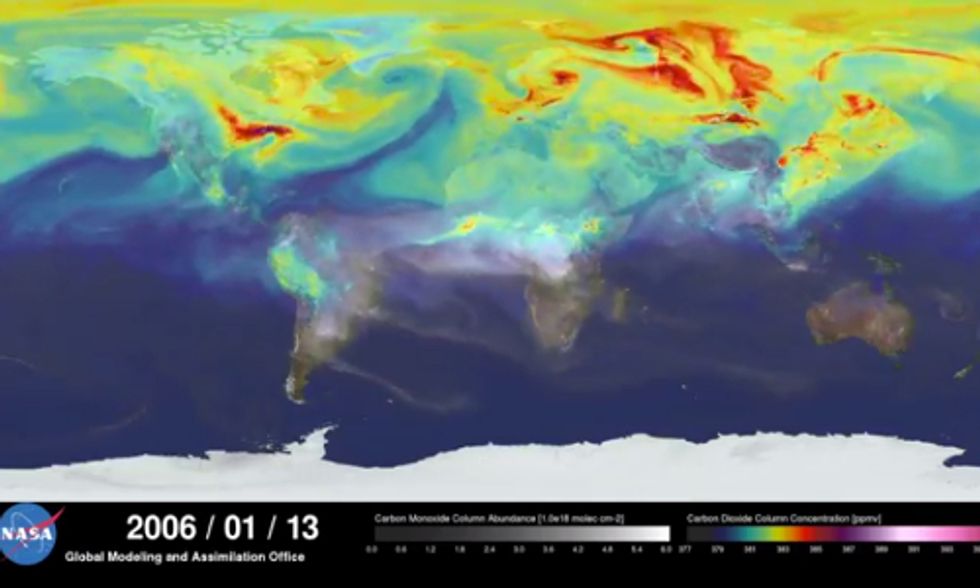 Here is your tax money doing something really cool.
While most of us—and virtually all climate scientists—won't deny that the carbon emissions driving climate change are real, they're still abstract. But NASA scientists have created a video model that makes them concrete and visual. "A Year in the Life of Earth's CO2" tracks the growth and dispersal of carbon in the atmosphere, compressing a year's worth data into a three-minute video. It's based on a supercomputer model of carbon dioxide levels in the Earth's atmosphere over that period of time.
The view, narrated by NASA climate scientist Bill Putnam, shows the journey of carbon into the atmosphere and its dispersal over the globe unfolds before your eyes, as emissions increase during the fall and winter, then shrink in the spring and summer as new plant growth begins to absorb the carbon. You can see the concentrations of carbon appearing over the biggest emitters: the U.S., Europe and China. And you can watch as emissions spread across the globe from their original source. It even shows carbon monoxide swirling oceans from summer forest fires in Africa and South America.
"As summer transitions to fall and plant photosynthesis decreases, carbon dioxide begins to accumulate in the atmosphere," Putnam explains. "Although this change is expected, we're seeing higher concentrations of carbon dioxide accumulate in the atmosphere every year. This is contributing to the long-term trend of rising global temperatures."
YOU MIGHT ALSO LIKE
U.S. Carbon Emissions Rise Despite Efforts to Combat Climate Change
Why Climate Scientists Receive Death Threats
World Meteorological Organization: Ocean Acidification and Greenhouse Gas Emissions Hit Record Levels
EcoWatch Daily Newsletter