This website uses cookies to ensure you get the best experience while browsing it. By clicking 'Got It' you're accepting these terms.
Study Surveys Veterans' Powerful Presence in U.S. Solar Energy Industry
Feb. 26, 2014 08:57AM EST
Business
For the first time, a report has gauged the contributions of veterans in the U.S. solar industry.
According to Veterans in Solar: Securing America's Energy Future, released today by Operation Free and The Solar Foundation, 9.3 percent of the workers in the nation's solar sector are veterans. That's good for 13,192 employees who happen to be veterans of U.S. armed forces. According to the U.S. Bureau of Labor Statistics, veterans comprise nearly 8 percent of the nation's entire workforce.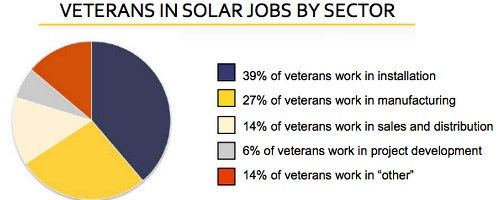 "Through this collaboration, we are finally able to see, with hard numbers, what we have suspected for years: veterans are huge assets to the clean energy economy," said Jaclyn Houser, advocacy director of Operation Free. "They bring unparalleled technical skills and a relentless focus on accomplishing the mission. And they view their work in clean energy as a continuation of their service."
The first-of-its-kind study uses its figures from The Solar Foundation's National Solar Jobs Census 2013 report.
In addition to statistics, the study also features examples of veterans working within the industry. Arlington, WA-based Outback Power, a 13-year-old designer and manufacturer of advanced power conversion electronics for renewable energy systems, was founded by three engineers, but soon began employing veterans from all armed forces branches at a higher average rate than both the rest of the solar industry and the U.S.
"According to company executives, veterans bring invaluable skills acquired during their service to their work in the solar industry," the report reads. "Those assets include a strong technical background, an ethic of teamwork, and leadership skills that contribute to the greater success of the company."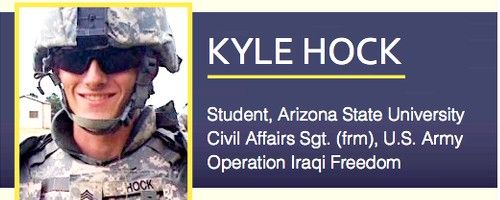 The report also includes a first-person sidebar from Kyle Hock, a U.S. Army civil affairs sergeant in Operation Iraqi Freedom, who has returned with hopes of entering the solar industry.
"During my time in the service, I gained a deep appreciation for solar power. In Iraq, I saw first hand how access to energy can either strengthen or cripple the security environment," Hock wrote. "There is a need for solar energy—both at home and abroad—to reduce our dependence on insecure energy sources and to make a positive change in people's lives."
The study covers everything from pay scales to the industry's outlook on hiring. Nearly 62 percent of these companies—compared to 44 percent nationally—expect to add solar workers over the next year, while only 2 percent expect to scale back on employment.
"Our servicemen and women have made great sacrifices for our country and it is our responsibility to ensure that when they return home there are high-skill and well-paying jobs available," said California State Rep. Scott Peters, D-52, said. "The solar industry offers our veterans a unique opportunity to use the knowledge they learned serving our country in a rapidly growing sector that is vital to both our national security and economic future."   
Overall, the amount of solar energy deployed in the U.S. has grown by about 500 percent since 2008, according to the study.
"This report highlights the ways solar strengthens the US economy and our national security," said Clean Power Finance CEO Nat Kreamer, who has served as an intelligence officer for the U.S. Navy's Special Forces.
"Veterans are over represented in the solar industry because we know first-hand that clean, affordable domestic power makes America and the world safer."
Visit EcoWatch's RENEWABLES page for more related news on this topic.

EcoWatch Daily Newsletter
Artist's conception of solar islands in the open ocean. PNAS
Millions of solar panels clustered together to form an island could convert carbon dioxide in seawater into methanol, which can fuel airplanes and trucks, according to new research from Norway and Switzerland and published in the Proceedings of the National Academy of Sciences journal, PNAS, as NBC News reported. The floating islands could drastically reduce greenhouse gas emissions and dependence on fossil fuels.
Marcos Alves / Moment Open / Getty Images
More than 40 percent of insects could go extinct globally in the next few decades. So why did the U.S. Environmental Protection Agency (EPA) last week OK the 'emergency' use of the bee-killing pesticide sulfoxaflor on 13.9 million acres?
EcoWatch teamed up with Center for Biological Diversity via EcoWatch Live on Facebook to find out why. Environmental Health Director and Senior Attorney Lori Ann Burd explained how there is a loophole in the The Federal Insecticide, Fungicide, and Rodenticide Act under section 18, "that allows for entities and states to request emergency exemptions to spraying pesticides where they otherwise wouldn't be allowed to spray."
Simple swaps that cut down on kitchen trash.
Sponsored
By Kayla Robbins
Along with the bathroom, the kitchen is one of the most daunting areas to try and make zero waste.
View of downtown Miami, Florida from Hobie Island on Feb. 2, 2019.
Michael Muraz / Flickr
The Democratic candidates for president descended upon Miami for a two-night debate on Wednesday and Thursday. Any candidate hoping to carry the state will have to make the climate crisis central to their campaign, as The New York Times reported.
By Sharon Kelly
On Monday, the Wall Street Journal featured a profile of Scott Sheffield, CEO of Pioneer Natural Resources, whose company is known among investors for its emphasis on drawing oil and gas from the Permian basin in Texas using horizontal drilling and hydraulic fracturing, or fracking.
Pexels
By Craig K. Chandler
The federal government has available to it, should it choose to use them, a wide range of potential climate change management tools, going well beyond the traditional pollution control regulatory options. And, in some cases (not all), without new legislative authorization.
Denis Poroy / Getty Images
By Dan Gray
Processed foods, in their many delicious forms, are an American favorite.
But new research shows that despite increasing evidence on just how unhealthy processed foods are, Americans have continued to eat the products at the same rate.
By Sarah Steffen
With a profound understanding of their environmental surroundings, indigenous communities around the world are often cited as being pivotal to tackling climate change.