This website uses cookies to ensure you get the best experience while browsing it. By clicking 'Got It' you're accepting these terms.
Study Suggests Link Between Fukushima Radiation and Japanese Monkeys' Low Blood Count
Jul. 24, 2014 11:40AM EST
In addition to the area residents, cleanup crew members and consumers of regional seafood, monkeys have also suffered health issues likely attributable to the Fukushima nuclear disaster of 2011.
In the case of the Japanese macaques, the radioactive material spewed by the Fukushima Daiichi Nuclear Power Plant has led to abnormally low white and red blood cell levels and low haemoglobin. The findings, published Thursday in the Scientific Reports journal, show that the low counts make the monkeys more susceptible to various diseases.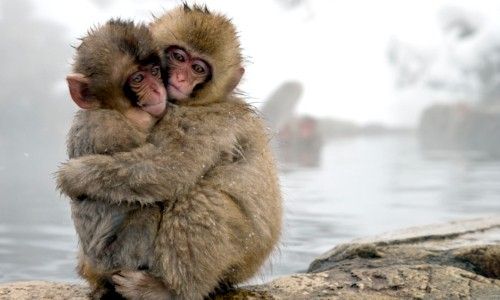 "This first data from non-human primates—the closest taxonomic relatives of humans—should make a notable contribution to future research on the health effects of radiation exposure in humans," Professor Shin-ichi Hayama, of the Nippon Veterinary and Life Science University in Tokyo, told The Guardian.
One of the study's 11 authors, Hayama said that the monkeys were likely exposed to radiation from feeding on tree buds and bark that accumulated radioactive caesium from the power plant explosions. The researchers examined wild monkeys who were 43 miles away from the plant reactors in the forest area of Fukushima City. Their counts of white and red blood cells, as well as hemoglobin, and hematocrit, were much lower than those of monkeys about 250 miles away in the Shimokita Peninsula in the Aomori Prefecture.
Hamaya would not make a definitive claim that caesium caused the low blood counts, despite the suggestive findings and the inability to find any other cause.
"The low haematological values in the Fukushima monkeys could have therefore been due to the effect of any radioactive materials," he said. "We did not conclude the low-blood cell counts are caused by caesium but so far we cannot find other reasons except radiation."
Professor Geraldine Thomas of Imperial College in London didn't believe the study at all.
"Unfortunately this is yet another paper with insufficient power to distinguish real effects and relevance to human health," she said. "We know that one of the most damaging health effects comes from fear of radiation, not radiation itself."
EcoWatch Daily Newsletter
Variety of fermented food korean traditional kimchi cabbage and radish salad. white and red sauerkraut in ceramic plates over grey spotted background. Natasha Breen / REDA&CO / Universal Images Group / Getty Image
Even if you've never taken probiotics, you've probably heard of them.
These supplements provide numerous benefits because they contain live microorganisms, such as bacteria or yeast, which support the healthy bacteria in your gut (1, 2, 3, 4).
Pexels
Singapore will become the first country in the world to place a ban on advertisements for carbonated drinks and juices with high sugar contents, its health ministry announced last week. The law is intended to curb sugar consumption since the country has some of the world's highest diabetes rates per capita, as Reuters reported.
A typical adult takes around 20,000 breaths per day. If you live in a megacity like Beijing, with many of those lungfuls you're likely to inhale a noxious mixture of chemicals and pollutants.
Fred Stone holds his brown swiss cow Lida Rose at his Arundel dairy farm on March 18 after a press conference where he spoke about PFAS chemical contamination in his fields. Gregory Rec / Portland Portland Press Herald via Getty Images
By Susan Cosier
First there was Fred Stone, the third-generation dairy farmer in Maine who discovered that the milk from his cows contained harmful chemicals. Then came Art Schaap, a second-generation dairy farmer in New Mexico, who had to dump 15,000 gallons of contaminated milk a day.
Protesters attend the 32nd annual Fur-Free Friday demonstration on Nov. 23, 2018 in Beverly Hills, California. Ella DeGea / Getty Images
California Governor Gavin Newsom signed into law a bill that that bans the sale and manufacture of fur products in the state. The fur ban, which he signed into law on Saturday, prohibits Californians from selling or making clothing, shoes or handbags with fur starting in 2023, according to the AP.
By Simon Evans
During the three months of July, August and September, renewables generated an estimated total of 29.5 terawatt hours (TWh), compared with just 29.1TWh from fossil fuels, the analysis shows.
A demonstrator waves an Ecuadorian flag during protests against the end of subsidies to gasoline and diesel on Oct. 9 in Quito, Ecuador. Jorge Ivan Castaneira Jaramillo / Getty Images
Protesters block the road outside Mansion House in London during an XR climate change protest. Gareth Fuller / PA Images via Getty Images