Study Shows Pesticide Exposure Dramatically Increases Risk of Developing Parkinson's Disease
New research published in the journal Neurology further supports the causative link between pesticide exposure and Parkinson's disease. Emanuel Cereda, M.D., Ph.D., of the IRCCS University Hospital San Matteo Foundation in Pavia, Italy, and coauthor Gianni Pezzoli, M.D., analyzed 104 studies published between 1975 and 2011 to determine the link between pesticides and solvents to Parkinson's disease.
The researchers analyzed exposure using information on proximity to large farms likely to use pesticides, likelihood of well water consumption and occupations that cause greater exposure to pesticides and solvents used to kill weeds, insects, fungus and rodents. Overall, researchers found exposure to pesticides increased the risk of developing the disease by 33 percent to 80 percent. Some pesticides were considered to be of higher risk than others, with weed killers like paraquat and fungicides maneb and mancozeb causing twice the risk for development of Parkinson's disease. While risk increased the longer people were exposed to pesticides, researchers indicate there is still a need for further research on the chemical threshold for harm to the brain.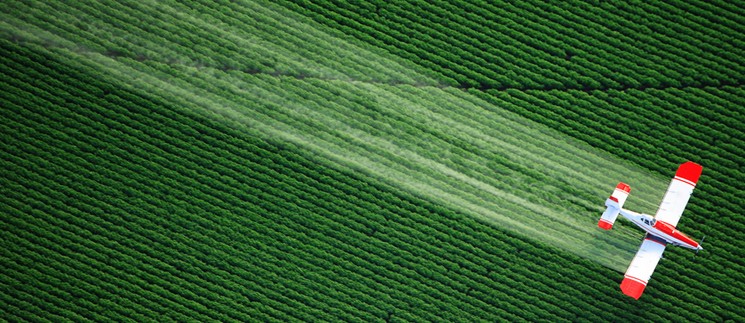 Photo courtesy of Shutterstock
The study builds on recent research that has linked Parkinson's disease to pesticide exposure. In a 2011 article published in the journal Molecular Neurodegeneration, researchers at the University of Missouri School of Medicine invented a new antibody that allowed them to detect how oxidative stress affected proteins when exposed to a variety of environmental toxins, such as the pesticide rotenone. In another study, individuals with certain genetic factors who are exposed to organophosphates exhibited more than twice the risk of Parkinson's disease compared to others without exposure. Another recent publication found that rural residents who drank contaminated well water had an increased risk—up to 90 percent—of developing Parkinson's.
The research adds to the body of knowledge on the role of pesticide exposure in diseases like Parkinson's. "I think the study is actually a big advance in our research knowledge of the relation between chemical exposures and the basic neurological injuries," said Arch Carson, Ph.D., at the University of Texas School of Public Health in Houston, TX. "This report is the first to show that there is a positive relationship between not only insecticides and herbicides but also some other solvent chemicals to which many people are exposed and the development of Parkinson's syndrome."
The second most common neurodegenerative disease, Parkinson's disease occurs when nerve cells in the substantia nigra region of the brain are damaged or destroyed and can no longer produce dopamine, a nerve-signaling molecule that helps control muscle movement. People with Parkinson's have a variety of symptoms including loss of muscle control, trembling and lack of coordination. They may also experience anxiety, constipation, dementia, depression, urinary difficulties and sleep disturbances. Over time, symptoms intensify. At least 1 million Americans have Parkinson's and about 50,000 new cases are diagnosed each year. With less than one percent of cases caused by genetics, researchers have been looking for the potential risk factors for developing Parkinson's disease.
Visit EcoWatch's HEALTH page for more related news on this topic.
Glyphosate, the main ingredient in Monsanto's widely used herbicide Roundup, will be added July 7 to California's list of chemicals known to the state to cause cancer, according to a Reuters report Tuesday. This news comes after the company's unsuccessful attempt to block the listing in trial court and requests for stay were denied by a state appellate court and California's Supreme Court.
California's Office of Environmental Health Hazard Assessment (OEHHA) announced the designation on Monday under the Safe Drinking Water and Toxic Enforcement Act of 1986, or Proposition 65.
Keep reading...
Show less
www.facebook.com
Keep reading...
Show less
Researchers from the Marine Animal Response Society examine one of the dead right whales. Marine Animal Response Society
Canadian government officials and marine biologists are investigating the mysterious deaths of six North American right whales. The endangered animals all turned up dead between June 6 and June 23 in the Gulf of St. Lawrence, off Canada's southeastern coast.
North Atlantic right whales are the rarest of all large whale species and among the rarest of all marine mammal species, with only about 450 right whales in the North Atlantic.
Keep reading...
Show less
Scott Pruitt testifies during his Senate confirmation hearing for EPA administrator, January 2017.
The U.S. Environmental Protection Agency's (EPA) chief of staff pressured the leader of its Board of Scientific Counselors to change her congressional testimony to downplay the impact of the agency's mass dismissal of scientists from the board, the New York Times reports.
Keep reading...
Show less
By Jason Mark
Sequoiadendron giganteum. That's the scientific name for the giant sequoia: the mammoth trees found in California's Sierra Nevada that are the largest organisms on Earth, and among the longest-lived. Biologists estimate that about half of all sequoias live in Giant Sequoia National Monument, a 328,000-acre preserve in the Southern Sierra Nevada established by President Clinton in 2000.
Now that national monument is in jeopardy.
Keep reading...
Show less
By Andy Rowell
Donald Trump this week is launching an "energy week," pushing the argument that the U.S. will become a net exporter of oil and gas.
The president and his cronies are talking about a new era of "U.S. energy dominance," which could stretch for decades to come. However, no one believes the president anymore.
Keep reading...
Show less
UN
By Colleen Curry
The United Nations has designated 23 new sites around the world to its World Network of Biosphere reserves—stunning natural landscapes that balance environmental and human concerns and strive for sustainability.
The forests, beaches and waterways were added to the list this year at the International Coordinating Council of the Man and the Biosphere Programme meeting in Paris earlier this month.
Keep reading...
Show less
Jun. 26, 2017 01:48PM EST
www.elysee.fr
By Andy Rowell
There is a growing feeling within European capitals that a quiet, but deeply positive, revolution is happening under Emmanuel Macron in France.
Macron's opinion poll rating is high, especially boosted in how the young French president has reacted to Donald Trump on the international stage.
Keep reading...
Show less
Jun. 26, 2017 12:32PM EST
www.facebook.com
Keep reading...
Show less